Alabama Football: Nick Saban's 10 Most Important Wins at Alabama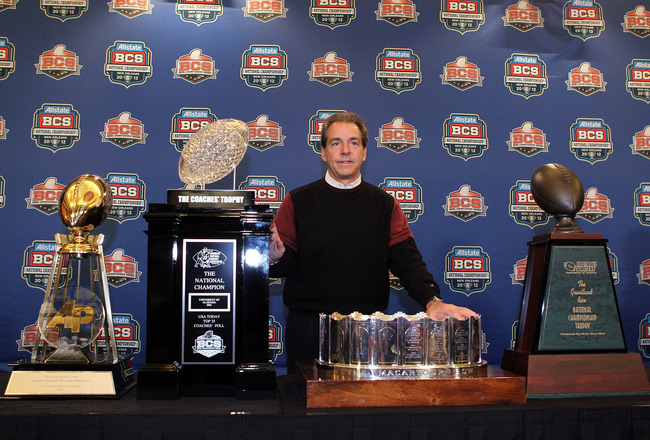 Andy Lyons/Getty Images
With a BCS National Championship Game win over Notre Dame on Monday night, the Alabama Crimson Tide will have won three of the last four national crowns.
This would make the Tide the first team to do such a thing since Nebraska (1994-97) and only the second to repeat since Alabama did it in 1978-79. Combined with a five-year record of 61-7, this would officially inaugurate the Tide as college football's latest dynasty.
Yes, there is work left to do against the Irish to make this a reality, but Alabama's dominance in college football seems to be all but assured as long as Saban stays in Tuscaloosa.
There have been bumps and bruises along the way, but it has most certainly been a joyful ride for the Tide during the Nick Saban era.
Here is a look at the top-10 most significant wins that Saban has led Alabama to during his tenure at the Capstone.
2008: Alabama 34 Clemson 10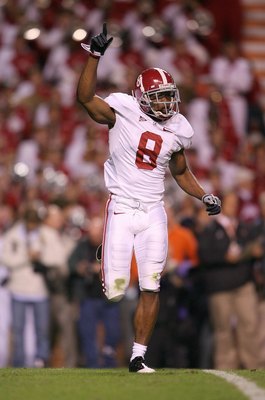 Andy Lyons/Getty Images
At the initial Chick-fil-a Kickoff Classic in Atlanta, Alabama came in ranked No. 24 in the nation and fresh off a disappointing 7-6 season in 2007 to face ninth-ranked Clemson.
In what would be the game that many saw as the beginning of the end for Clemson coach Tommy Bowden, the Tide took it to the Tigers early and cruised to a 23-3 halftime lead.
When it was over, the Tide had outgained Clemson 239-0 on the ground and put an immediate end to hopes that the Tigers were ready to get back into the national picture. Instead, the Tide suddenly found itself relevant once again.
This game also saw the first-ever touchdown at Alabama by then freshman Julio Jones.
As quarterback John Parker Wilson said via ESPN, "I think we got something special here."
2008: Alabama 41 Georgia 30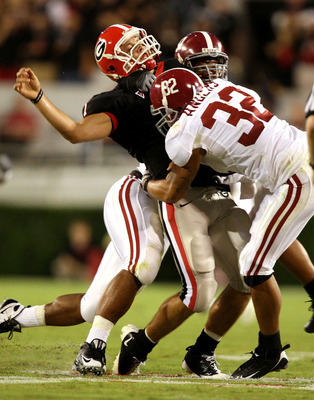 Doug Benc/Getty Images
Now 4-0 on the year, eighth-ranked Alabama headed into Athens, Georgia to face another title contender in the No. 3 Georgia Bulldogs.
Dawg fans dressed in their "blackout" Georgia gear watched in horror as the Tide totally embarrassed and dismantled the Bulldogs in the first half, heading to the locker room with a 31-0 lead.
Alabama scored on each of its first five possessions and dominated both sides of the ball, firmly planting itself in the middle of the BCS title picture.
After the game, Saban prophetically proclaimed via ESPN, "Let's see (if we're a title contender) when we get a full body of work at the end of the season."
'Bama went on to a 12-0 start before losing to Florida and Utah to end the season.
2009: Alabama 34 Virginia Tech 24
Kevin C. Cox/Getty Images
Again opening the season at the Georgia Dome in Atlanta, Alabama entered the 2009 season ranked fifth nationally but this time playing No. 7 Virginia Tech.
After trailing by one going into the fourth quarter, Alabama "finished" the job, blowing the Hokies away down the stretch en route to a 34-24 win. In the end, Alabama had outgained Virginia Tech 498-155 in a game that was not as close as it appeared.
Quarterback Greg McElroy, making his first career start, completed 15 of 30 passes for 230 yards with one touchdown and one interception while Mark Ingram ran for 150 yards of his own and scored twice.
The Tide made it clear that night that they had plans on "finishing" the entire season this time.
2009: Alabama 12 Tennessee 10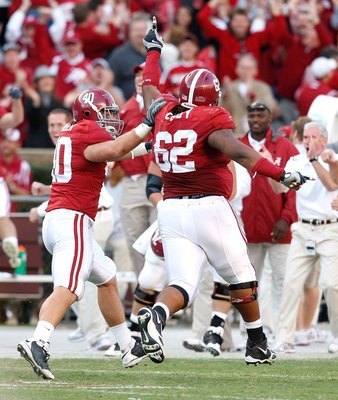 Kevin C. Cox/Getty Images
Sometimes you need a little luck when on a championship run. Then-undefeated Alabama found that against an outmanned 3-3 Tennessee team.
Alabama escaped with a 12-10 victory over the Vols that day with what appeared to be divine intervention in the paws that Terrence Cody calls hands. Cody blocked a pair of Tennessee field goals, the latter as time expired.
Alabama had to settle for four field goals that day and was flat-out beaten in most facets of the game.
The positive side of this miracle was that the Tide learned a very valuable lesson about respecting every opponent without having to lose everything in the process.
2009: Alabama 32 Florida 13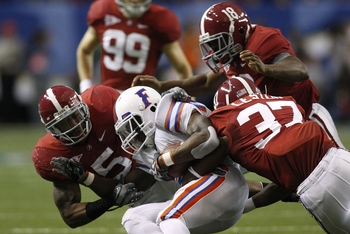 Chris Graythen/Getty Images
Almost a year to the day after seeing their national title dreams dashed at the hands of Urban Meyer and the Florida Gators, Alabama returned to the SEC Championship Game to exact some revenge.
The Tide did just that. Ingram and Trent Richardson led a running attack that gained over 250 yards on the night and Alabama pulled away late for the win and a trip to the BCS title game.
While Ingram scored three touchdowns, new quarterback Greg McElroy clearly outplayed heralded Tim Tebow. As the final seconds ticked away, the nation watched as Tebow cried from the sideline while 'Bama celebrated from across the field.
Throughout the season, Saban had preached endlessly about "finishing." This time they did.
2010: Alabama 37 Texas 21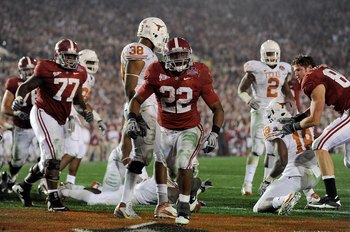 Kevork Djansezian/Getty Images
As a reward for going undefeated and winning the SEC, Alabama was given a spot in the BCS title game against Colt McCoy and the Texas Longhorns.
Texas took it to the Tide early but was held to just a pair of field goals and a 6-0 lead when McCoy was knocked out of the game by Bama's Marcell Dareus.
From there, the Tide rolled, scoring 24 unanswered second-quarter points including a pick-six by Dareus in the waning minutes of the half.
Both Ingram and Richardson scored a pair of touchdowns as the Tide ran, and ran, and ran until the Longhorn defense had nothing more to offer.
As Ingram said after the game via ESPN, "We back." Ingram was right. Alabama had won its first national title since 1992 and its 13th overall.
2010: Alabama 49 Michigan State 7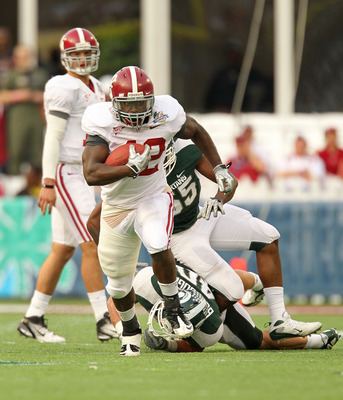 Mike Ehrmann/Getty Images
Alabama finished the 2010 regular season a disappointing 9-3 and settled for an invite to the Capital One Bowl.
After losses to South Carolina, LSU and Auburn, no one really knew how focused the Tide would be for its first non-BCS bowl in three years.
It didn't take long for us to figure it out, though. No. 16 Alabama trounced the No. 9 Spartans, 49-7, putting up 546 yards of total offense and holding the Spartans to minus-48 yards rushing.
While the game itself was by current standards insignificant, it set the tone for the following year and showed the world that the 'Bama that won the BCS title just a year ago may have seen a few setbacks, but it wasn't going away.
2012: Alabama 21 LSU 0
Andy Lyons/Getty Images
In 2011, the Tide cruised through the early part of the season and found themselves untested, facing a home date with LSU in No. 1 vs. No. 2 battle that was as hyped as any game in recent memory.
Alabama missed a bucket full of field goals and came up short that night, losing 9-6.
Fortunately, the Tide bounced back and won the last three games of the year only to find themselves the benefactor of some good fortune and more missed field goals. Even though it hadn't won the SEC, Alabama was given a title shot rematch with LSU.
This time, it was a much different story. Quarterback AJ McCarron grew up that night, completing 23 of 34 passes for 234 yards and Alabama kicked its way to a 15-0 lead before finally putting it in the end zone and sealing the deal on the 21-0 win.
This gave Alabama its 14th national title and second in three years.
2012: Alabama 32 Georgia 28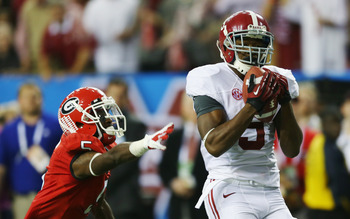 Mike Ehrmann/Getty Images
Alabama suffered just one loss this season but still found itself in the middle of the BCS hunt after receiving some help from both Stanford and Baylor.
The Tide returned to Atlanta to play Georgia in what was essentially a national semifinal for the BCS title game.
Both teams had their share of successes as the game saw four lead changes before Alabama took a 32-28 lead on a 45-yard touchdown strike from McCarron to freshman Amari Cooper with just over three minutes to play.
Georgia rallied furiously but watched in disbelief as time expired just yards short of the goal line.
Alabama had won another SEC title and earned a title shot with Notre Dame.
2013: Alabama vs. Notre Dame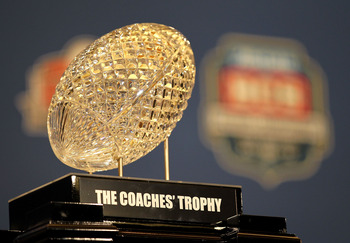 Andy Lyons/Getty Images
I know it hasn't been played yet. But if the Tide is to truly have a legitimate case to be considered a dynasty, they will have to win this game.
Notre Dame is undefeated and trying to pull off what Alabama did just a few years back. Alabama is trying to solidify its claim as best program in the country.
Personally, I do believe that the Tide will prevail in this one and that the "dynasty" will be in full force come January 8.
When this happens, we can add the score to the top of this slide. And within a couple of days, Alabama can start its quest for the elusive and unheard of three-peat.
Keep Reading

Alabama Crimson Tide Football: Like this team?