Notre Dame Football: 5 New Year's Resolutions for the Irish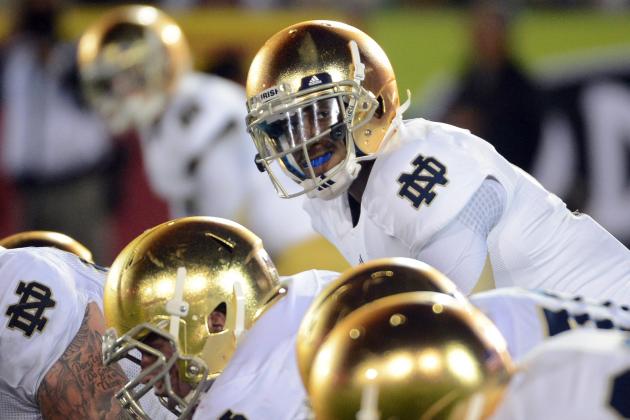 Harry How/Getty Images

Notre Dame has had a spectacular season. From humble, unranked beginnings to a berth in the BCS Championship game this January 7th, Brian Kelly and Co. have surpassed the expectations of most.
The title game will see them take on their most formidable foe to date, the Alabama Crimson Tide. Defeating the SEC hardened Tide will be no easy task for Notre Dame, who have benefited from the luck of the Irish on a few occasions this season.
From turnovers to special teams, there are several areas for improvement on the Irish squad.
So what do Notre Dame's finest have in store for the title matchup?
Let's take a look at their New Year's resolutions.
Begin Slideshow

»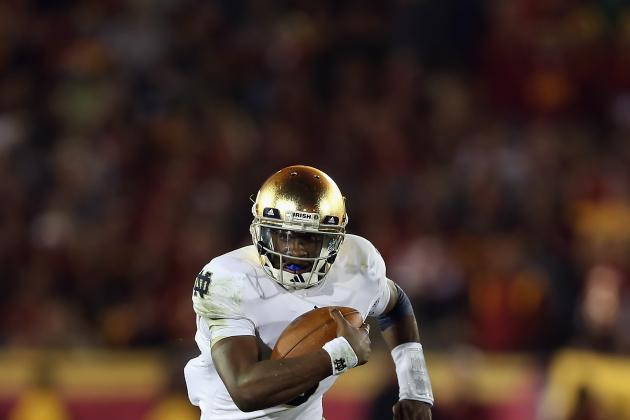 Jeff Gross/Getty Images

Since 2008, Alabama has lost just seven games. In each of those games, Alabama either lost or stalemated the turnover battle. There are not many surefire ways to beat the Crimson Tide, but forcing fumbles has done wonders in the past.
It is critical that the stout Irish defense get inside the Tide's offensive lines and force turnovers. When Texas A&M dethroned Alabama in November, the Tide turned the ball over an uncharacteristic three times.
That's much more than their season average of 1.2 turnovers per game.
On the other side of the ball, Golson and Co. must do everything in their power not to turn the ball over.
It is worth noting that Notre Dame and Alabama have the exact same turnover average this season at 1.2 per game. But while the majority of Tide turnovers come about as a result of fumbles (0.9 per game), the Irish's are evenly distributed between interceptions and fumbles (at 0.6 and 0.6 a piece).
If the Irish offense can take care of the football during the title game and the defense forces turnovers, 2013 may see the first crystal football heading to South Bend.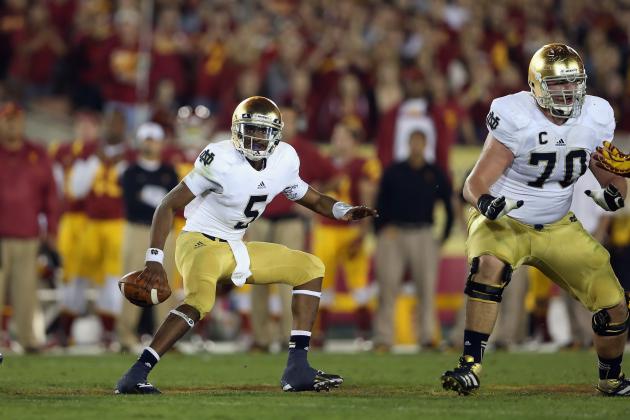 Jeff Gross/Getty Images

There is another element to the magic formula for beating Alabama: a dual threat quarterback.
In the seven games Alabama has lost since 2008, the quarterbacks of the winning team rushed for an average of 47.3 yards. A major contributor to that statistic is Johnny Manziel, who ran for 107 yards when Texas A&M beat the Tide earlier this year.
If you remove Manziel's huge number, the average is 10 yards lower at 37.3.
Golson has done a fairly effective job this season of running the ball into the end zone, with five touchdowns this season. His rushing average is only 3.4 yards per carry, but that does not tell the whole story.
In his first four games with the Irish, he rushed for a total of minus-11 yards. The Irish QB stepped it up significantly against Miami, running for 51 yards. The following week he brought his A-game again, rushing for 41 yards against the fierce Stanford defense.
In the last seven games Golson played this season, he rushed for an average of 45.1 yards.
Golson must resolve to keep rushing if he wants to hoist the crystal football.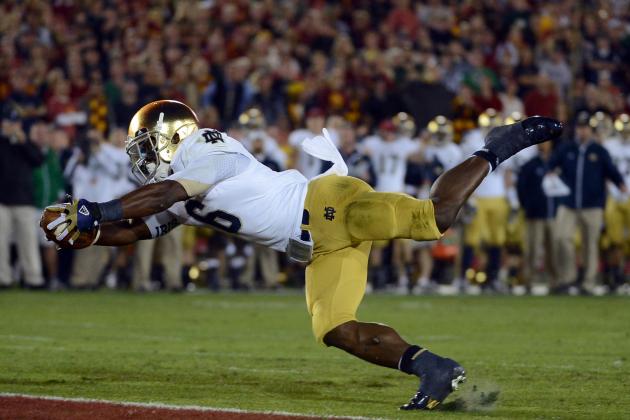 Harry How/Getty Images

This point may be obvious to those who have watched the Irish all season, but that does not make it any less critical. The Irish must improve their red-zone game.
Alabama's defense ranks among the top in the nation, so every opportunity needs to be maximized. Whether it's Golson passing the ball to Eifert, running it in himself or passing it off to Riddick, Notre Dame needs to step it up and execute inside the 20-yard line.
This is a point I have been harping about for some time.
Without points, you can't win a football game, and with the Irish scoring just 27 touchdowns on its 58 opportunities from inside the red zone, this is one New Year's resolution Notre Dame cannot break.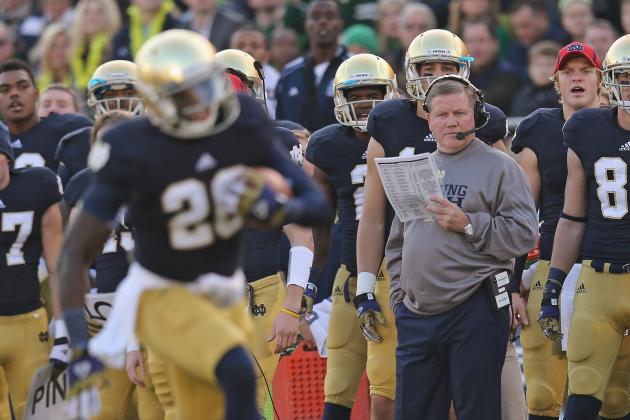 Jonathan Daniel/Getty Images

The Irish will have to get creative in their play-calling this post-season.
Brian Kelly has done some good coaching this year. Better than good, really. He won Coach of the Year. If Kelly can pull out the win against Alabama, he's well on his way to a bronze statue outside Notre Dame stadium.
Defeating Alabama is easier said than done, though.
Kelly will have to dig deep and get creative to make it a reality. Areas of opportunity for him will be attacking the edges, misdirection and play-action fakes. All of these will be critical in the end zone, where Kelly and Co. have struggled this season.
Creative play-calling will pay huge dividends for Kelly's squad in the title matchup.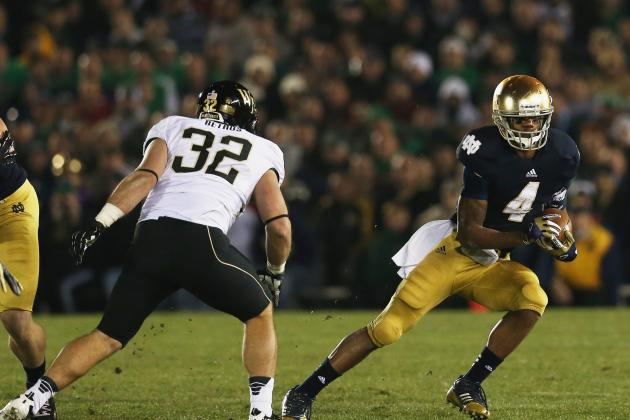 Jonathan Daniel/Getty Images

This is perhaps the most obvious improvement Notre Dame needs to make.
The Irish ranked 115th nationally in punt returns, averaging a paltry 2.44 yards per return. The Tide is not exactly a punt return machine, either—ranking 40th in the country—but that does not excuse Notre Dame's special teams from needing to dramatically improve their punt return in the title game.
Brian Kelly acknowledged this shortcoming to Matt Fortuna of ESPN, eluding that he may change the punt return lineup.
"We think it's all hands on deck for our special teams, first of all. It's a one-game deal, so certainly we could add to the personnel on our ST and we'll probably look to do that."
Alabama's defense will not idly give up yards, so Notre Dame must maximize every opportunity to move the ball. This means you, special teams.
Hopefully this is one resolution the Irish will make good on.