NBA 'Bubble Teams That Will Need to Make a Move to Make the Playoffs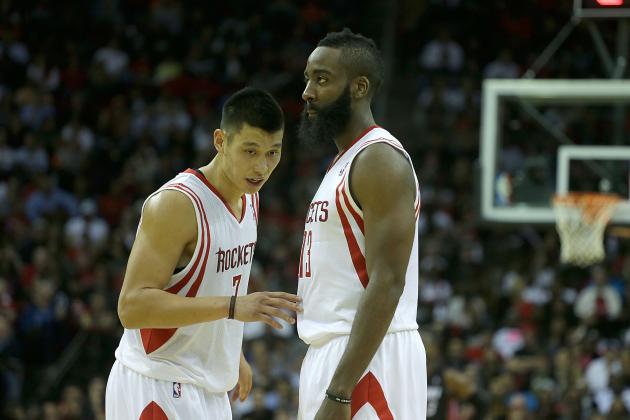 Scott Halleran/Getty Images
The Rockets have been exceeding expectations, but is what the have good enough to make the postseason?
Starting a season is a time of renewed hope. Every team is intrigued by the possibilities of success. A 0-0 record means anyone can win and eventually achieve the ultimate prize.
About a third of the way in, reality smacks you in the mouth. That's about the time that any statistical anomalies dissipate, the adrenaline subsides and all the rust has been shaken off.
In an NBA season, 30 games in is "man in the mirror" time.
Remember when the Charlotte Bobcats won six out of their first ten and looked playoff-bound? Or when the Knicks looked like they were going to win 70 games? Or when the Lakers were going to lose 70 games? Seems like forever ago, right?
The best thing about this part of the season is that there is still time to change your fortune.
Yes, the Bobcats, Raptors and several other teams are already looking to next season. We also know who the elite teams are, for the most part. The "bubble" playoff teams, however, can still make significant moves to improve their chances. For some, it'll mean a few steps up the seeding ladder while to others, a move might be imperative to make the playoffs at all.
Here are four teams that could move in or out of the playoff picture with a trade or two.
Note: All statistics courtesy of www.basketball-reference.com
Begin Slideshow

»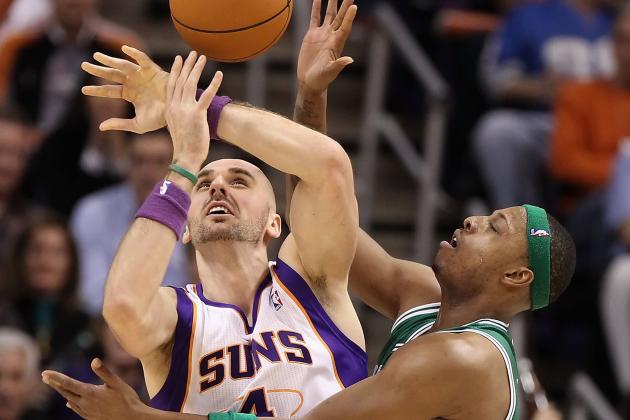 Christian Petersen/Getty Images
The Celtics would embrace a big man with Gortat's skill set.
Needs: low-post scoring, transition scoring, shot-blocking.
Possible Targets: Marcin Gortat, DeMarcus Cousins.
The Boston Celtics just cannot seem to get it together this season. Sure, the usual suspects are still steering the ship. Rajon Rondo is playing at an elite level at the point guard position, averaging 13 points, five boards and a league-leading 11.6 assists per contest. Kevin Garnett is putting up a respectable 14.6 points and seven caroms per outing as the full-time center. And Paul Pierce, after an early-season shooting slump, is back on track leading the team in scoring at 19.8 points per game.
The team, however, has struggled to find its form and is currently clinging to the final playoff spot in the Eastern Conference. The major additions acquired this summer (Courtney Lee, Jared Sullinger, Jason Terry and Jeff Green) have not jelled and the Celtics have not been able to find consistency all season.
The staple of the Celtics during their "Big Three" days has been an efficient offensive scheme and a rugged defensive mentality. While the offense still operates at an efficient level (46 percent as a team ranks them sixth in the NBA), their 95.5 points per game ranks them in the bottom half of the league and their 17th-ranked offense pace places them, well, 17th in the league.
Even more unusual, their patented defensive intensity seems to have faded. The Celtics are giving up nearly 98 points per game, at 45.6 percent shooting. The Celtics have become increasingly slow on defensive rotations, and their lack of shot-blocking serves as a welcome mat for slashers. Add in the fact that the C's rank 29th overall in total rebounds, and you have a recipe for a 14-17 record.
Rumors have the Celtics looking to make a move by the trade deadline to salvage their season and make one last run in the playoffs. The sexy rumor has the team looking at mercurial big man DeMarcus Cousins for a package of young pieces. At this point, Cousins seems a bit far-fetched, but a more realistic possibility (and perhaps a better fit) could be Phoenix center Marcin Gortat.
Gortat's size, sure hands and shot-blocking ability could really bolster the Celtics frontcourt and help plug many of Boston's holes. Cousins has immense upside, but his peripheral issues are a major red flag, and his price tag may be too high for Boston, if he's even available at all.
Stephen Dunn/Getty Images
Getting Millsap could solidify the Rockets' playoff hopes.
Needs: No. 2 option, low-post scoring, backup point guard.
Possible Targets: Josh Smith, Al Jefferson, Paul Millsap.
Coming into the 2012-13 season, Houston looked like they were in the infant stages of a full rebuild. They had jettisoned major contributors Kyle Lowry, Goran Dragic and Luis Scola. They had signed huge question marks Jeremy Lin and Omer Asik. They had used the draft to bring four new players into the fold. And the Rockets continued their facelift by acquiring super-sub James Harden shortly before the season opener.
Not much was expected from what had suddenly become the youngest team in the NBA.
After 32 games and an 18-14 record, maybe those expectations have changed a bit.
The Harden trade has been a huge success, giving the Rockets a franchise-level talent for the foreseeable future. Asik has become a double-double machine and a defensive force in the paint. After an early adjustment period, Lin seems to be finding his groove alongside Harden. In addition, Houston is getting great production from young forwards Chandler Parsons, Patrick Patterson and Marcus Morris.
The Rockets have a realistic shot at the postseason this spring.
The question is, what next?
As well as the Rockets have played, this team has obvious holes. Apart from Harden, none of the players can consistently create their own offense. Morris and Patterson are "stretch fours" that do not provide consistent inside scoring. The roster is not particularly deep and is extremely young. And the Rockets don't have a legitimate backup at the point guard position.
It is hard to predict whether the Houston brass will pull the trigger for another major move or stand pat, letting the chips fall where they may and waiting for the summer and a chance at Dwight Howard.
My gut feeling is that they will go for it and package some of their young assets (Terrence Jones, Donatas Montiejunas, Marcus Morris and/or Patrick Patterson) for frontcourt help.
Al Jefferson, Paul Millsap and possibly Josh Smith could be on the block by the trade deadline. If they are, expect Houston to be very aggressive, especially if they are still on the playoff bubble.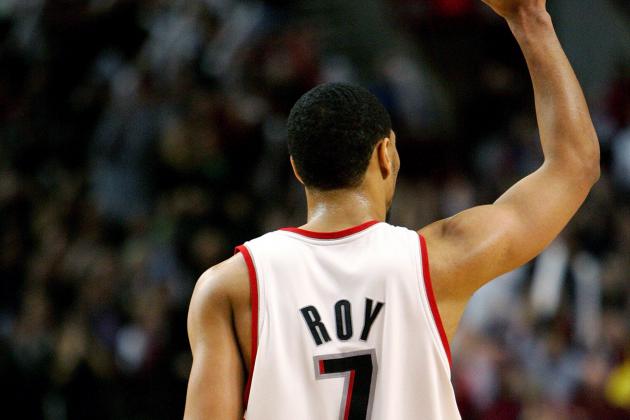 Jonathan Ferrey/Getty Images
Roy's setbacks have put Minnesota's playoff hopes in doubt.
Needs: shooting guard, wing depth.
Possible Targets: Courtney Lee, JJ Reddick.
The Minnesota Timberwolves entered the season with the hopes of finally breaking into the postseason for the first time since the Garnett era ended.
They decided to go the unconventional route, signing Andrei Kirilenko, Brandon Roy and Alexey Shved to fortify their roster and prepare them for the next step.
Despite major injuries to recent acquisitions Chase Budinger and Roy, along with a freak preseason injury to Love and a still-rehabilitating Ricky Rubio, the T-Wolves have managed to stay afloat with a solid 14-14 record in a competitive Western Conference.
Burly center Nikola Pekovic has performed at a near All-Star level. Kirilenko has been a huge success, and Shved is developing into an excellent long-term solution at the off-guard position.
But do the Wolves have enough to grab a playoff spot?
With all the injuries, Minnesota is not very deep. Shved, while productive, is probably better suited backing up a more established 2-guard, and backing up both guard positions. "AK-47" has a huge impact, but there is very little to speak of behind him. Former second-overall selection Derrick Williams has yet to find his way, and Dante Cunningham works hard but is limited.
This may prove to be a turning point in the development of the Timberwolves as a franchise. Love has communicated his frustration with the direction of the club and could look to leave when his contract allows. Williams is the trade chip the team seems to be putting feelers out for. Both Orlando and Boston would be interested in the young, athletic forward and would part with some wing talent to get him. Williams played his college ball in Arizona, and Phoenix may be open to move Shannon Brown and Jared Dudley in a deal.
In any case, the T-Wolves probably cannot afford to stand still in a competitive West.
Ezra Shaw/Getty Images
Fredette has shown flashes of productivity in Sacto and would be a welcome addition to Portland's bench.
Needs: bench help.
Possible Targets: Jimmer Fredette. Austin Daye.
The Portland Trail Blazers had an atrocious season in 2011. There was the Raymod Felton disaster. Greg Oden going down again. LaMarcus Aldridge's season-ending hip surgery. Nate McMillan getting the axe. Jamal Crawford looking done.
For a Blazer fan, last season was one to forget.
2012 brought hope, however. A midseason trade bought the Blazers the sixth overall pick, which they used on small-school scoring machine Damian Lillard. After a failed attempt to nab All-Star center Roy Hibbert, the team matched Nicolas Batum's sizable offer from Minnesota. Most importantly, Aldridge received a clean bill of health and was ready to return to form.
From the first week of 2013, the Blazers found themselves right in the thick of the Western Conference playoff hunt.
Lillard and Batum are exceeding expectations, Aldridge is putting up All-Star numbers and fellow starters Wesley Matthews and J.J. Hickson are making major contributions. Matthews provides solid defense and is one of the most prolific three-point shooters in the NBA, connecting on 39 percent of his attempts. Hickson has become a monster on the boards, ranking seventh in rebounds per game despite being undersized at the center position.
The starting lineup in Portland is one of the more complete and productive in the entire league.
The bench is another story.
The Portland bench is providing an anemic 26 points per game. Top reserve rookie Meyers Leonard contributes fewer than five points per contest. No one from the bench is playing more than 17 minutes per game.
The Blazers are competitive, but will falter if they don't find some serviceable bench help. There are many options to explore. Jimmer Fredette seems to have found his stride and is performing well in limited minutes for the Kings. Another interesting option could be Austin Daye, who has been in and out of the Detroit Piston doghouse ever since he was drafted, but has been productive as of late.
It appears that the Blazers will not make a big splash and move any of their top six, but moving an expiring contract or two for some bench help could go a long way in deciding whether the Blazers play past April.