Updated Predictions for 2012-13 All-NBA Teams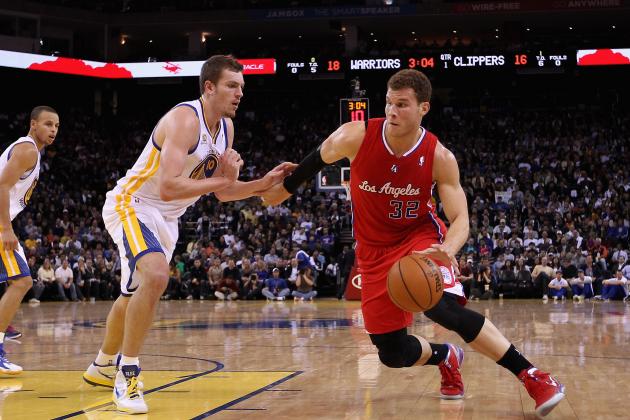 Ezra Shaw/Getty Images

There are those who call the NBA All-Star Game a mere popularity contest. I'm not a fan of such thinking, as I believe that stardom should be merit-based. May the best guys get the biggest accolades.
In that spirit, I'm choosing an All-NBA roster for the season thus far. Obviously, a lot can change between now and the playoffs, but it's not too early to draw conclusions about who has done well to this point.
The season may be young, but so much has happened already. Certain teams have been effectively eliminated from playoff contention, and others have been propelled into playoff- or title-contender status. There's a decent chance that these All-NBA selections will look a lot like the spring product.
Begin Slideshow

»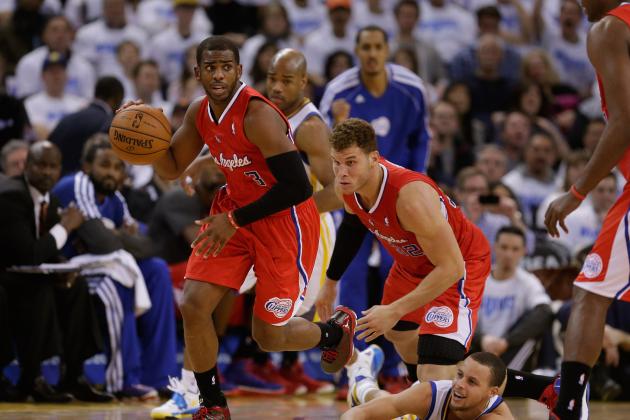 Ezra Shaw/Getty Images

He's the best point guard in the business, and it's not even close. Chris Paul's addition to the Los Angeles Clippers has meant instant relevance—and recently, talk of title contention.
The individual numbers back up Paul's case too. He leads all point guards in PER at 25.8 and in Win Share average at .287.
It's not mentioned often enough that CP3 is doing it all without a stretch power forward who can spread the defense. The Clippers don't operate with a lot of space because of this, but CP3 finds his teammates anyway.
2nd Team: Russell Westbrook
3rd Team: Tony Parker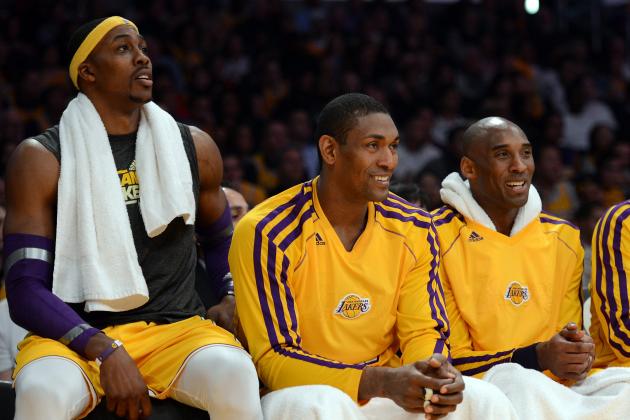 Harry How/Getty Images

Kobe Bryant has been an island of calm amid the stormy seas. In the run up to this season, many feared that Kobe wouldn't give the ball up to perhaps better teammates.
That talk has ended now that we see a crumbling Pau Gasol and a diminished Dwight Howard. Meanwhile, Kobe Bryant is having his best offensive season in years.
The 25.56 PER is impressive, but I'm more taken with his .592 True Shooting mark (TS percentage is what a field goal-percentage looks like after threes and free throws are factored in). It's up nearly seven percent from last season, mostly because Kobe is taking smarter shots than perhaps ever before.
2nd Team: James Harden
3rd Team: Dwyane Wade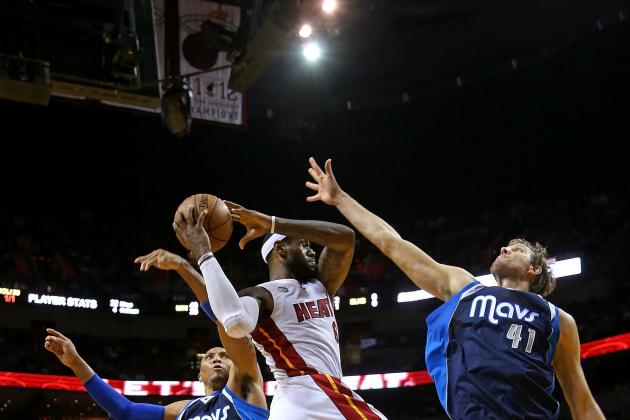 Mike Ehrmann/Getty Images

Thankfully, I don't have to choose between LeBron James and Kevin Durant; both will get forward nods in my All-NBA rankings. Unfortunately, this means that some deserving prototypical power forwards will be left off the list.
It also means that Carmelo Anthony won't make the cut, much to the chagrin of Knicks fans. Melo is having a fantastic season, but it's not a slight to be considered behind the two best players in the world.
As for James, he's shooting an incredible .581 effective field-goal percentage (percentage when threes are factored in) while leading his team in points and assists. It's commonplace brilliance from the best player of his generation. He's great so often that we find ourselves yawning at what should be impossible.
2nd Team: Carmelo Anthony
3rd Team: Serge Ibaka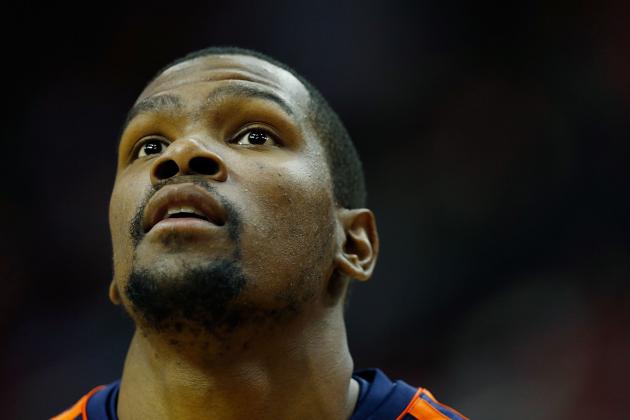 Scott Halleran/Getty Images

Right now, Kevin Durant and LeBron James are at right about the same level in terms of regular-season production. Whoever you prefer might have something to do with the stats you favor. ESPN's PER favors LeBron, and Basketball Reference's Win Shares argue for KD.
The two are difficult to compare because they dominate differently. LeBron runs his offense as a point forward while Durant tends towards scores with inexorable, brutal efficiency. It's different than what LeBron does, not worse.
On the year, Durant is on pace for a 50-40-90 season (50 percent from the field, 40 percent from three, 90 percent from the line), and he's currently claiming a ridiculous .648 true shooting mark. If Carmelo's a "better scorer," I'd like to know how such an assertion is rooted in objective analysis.
2nd Team: David Lee
3rd Team: Blake Griffin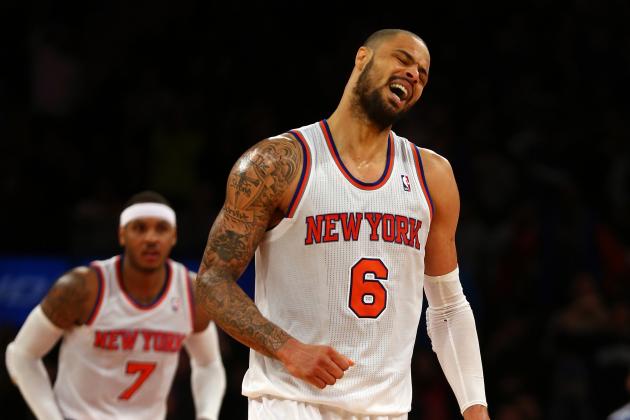 Elsa/Getty Images

Carmelo Anthony may be the "superstar," but Tyson Chandler is the undisputed king of basketball minimalism. The seven-footer doesn't shoot often, but he's incredibly efficient with his touches.
Though he averages only seven shot attempts per game, that 70.8 percent true shooting mark is enough to eke out more points than a lot of guys who hoist often. He's also crucial to the New York spread pick-and-roll attack.
Few big men set better screens than Chandler, and few are better at catching alley-oops after setting said screens. He has the added bonus of being faster than the average big man en route to such picks, high above the key. Chandler also provides what little defense and rebounding the sweet-shooting Knicks possess.
2nd Team: Tim Duncan
3rd Team: Marc Gasol