UCLA Football Recruiting: 4 Recruits Bruins Need to Add in the Secondary
Christopher Hanewinckel-USA TODAY Sports
Jim Mora was a long time DB coach in the NFL
In 2013 the UCLA Bruins will have the unenviable task of replacing three long-time starters in the secondary.
Both starting corners Aaron Hester and Sheldon Price will graduate and starting strong safety Andrew Abbott has exhausted his eligibility on the collegiate level.
Overall depth is a clear issue for the unit. Not only is the returning group short on experience, but multiple members are coming off of serious injury. Therefore, Jim Mora is hitting the recruiting trails hard—with the goal of landing multiple prospects who are ready to play prominent roles as true freshmen.
With elite defensive back Jermaine Kelly recently decommitting from UCLA, there's even more of an impetus on the Bruins to land impact players in the secondary.
Here are four defensive back prospects that the Bruins would love to bring into the fold on Signing Day.
Begin Slideshow

»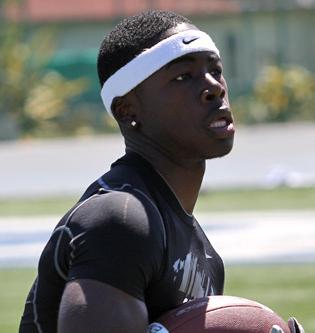 Courtesy of 247Sports
Patrick Enewally is perhaps the most under-the-radar prospect of the four listed in this piece.
The 3-star defensive back (per Rivals) from Gahr High School in Cerritos, Calif. isn't necessarily a household name in the recruiting world. But, that hasn't stopped colleges on the West Coast from pursuing him heavily.
At 6'1" and 195 pounds, he's got great size for the corner position. He's a tall, rangy athlete that can run well and turn his hips in coverage. He's also versatile from the standpoint that he could potentially end up at either safety or corner. His upside as a player is vast—especially considering his skill set.
Currently, Enewally looks to be favoring UCLA, Washington, and Boise State, with Cal also trying to get into the mix. He plans to visit UCLA officially on January 18.
Courtesy of 247Sports
In terms of being a complete safety, there might not be a better one in the country than Tahaan Goodman.
The Rancho Cucamonga, Calif. native has all the tools one would look for in the ideal safety prospect. At 6'2" and 195 pounds, Goodman is already as big as many college safeties. He's got a tremendous nose for the ball, and that's a direct reflection of the impressive instincts Goodman demonstrates on the field.
He's completely capable of playing in the box and making the big hit, and he's dually comfortable in pass coverage. More than anything, his competitiveness and anticipatory skills make him truly a special prospect.
Goodman has offers from all over the country. Currently, he's looking at UCLA, LSU, USC, Tennessee and others.
As of this point, the only school the 4-star prospect has visited officially is UCLA (per Scout). He's also very good friends with another big UCLA target in Priest Willis. The prevailing notion is that they will be attending the same school when it's all said and done.
Goodman also seems very family oriented, so that could bode well for the Bruins.
If you want to see Goodman in action, he will be playing in the U.S. Army All-American Bowl on Saturday at 10:00 a.m. PT on NBC.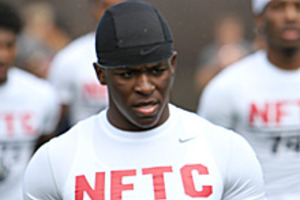 Courtesy of Scout.com
Johnny Johnson might be the best pure cover corner in the entire state of California.
While not blessed with great size, the Fresno, Calif. native utilizes quick feet and physicality in order to be successful. He has the ability to turn his hips quick without losing a step, and his overall confidence on the field allows him to play bigger than he actually is.
The 4-star prospect (per Rivals) is a very smart and savvy football player. Johnson is almost eerily similar to a former UCLA great (and coincidentally Fresno native) cornerback Ricky Manning. While Manning lacked the ideal height, he more than made up for his physical shortcomings with competitiveness, technical ability and quickness.
Johnson is down to UCLA and Washington, with the Bruins holding a strong lead. It'd be a huge surprise to see the Fresno Central East High School product end up anywhere else than in Westwood. He's slated to be visiting officially on January 18.
Johnson will be participating in the Semper Fi Bowl on Friday, January 4 at The Home Depot Center. The game will begin at 6:00 p.m. PT on the NFL Network.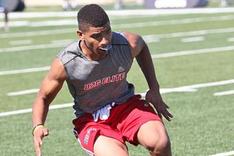 DB Priest Willis
Priest Willis is to the UCLA Bruins as a golden goose is to Veruca Salt.
Or in other words, the Bruins want Willis badly.
The 5-star defensive back (per Scout) from Marcos De Niza High School in Tempe, Ariz. is arguably UCLA's top target in the secondary. Not surprisingly, Willis is probably the top target of many schools.
Up to this point, he's visited Virginia, LSU, Florida State, and Nebraska officially. He's scheduled to visit UCLA on January 18.
As a player, Willis epitomizes the term versatility. At 6'2" and 190 pounds, he's fully capable of playing either at safety or at corner. For a man his size, he's very rangy. Willis' combination of ball skills and overall size makes him a potential shut down corner.
He's big enough to play physically against taller receivers, while he offers the agility and pure speed to match up with smaller opponents.
Truthfully, Willis is good enough to start for UCLA the day he steps foot on campus. LSU and the hometown team, Arizona State, seem like the biggest competition for the Bruins.
Willis will be playing in the Under Armour All-American Game on Friday, January 4 at 2:00 p.m. PT on ESPN.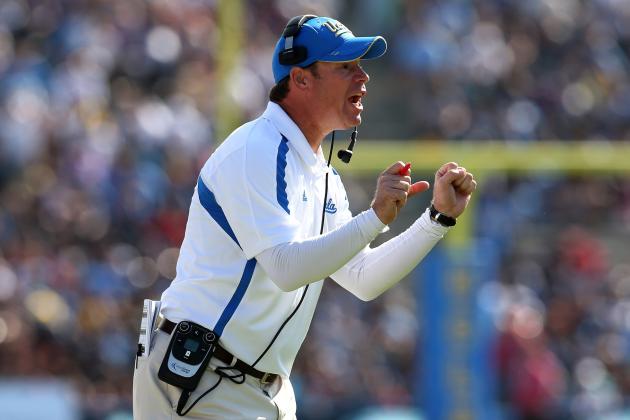 Stephen Dunn/Getty Images
Jim Mora would love to have all four players listed in this piece
With three vacancies in the secondary, there's ample playing time to be had for any defensive back rconsidering UCLA. For that reason and others, the Bruins are doing pretty well with each of the prospects mentioned in this piece.
Mora's extensive background of coaching defensive backs in the NFL could play a big role in landing all four prospects. Of the four, all but Enewally realistically have a shot at starting as true freshmen—provided that they choose UCLA.
In addition, ace recruiter and defensive backs coach Demetrice Martin has forged strong bonds with the aforementioned quartet.
Enewally and Willis both offer the Bruins great versatility. Willis can fit in right away at the vacant safety spot next to Tevin McDonald or he could conceivably start at one of the open corner spots.
It wouldn't be a shock to see Goodman start at safety and have Johnson fill in at the other corner position.
It would be an absolute boon for UCLA to land all four of these talented kids. Not only would it boost the overall talent level in the program but it would essentially solidify the secondary for years to come.