MMA: The 5 Worst Title Fights in UFC History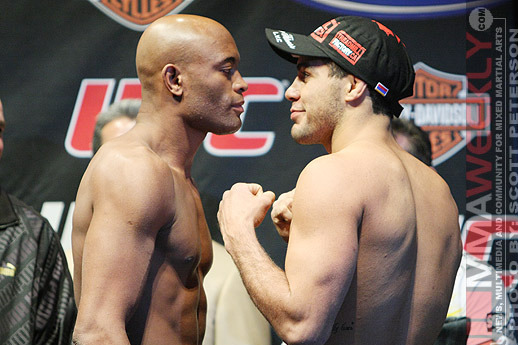 mmaweekly.com
A UFC title shot is supposed to be something special. It's supposed to represent the two best fighters at a given weight class going against one another to see who is the best in the world.There have been a number of title fights that became instant classics, but there have also been a number of duds as well.
The anticipation builds in the weeks leading up to a fight. Perhaps the two guys engage in some trash talk to help generate some pay-per-view buys or maybe they become a little too critical of the other's talents. Maybe it's a rematch and fans are anticipating a different outcome. Any number of these factors, along with others, help build the anticipation for a title fight.
More often than not, these title fights play out in exciting fashion.
Yet the fights on this list failed to move the excitement meter. They were some of the worst title fights to watch, and that was due to the fight being extremely boring or extremely one-sided.
I shouldn't have to explain what made some of these fights so boring, as any fan can realize that a stalemate on the ground, or on the feet, isn't entertaining in the least. I also believe that every MMA fan can appreciate one fighter dominating over another, but there comes a point in time where the fight should end. Whether that be with the referee stepping in or the dominant fighting closing the deal, these one-sided bouts lasted for far too long.
Here are the five worst title fights in UFC history.
Begin Slideshow

»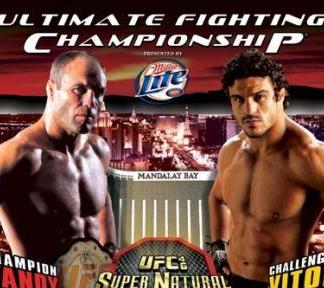 mmajunkie.com
Featuring the debut of future pound-for-pound king Georges St-Pierre as well as B.J. Penn taking out the top welterweight in the world, UFC 46 seemed to be a great event for the UFC.
Indeed, things were going well heading into the main event, where UFC light heavyweight champion Randy Couture was scheduled to defend his belt against "The Phenom," Vitor Belfort.
It was supposed to be an interesting clash of styles, as Couture was expected to use his wrestling background against the superb striker Belfort. Unfortunately for fans, the fight only lasted 45 seconds.
Belfort landed a punch that grazed the eyelid of Couture, causing a cut. The cageside doctor was called in to check the cut and waved the fight off.
As if an ending like that weren't bad enough for a UFC title bout, Belfort was actually awarded the light heavyweight title, even with the fight ending via doctor's stoppage—resulting in a TKO victory for the Brazilian.
The manner in which UFC 46 ended felt just as bad as a draw, despite the title changing hands.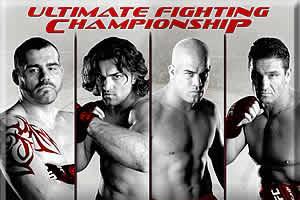 mmajunkie.com
UFC 61 was set to feature a pair of rivalry rematches. The main event was actually a rubber match between the UFC heavyweight champion Tim Sylvia and former champion Andrei Arlovski.
Arlovski had won the first meeting via submission after dropping Sylvia with a big right hand. In the rematch, Arlovski had Sylvia hurt, once again, but this time "The Maine-iac" landed a desperation punch that knocked Arlovski out on his feet.
With two explosive finishes in their firs two fights, fans were anticipating much of the same in their third meeting. And for the opening two rounds, fans got their wish, as the two men exchanged big punches.
However, the final three rounds would be an entirely different story.
Arlovski's touted hand speed slowed throughout the end of the fight, and Sylvia seemed content to utilize his reach advantage. Both fighters faded fast as the championship rounds wore on, and the fans' displeasure with the bout was heard loudly as round after round came to a conclusion.
The fight became a stalemate on the feet and, although Sylvia retained his title, it's hard to call anyone a winner in this contest.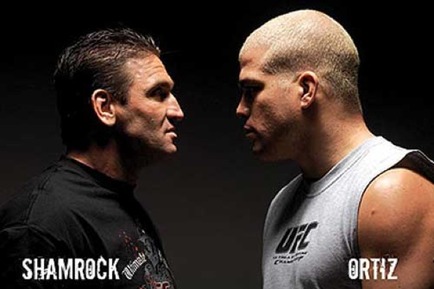 fightday.com
Regardless of how significant UFC 40 may have been for Zuffa and the future of MMA in America, the main event was actually pretty awful.
UFC 40's main event pitted "old school" against "new school," as Ken Shamrock stepped foot in an Octagon for the first time since 1996 to face off against reigning champion Tito Ortiz.
The fight played out much in the way it should have, with Shamrock somehow managing to make it through 15 minutes against Ortiz. Shamrock was taken down repeatedly and had nothing to offer Ortiz on the ground except to hold on for dear life.
He attempted a desperate submission attempt in the third round but it was nowhere near close to stopping the demolition unfolding in the cage. At the conclusion of Round Three, Shamrock's face was barely recognizable due to the swelling.
The event became a monumental achievement for MMA's success in America, but it's too bad that the main event didn't live up to the hype surrounding it.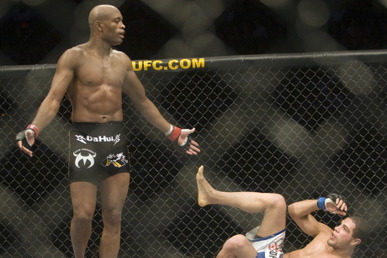 cagepotato.com
There were so many flops in this contest that FIFA should have been judging it.
Thales Leites' only chance at victory against Anderson Silva at UFC 97 was his ability to use his Brazilian jiu-jitsu skills. Silva is no slouch on the ground, but Leites was expected to at least threaten with some slick submission attempts.
Instead, the only thing that he threatened to do was break a tailbone from flopping on the ground. Pulling guard is one thing, but flopping on the ground after a leg kick is quite another. Silva's frustration with Leities' gameplan was eviden, and the chorus of boos from the fans in attendance were well warranted.
Featuring as little action as humanly possible in a 25 minute fight, this may be the worst title fight in UFC history—if not for one more joke of a fight...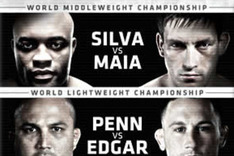 bleacherreport.com
Demian Maia knew he that had to get Anderson Silva to the mat at UFC 112 in order to stand any chance of winning. Maia attempted to do this early on, but for the most part, UFC 112's main event was nothing more than Silva embarrassing his competition.
The champion danced around the Octagon, yelled insults in Portuguese towards Maia, and taunted his opponent at every opportunity. It resembled a cat playing with a mouse, except instead of a killing blow, Silva took more time to show off his dance moves.
Referee Dan Mirgliota warned Silva in the fifth round that he would take a point away, but by then, it was a moot point. The fight was so bad that even Dana White refused to put the title around Silva's waist after the official decision was read.
The fight with Thales Leites may have been terrible, but Silva's fight with Maia was downright horrific to endure.