Fantasy Football: Early 2013 First Round Mock Draft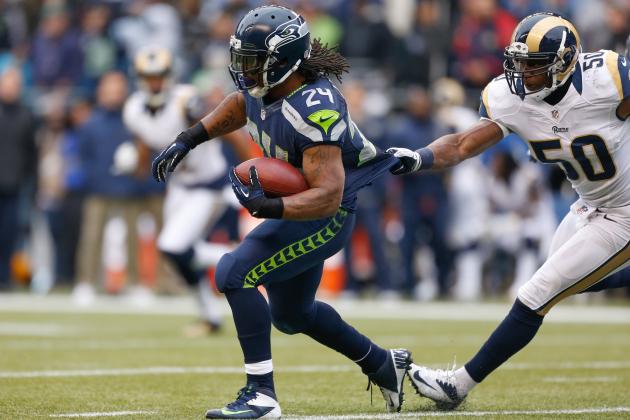 Otto Greule Jr/Getty Images

The 2012 fantasy football season hasn't been over for more than five days, and yet it's time to start looking to your 2013 draft.
I think I may have a problem. But at least you do, too, if you're reading this. We can share our fantasy football insanity.
If your draft has been pre-determined by the slot you finished in the 2012 season, then it's likely that this will be a much more valuable tool for you to follow.
Most drafts won't determine who picks where until late in the Summer of 2013, but this is still something you'll want to keep in mind.
There are some players that I have in the top ten that may be a little surprising, but it's more surprising to me that they aren't being considered in the first round by some experts.
Well, that's assuming that your league is playing with the standard amount of teams.
So here is the first mock draft of 2013, with undoubtedly many more to come as the offseason unfolds.
Begin Slideshow

»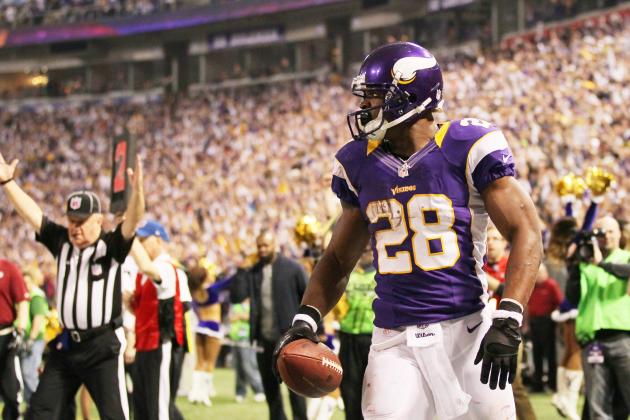 Andy King/Getty Images

Here's how the other running backs to join the 2,000 yard club have followed up in the next season:
O.J. Simpson-1,125 yards and 3 touchdowns (1974)
Eric Dickerson-1,234 yards and 12 touchdowns (1985)
Barry Sanders-1,491 yards and 4 touchdowns (1998)
Terrell Davis-211 yards and 2 touchdowns (four games played in 1999)
Jamal Lewis-1,006 yards and 7 touchdowns (12 games played in 2004)
Chris Johnson-1,364 yards and 11 touchdowns (2010)
It's doubtful that Adrian Peterson can eclipse the 2,000-yard mark again in 2013, but at this point, why doubt him?
He's just one year removed from a major injury where some thought that he might not play until deep into the 2012 season. So after proving he is a being from another species that is not our own, I wouldn't pass him up with the first pick.
His huge surge in the second half of the season made him basically the safest bet in all of fantasy football, and now that he's had a taste of the record books, he may want to devour them altogether.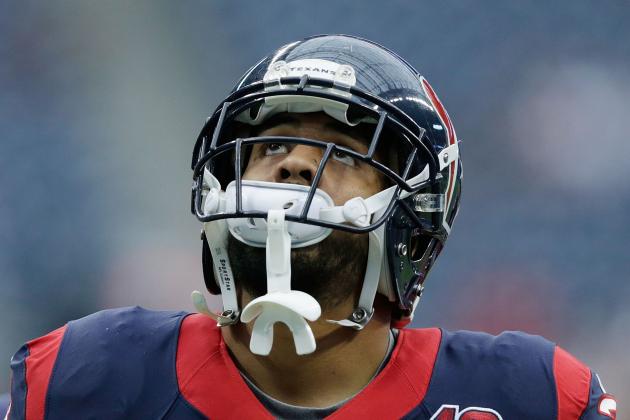 Scott Halleran/Getty Images

Consistency and fantasy greatness are both amazing. Having one player that possesses both of those traits is a must-have.
Arian Foster was a stud in 2012, and has been since the end of his rookie season, as long as he's healthy. He only played in two games where he scored under double digits (in standard scoring).
He was blanked against Minnesota, registered with zero points and had an honest eight-point day in Week 11 against Jacksonville.
Other than that? Just one other game under 13 points, and even that went for 10 (Week 13).
As long as he can keep pumping those types of games out on a consistent basis, he's definitely worth the No. 2 pick in the draft.
His potential for an enormous game isn't as high as Adrian Peterson's, which is why he isn't in the top spot.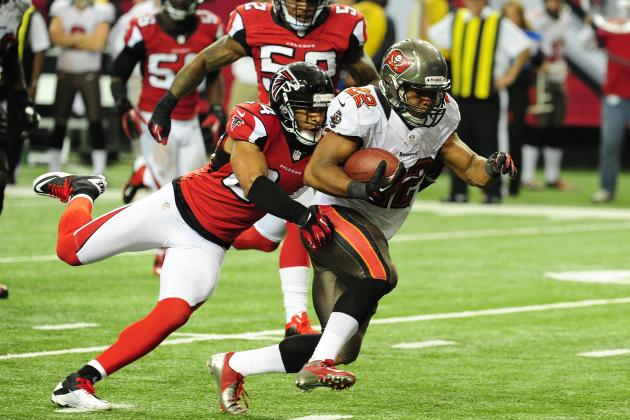 Scott Cunningham/Getty Images

Back in Week 9, Doug Martin had one of the best fantasy games ever recorded against the Oakland Raiders.
He ended that ridiculous performance with 272 total yards and a fantasy scoreboard-bursting four touchdowns. In standard scoring, that was good enough for 51 total points.
Martin didn't end up with another game that was close to that, but he ended No. 2 out of all running backs for 2012 in standard scoring.
After Week 4 against Washington, he only went under nine points once (against New Orleans, of all teams) and has shown the consistency needed to be an early pick. Maybe not consistently great like Foster or Peterson, but consistently good.
Some people may consider a quarterback after Foster and Peterson are off the board, but it's worth the wait at the No. 3 spot to draft Martin, who should rise into the elite level of fantasy running backs.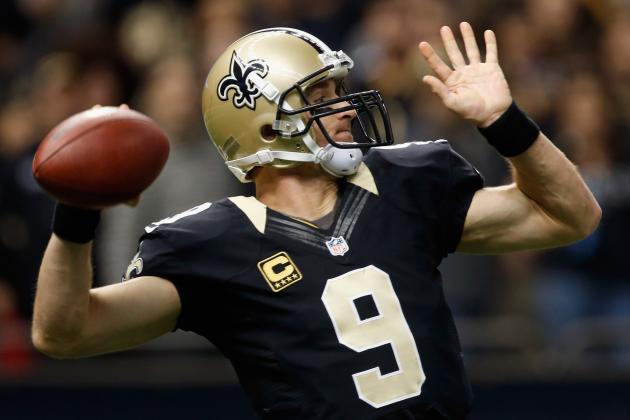 Chris Graythen/Getty Images

Here's what you know you are getting with Drew Brees: a lot of yards, and a lot of touchdowns.
That just so happens to be how fantasy quarterbacks score points. That's why Brees is the top quarterback off of the board, following his No. 1 finish in 2012.
He's consistently a fantasy stud, and even a good portion of his "off" days are still better than most quarterbacks. Other than his terrible performance in Week 13 against Atlanta, where he threw for five interceptions, Brees never dipped below the 13-point mark for the Saints.
While the receivers on the Saints are anybody's guess on a weekly basis in terms of who produces and who doesn't, it's never a question that their quarterback is going to turn in a fine performance.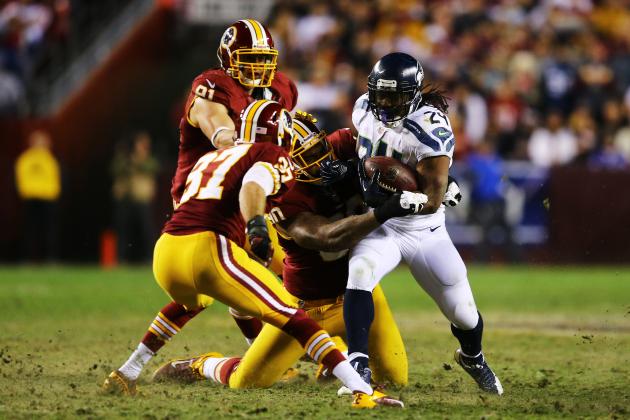 Al Bello/Getty Images

One thing you want from a running back is someone that doesn't get sidelined when his team is nearing the goal line.
That's not a worry with Marshawn Lynch who is always the go-to player for the Seahawks close to the end zone, and who should turn in another fine performance in 2013. He finished No. 4 out of all running backs in 2012, which is impressive due to his slower-than-usual start to the season.
The last five games of the season, he turned in tallies of 13, 30, 18, 25 and 11 points. Those are the kinds of games that help you win a fantasy league, especially that late in the season.
Lynch is comfortable in the Seahawks' offense and will continue to be utilized to the fullest of his abilities. Expect another season similar to the 2012 campaign.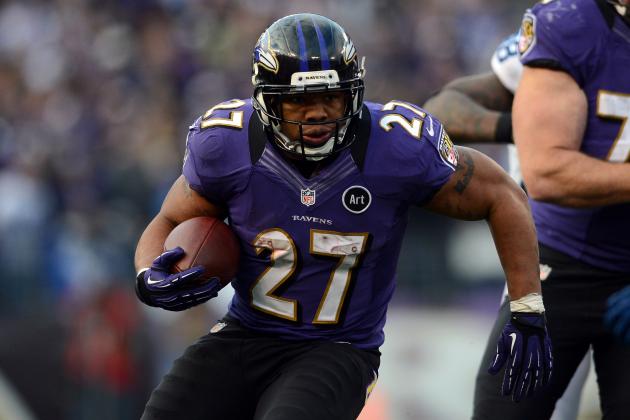 Patrick Smith/Getty Images

Ray Rice is the last of the "feature backs" you will find on this list, so now would be the time to grab him. Alfred Morris is also a feature back, but with questions surrounding Robert Griffin III's knee, I dropped Morris to the early second round. Trent Richardson is another possibility to hop into the first round.
His 2012 season wasn't "stellar" by fantasy football standards, especially for someone consistently taken in the first round of drafts.
He still managed to finish No. 6 out of fantasy running backs and would have had a chance to go higher but was benched for most of the Week 17 game against Cincinnati to rest up for the playoffs.
Still, 1,621 total yards and 10 touchdowns is nothing to scoff at. If you don't feel comfortable taking a quarterback in the first round and Rice is still available, he has to be the one to take.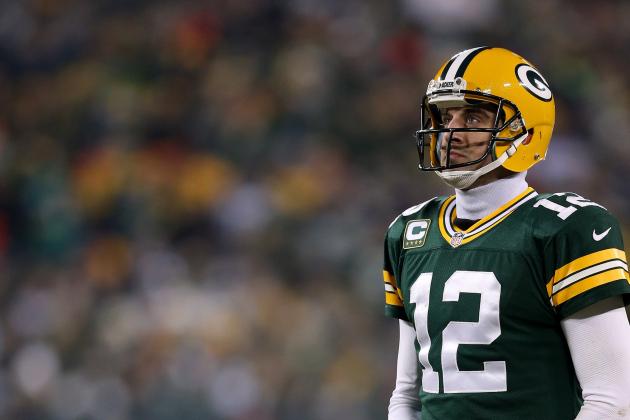 Andy Lyons/Getty Images

Just imagine that your best fantasy player had his worst game of the season. It probably caused you to lose and made you question your faith in that player.
That is, unless, you had Aaron Rodgers, whose worst game of the season still resulted in double-digits for the Packers.
That's why he is a first round pick; on his worst day he's still better than average, and on his best day he can single-handedly win you a fantasy game.
He finished No. 2 out of quarterbacks in 2012 (behind Brees), and there's no reason not to expect those two to reign supreme in quarterback rankings for 2013.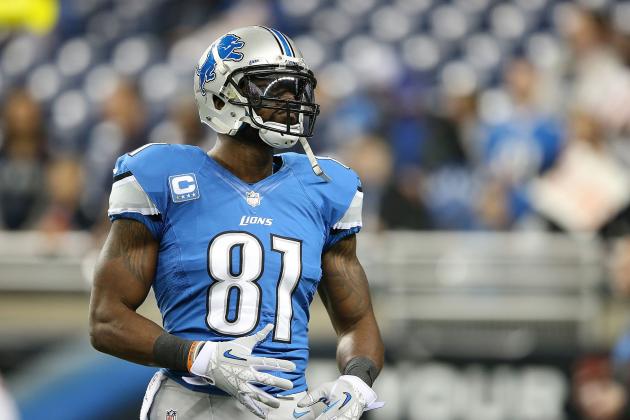 Leon Halip/Getty Images

Calvin Johnson finished the 2012 season as the top wide receiver, despite scoring just five touchdowns.
That's right, the top wideout in the NFL, the guy that almost got to 2,000 receiving yards only had five touchdowns. And that's why I think he will be better in 2013.
Getting the same amount of yards (1,964) next season will be difficult, to say the least. However, expecting him to improve on that touchdown total, perhaps even doubling it, won't be out of the realm of possibility.
Just think, if he would have gotten five more touchdowns, he could have gotten 300 fewer yards than he did and still led all of the wide receivers.
That's why this amazing freak of nature is worthy of a first-round pick, even though receivers aren't popular in the first frame.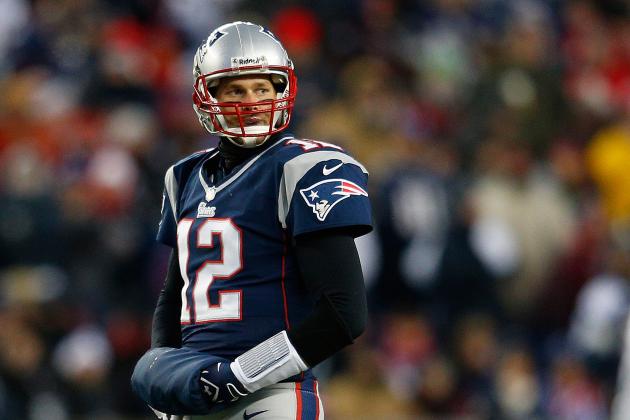 Jim Rogash/Getty Images

This late in the round, you have to ask yourself if you would rather have a consistent quarterback or a running back that some may not want to take a chance on (such as Trent Richardson or C.J. Spiller).
If it's me, I'm taking the quarterback then trying my luck out at running back just three selections later.
Brady is clearly the best quarterback left, finishing No. 3 out of them, all behind, of course, Rodgers and Brees.
His consistency is amazing, as he never went under 11 points. The only concern is whether or not the Patriots will keep tossing the ball if they get up by too much in a game. Well, that, and the fact that he will be 36 years old in 2013.
You have to wonder if he will ever start to regress as he gets older, but at this point, I doubt it. He hasn't slowed down one bit.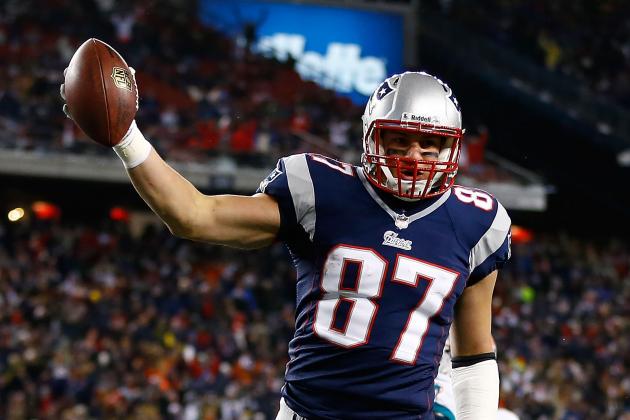 Jared Wickerham/Getty Images

One of the most disappointing things while playing fantasy football is getting beaten by a tight end. Especially if your top running back outscored your opponent's by more than 10, only to have a player like Rob Gronkowski return the favor against your mid-level tight end.
He's so valuable that he has to be considered late in the first round. Finding a tight end that can do what he does is rarer, so he should be taken in front of all but one wide receiver. That's saying something.
Sure, you could wait a little bit and try to get Jimmy Graham or Tony Gonzalez (who may not even play next year) but I'll take the guy who finished just nine points out of the No. 1 tight end spot despite missing more than a month.
Yes, he does have his off days sometimes (three occasions of six points or fewer), but more often than not, he's going to get a lot of yards or a lot of touchdowns. Sometimes even both.
Win McNamee/Getty Images

Here is the list of players that were also considered for the first round, but were left out due to one reason or another:
Alfred Morris, LeSean McCoy, Trent Richardson, A.J. Green, C.J. Spiller, Cam Newton, Jamaal Charles, Brandon Marshall, Stevan Ridley, Demaryius Thomas, Dez Bryant
This surely won't be the last mock draft of the offseason, so this is all contingent to change. All of those players are ones that may move up or down, but that list is in no particular order.
Korey Beckett is a Featured Columnist for the Washington Redskins and Bleacher Report's Fantasy Football coverage. Like him on Facebook here or e-mail at koreydbeckett@gmail.com