Seattle Seahawks vs. Washington Redskins: 5 Bold Predictions for Wild Card Game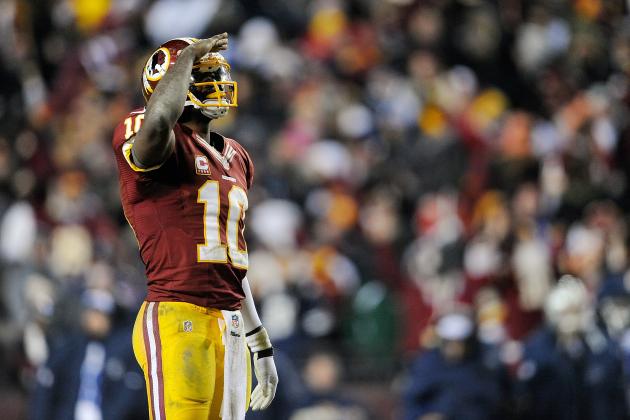 Patrick McDermott/Getty Images
RGIII is looking ahead to his first playoff matchup.
The last time the Seattle Seahawks lost a game, most of us were still polishing off Thanksgiving leftovers from the fridge. The last time the Washington Redskins fell to an opponent, all but the most ardent sugar-lovers still had plenty of Halloween candy stuffed in their pantry.
Now, these two white-hot NFC squads clash in a Wild Card game heavy with storylines.
In the ensuing slides, we'll examine a few of these storylines and make a few bold predictions as to their resolution on Wild Card Weekend. Feel free to share some predictions of your own in the comments section below.
Begin Slideshow

»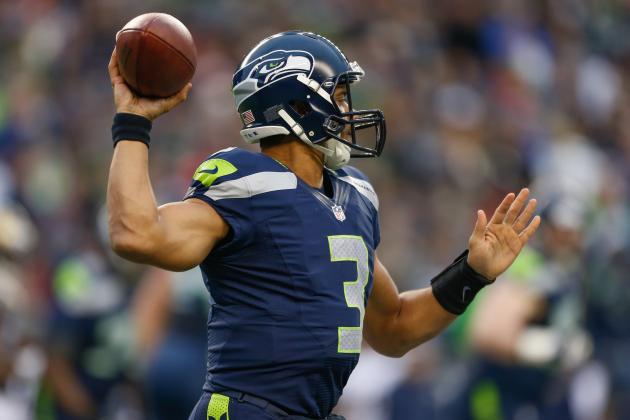 Otto Greule Jr/Getty Images

Robert Griffin III had comically high expectations heading into the NFL, and somehow he's managed to meet them. As a result, he's garnered fame, attention and Subway commercials in the nation's capital.
But he's about to be outplayed by his Seahawks counterpart Russell Wilson in the Wild Card round.
That's largely because of the respective defenses they're facing—RGIII must contend with the league's fourth-best defense by Football Outsiders' DVOA contextual metric, while Wilson gets to face the pedestrian Redskins defense (17th in DVOA).
But that doesn't tell the whole story. In fact, by some metrics, the Seahawks QB has marginally outplayed his more-heralded counterpart.
Wilson is the eighth-best QB by ProFootballFocus's grading metrics—RGIII is ninth. Wilson is the sixth-ranked QB by Football Outsiders' DVOA and the eighth-ranked by their DYAR metric—RGIII is ranked eighth and 11th by those respective metrics. Of course, RGIII has the advantage in rushing, but that's somewhat mitigated by his ball-security issues— the Redskins' rookie had nine rushing fumbles this season.
In other words, these are two very evenly matched QBs, and one of them is facing a significantly tougher defense. Not that bold of a pick after all.
Prediction: Wilson completes 65 percent of his passes with three TDs (one rushing). RGIII completes 60 percent of his passes for two TDs (one rushing) and one INT.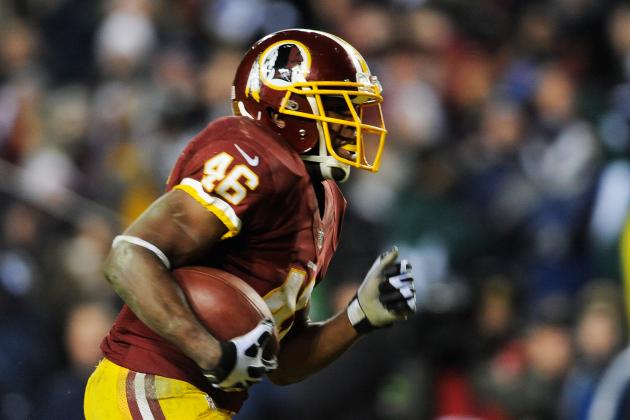 Patrick McDermott/Getty Images

If the Seahawks defense has one weakness, it's their susceptibility to elite rushers.
Seattle yielded 182 yards to Adrian Peterson in Week 9, though that's hardly an embarrassing feat given Peterson's incredible season. They let Bills rusher CJ Spiller top the century mark in just 17 carries (admittedly in a Seahawks blowout). They gave up a combined 147 yards on just 23 rushes to Dolphins RBs Reggie Bush and Daniel Thomas.
So in spite of Seattle's defensive reputation, expect Skins RB Alfred Morris (the NFL's second-leading rusher) to get his yards against Seattle.
Washington will primarily attack from the right side of their line, as Seattle edge rushers Chris Clemons and Bruce Irvin excel at getting to the quarterback but struggle against the run. Per Football Outsiders, the Seahawks are 22nd and 23rd at defending runs to the right tackle and right end spots, respectively.
Unfortunately for the Skins, their RT Tyler Polumbus isn't particularly good at run-blocking, grading way in the red as the 77th-best run-blocking tackle per ProFootballFocus.
Still, the Skins will be able to attack the right side with read-options and make Irvin and Clemons pay for failure to maintain gap discipline or set the edge.
Prediction: Morris totals 23 carries for 110 yards, one fumble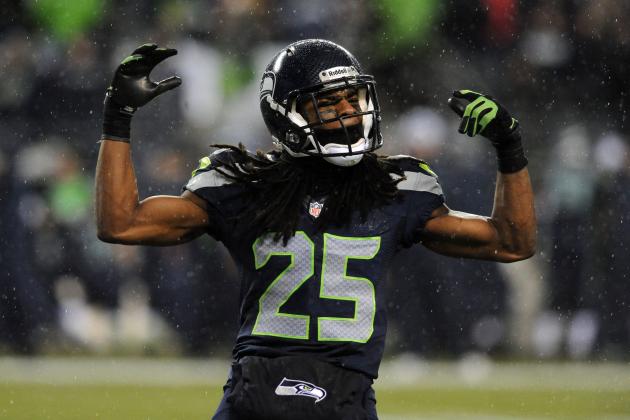 Steve Dykes/Getty Images

Richard Sherman recently won his appeal of a four-game suspension for the use of performance-enhancing drugs, and his presence in the playoffs may give RGIII plenty of reasons to be mad, bro.
Sherman is a physical press corner who can body up any receiver on the Redskins, then jam and reroute them. He's already one of the top CBs in the league—and he's a tough matchup for the 'Skins.
Sherman is a playmaker to his core—he totalled eight interceptions and three forced fumbles on the year. ProFootballFocus grades him as the best CB in football.
Griffin is a smart QB who doesn't make a lot of mistakes (just five INT on the year), but against the Seahawks' aggressive defense, he's going to have to take some chances. Given the consistent excellence in the Seahawks secondary, thanks to Marcus Trufant's return in Week 17 and Brandon Browner's return from a drug suspension, some of those chances will have to be in Sherman's direction.
Look for Sherman to take advantage of any efforts to get WR Pierre Garcon involved early—I expect him to come down with the Seahawks' lone pick against a disciplined Redskins offense.
Prediction: Sherman is targeted five times, yielding two catches for 50 yards and recording an INT.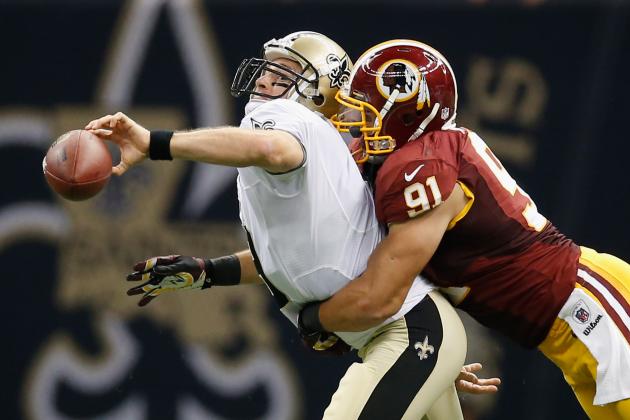 Chris Graythen/Getty Images

When the Seahawks have the ball, the trench battle—at least on paper—looks to be one between an easily stoppable force and an eminently movable object.
The Redskins boast the NFL's 25th-best pass rush by Football Outsiders' adjusted sack rate statistic, while Seattle counters with the 20th-best pass-protecting offensive line by that same metric.
Still, I'm predicting a big game from the Redskins' pass rush—particularly outside linebackers Ryan Kerrigan and Rob Jackson, who combined for 13 sacks this year.
Seahawks fifth-year tackle Breno Giacomini grades out as one of the worst RTs in football per ProFootballFocus. Their LT, Russell Okung, is a Pro Bowler, but 'Skins coordinator Jim Haslett should be able to disguise some looks out of his base 3-4 to get his linebackers a few clean shots at the quarterback.
Prediction: Kerrigan leads defense with two sacks, the 'Skins get four sacks in total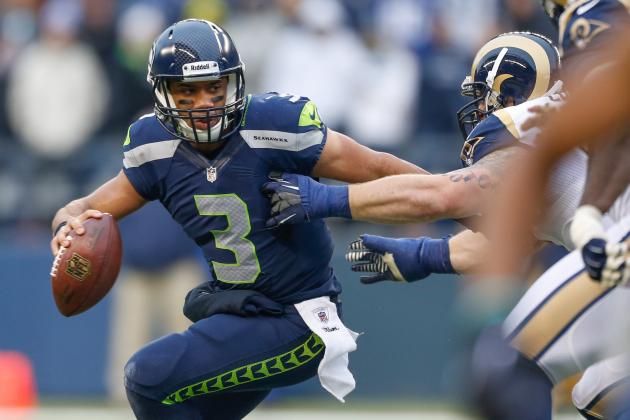 Otto Greule Jr/Getty Images

The Seahawks haven't won a road playoff game in twenty years. That will change against the Redskins.
Both teams are scalding hot entering the playoffs, but the Seahawks are the better team and they'll overcome their road woes in a statement game heading into the divisional round.
Wilson has the intelligence to break down the 'Skins' secondary and the athleticism to evade the blitz and extend plays. Look for him to make some big gains on broken plays as he covers for an offensive line that isn't elite at protecting the pocket.
RGIII is an incredible player, but he's got a Herculean task facing him in trying to beat the Seahawks defense. They'll be able to shut down drives quickly so that Seattle can get the ball in the hands of bruising rusher Marshawn Lynch to control time of possession and tire out the 'Skins' merely average D.
Ultimately, this will be a close game, and one heavily predicated on rushing attacks. Both teams have elite running backs to complement quarterbacks who can make plays with their feet. But Seattle's playmaking defense will be the difference in a game that will come down to the final few minutes.
Final score: Seattle 27, Washington 20