10 NBA Teams Redefining Our Expectations in 2013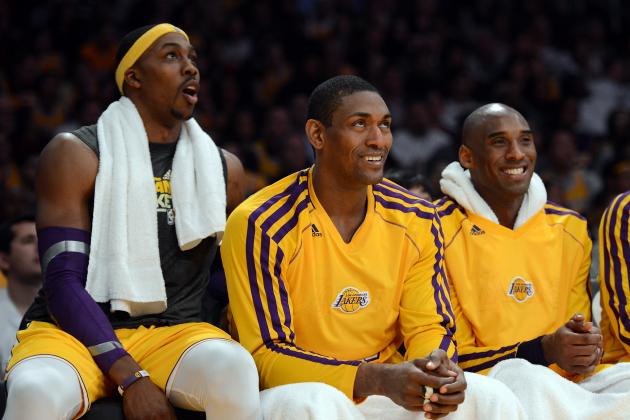 Harry How/Getty Images

NBA fans entered the 2012-13 season with certain expectations for certain teams. Needless to say, that entire foundation has been shaken to its core. Some teams have been pleasant surprises, while others have been disappointing and left fans going, "But why???"
Let me put it this way. Had someone told me in August that the Atlanta Hawks would be one of the top teams in the Eastern Conference without Joe Johnson, I'd have started laughing hysterically. Today, I'd be looking for that same person just to apologize for doubting them.
The facts are simple. NBA teams and their performances are unpredictable from start to finish, and there are bound to be as many surprises as there are disappointments. This year has been no exception.
In 2013, fans will definitely need to reconsider their opinions on a good amount of teams.
Begin Slideshow

»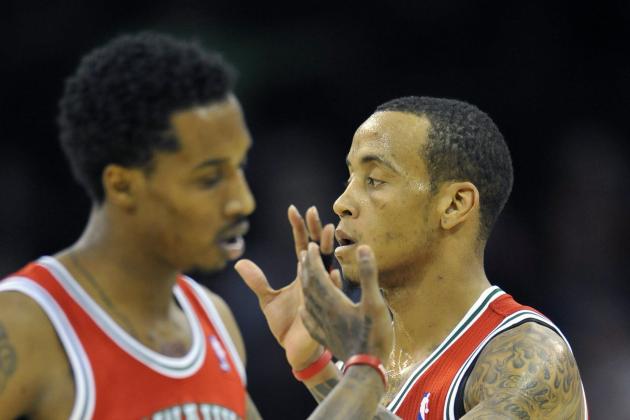 USA TODAY Sports

The Milwaukee Bucks are an interesting bunch. Head coach Scott Skiles is all about defense, but his two best players, guards Monta Ellis and Brandon Jennings, are best known for their scoring abilities, though Jennings has shown fine improvement on defense.
Throw in the ultimate surprise in big man Larry Sanders, and the Bucks are a young and balanced team not to be taken lightly. They have been in the thick of the race for the Central Division all season long, and refuse to back down from any opponent. Milwaukee defeated the defending champion Miami Heat on December 29, and quite handily too.
There's still a lot of season left and, for all we know, the Bucks' youth will catch up with them and the team will come back down to earth. Even if that does happen, Milwaukee's players have shown that they can keep up with the big boys, and even outrun them at times.
Today and in the future, they will not be taken lightly.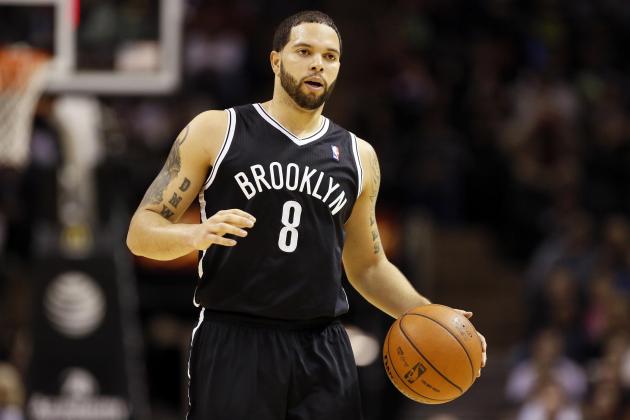 USA TODAY Sports

The Nets had an epic summer following one final forgettable season in New Jersey. Not only did the team re-sign core players in Brook Lopez, Gerald Wallace, Kris Humphries and star point guard Deron Williams, but Joe Johnson was acquired from the Atlanta Hawks.
Brooklyn got off to a good start at 11-4, but the wheels have since fallen off. The Nets are now 17-15 and recently fired head coach Avery Johnson.
After marketing their "Core Four" over the summer and marketing the team as a contender, team management now has just another mediocre team working to get things right. It just goes to show you that no matter how money is spent, it can't guarantee a team will contend for a title.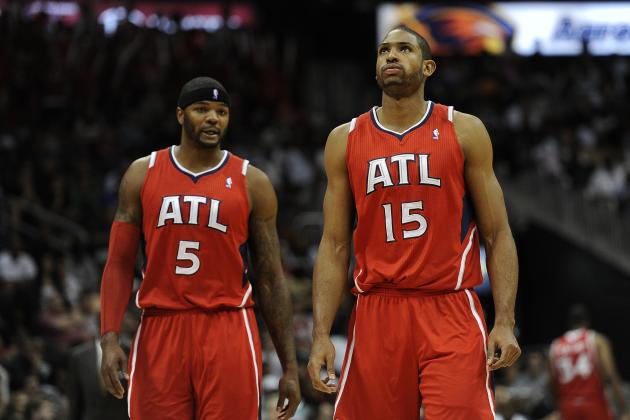 Paul Abell-USA TODAY Sports

As was just mentioned, the Atlanta Hawks traded Joe Johnson and his hefty contract to the Brooklyn Nets over the summer. In return, they received a bunch of reserves. At first glance, it looked like GM Danny Ferry was cleaning house and taking the first step towards a rebuilding phase.
Instead, the Hawks are playing some of their best basketball in years. Josh Smith and Al Horford are thriving as the go-to guys in head coach Larry Drew's system, and guards Jeff Teague and Lou Williams provide the type of spark of which some fans only dream.
With a new commitment to defense, this team is ranked third in the Eastern Conference, trailing just the New York Knicks and Miami Heat. Based on how those two teams have played thus far, the Hawks are in great company.
Come playoff time, it's going to be interesting to see whether or not the team is for real and not just a "very good" group as opposed to a great one.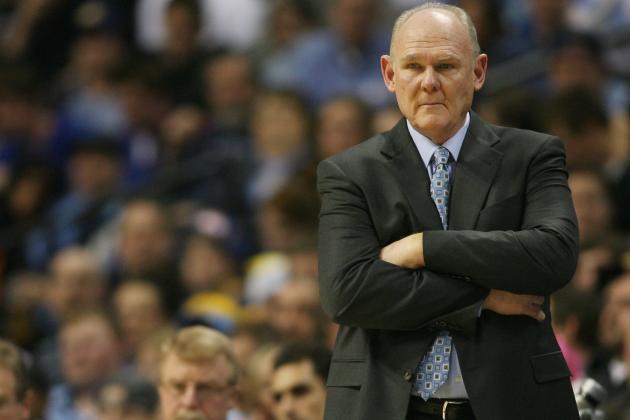 USA TODAY Sports

Nuggets coach George Karl has plenty of reason to scowl. He has one of the best-looking teams on paper, and yet Denver is ranked seventh in the highly competitive Western Conference. Considering how GM Masai Ujiri took a huge risk by sending away shooter Arron Afflalo and acquiring the dynamic Andre Iguodala in the Dwight Howard trade, Nuggets fans have every reason to be disappointed this year.
Ty Lawson has been slowed by an Achilles injury for quite a while now and while Iguodala certainly is talented, he does not necessarily have the offensive prowess to play shooting guard in Karl's fast-paced system.
More importantly, why is Kosta Koufos getting more minutes than Javale McGee? Yes, Koufos has a higher basketball IQ, but McGee absolutely dominates the paint. He's averaging 10.7 points, 5.2 rebounds and two blocks in just over 19 minutes per game, so one can only imagine what he'd do if given starter's minutes.
Regardless of how the rotation does or doesn't change over the rest of the season, it's clear that 2012-13 has not been what the Nuggets hoped it would be thus far. Instead of making a lot of noise in the Western Conference, they are struggling just to stay in the race. That can't exactly have been what Ujiri had in mind when he traded for Iguodala.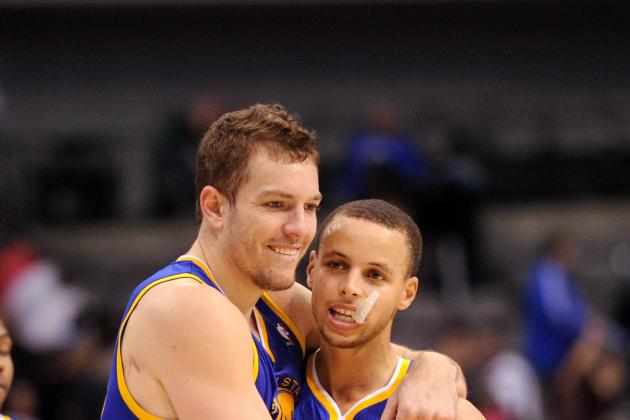 Jerome Miron-USA TODAY Sports

For the past few seasons preceding 2012-13, the Warriors were known as a talented offensive team tremendously lacking in the defensive department. That void seemed to be filled last season, when star scorer Monta Ellis was traded to the Milwaukee Bucks for the oft-injured Andrew Bogut.
Bogut has only appeared in four games for the Warriors as he deals with a slow recovery from microfracture surgery, but the team has fared quite well without him. In fact, Golden State ranks fifth in the Western Conference and is just three games out of the top spot.
The Warriors have point man Stephen Curry to thank for their success, as he has been excellent in his third NBA season. He missed all but 26 games last year with an ankle injury, but he has come all the way back to forge great on-court relationships with shooter Klay Thompson and double-double machine David Lee.
Golden State still doesn't have a prominent defensive center with Bogut out, but rookie Festus Ezeli has played a good low-post game and has done a fine job of manning the middle. Throw in more productivity from backup Jarrett Jack, and the Warriors have been one of the best surprises of the season.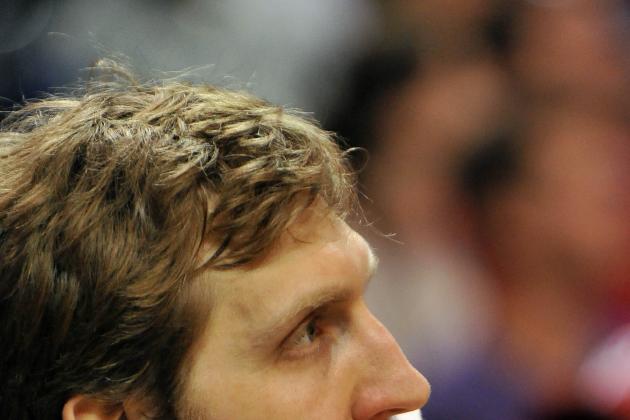 USA TODAY Sports

It's hard to not feel bad for the Dallas Mavericks. The team is not even two seasons removed from a championship season, and rebuilding mode is inevitable.
Dirk Nowitzki and Shawn Marion are the only two that remain from the 2011 team that won the NBA Finals, and both are getting old. To expect them to carry the team by themselves is a bit much, but Dallas doesn't have much beyond this duo other than guard O.J. Mayo.
Chris Kaman has been decent at center, but he is made of chalk and is no longer the dominant big man he was in earlier years. Darren Collison has talent, but he is not consistent enough to be a scoring point guard in Rick Carlisle's system.
Throw in the fact that the Mavericks have an old bench crew in Vince Carter and Elton Brand, and the Mavericks' nightmare becomes clear. This team had so much going for it two seasons ago, but fate has shown its cruelty.
As easy as it was to get Dallas some championship glory, it was even easier to take it away.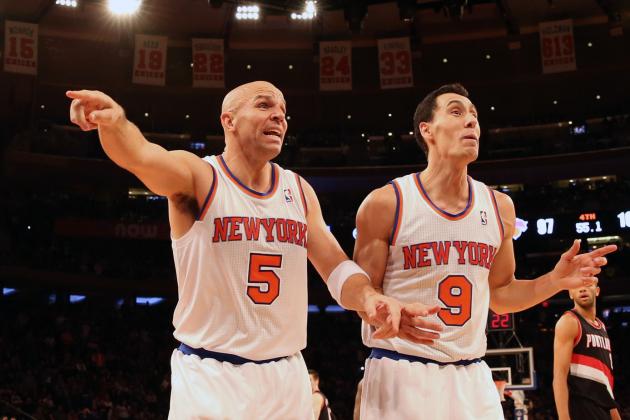 Anthony Gruppuso-USA TODAY Sports

After going 18-6 under Mike Woodson last season and having a busy free agency summer that saw the signings of Jason Kidd, Raymond Felton and many more, Knicks fans had plenty of reasons to be optimistic entering 2012-13. Even with Iman Shumpert and Amar'e Stoudemire out recovering from separate knee surgeries to start the season, New York looked like a strong cohesive unit for the first time in over a decade.
Fast forward through a 6-0 start, two 20-point victories over the Miami Heat (one without Carmelo Anthony) and a fanbase bubbling over with excitement, and the Knicks have been beyond surprising this year. Keep in mind, they were expected to contend, but not gain higher than maybe a fourth or fifth seed.
Instead, the Knicks are the No. 2 team in the Eastern Conference and making a strong case for the top spot. Injuries have slowed them down as of late, but that has not stopped those who can play. The team clearly enjoys playing for Woodson and is buying into the idea of winning with tough defense, so the sky seems to be the limit.
Once the team is at full strength and no injury bugs are present, it's going to be exciting to see just how far the team can go.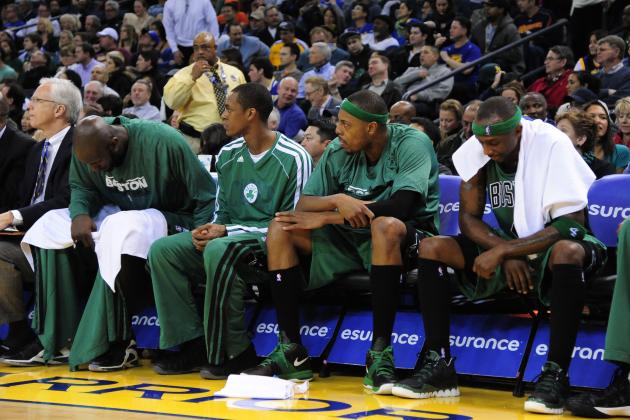 USA TODAY Sports

Looking at the Boston Celtics now, it's hard to believe that the team came within just one win of the NBA Finals last season. Today's Celtics look old and slow, and just can't keep up with younger teams. Coached by the defense-minded Doc Rivers, Boston ranks last in rebounding and 17th in points allowed.
Much of the team's struggles could be due to being without sharpshooter Ray Allen, who signed with the Miami Heat over the summer, but not even an offensive spark can be cited as a reason for poor defense. The sad truth is that Kevin Garnett is no longer a major defensive threat at age 36, and the lack of frontcourt help in Boston is painfully clear. Brandon Bass is slow and ineffective, and Jared Sullinger is a raw talent not yet ready to become a regular.
Even Boston's offense has been a problem. Outside of Paul Pierce and Rajon Rondo, the team has nobody. Jason Terry is having his worst scoring season since his rookie year, and Courtney Lee has been nothing but disappointing.
As much as some may not want to admit it, the Celtics' days of patrolling the Eastern Conference could be coming to an end. Age has caught up with them and barring a major turnaround, the playoffs do not appear to be in their future.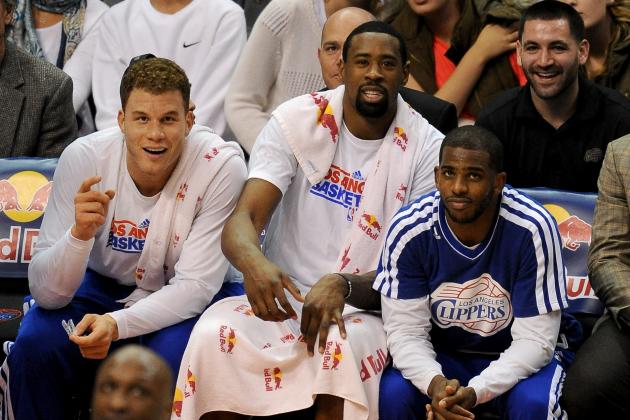 Jayne Kamin-Oncea-USA TODAY Sports

When the Clippers signed Jamal Crawford to a three-year deal in July and also brought back Chauncey Billups, there was every indication that Lob City would be just as good as it was in its debut season. Instead, it's been even better.
Nobody could have seen this coming. The Clippers are 25-8 and just a half game back of the top spot in the Western Conference. This can be attributed to a recent 17-game winning streak, during which the team went undefeated in the month of December.
Even crazier is that the Clippers did this without a fine sharpshooter in Billups, who has been out with a foot injury since early December. Instead, Chris Paul and Blake Griffin have carried this team from start to finish, and Crawford has provided an excellent spark off the bench.
At long last, the Clippers are starting to matter in the City of Angels, and the NBA is starting to take notice of the team's potential.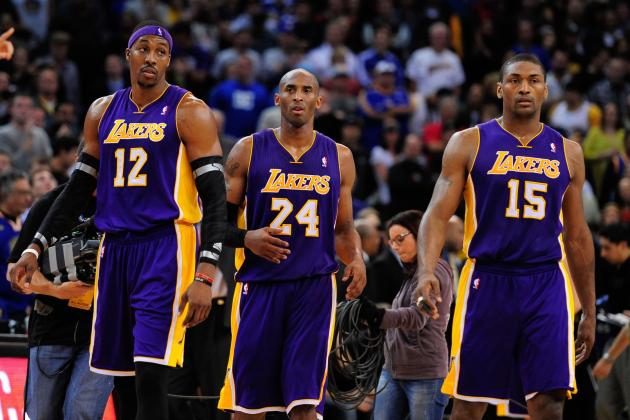 USA TODAY Sports

After signing Steve Nash in free agency and trading for Dwight Howard, the Lakers became the clear-cut favorites to win a championship this year. That is, before their season became the worst kind of roller coaster.
The year started with Mike Brown as the head coach, and he chose to use the slow-paced Princeton offense despite having an excellent playmaker in Nash. As a result, the Lakers started 1-4 and Brown was fired, only to be replaced by Mike D'Antoni and a run-and-gun game.
Yet, there was no immediate turnaround. Nash fractured his leg in the team's second game of the season and only returned recently. In his absence, Pau Gasol and Dwight Howard both struggled. Kobe Bryant was the only player who appeared to be fully buying into the new system.
Granted, the Lakers are just 15-16 right now and still have plenty of time to go on an epic run before the playoffs, but one thing is certain. This is not the team fans thought it was prior to the start of the season. Much like their rival Boston Celtics, the Lakers are suffering from issues with age.
Instead of going on a championship run like we hoped, we now just have to hope that the Lakers get into the playoffs. Unless consistency is found, that's not going to happen.