20 Questions That Must Be Answered in the 2013 NFL Playoffs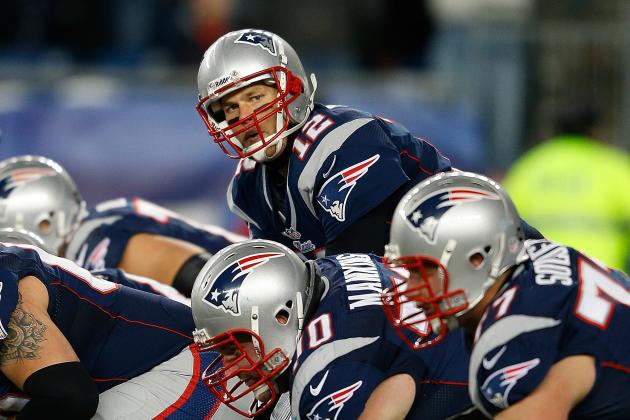 Jim Rogash/Getty Images

Much like the NFL regular season, the outcome of the NFL postseason is essentially unknowable, especially to its participants. We can still pinpoint the crucial "decision points" that will determine who gets to the top of the mountain and who is left by the wayside.
The NFL is always rich with plot and subplots, and every game represents a new chapter in a story that is already written and will continue to be written. Some overarching narratives will be more entrenched, like "Tony Romo comes up small in big games" was last week. Others will be overlaid with a new narrative, like the Cincinnati Bengals did when they returned to the postseason in consecutive years for the first time in over 30 years.
What are the biggest questions hanging over the 12 NFL playoff participants?
Begin Slideshow

»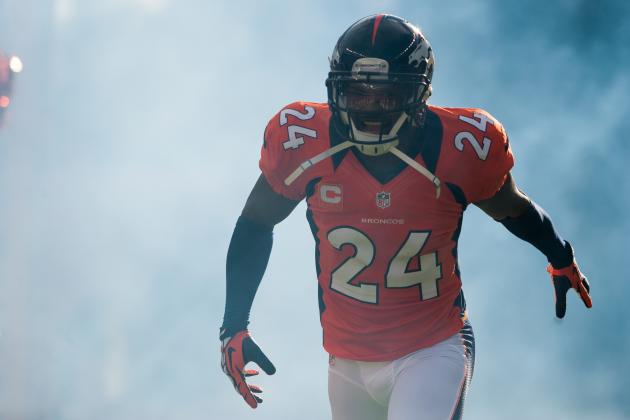 Dustin Bradford/Getty Images

The Patriots haven't won a Super Bowl since 2005, but they have always been a tough out in their six playoff appearances since then.
Two of their most bitter playoff losses came in scenarios that they will likely face again this year. The 2005 season ended in Denver in a game typified by Champ Bailey's 100-yard interception return for a touchdown. The 2006 season ended against Peyton Manning despite the Patriots opening up a big lead and Bill Belichick owning Manning in their meetings up to that point.
It has been a while, but you can bet that Belichick and Tom Brady still lose sleep over those losses. They should have a chance to right two wrongs in the AFC championship game.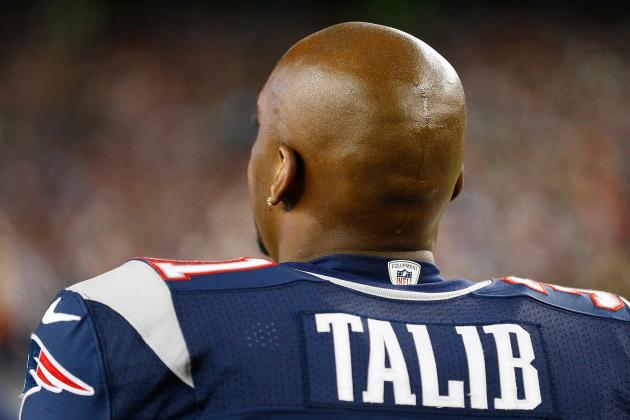 Jim Rogash/Getty Images

The Patriots pass defense was one of the worst in the league in 2011, and they gave up the pass that should have ended their season but didn't when Baltimore's Lee Evans dropped it.
Things didn't look much better in the first half of the season, but the addition of Aqib Talib, emergence of seventh-round rookie corner Alfonzo Dennard, improved play of Devin McCourty at safety and return to play of Steve Gregory and Patrick Chung made for a much more formidable unit down the stretch.
Rookie first-round picks Chandler Jones and Dont'a Hightower also enhanced the pass rush and made the front seven more active and physical. However, the Patriots were still taken apart way too easily by Colin Kaepernick in a game that cost them home-field advantage (in hindsight). How will they respond this time around?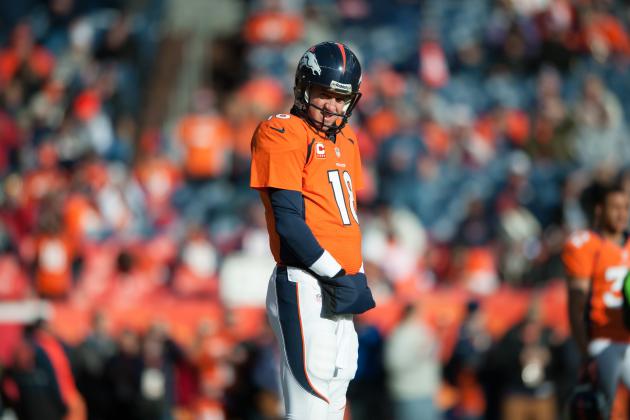 Dustin Bradford/Getty Images

The Broncos only lost three times all season, but two of those losses were to the No. 2 and 3 seeds in the AFC, the New England Patriots and the Houston Texans. Only one of those games was in Denver, so home-field advantage should help. Since those teams are seeded directly beneath the Broncos, they will only have to play one of them to go to the Super Bowl.
Denver is certainly a better team than it was when it lost to the Texans and Patriots, but the fact remains that in just about any scenario, it will have to beat one of the two AFC teams that thoroughly dominated it to get to the Super Bowl, and it may have to defeat the NFC team that did it, Atlanta, when it gets to the big game.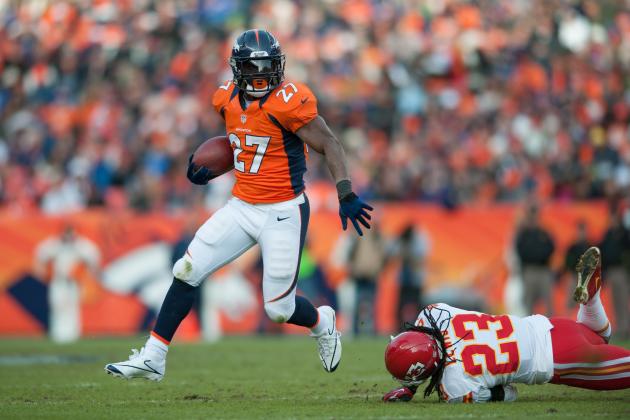 Dustin Bradford/Getty Images

We all know the story by now. The Broncos were 2-3 and went into the locker room down 24-0 to their toughest divisional opponent this year, the San Diego Chargers. Denver won 35-24, and it hasn't lost since.
Of course, it's only played two teams with winning records since then, and one was the Baltimore Ravens after they had just come off last-second losses to the Steelers and Redskins.
It's a testament to this team's excellence to have won every game so handily since the Chargers win, but it also means that it hasn't felt the adrenaline rush and pressure of a game that comes down to the last possession in a long time. It surely will again soon, and it remains to be seen how it will respond.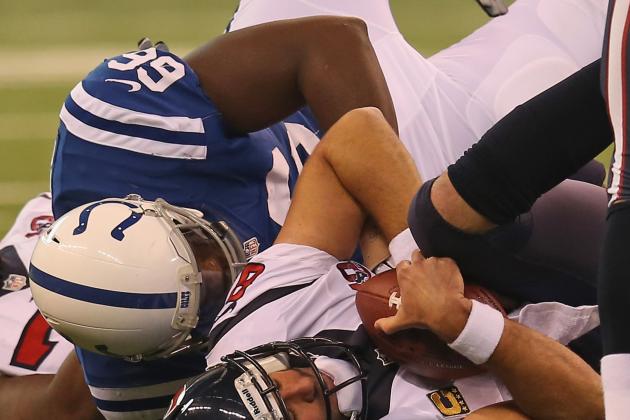 Jonathan Daniel/Getty Images

After an 11-1 start, the Texans seemed like a lock to win home-field advantage throughout the playoffs and make the road to the Super Bowl go through Houston.
Instead, in a sight all too familiar for Houston pro football fans, they lost three of their last four, including a humiliating loss to New England by the score of 42-14. Even after that game and a loss to the Vikings, the Texans could have clinched home-field advantage with a win over the Colts but seemed to implode in every facet of the game at the worst possible time.
No team is coming into the playoffs more deflated than Houston. Can head coach Gary Kubiak get this team up after it has been so down in the month of December?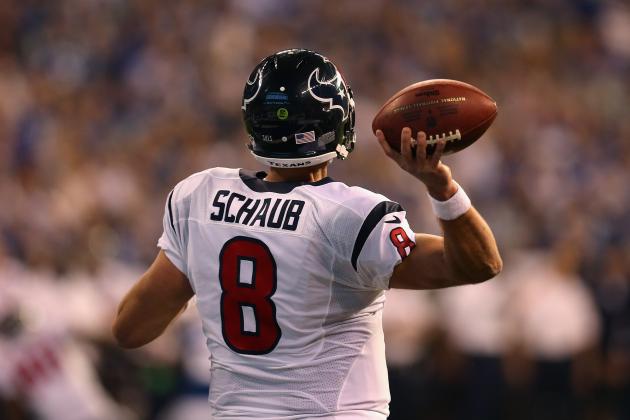 Jonathan Daniel/Getty Images

It's easy to forget that Matt Schaub was out for the playoffs last year when the Texans beat the Bengals and came very close to knocking off the Ravens in Baltimore.
A month ago, everyone would have agreed that the Texans are a better team with Schaub than they were with T.J. Yates last year in the postseason, but Schaub has fallen apart since the Patriots thwarted everything he tried in the 42-12 spanking during Week 14.
The Texans offensive line didn't do him any favors in the decisive loss to the Colts last week, but interceptions were on Schaub, and he failed to throw a touchdown pass against a mediocre pass defense. If T.J. Yates still has more playoff wins than Matt Schaub next week, the seeds of a future quarterback controversy will be planted.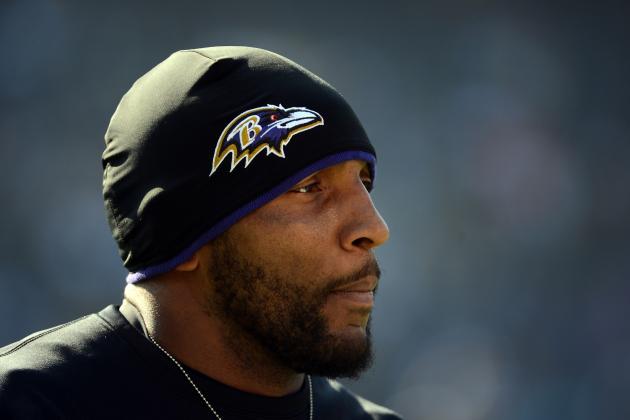 Harry How/Getty Images

It's hard to overstate how important Ray Lewis' leadership is to the Baltimore Ravens franchise. Calling him the greatest middle linebacker in the history of the game is not hyperbole, and neither is calling him the greatest leader in the history of the game. He knew exactly what he was doing when he announced that this postseason would be his last earlier this week.
The Ravens are a team that is flush with postseason experience, but they haven't been able to get over the hump and get back to the Super Bowl after winning it in 2001. If you were going to write a script of how they get back, this is probably how it would begin.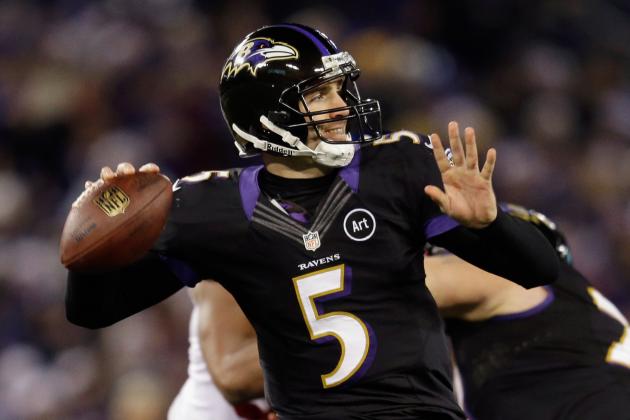 Rob Carr/Getty Images

Throughout his entire career, Joe Flacco's play has ranged from brilliant to bumbling. The Ravens are 5-4 in the postseason during Flacco's career, but they are 1-4 when he throws 30 or more passes and 4-0 when he throws under 30 passes.
New offensive coordinator Jim Caldwell was a part of Peyton Manning's previous playoff success with the Colts, so his ability to help a quarterback in the playoffs is proven.
With Flacco's rookie contract expiring, millions of dollars are probably on the line, in addition to his team's season.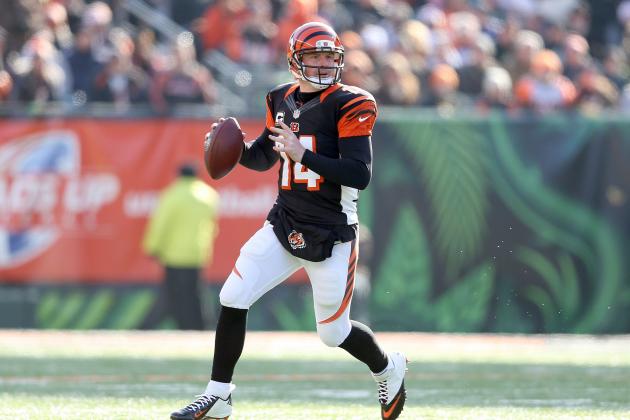 Andy Lyons/Getty Images

It isn't that often that a team gets a chance to go back to the site of its last stand in the previous season and face the opponent that extinguished its dreams. Marvin Lewis and the Cincinnati Bengals get to do just that against a Houston Texans team that they played close until J.J. Watt reached up and stole their playoff dreams in one fell swoop.
How far has Andy Dalton come since then? Will Geno Atkins' new dominant level of play make a difference? Does offensive coordinator Jay Gruden have something up his sleeve to exploit a suddenly mortal Houston Texans pass defense? This question, like so many others, just opens up even more questions to be answered on Saturday.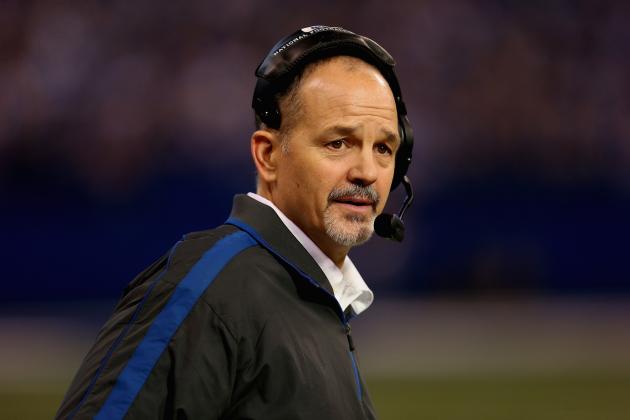 Jonathan Daniel/Getty Images

First and foremost, kudos to the Colts brass for going all out in the return of head coach Chuck Pagano in a Week 17 game that offered them no improvement of postseason seeding. The Colts had their best all-around performance of the season against one of their toughest opponents and primary rival.
Now they have to dial that level up and add more intensity, as they face a team that will be channeling the energy of an emotional return of their own—the Baltimore Ravens welcoming back Ray Lewis, and likely for the last time on his home field.
The Texans were stumbling coming into last week; the Ravens will be breathing fire. Can the Colts summon up their best performance of the year two weeks in a row?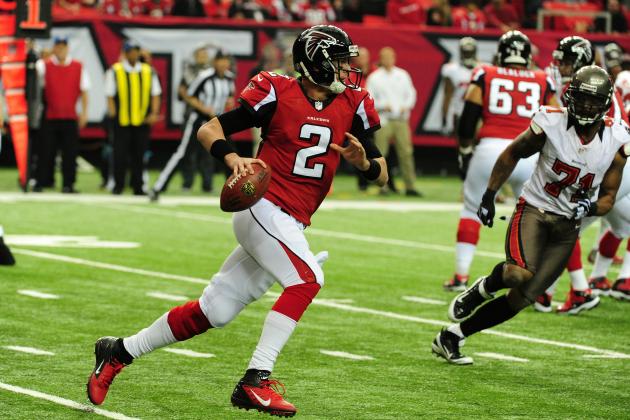 Scott Cunningham/Getty Images

You'll hear this stat a lot in the next week: The Atlanta Falcons are 0-3 in the postseason in the Mike Smith/Matt Ryan/Thomas Dimitroff era. That everyone's minds will be on this fact could actually be good for the Falcons, who seem to be reaching to change things up going into this postseason.
Even though they are the No. 1 seed in the NFC, feeling like a disrespected upstart could be just what the Falcons need. They will be facing a team that is coming in riding a wave of at least a five-game winning streak, while the Falcons lost the last time they took the field.
Kevin C. Cox/Getty Images

With nothing to gain, the Atlanta Falcons made the curious decision to play their starters for the entire 60 minutes vs. the Tampa Bay Buccaneers in Week 17.
Key starters at defensive end (John Abraham, ankle sprain) and cornerback (Dunta Robinson, concussion) suffered injuries, and while the Falcons don't think that will affect them in the playoff opener next week, they are certainly not coming in as healthy as they were entering the Tampa game.
On top of that, the Falcons lost, at home, against a team that didn't even have a winning record. Their confidence can't be surging entering a game against a team that will be feeling unbeatable.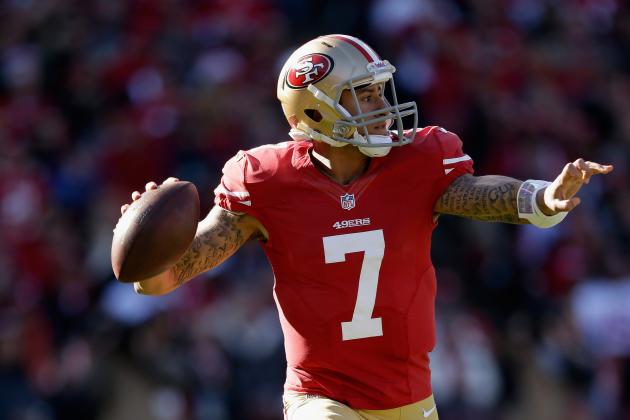 Ezra Shaw/Getty Images

So far, so good for Jim Harbaugh's decision to replace Alex Smith with Colin Kaepernick midway through the season. The 49ers won the division, secured a bye and knocked off a Super Bowl-caliber team on the road in the process. They even sent an NFC rival into tailspin after Kaepernick's first start. None of that will matter when this move is judged for the record.
If the 49ers exit the postseason early with Kaepernick leading the decline, the move will be condemned by the fanbase. Which opens up another interesting question: What would it take for Harbaugh to go back to Smith during a playoff game?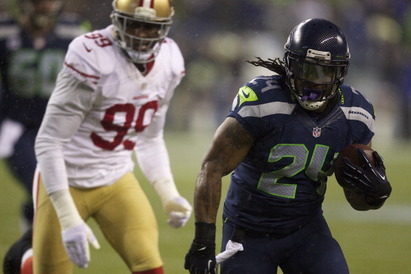 Stephen Brashear/Getty Images

Take a moment to peer at the San Francisco 49ers' schedule and results from this past season.
OK, now look at the disturbing pattern. Win, win, loss, win, win, loss, win, win, tie...you get the idea. The 49ers have not been able to string together three quality performances in a row all season. For a team with Super Bowl aspirations, that presents one small problem: You have to win three games in a row to win the Super Bowl.
In this case, getting to the big game would get that monkey off their back just in time for the trip to New Orleans.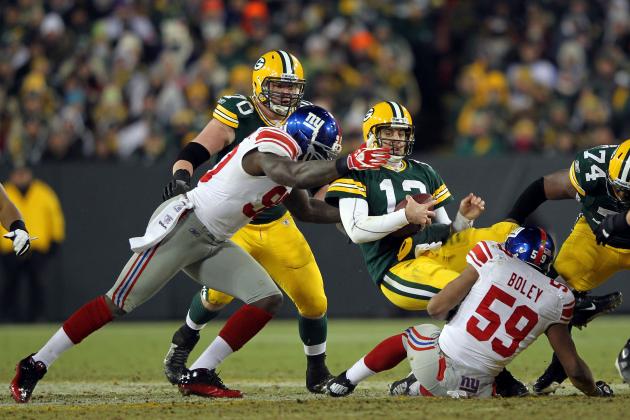 Jamie Squire/Getty Images

Coming off the best regular season of his career and a Super Bowl-winning performance in his last postseason, Aaron Rodgers laid one of the biggest eggs of his career in the divisional round of the playoffs against the Giants last year.
This year, Rodgers has mastered "winning ugly" with an inconsistent offensive line and a wide receiver corps that is getting back to full strength for the first time in months. He won't have to face the Giants this time around, but he will have to face a Vikings team that bested him just a week ago.
Make no mistake—the Packers will go as far as Rodgers can take them. That is as likely to be one-and-done as it is to be all the way to Super Bowl if the last two postseasons are any indication.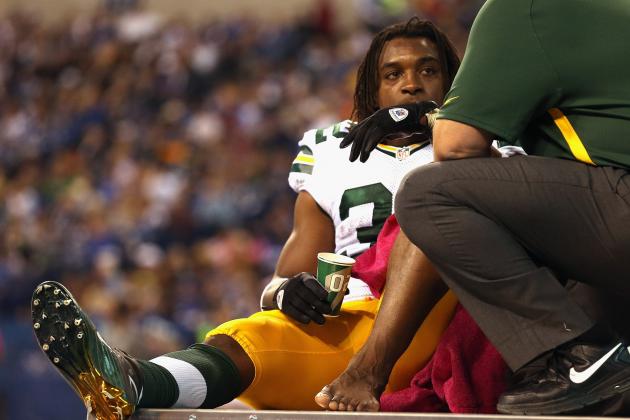 Jonathan Daniel/Getty Images

The Packers won the Super Bowl in 2010 with Brandon Jackson as their starting running back all season, but they employed a fresh James Starks to run over teams in the playoffs and provide the balance that their offense lacked during their march to the postseason.
This season, it looked like Cedric Benson would do that until he suffered a foot injury that ended his season in Week 5. Now, in-season free-agent pickup DuJuan Harris could be the Starks of this go-round, as he looked impressive in the loss last week to the Minnesota Vikings.
If Harris can't get anything going, the Packers' sometimes suspect pass-blocking is more likely to be exposed, so he is the hidden X-factor for the team in this postseason.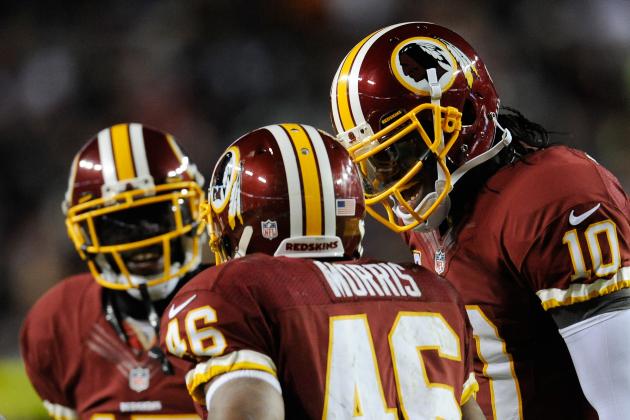 Patrick McDermott/Getty Images

When the Washington Redskins have had Pierre Garcon in the lineup (and most of the time that they haven't), no defense has been able to solve their pistol formation, zone-read/zone-blocking running game, play-action passing game-based offense.
Of course, the Redskins haven't faced a defense like the Seahawks yet either, with their pair of shutdown corners and safeties perfectly cast for their roles in this aggressive defense.
The always brilliant Chris Brown of Smart Football wrote an outstanding piece this week on why the Seahawks just might be the team to stop the Redskins' unstoppable offense this week and just what makes it so difficult to defend.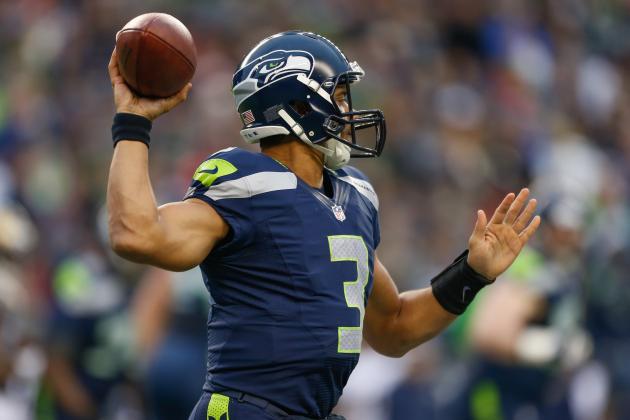 Otto Greule Jr/Getty Images

Have we ever had a Wild Card Round matchup between the two hottest teams in the NFL? The Seattle Seahawks have won five straight games, a streak that began when they went into Soldier Field and knocked off the Chicago Bears in overtime.
The Washington Redskins have won seven straight games to become only the fifth team since the NFL-AFL merger to start 3-6 and go to the playoffs.
Unless the Vikings beat the Packers, the winner of this game will go into Atlanta on the strength of a winning streak that stretches back into November. The bad news for the Falcons is that if the Vikings do win, the Falcons will still face a team coming in on the strength of a five-game winning streak.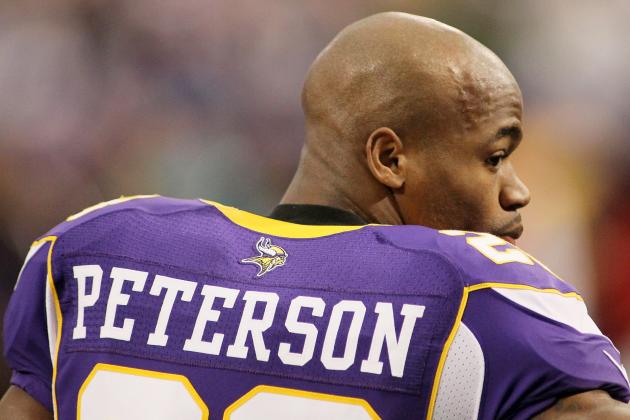 Andy King/Getty Images

In a business where hyperbole is the name of the game, there is no way to overstate the greatness of Adrian Peterson's 2012 season.
To come within nine yards of breaking the league single-season rushing record less than one year removed from a catastrophic knee injury is nothing short of a miracle, at least as far as known medical science at this time is concerned.
Peterson also played with one of the worst passing games in the league and faced eight and nine in the box all season. He is facing a team that he has abused for 210 and 199 yards in their two meetings this year. Even the longest-tenured NFL beat writer in the league will have to become a fan for at least a few minutes during this game.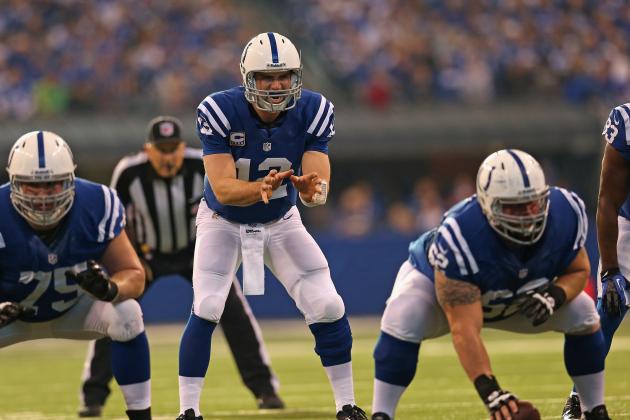 Jonathan Daniel/Getty Images

This has to be one of the most unbalanced postseasons in terms of quarterback playoff wins in NFL history. Only four quarterbacks in this year's pool—Tom Brady, Peyton Manning, Aaron Rodgers and Joe Flacco—have a playoff win under their belts. One veteran, Matt Ryan, has tried and failed three times, and another, Matt Schaub, was injured for his team's only playoff appearance.
After those six, we have three passers in their second NFL season—Colin Kaepernick, Andy Dalton and Christian Ponder—and an astounding three rookies: Russell Wilson, Robert Griffin III and Andrew Luck.
How predictive is past postseason success in determining future outcomes? This year's games will provide an outstanding answer to that question.