Under Armour All-American Game 2013: Ranking the Top 15 Offensive Recruits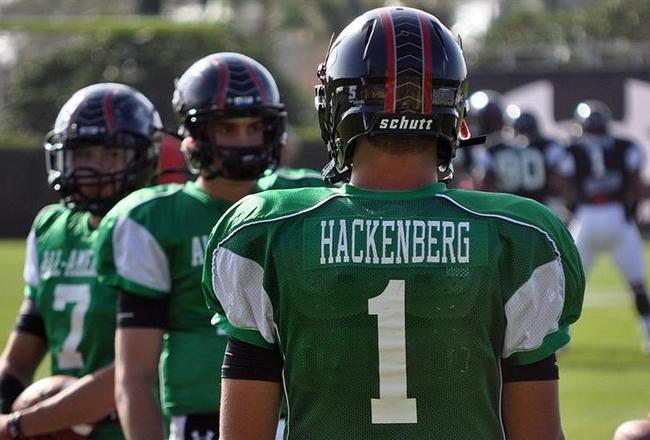 247Sports.com

So the Under Armour game is tomorrow, and the game figures be a great treat for college football recruiting fans. For those of you who haven't really gotten a chance to see many of these prospects play, tomorrow is your chance.
We've already given you the top 15 defensive recruits participating, so today, we'll flip sides and look at the top 15 offensive prospects that are playing tomorrow. Many of the best prospects in the country are playing in the UA game, so we'll be seeing some big fireworks all evening long.
Here are the top 15 players that will looking to help the scoreboard get lit up!
15. Damore'ea Stringfellow, WR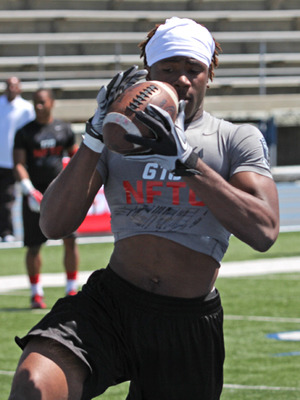 247Sports.com
Stringfellow is a thickly built WR at 6'3" and almost 205 pounds. He's a load to try to press at the line of scrimmage for corners and can out-muscle people for balls.
He shows good hands that appear to be strong, and his speed is solid for a big WR. Strigfellow is committed to Washington and should be a productive Pac-12 WR.
14. Cooper Bateman, QB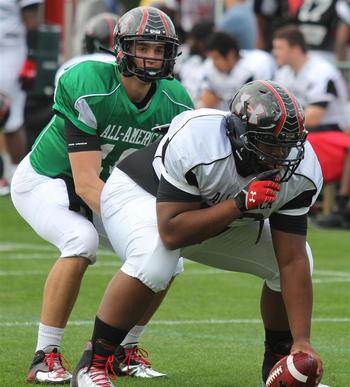 247Sports.com
Bateman is an Alabama commit, and the Crimson Tide are excited to have this 6'3", 205-pound QB. He's from Utah and has a very strong arm to rifle the ball downfield and to tight spots with ease.
Bateman also has solid mobility and can get upfield in a hurry in a straight line. Look for his arm to be on full display when he is in tomorrow.
13. Keith Ford, RB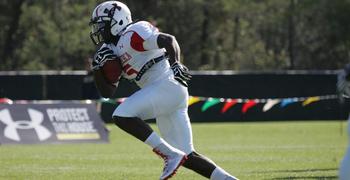 247Sports.com
Ford is a RB prospect from Texas that plays at 5'11", 200 pounds. He shows very natural instincts and vision for the position while also having solid run strength and speed.
I notice a solid burst to and through alleys from Ford, which can put him on the second level to really squeeze defenses. He's committed to Oklahoma.
12. Jalin Marshall, WR/RB/ATH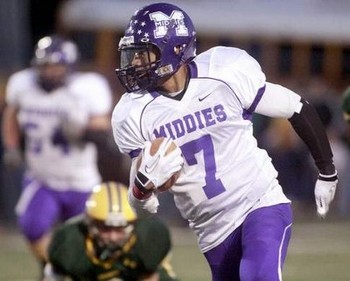 247Sports.com
Marshall is a 5'11", 200-pound ATH that can play QB, RB or WR for an offense. He likely will get his first crack at WR for Ohio State, but don't rule him out as a full-time RB.
Marshall shows a knack for finding space and being creative with the football. He does what he has to do to reach the end zone and should be good for a big play or two during the game.
11. Patrick Kugler, OG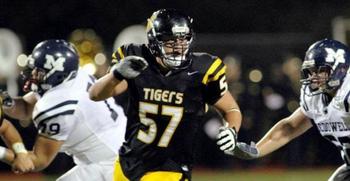 247Sports.com
Kugler is an OL prospect that I really like. The Pennsylvania native is committed to Michigan and can play anywhere on the line.
At 6'4", 275 pounds, I like him as a guard, but he could actually play center in Ann Arbor. Kugler comes off the ball quickly and is a devastating run blocker due to great strength and technique.
10. Robbie Rhodes, WR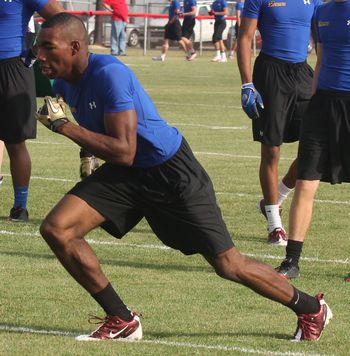 247Sports.com
If you're still sleeping on Rhodes, then that's not a good idea, because this guy can play. He's 6'1", 190 pounds and has very smooth athleticism.
Rhodes is extremely competitive for balls, has excellent route-running potential and shows great separation quickness. He's committed to Baylor.
9. O.J. Howard, TE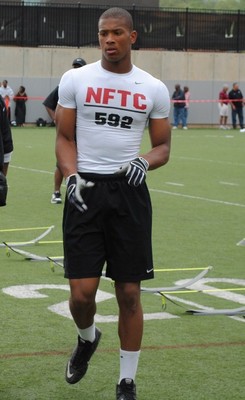 247Sports.com
Committed to Alabama, Howard is going to be the most athletic and gifted TE 'Bama has seen in a long time. He's 6'5", 225 pounds and has great hands, length and is a very graceful athlete.
Howard is almost like a big WR, as he get upfield out of his stance and will be a nightmare to safeties and linebackers alike. I'm pretty anxious to see how he fares in the UA game.
8. Shane Morris, QB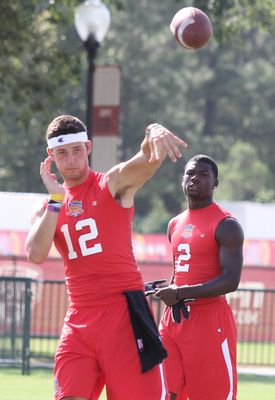 247Sports.com
The southpaw from Michigan will be slinging the rock at the UA game, and everyone is hyped to see how his accuracy and ball-placement skills look.
Morris has an array of tools on his 6'3", 190-pound frame, including arm strength, delivery quickness, nimble feet and mobility. He has moxie and can be a charismatic guy in the huddle.
7. Laquon Treadwell, WR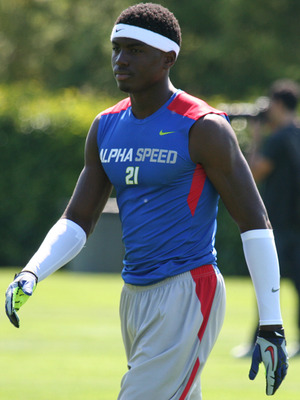 247Sports.com
Some feel Treadwell is the best WR in the country, and I wouldn't argue with them much. He's 6'3", 195 pounds and has great release quickness, deep speed and playmaking ability.
Treadwell also is a willing blocker on the perimeter and is not afraid of contact. He's a future No. 1 WR, and I like Ole Miss' chances with him.
6. Alvin Kamara, RB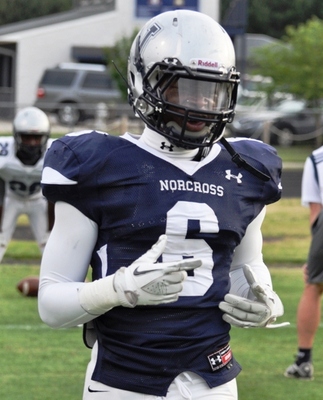 247Sports.com
Kamara is a RB from Georgia that I want to really watch during the game. I don't see too many weaknesses in his game, and he could be a future superstar at the collegiate level.
He stands 5'10" and weighs around 190-195 pounds. Kamara show great instincts, speed, elusiveness, deceptive run strength and also has solid hands.
He's willing to challenge charging defenders as a blitz pickup guy and can sustain well.
5. Robert Foster, WR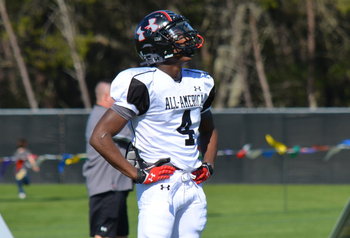 247Sports.com
Another Alabama pledge, Foster is a 6'2", 190-pounder from the Keystone State that does his work on the offensive perimeter. He's very sudden in his release, smooth with his movements and can detach from coverage quickly at cuts.
Foster is at his best running deep or with the ball in hands as a runner. He's a dangerous return man, and it'll be interesting to see his speed vs. college-caliber players.
4. Darius James, OL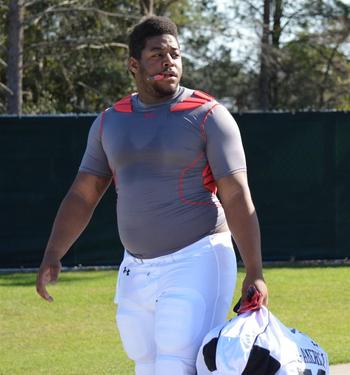 247Sports.com
James can play all over the OL, and I even believe he has what it takes to play LT. From and committed to Texas, he's a big 6'5", 320-pounder with athleticism and strength.
Texas may throw him at the pivot position and let his good big-man movement skills, heavy hands and quick feet work in the middle of their offensive front. He can also factor as a guard or on either front island too.
3. Kelvin Taylor, RB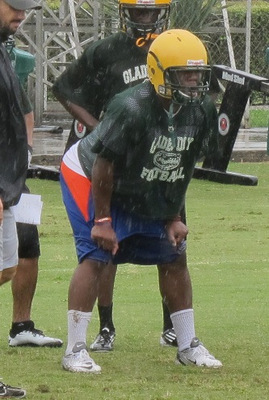 247Sports.com
Taylor's already a legend in the Sunshine State, and he'll be looking to add to that during the UA game. He's the state's all-time leading rusher and is committed to Florida.
The 5'11", 216-pound runner really can get to the second level through alleys, elude defenders with outstanding quickness and shows a little dart in his burst. He isn't a long burner, but Taylor has the tools to be a No. 1 back one day in Gainesville.
2. Ty Isaac, RB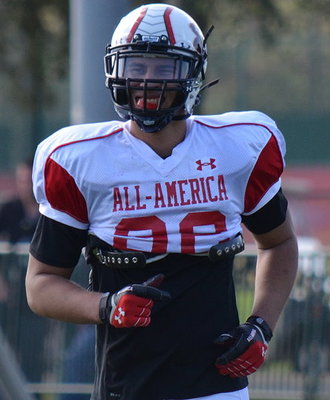 247Sports.com
At 6'3", 220 pounds, Isaac is a big back but runs with good speed, elusiveness, vision and instincts. He's from Illinois and has been very productive throughout his high school career.
He's committed to USC, and what really is neat about Isaac's game is his receiving ability. He can line up like a WR, run routes and pluck the football with his hands.
Hopefully, we get to see both his running and receiving ability displayed during the game.
1. Christian Hackenberg, QB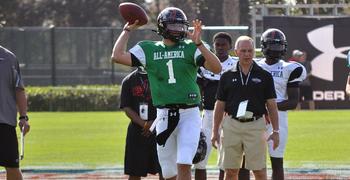 247Sports.com
Penn State is hoping Bill O'Brien stays not just because he's a solid coach, but because that would likely ensure that Hackneberg stays committed.
The 6'4", 215-pound QB has franchise potential due to very good arm strength, accuracy and deceptive athleticism. Hackenberg is growing in the field vision department, but he flashes the ability to see the whole field and can really get going once he's in a rhythm.
Edwin Weathersby is the College Football Recruiting Analyst for Bleacher Report. He has worked in scouting/player personnel departments for three professional football teams, including the New York Giants, Cleveland Browns and the Las Vegas Gladiators of the Arena League. He spent a year evaluating prep prospects and writing specific recruiting and scouting content articles for Student Sports Football (formerly ESPN Rise-HS). A syndicated scout and writer, he's also contributed to WeAreSC.com, GatorBait.net and Diamonds in the Rough Inc., a College Football and NFL Draft magazine.
Keep Reading