Very Early Predictions for Each Top 2014 MLB Free Agent's Landing Spot Next Year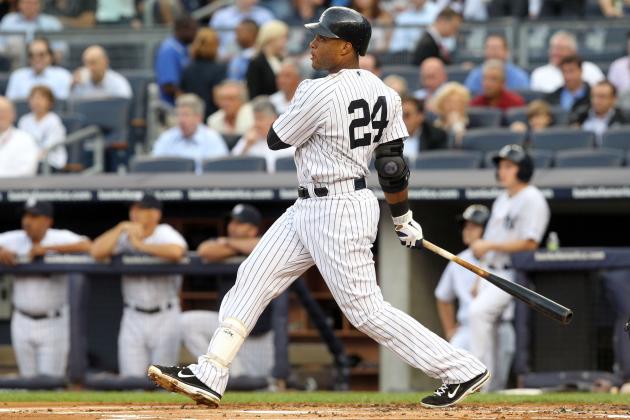 Brad Penner-USA TODAY Sports

The top 2014 MLB free-agent candidates are likely looking at the various signings this offseason with great interest.
With less than 45 days remaining until pitchers and catchers officially report, many of this offseason's free agents have already signed new deals. Pitchers in particular cashed in big-time, and next year's crop of free agents will be looking for their big payday as well.
Even though it's very early, it's never too early to make predictions.
Here are possible landing spots for some of the top free agents of the class of 2014.
Begin Slideshow

»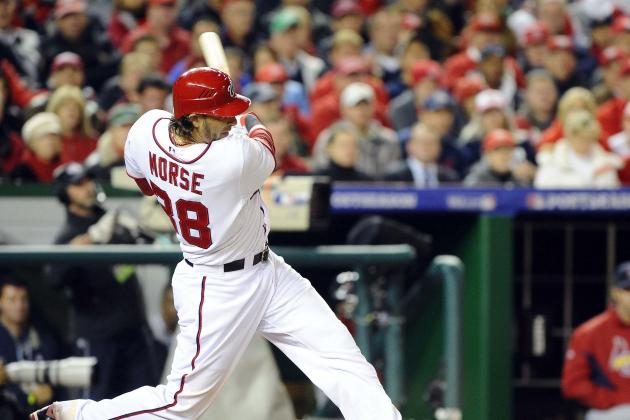 Brad Mills-USA TODAY Sports

Washington Nationals left fielder/first baseman Michael Morse started out the 2012 season recovering from a strained lat muscle.
However, even though he missed the first two months of the season, Morse picked up where he left off in 2011, hitting .291 with 18 home runs and 62 RBI.
Morse's status with the Nats is still in doubt at this point. Free-agent first baseman Adam LaRoche and the Nationals are still at a standstill in their negotiations according to MLB.com, leaving Morse in limbo.
If LaRoche signs, it's highly likely that Morse will be on the trade block. If not, then Morse will transition back to first base for the Nats.
Possible 2014 Landing Spots
Washington Nationals: I am of the belief that the Nats will move on without LaRoche if he fails to make a decision sometime soon. In that case, Morse and the Nationals could get to work on an extension.
Baltimore Orioles: The team up the Beltway could also come into play if LaRoche signs with Washington. Morse would give the Orioles a powerful right-handed hitting option to complement Adam Jones.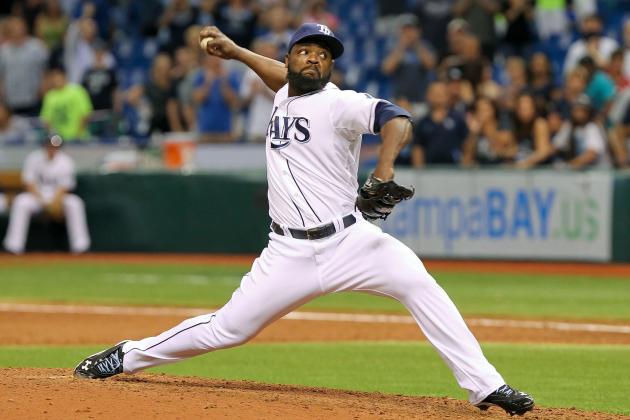 Kim Klement-USA TODAY Sports

After the incredible season turned in by closer Fernando Rodney for the Tampa Bay Rays in 2012, he'll be playing next season at the bargain-basement rate of $2.5 million.
A shrewd signing by the Rays indeed.
If Rodney can come close to matching last season's numbers, he'll command a hefty raise. However, Rodney will also be 37 years old before the start of the 2014 season, so a long-term deal is likely out of the question.
Possible 2014 Landing Spots
Detroit Tigers: If the Tigers fail to achieve a World Series title in 2013, could they be enticed to bring Rodney back? Rodney spent parts of seven seasons in Motown to start his career.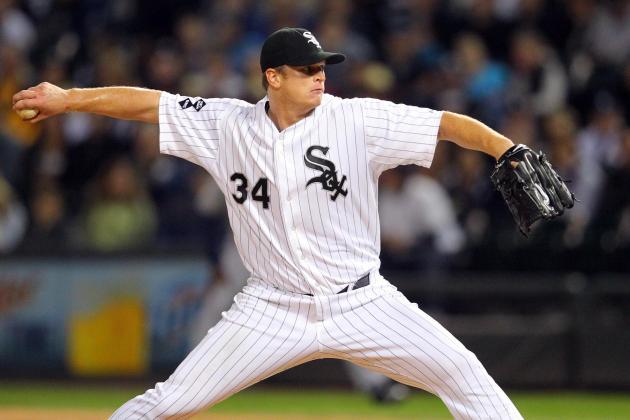 Dennis Wierzbicki-USA TODAY Sports

Chicago White Sox starting pitcher Gavin Floyd has been the subject of trade speculation for much of this offseason.
Floyd battled through elbow issues in 2012 to post a 4.29 ERA in 29 starts. The prior four seasons, Floyd averaged close to 200 innings pitched per year.
There is nothing flashy about Floyd—he's never been an All-Star and has no accolades of note to his credit. But he's a reliable back-end rotation option who can give his team six quality innings more often than not.
Possible 2014 Landing Spot
Baltimore Orioles: The O's have long had interest in Floyd according to MASN's Roch Kubatko—maybe they'll finally act on that feeling.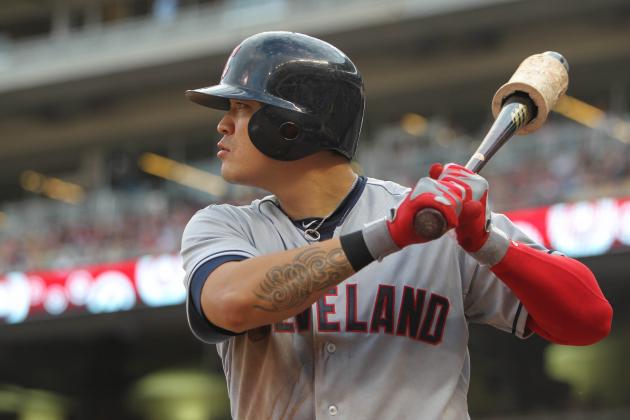 Brace Hemmelgarn-USA TODAY Sports

In his first season with the Cincinnati Reds, outfielder Shin-Soo Choo will be transitioning to center field in place of the departed Drew Stubbs.
It's definitely new territory for Choo, playing only 10 games in center throughout his career. He'll also be tasked with upgrading production at the leadoff spot for the Reds as well. Reds leadoff hitters combined to hit just .208 with a .254 on-base percentage last season.
Possible 2014 Landing Spot
Cincinnati Reds: Much will depend on Choo's performance in 2013, both offensively and defensively. Choo had the worst UZR rating (minus-17.0) among all qualified right fielders last year, so his transition to center field is certainly a dicey proposition.
However, if he puts up numbers offensively (.290 average, 100 runs scored, 20 stolen bases, 15-20 home runs), the Reds could be compelled to keep him for a longer period of time.
Boston Red Sox: With Jacoby Ellsbury approaching free agency as well, the Sox could be compelled to go with a less-expensive option in their outfield next season.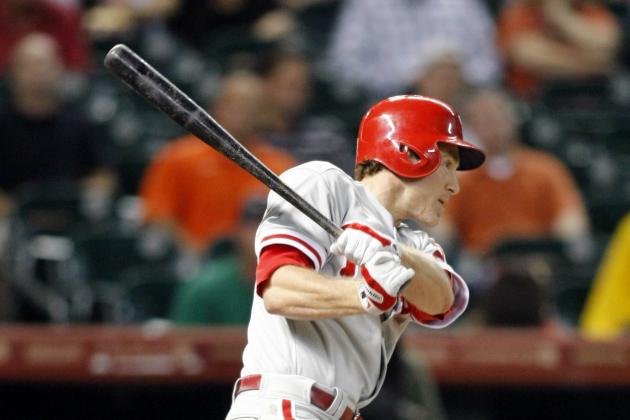 Brett Davis-USA TODAY Sports

Unless Philadelphia Phillies second baseman Chase Utley plays 150 games in 2013 with at least 30 home runs and 100 RBI, it's possible he could be in a different uniform in 2014.
Utley will be 35 years old when he becomes a free agent at the end of next season. His diagnoses of patellar tendonitis and chondromalacia certainly don't help his value in terms of free agency, either.
Possible 2014 Landing Spots
Philadelphia Phillies: The Phillies could be compelled to bring Utley back, but only on a two- or three-year incentive-laden contract.
Texas Rangers: Utley could extend his career by transitioning to designated hitter full time. The Rangers would definitely have interest, especially with a couple of their own players approaching free agency (Nelson Cruz, David Murphy). Utley likely won't approach the annual average value he currently sees ($15 million), but for the chance to extend his career he could well be enticed by the right offer.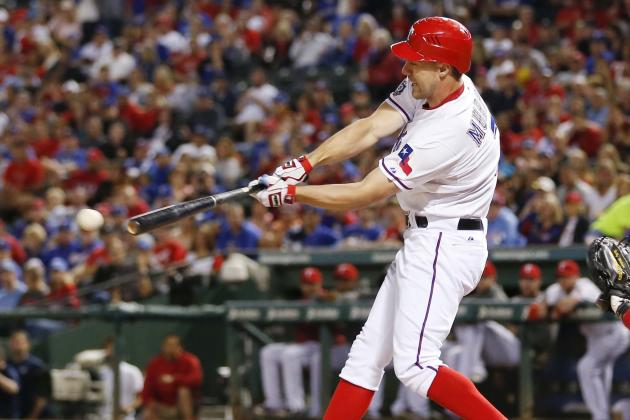 Jim Cowsert-USA TODAY Sports

David Murphy has built a fine career as a fourth outfielder capable of filling in on an everyday basis for the Texas Rangers.
His value to the Rangers has been incalculable over the past few seasons with his ability to play all three outfield positions and provide steady production from the left side of the plate.
Murphy could be given a chance to see what that value is on the open market at the end of next season.
Possible 2014 Landing Spots
Texas Rangers: It's entirely possible the Rangers could sign Murphy before the end of next season. He would be a less expensive option to keep over fellow free-agent outfielder Nelson Cruz. In addition, the Rangers could be changing their bargaining mindset, given their most recent free-agent losses.
New York Mets: Considering the lack of production from the Mets outfield, Murphy could be an attractive option for them in 2014 if the current cast of characters can't produce next season.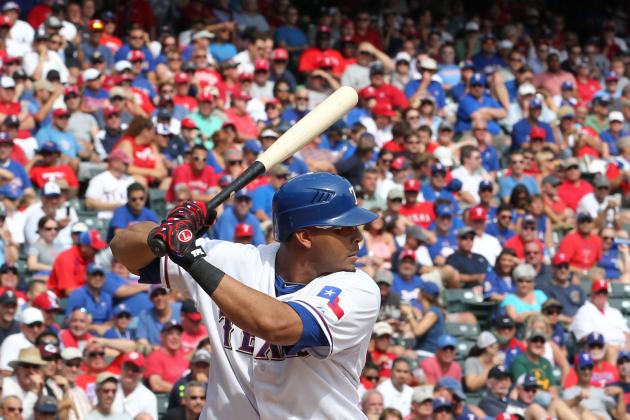 Matthew Emmons-USA TODAY Sports

Texas Rangers right fielder Nelson Cruz has averaged 27 home runs and 83 RBI over his past four seasons. In addition, his RBI total has increased each season during that same time span.
His numbers are similar to that of right fielder Nick Swisher, who just received a four-year, $56 million deal from the Cleveland Indians, with a vesting option for a fifth season.
Whether or not that prices Cruz out of Texas remains to be seen.
Possible 2014 Landing Spots
Seattle Mariners: The Mariners are taking a shot this coming season with Jason Bay and Raul Ibanez to help their impotent offense. It's entirely possible they'll be interested in Cruz if neither Bay or Ibanez comes through. Ibanez at 40 years of age is likely just a one-year option.
St. Louis Cardinals: With Carlos Beltran coming to the end of his two-year deal with the Cards, Cruz could be an attractive option. The Cardinals also have internal options as well in Allen Craig and Oscar Taveras, so the Cards would be a longshot for Cruz.
Philadelphia Phillies: If Domonic Brown doesn't prove to be the long-term answer in right field for the Phillies, could they come calling for Cruz?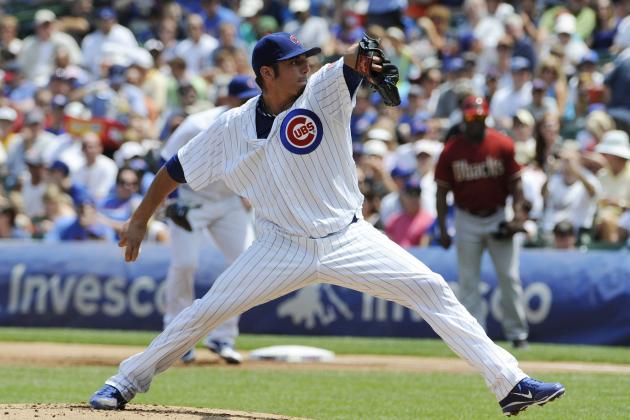 David Banks-USA TODAY Sports

All eyes will be on Chicago Cubs starting pitcher Matt Garza this coming spring as he returns from a stress reaction in his right elbow.
Garza hasn't pitched since last July 21, and his injury impeded the Cubs' ability to explore a trade at last year's deadline.
Garza has been given the go-ahead to resume normal workouts and is expected to be ready by spring training.
Possible 2014 Landing Spots
Toronto Blue Jays: If Ricky Romero fails to return to form after a disastrous 2012 season, Garza could be in the mix for the Blue Jays, who expressed interest in him last year.
Texas Rangers: With uncertainly surrounding Neftali Feliz (elbow—Tommy John surgery) and Colby Lewis (elbow—flexor tendon surgery), and their performance when they return in 2013, the Rangers could be suitors.
Chicago Cubs: Patrick Mooney of CSNChicago.com brought up the possibility of the Cubs extending Garza. Mooney compared Garza's overall numbers (57-61, 3.84 ERA) to those of Anibal Sanchez (48-51, 3.75 ERA), whom the Cubs made an offer for five years and $77.5 million.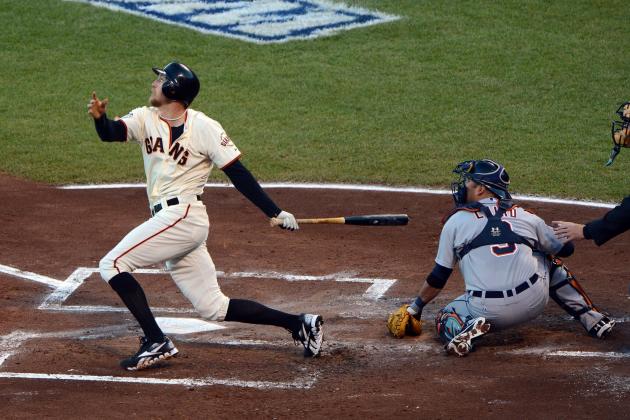 Kyle Terada-USA TODAY Sports

Entering his final year of arbitration, San Francisco Giants right fielder Hunter Pence is likely looking at a salary above the $12 million mark in 2013.
Pence hit 24 home runs with 104 RBI between the Philadelphia Phillies and Giants last year, but his .253 batting average was over 30 points under his career mark and his OPS (.743) was the lowest of his career.
Pence will be 31 years old at the beginning of the 2014 season. Nick Swisher was a bit older when he signed his four-year, $56 million deal with the Cleveland Indians.
Possible 2014 Landing Spots
New York Mets: It's entirely possible the Mets could be looking beyond the 2013 season with several attractive outfield options on the open market after next year.
Texas Rangers: If the Rangers allow Nelson Cruz to walk in free agency, Pence could be an option as his replacement.
Benny Sieu-USA TODAY Sports

With offseason surgery on his right shoulder, Atlanta Braves catcher Brian McCann likely won't start his season until sometime in May at the earliest.
He'll then have about 110-120 games to show that he's back to form once again.
It will be a crucial season for McCann, who is eligible for free agency for the first time. The Braves picked up his $12 million option for next season in the hopes that he would fully recover and produce at expected levels.
McCann was an All-Star in his first six full seasons and won a Silver Slugger Award in five of those six seasons.
Possible 2014 Landing Spots
Atlanta Braves: The Braves aren't going to give up on McCann quite yet. They'll wait to see how he performs once he returns before making a long-term commitment.
Texas Rangers: With A.J. Pierzynski locked in for only one season, the Rangers could well be interested in McCann if he's able to bounce back. McCann will only be 30 years of age at the start of the 2014 and could see his career extended with time as a designated hitter as well.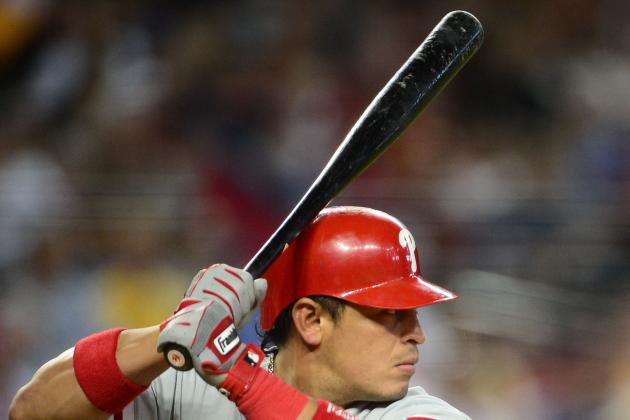 Mark J. Rebilas-USA TODAY Sports

Catcher Carlos Ruiz enjoyed his finest professional season last year with the Philadelphia Phillies, hitting .325 with 16 home runs and 68 RBI, all career-highs.
Unfortunately, Ruiz won't start next season until late April, courtesy of his 25-game suspension for using an amphetamine.
Still, Ruiz will be a highly sought-after commodity next winter as a solid catching option.
Possible 2014 Landing Spots
Philadelphia Phillies: The Phillies could look to lock Ruiz up before he even hits the free-agent market, especially if he gets off to a hot start like last season.
Age will be a factor, however. Ruiz will be 35 before the start of the 2014 season, so anything beyond two or three years is unlikely.
Tampa Bay Rays: The Rays have yet to solve their issues behind the plate in terms of offense. They could look to Ruiz after next season.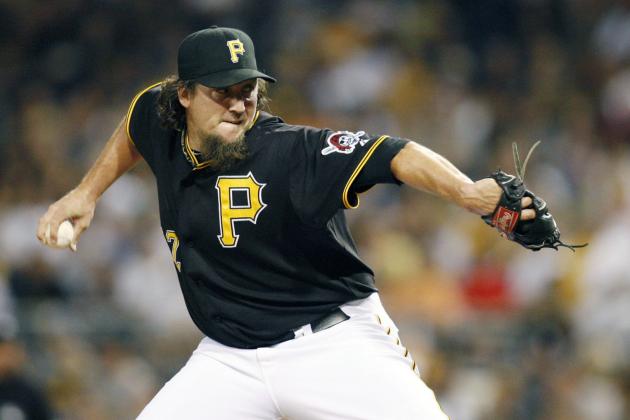 Charles LeClaire-USA TODAY Sports

If the 2013 season finishes the way the last two years did for closer Joel Hanrahan, he could be in line for a big payday next winter.
Hanrahan will now be closing for the Boston Red Sox following his trade from the Pittsburgh Pirates. Hanarahan is likely to earn well over $6 million in his final year of arbitration.
With 76 saves and a 2.24 ERA in his last two seasons, Hanrahan has become one of the elite closers in the majors.
Possible 2014 Landing Spots
Boston Red Sox: Hanrahan will be 32 years old before the 2014 season, certainly not old in terms of closers. The Red Sox could lock him in to a multi-year contract before he hits free agency.
New York Mets: With Frank Francisco in the final year of his deal with the Mets, Hanrahan could draw interest from them next winter.
Arizona Diamondbacks: The D-Backs could also pursue Hanrahan with J.J. Putz's contract also expiring.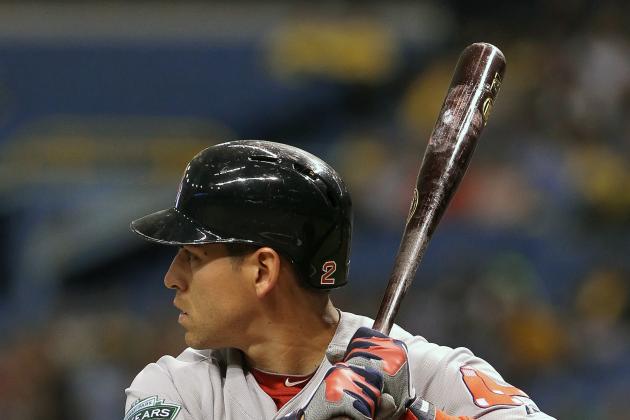 Kim Klement-USA TODAY Sports

Center fielder Jacoby Ellsbury's health will be the deciding factor in his free-agency value next winter.
Two injury-filled seasons wrapped around an almost MVP-like performance in 2011 causes more than enough concern for Ellsbury as the 2013 season approaches.
If Ellsbury can stay on the field and repeat his 2011 season, the money will be there.
If not...
Possible 2014 Landing Spots
Texas Rangers: Provided Ellsbury stays healthy, the Rangers will be interested, especially if the combination of Leonys Martin and Craig Gentry proves to be less than desirable.
New York Yankees: With Curtis Granderson also hitting free agency, the Yankees could be in the market for an outfielder.
Highly doubtful, however, considering the Yankees' desire to get under the luxury tax threshold by the 2014 season.
Philadelphia Phillies: With Ben Revere in center field, the Phillies could play Ellsbury in left. Much will depend upon the play of Darin Ruf and John Mayberry.
Daniel Shirey-USA TODAY Sports

Considering the deal recently signed by Zack Greinke, Toronto Blue Jays pitcher Josh Johnson could be in line for something close if he delivers for his new team in 2013.
Johnson was clearly one of the centerpieces in the mega-deal between the Jays and Miami Marlins. Johnson will team with R.A. Dickey and Mark Buehrle to form a potent trio at the top of the rotation.
Possible 2014 Landing Spots
Toronto Blue Jays: The Jays could look to lock Johnson in long-term. It seems clear the Jays are building a team to win both now and in the future.
Texas Rangers: The Rangers will be eyeballing Johnson, especially after missing out on Greinke this offseason as well as other top-tier pitchers.
Los Angeles Dodgers: Considering what the Dodgers have done already, I'm not ready to count them out on Johnson's services. They could potentially deal away both Chris Capuano and Aaron Harang, and Ted Lilly is in the final year of his contract as well.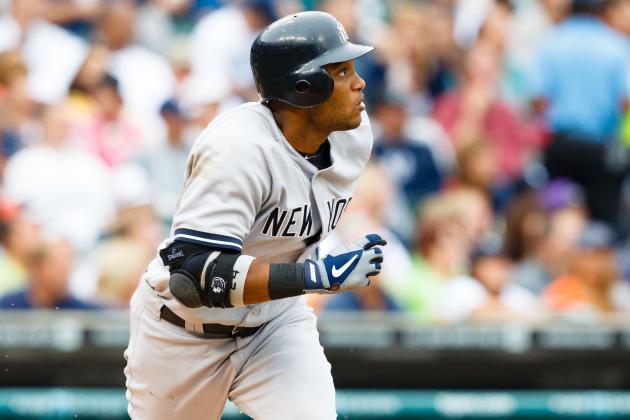 Rick Osentoski-USA TODAY Sports

You likely won't find many people who believe that second baseman Robinson Cano will be wearing anything other than a New York Yankees uniform next season.
Without question the prize of next year's free-agent market, Cano does employ the services of Scott Boras as his agent. That fact alone doesn't make Cano a lock to sign with the Yankees.
In fact, one source told the New York Daily News that Cano could very well bolt the Bronx.
"I don't think he'll be with the Yankees beyond next season," one of the sources told the Daily News. "He's not giving them a hometown discount, and they seem to be more interested in keeping their payroll down than winning."
Consider this tidbit from the New York Daily News as well:
Another baseball source suggested that Cano will seek a deal similar to A-Rod's, one that has become an albatross for the Bombers, who might be hesitant to tie up that much money and that many years in Cano, 30.

"He knows he's the best player on the Yankees," the second source said of Cano. "There's no reason for him not to be paid that way."
Possible 2014 Landing Spot
New York Yankees: Obviously, the Yankees are still in play. In my belief, the only team in play. Cano has said he would love to remain in New York as well.
In addition, the Yankees have $55 million coming off the books at the end of next season. Expiring contracts for Hiroki Kuroda ($15 million), Curtis Granderson ($15 million), Andy Pettitte ($12 million), Mariano Rivera ($10 million) certainly frees up cash to spend on an extension for Cano.
Doug Mead is a featured columnist with Bleacher Report. His work has been featured on the Seattle Post-Intelligencer, SF Gate, CBS Sports, the Los Angeles Times and the Houston Chronicle.