Let's Do It Again Brother, 10 MMA Rematches That Should Have Happened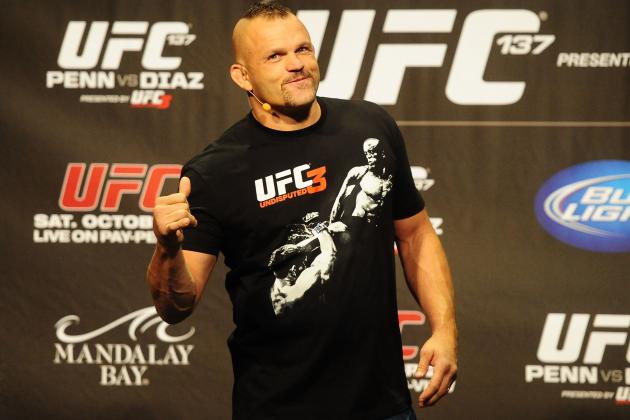 Mark J. Rebilas-USA TODAY Sports

Rematches in MMA are not always good as the original. It is like seeing a sequel to one of your favorite movies. You get so excited to see it and then it is a total dud. Movies like that include Total Recall that came back in 2012, Rocky V (I know it took five movies to get to a bad Rocky) and when they did American Pie 2.
In MMA, we have seen some classic fights that we haven't gotten to see again. That is due to fighters retiring, leaving the organization or something happens to one or both fighters.
Let's take a look and see what 10 rematches should have happened.
Begin Slideshow

»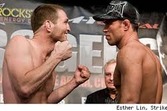 Photo from Esther Lin/Strikeforce
This fight took place on November 7, 2009 in Chicago in Strikeforce's debut on CBS. The fight was for the Strikeforce middleweight championship. The fans in Chicago were booing throughout the fight, and for the first three rounds, it was an entertaining fight. Miller was able to hold his own by suplexing Shields on two occasions near the end of the opening stanza.
Then, with about 10 seconds left in the third round, Miller locked in a rear naked choke that Shields was able to withstand. Shields ended winning the fight by unanimous decision with the scores of 48-47, 49-46, 49-46. The fight was closer than the scores indicated. Miller was wanting a rematch with Shields. They both fought on Strikeforce's second showing on CBS in April of 2010, with Shields headlining against Dan Henderson and Miller fighting on the preliminary portion of the card against Tim Stout.
Both guys won by unanimous decision, and then we had the infamous Nashville brawl when Miller stormed into the cage wanting a rematch with Shields. A brawl ended up ensuing involving Nick and Nate Diaz, Gilbert Melendez and Miller.
Shields and Miller ended up in the UFC, but never crossed paths, as Miller was released in May of 2012.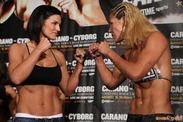 Photo from Sherdog.com
This fight at the time was the biggest fight in the history of Women's MMA. Gina Carano was poster child, while Cris Cyborg was the person that was deemed the better fighter. It was the first female fight that headlined a major MMA card in North America.
The Strikeforce event took place on August 15, 2009 in San Jose, California. The fight wasn't even really that close, as Cyborg battered Carano until the fight had one second left in the opening round.
Cyborg went on to defend her title three times before testing positive for steroids after her victory over Hiroko Yamanaka in December of 2011.
Carano hasn't fought since, as she went to make movies and was supposed to fight in June of 2011, but she dropped out of the fight with an undisclosed injury.
The August 15 event averaged 576,000 viewers and peaked with a 2.9 rating and 856,000 viewers on Showtime. That rating at the time was the largest for network until 2011.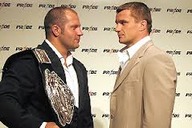 Photo from BloodyElbow.com
This fight is quite arguably the greatest fight in heavyweight history. You had Emelianenko, who was the Pride heavyweight champion with a record of 10-0-1 in the company. Then you had Cro Cop, who was on a seven-fight winning streak heading into the fight.
The fight took place on August 28, 2005 from the Saitama Super Arena in Japan. The fight started strong, as Cro Cop as broke Fedor's nose and was landing vicious kicks to the body of the champion. As the fight wore on, though, Cro Cop started to fade with Emelianenko able to recover.
Emelianenko ended up winning the fight by unanimous decision. The rematch people wanted to see didn't happen, as Pride closed in 2007 with Cro Cop heading to the UFC. Emelianenko never ended up in the UFC after numerous conversations, but could never reach an agreement.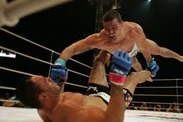 Photo from thecagedoor.net
This is another one of the great fights that took place in Pride. This fight was a part of the Pride Middleweight Grand Prix and took place at Pride Critical Countdown in 2005. Nogueira was riding an eight-fight winning streak, while Rua was 9-1 heading into the fight.
Nogueira was able to do the unthinkable at that time and knock down Rua in a dramatic first round, hurting Rua badly on another occasion in the round. "Shogun" was able to mount his offense as well, landing some solid strikes and some takedowns. In the end, though, "Shogun" was declared the winner via decision, snapping Nogueira's eight-fight win streak and handing him his first loss in three years.
"Shogun" ended up becoming the UFC light heavyweight champion, while "Lil Nog" hasn't been able to stay healthy and get above mid-card status.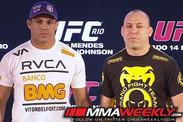 Photo from MMAWeekly.com
Lot of people feel this fight should happen, but the odds of it happening aren't as great now. Belfort and Silva squared off at UFC 17.5 (Ultimate Brazil) in 1998. Belfort ended up blitzing Silva and winning in 0:44 of the opening round.
The rematch was supposed to happen last June at UFC 147, as they were coaches on The Ultimate Fighter Brazil, but Belfort had to pull out due to a broken hand. Belfort is back at middleweight facing off against Michael Bisping at UFC on FX 7 later this month.
Silva, on the other hand, is back at light heavyweight, facing Brian Stann at UFC on Fuel 8 in March in what is likely Silva's last fight.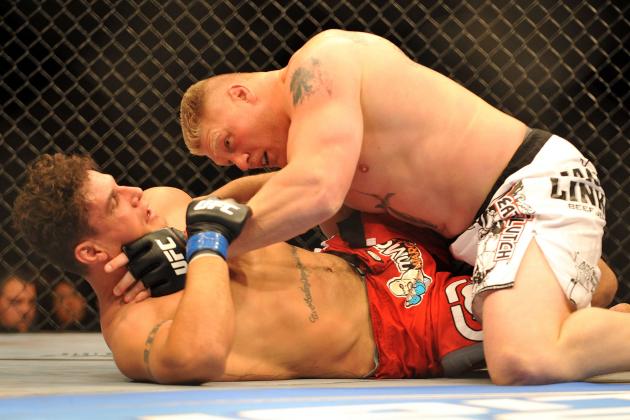 Jon Kopaloff/Getty Images

Visions of people groaning when they see this rematch on the list. The fight, though, makes a lot of sense. Rumors were running rampant when Lesnar was shown to be at UFC 146 last May. Speculation was that he quit WWE and was wanting to return to the UFC.
A fight that people were speculating was a rubber match with Frank Mir. Lesnar had faced Mir in his UFC debut at UFC 81, with Mir winning by first-round submission. Lesnar, though, went on to get his revenge, as he defeated Mir by second-round TKO to unify the UFC heavyweight championship at UFC 100.
Both fights were big successes at the box office, with UFC 100 being the biggest buyrate in UFC history. A rematch would do similar numbers, but unlikely now with Lesnar in the WWE.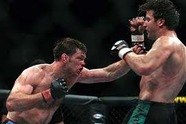 Photo from MMATKO.com
Forrest Griffin and Stephan Bonnar are quite arguably the two men who put MMA on the map. The epic battle they had at The Ultimate Fighter Season One Finale, with Griffin defeating Bonnar by unanimous decision, putting MMA where it is today. That fight alone secured Griffin and Bonnar's place in history.
The second time they fought at UFC 62 was a landslide, as Griffin defeated Bonnar by unanimous decision. Throughout the last few years, people have asked about a rematch between the two. The fight, though, was hard to make, as Griffin became a UFC light heavyweight champion, while Bonnar was in the middle tier.
Griffin lost the title and hasn't been near the title picture since he lost the title to Rashad Evans at UFC 92. The fight looked like it might happen, but Bonnar ended up losing to Anderson Silva at UFC 153 and then tested positive for steroids during a post-fight drug test. Bonnar then ended up retiring after the fight.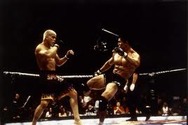 Photo from flickr.com
This fight is one, that for some reason, doesn't get talked about that much. This fight, though, was one of the greatest fights in the history of the sport.
Ortiz and Shamrock did battle at UFC 22 for the UFC middleweight championship (later named the light heavyweight championship). Shamrock was making his fifth defense of the title, while Ortiz was heading into only his fifth fight.
The fight was a constant back-and-forth battle, as both used wrestling, standup and ground control to gain edges throughout the fight. Shamrock ended up victorious, winning by fourth-round stoppage to retain the belt.
That fight was the last we saw of Shamrock in the UFC as a fighter, as he announced his retirement. After a back-and-forth war with UFC President Dana White, it is unlikely we will ever see Shamrock return to the UFC in any capacity.
Ortiz went on to win the UFC light heavyweight title and defend it on five occasions. The former champion retired this past July.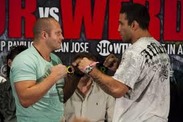 Photo from ProMMANow.com
We have already seen Fedor Emelianenko on this list, and this fight is the one that marked the beginning of the end for Emelianenko.
Unbeaten in 29 fights, the Russian faced off with Fabricio Werdum in June of 2010. Emelianenko clipped Werdum early, sending the Brazilian to the mat. Werdum had Fedor right where he wanted him, as he locked in a triangle choke and Emelianenko had no choice but to tap out.
A rematch had been long discussed, but it never ended up coming to life.
Werdum has gone 2-1 since the fight and is now currently in the UFC. Emelianenko ended up losing his next two fights before getting released by Strikeforce and retired last June.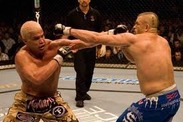 Photo from MMAMania.com
Whenever you hear the name Tito Ortiz, you are pretty certain Chuck Liddell's name comes right after it, and vice versa. Liddell and Ortiz were training partners for a brief time. Both guys rose through the ranks in the UFC, with Ortiz winning the light heavyweight title.
When it became clear that Liddell was ready for a title shot, Ortiz was reluctant to face him. After Ortiz lost his title to Randy Couture, the former training partners squared off at UFC 47 in April of 2004. Liddell defeated Ortiz that night by knockout in Round 2.
Liddell went on to win the light heavyweight title, and once again, he was on a collision course with Ortiz. The two faced each other once again at UFC 66 in December of 2006, with Liddell winning by third-round TKO.
Anytime after that, the two would always bicker about each other whenever the other person's name came up. People had always wanted to see a third fight, and the UFC was going to put them back together.
Liddell and Ortiz were named coaches of the 11th season of The Ultimate Fighter. The rivals were constantly at each other throughout the entire season. Rumors were starting to circulate that Ortiz had gotten injured during the taping. The UFC had denied it for the longest time, but ended up being true as Liddell went on to fight Rich Franklin.
Liddell retired after the Franklin fight, and Ortiz retired last July. People still speculate about the two Hall of Famers fighting each other, but it is highly unlikely.