Kansas State vs. Oregon: Postgame Grades for Wildcats in 2013 Fiesta Bowl Loss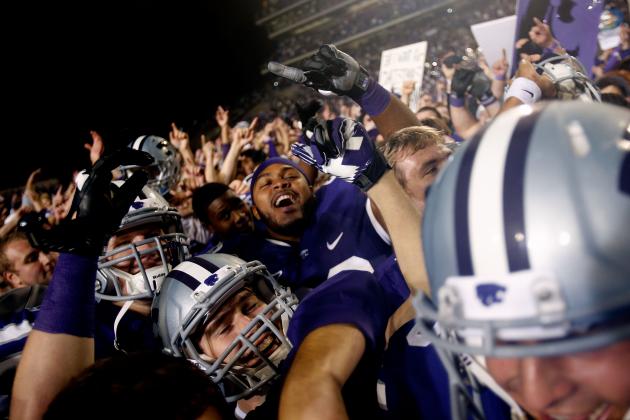 Jamie Squire/Getty Images

One bad game.
Well, make that two bad games now.
The Kansas State Wildcats were owned by the Oregon Ducks in the Fiesta Bowl, 35-17.
Oregon took the opening kickoff back 94 yards for a touchdown and the Ducks never looked back, as the Wildcats struggled to get things going.

Here's a look at postgame grades for every unit.
Begin Slideshow

»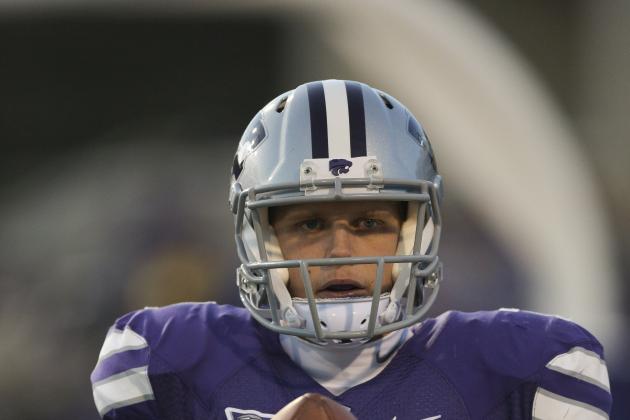 Ed Zurga/Getty Images

Overall Game Grade: C-
Collin Klein didn't end his Kansas State career well.
Klein finished the Fiesta Bowl completing 17 of 32 passes for 151 yards, one touchdown and two interceptions. He also had 30 yards rushing including one touchdown.
Kansas State seemed to never be able to get into a rhythm with Klein. They got down 15-0 early and Klein seemed to struggle coming back from that deficit.
It was almost reminiscent of the Baylor game.
Even though the outcome of this game was not good, Klein still had a good season and multiple accomplishments nobody can take away from him.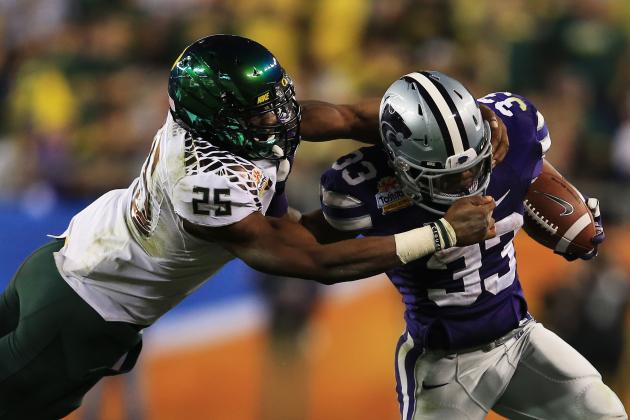 Doug Pensinger/Getty Images

Overall Game Grade: D+
Angelo Pease and John Hubert rushed the ball 24 times for 102 yards.
Neither seemed to be able to get much going, although it was surprising Pease only got seven carries on the night. Had Pease gotten more carries, then things might have been a little different for Kansas State.
Hubert did have a 10-yard touchdown reception, but it wasn't enough to warrant a better grade.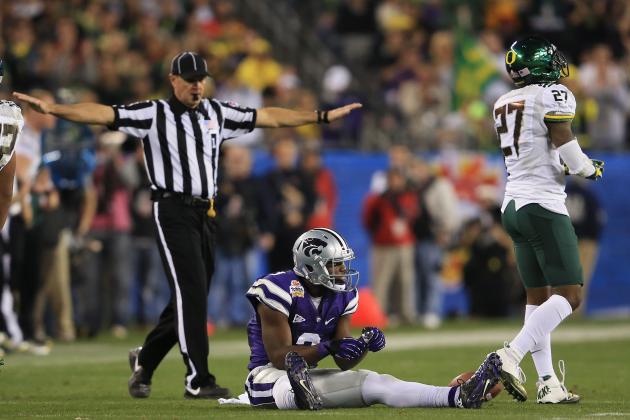 Doug Pensinger/Getty Images

Overall Game Grade: C+
Chris Harper led the team with eight receptions for 71 yards, but the lack of depth at that position showed against Oregon.
Kansas State receivers failed to get downfield for most of the game.
Now, that could be due to the lack of blocking by the offensive line which forced Klein to pull the ball down before he wanted to. However, the receivers should have done more to get open.
For the times they were involved in plays, they played decently.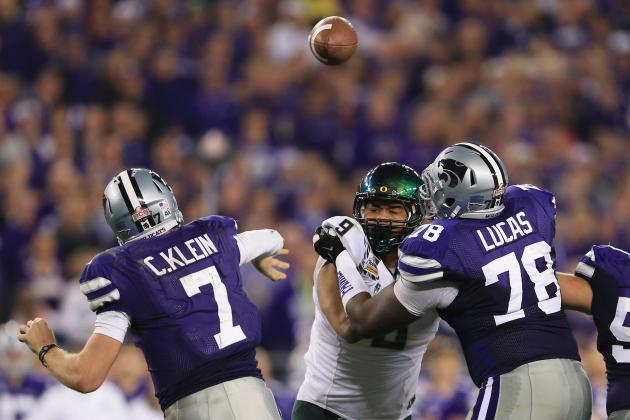 Doug Pensinger/Getty Images

Overall Game Grade: F
Oregon may have only gotten one sack on Klein, but the lack of a running game was all the offensive line's fault.
The running backs and Klein totaled 132 yards on the ground, which is way off their season average of 199.2 yards
Oregon's defensive line bullied Kansas State's offensive line throughout the game.
Did it have to do with their scheme as they finally faced a good team outside of the Big 12?
Nobody knows, but Kansas State definitely has some issues to address along the line.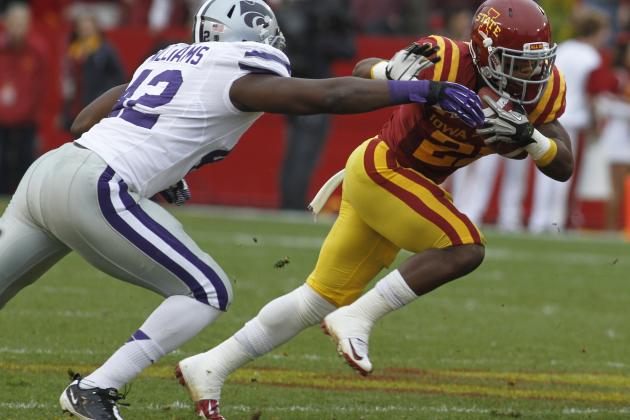 Matthew Holst/Getty Images

Overall Game Grade: F
Was there a good grade that was expected from this unit? The Oregon running game rushed for 218 yards, totally controlling the Kansas State defensive line.
Meshak Williams did have a sack on the night, but it was the only real highlight for the defensive line.
Oregon had 13 runs that went for seven yards or more.
Overall, it wasn't a good night for the defensive line.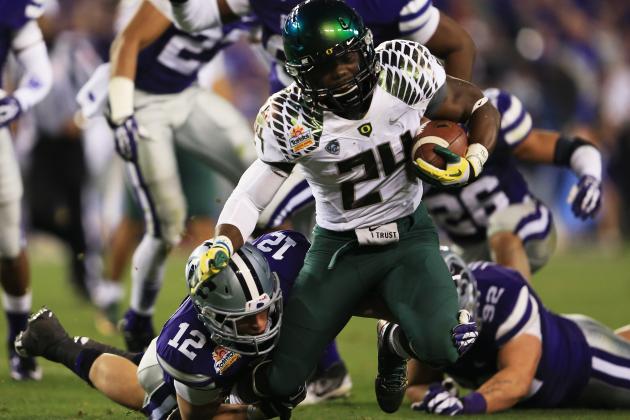 Doug Pensinger/Getty Images

Overall Game Grade: D+
The linebackers seemed to be lost throughout the night as well.
Oregon had good crack blocks throughout the night, which allowed their speed guys to get to the outside.
Nobody tackled well and it showed as just about every Oregon player broke through arm tackles.
There was no fundamentals in tackling and it showed against a very fast Oregon team. Had Kansas State stuck to their fundamentals, the score might have looked a little different.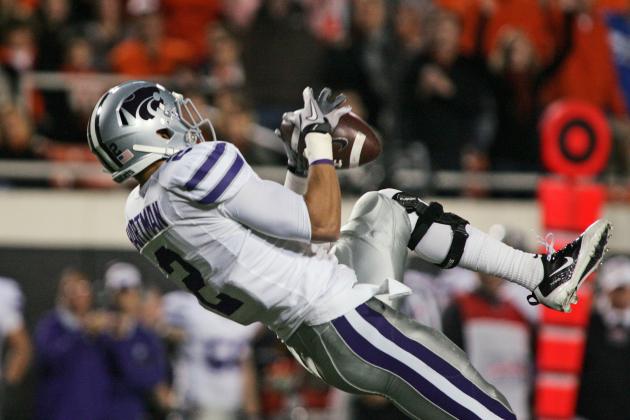 Brett Deering/Getty Images

Overall Game Grade: D+
When facing a team like Oregon, the offense isn't like most other offenses.
Running backs end up in the slot, get motioned every which way in the backfield and simply make plays.
The defensive backs didn't take account of those guys and Kansas State struggled.
While Oregon only threw the ball 24 times, they were blasted down the field as they tried to make tackles.
In the end, the defense performed horribly. No unit played good and looked lost throughout.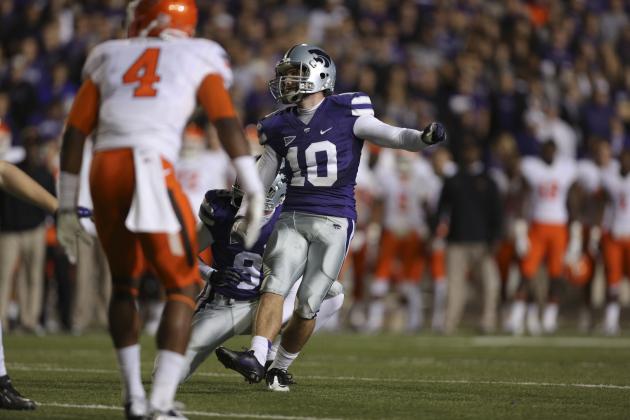 Ed Zurga/Getty Images

Overall Game Grade: F

It was a rough night all around for the Kansas State special teams.
The game started out with a 94-yard kickoff return for a touchdown by Oregon. They then follow that up by allowing a two-point conversion. No excuses on this one. Kansas State wasn't ready to play at the beginning and it showed.
Things seemed to get better when Kansas State thwarted a fake punt attempt in the second quarter. But, Anthony Cantele missed one of his two field goals in the quarter.
Then, the third quarter saw something so rare that the commentators can only recall it happening one time before. After a blocked extra point, Kansas State grabbed the ball and backtracked into the end zone. The result of the play was a rare one-point safety.
Special teams were horrible on the night. The Wildcats made the kind of mistakes that should never happen and it set the tone early.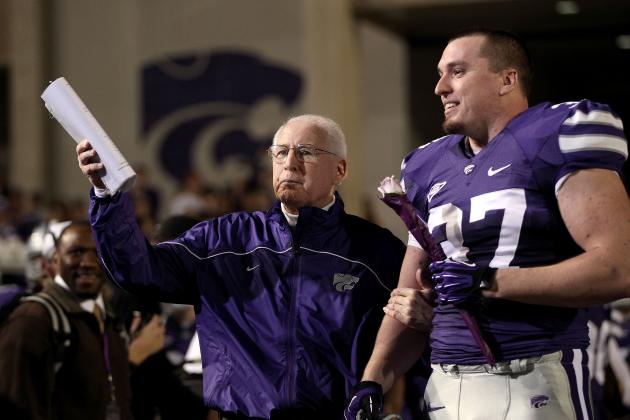 Jamie Squire/Getty Images

Overall Game Grade: D-
Coming into the game, many thought the Kansas State offense could score as efficiently as Oregon's offense. While Oregon scores quicker, the Wildcats were just as efficient coming into the Fiesta Bowl.
That all changed in this game as Kansas State struggled to put points on the board throughout the game.
Kansas State didn't seem ready to play at the beginning of the game and Oregon took it to the Wildcats early. That early 15-point lead put the Wildcats in a hole they were unable to overcome.
Unfortunately for head coach Bill Snyder, he's lost his fourth-straight bowl game.