Power Ranking the Top 10 QBs in the 2013 NFL Draft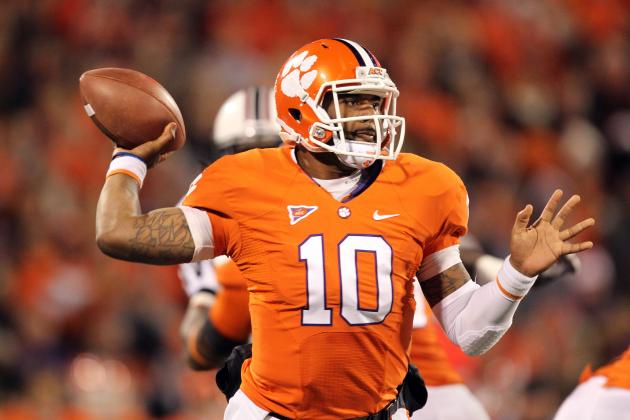 Streeter Lecka/Getty Images

A quarterback changes everything in the NFL.
He can foster a dynasty like the New England Patriots.
He can take you from the draft's No. 1 pick to the playoffs like the Indianapolis Colts or to your first divisional title since 1999 like the Washington Redskins.
After being spoiled by Andrew Luck and Robert Griffin III and even Russell Wilson in the 2012 draft, it'll be hard for future quarterback classes to stack up.
But with the bowl season nearing its end, and before the comprehensive and typically arduous pre-draft workouts begin, let's rank the Top 10 signal-callers in the 2013 draft.
Begin Slideshow

»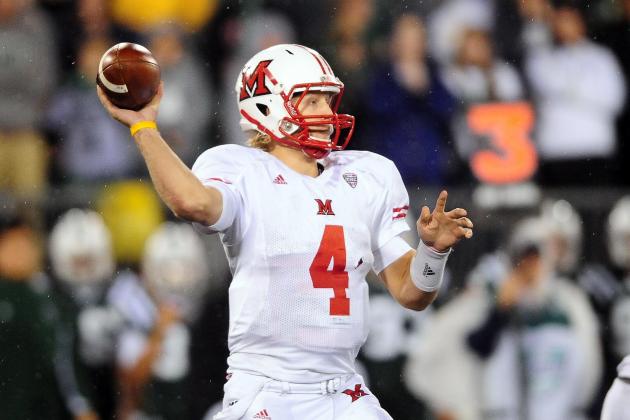 Andrew Weber-USA TODAY Sports

Just because 6'3'' Zac Dysert isn't a well-known name (he played his entire career in the Mid-American Conference) doesn't mean he's not a good quarterback prospect or can't succeed at the NFL level.
It would have been interesting to see how he fared at a bigger school, because he was impressive with rather lackluster talent around him at Miami University (OH).
Dysert was very accurate in the RedHawks short passing attack in 2012, and, like many of the other quarterbacks in this class, is steady in the pocket and possesses adequate mobility.
His arm strength is good, yet maybe slightly below what an NFL team would like in a college quarterback entering the draft. While his instincts in the pocket are not terrific, he excels throwing on the run.
In fact, it's his best attribute.
Dysert has a fast release and only throws off balance when attempting a touch pass down the field.
Ideally, he could become a volume passer in a quick-strike system.
It's hard to find much potential or upside to his game, and it may take him a while to transition to the speed of the NFL—those are the biggest knocks on this Miami of Ohio signal-caller.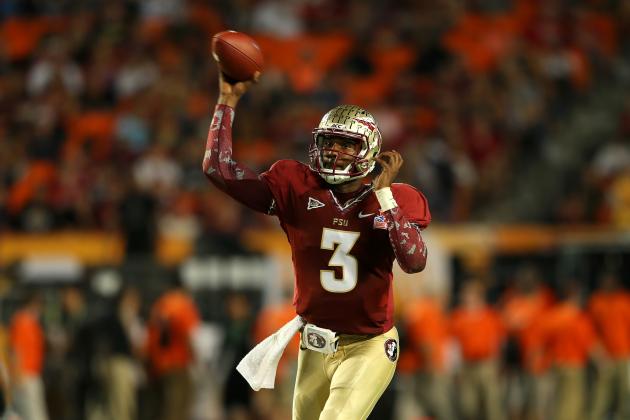 Mike Ehrmann/Getty Images

EJ Manuel entered the season as one of the top quarterbacks in the 2013 class, and although the statistics may tell a different story, he didn't improve much in 2012.
At 6'5'', he is a towering presence in the pocket and has superb size for an NFL quarterback.
His delivery raises no red flags, as he has a good arm and can push the ball downfield with relative ease, but his passes can be sporadic even when receivers are open.
And much like the intermediate throws, his accuracy is far from steady on deep balls.
The Florida State quarterback's mobility will intrigue teams.
With a few years behind a seasoned veteran, Manuel could become a great quarterback—he just appears to need time to sharpen his skills.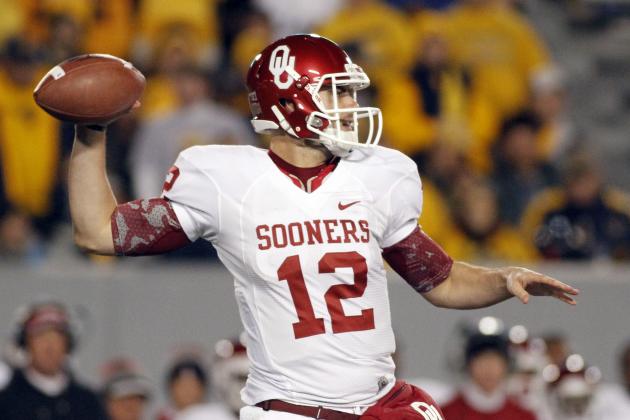 Justin K. Aller/Getty Images

Landry Jones has good size at 6'4'' and plenty of experience as a starter for a major collegiate program.
Like many of today's quarterbacks, Jones worked almost exclusively out of the shotgun formation while at Oklahoma, so there will be question marks about his footwork when dropping back from under center.
He has an above-average arm but sometimes trusts it too much when forcing a ball into tight coverage—his ability to read defenses will likely come into question, too.
However, Jones can make every throw you need and can do so with great accuracy and velocity.
He does have one of the more elongated motions of anyone in the class, but that can be tweaked by an NFL coach.
The Sooners quarterback is a classic boom-or-bust guy, and right now, his game appears to need some developing.
But the raw talent is undoubtedly there.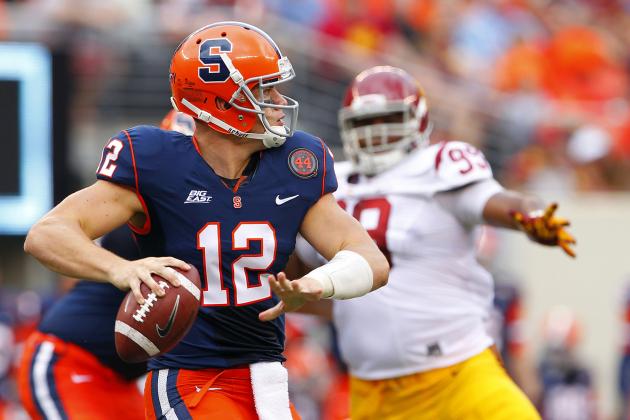 Rich Schultz/Getty Images

Ryan Nassib made strides in each of his three years as the Syracuse starter, culminating with a stellar senior campaign in 2012.
At 6'2'', he doesn't have exceptional height, but his over-the-top release point helps him to get the ball above the helmets of his offensive line.
Though he likes to show off his arm on intermediate throws, his overall arm strength won't wow many head coaches and general managers. Because of that, he isn't fabulous throwing on the run but is capable. However, this is a skill that can be honed in the NFL.
He makes the best plays with his head, as he's a fine decision-maker and progresses through his reads well.
Due to his apparent high football intelligence and grasp on playing the quarterback position, don't be surprised if he's drafted much earlier than many draftniks expect.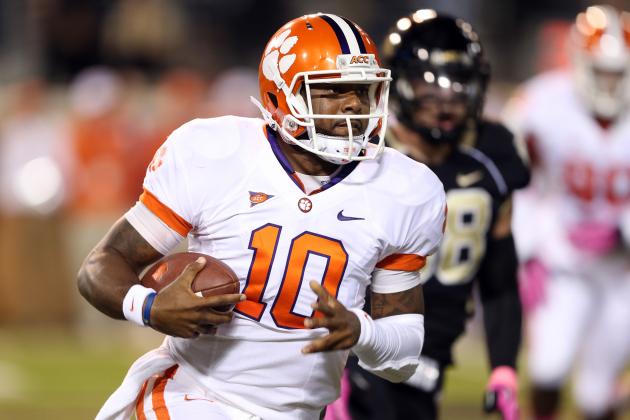 Streeter Lecka/Getty Images

Tajh Boyd thoroughly impressed in the Chick-fil-A Bowl victory over a good LSU defense, but he didn't just materialize in December.
In fact, no quarterback improved as significantly as the Clemson signal-caller in 2012.
Though I like to keep statistics out of evaluations, Boyd's development was staggering.
His completion percentage jumped from 59.7 to 67.2, and as importantly, his yards-per-attempt average sky-rocketed from 7.7 to 9.1—his numbers were not simply the result of Sammy Watkins and DeAndre Hopkins racking up yards after the catch.
The Tigers quarterback has a three-quarter release, but it's a lightning-quick snap delivery that produces a lot of zip on intermediate passes.
His ball placement is rarely off, and he has good but not tremendous arm strength.
Boyd won't be desired by teams running a traditional pro-style offense, but he's ranked high as mobile quarterbacks with experience in the read-option and pistol are the NFL's hottest trend.
Boyd is a shifty scrambler with quality athleticism and deceptive speed.
For coaches who won't want him running among NFL linebackers, Boyd thrives at improvising when protection breaks down because his athletic ability allows him to keep his eyes downfield.
This Clemson quarterback epitomizes everything about a sleeper at his position.
(Boyd has yet to decide whether he will return to Clemson or enter the 2013 NFL draft.)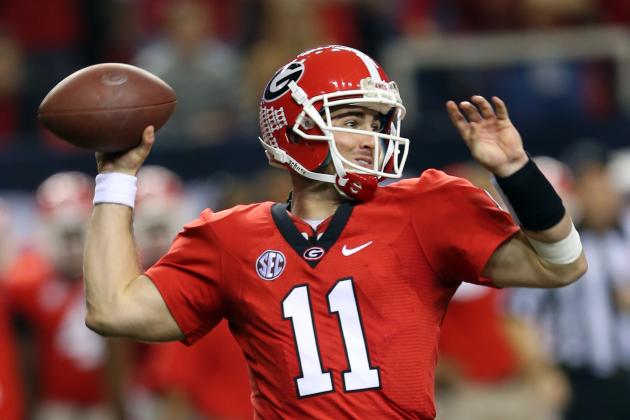 Mike Ehrmann/Getty Images

Aaron Murray isn't a spectacular quarterback prospect by any stretch, but he doesn't do much wrong and that alone will place him high on NFL team's draft boards.
At 6'1'', he lacks size, and his small stature did hurt him on occasion while at Georgia.
In the accuracy department, when in rhythm, Murray can be a technician and was sharp against a variety of good SEC defenses.
He has a sound and quick release and rarely changes arm angles.
Because Murray doesn't have the strongest of arms, he appears to understand that bad footwork and improper balance lead to inaccurate throws without necessary zip.
Most of the time, the Bulldogs quarterback shines when working the intermediate middle of the field. He gets into trouble down the field, and much of that is due to a weaker arm.
He can move in the pocket but won't make many defenders miss at the second level.
Murray has average awareness and can take some bad sacks when drifting away from pressure would be ideal, but he doesn't automatically fold when protection collapses.
With grooming, Murray can be a solid starter at the professional ranks.
(Murray has yet to decide whether he will return to Georgia or enter the 2013 NFL draft.)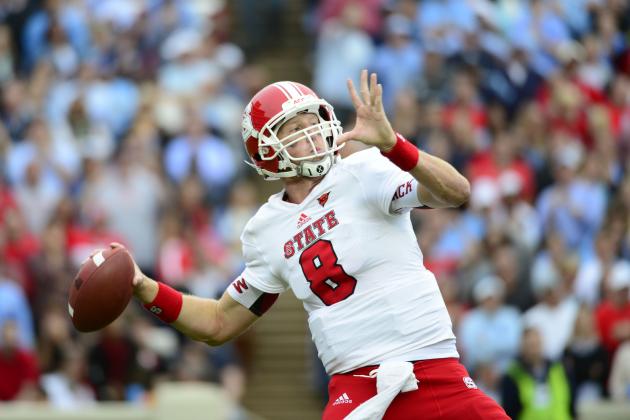 USA TODAY Sports

Mike Glennon is the biggest quarterback in the 2013 class, standing 6'6''. He is more mobile than most 6'6'' signal-callers, but he will be a pure pocket passer in the NFL, nothing more.
The arm strength is there, and it comes from a rather longer delivery that could be tweaked but doesn't appear to be a major problem.
The North Carolina State quarterback can move in the pocket to avoid pass-rushers. However, he is prone to bad decisions when pressure mounts.
Also, Glennon's footwork could use fine-tuning.
He can drive the ball downfield and on deep sideline throws better than anyone in the class and is decently accurate on deep passes.
He checks down often, but if needed, can work the ball into tight windows. Then again, he won't be classified as a gunslinger—Glennon is not the most confident quarterback.
On short-to-intermediate throws, Glennon is accurate and dealt with plenty of drops in 2012, a season in which his overall play improved slightly from 2011.
The Wolfpack signal-caller is somewhat raw, but he doesn't possess a great amount of upside.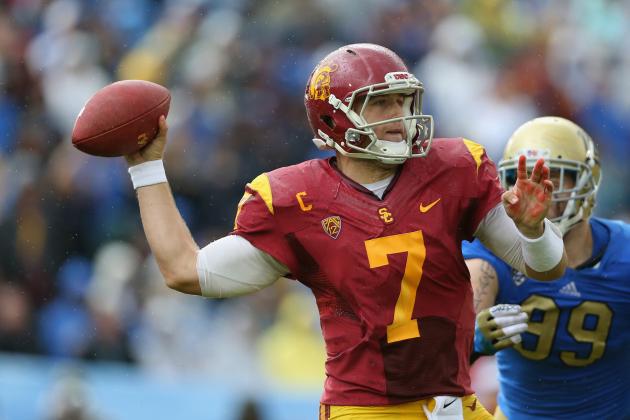 Jeff Gross/Getty Images

Matt Barkley's name will be mentioned often leading up to the 2013 NFL Draft, and much of the discussion will focus on how he and USC took a magnificent step back this season.
While that's true, the Trojans quarterback is still a fine prospect, especially compared to other signal-callers in his class.
At 6'2'', he doesn't boast ideal stature, and his arm limits him on longer throws across the field to the sideline.
But he brings plenty to the field that will appeal to head coaches and general managers.
Barkley did flash a strong arm on deep passes in college. By and large, he can make just about all the "NFL throws."
He was a four-year starter and played his entire career in a pro-like offense which asked him to progress through reads on a consistent basis.
Although he typically was asked to survey only one half of the field on drop backs, the decision-making and general football IQ he demonstrated were great for a collegiate player.
Barkley often showed a firm grasp on pre-snap blitz reads and wasn't afraid to audible.
The USC signal-caller was aided by NFL-caliber receivers Marquise Lee and Robert Woods, but they didn't make him the quarterback he is today.
If anything, the dreadful offensive line hurt him just as much.
In terms of mobility, Barkley can move around in the pocket but has the tendency to panic when pressure builds.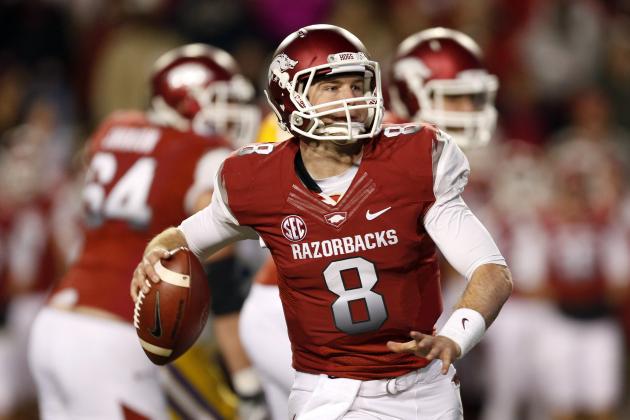 Wesley Hitt/Getty Images

After a solid 2011 season, many believed Tyler Wilson was the front-runner to be the first quarterback taken or even the top pick in the 2013 draft.
Unfortunately, he labored through an unmitigated disaster this year at Arkansas under John L. Smith. His offensive line was downright atrocious, and he was hindered more than he was helped by his receivers.
All the raw tools are there—Wilson is 6'3'', stands tall and assertively in the pocket and isn't afraid to make any throw. His arm strength is great but not stunning, and he has vast experience in a traditional, pro-style offense.
However, he has a little Matthew Stafford to him in that his footwork, delivery and balance often goes out the window when he's pressured, which can lead to wobbly, inaccurate floaters. Also, his decision-making regressed in 2012—a red flag.
But due to a rather strong arm, the Razorback signal-caller, much like Stafford, can get away with an off-balance throw from time to time.
His most attractive attribute is his acumen in the pocket, but he also can get out and run to pick up yardage when protection breaks down.
Despite Wilson being well-schooled in climbing in the pocket to avoid the rush, he doesn't have tremendous awareness when attempting to elude defenders.
With the right coach, Tyler Wilson can become a borderline elite quarterback at the next level.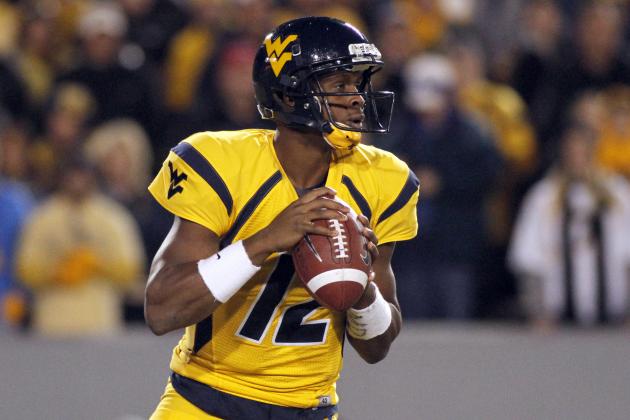 Justin K. Aller/Getty Images

Geno Smith is a 6'3'', 220-pound quarterback who was a three-year starter at West Virginia and is the top quarterback in the 2013 draft class.
He displays confidence in the pocket when looking downfield. He won't drop your jaw with his arm but is rarely limited in that capacity. With time, he can place the ball perfectly in his receiver's hands. However, during his tenure at West Virginia, he wasn't afforded the luxury of a true deep threat who could get separation from defenders consistently.
His traditional, rather quick release typically yields an accurate ball on short-to-intermediate passes. Smith does need to develop better awareness in the pocket. Often, he appears dazed when he's zeroing in on his target and seems to forget he needs to get rid of the football.
When he gets into a rhythm, he can be extremely dangerous. In what will likely entice some head coaches, the Mountaineer signal-caller does have read-option and pistol experience.