Hidden Gems MLB Teams Are Overlooking on the Free-Agent and Trade Markets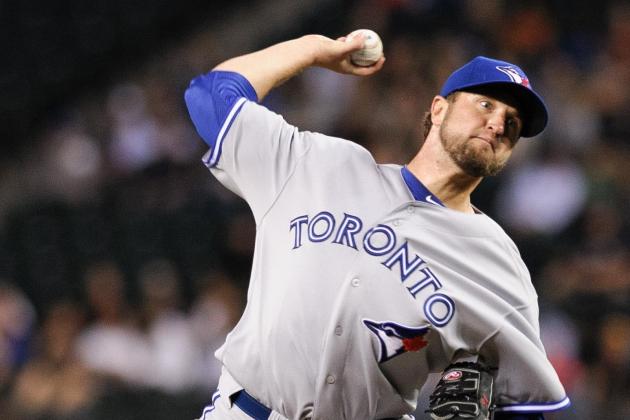 Steven Bisig-USA TODAY Sports
Brandon Lyon compiled a 3.10 ERA last season.
There are still enough big names available on the MLB free-agent and trade markets to attract most of the offseason headlines through January.
Michael Bourn and Kyle Lohse are still looking for teams willing to meet their price. The Arizona Diamondbacks are dangling Justin Upton and Jason Kubel to attract some bites. Andre Ethier is either available or not available, depending on what hour of the day someone checks in with the Los Angeles Dodgers.
But plenty of other serviceable players that don't get the headlines and marquee name recognition are still out there for the taking.
Any club looking for an outfielder or bullpen help doesn't have to spend big money to shore up those positions. Players that are blocked or expendable on their current rosters might flourish elsewhere.
Here are eight under-the-radar players who could provide some help to several MLB playoff contenders. Some are waiting to be picked from the free-agent shelf while others need to be freed from their current situations and given a change of scenery.
Begin Slideshow

»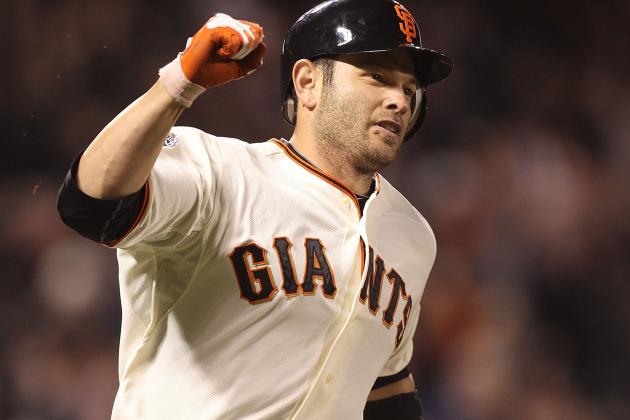 Jed Jacobsohn/Getty Images

Back and shoulder injuries have prevented Freddy Sanchez from playing since June 2011.
It's possible he's no longer capable of returning to the form that resulted in a batting title in 2006 and three All-Star appearances.
But Sanchez has always been able to hit. He's a career .297 batter with a .748 OPS. He's also been a strong defensive player at second base, with FanGraphs' ultimate zone rating consistently measuring him as above-average at the position.
Of course, Sanchez's shoulder may no longer allow him to be that kind of defender. One of the reasons he didn't break camp with the San Francisco Giants last season is because manager Bruce Bochy didn't trust Sanchez to consistently make the strong throw necessary to turn a double play.
However, if Sanchez is healthy now, he could help any team in need of some offense at second base. One of those teams is the St. Louis Cardinals. Sanchez's agent told the St. Louis Post-Dispatch's Derrick Goold that his client is indeed healthy and has drawn interest from several teams.
Other clubs that could give Sanchez a look include the Colorado Rockies, Chicago White Sox and Los Angeles Dodgers.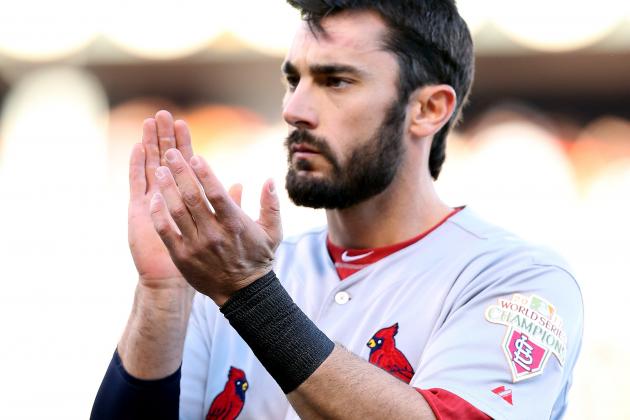 Christian Petersen/Getty Images

The St. Louis Cardinals surely don't want to trade Matt Carpenter.
In 340 plate appearances last season, the 27-year-old hit .294 with an .828 OPS, six home runs and 46 RBI.
But is there a place for him in the St. Louis lineup? Allen Craig established himself at first base last year and David Freese is entrenched at third. The outfield isn't an option either, at least for one more season while Carlos Beltran finishes the last year of his contract.
As the St. Louis Post-Dispatch's Derrick Goold explains, Carpenter has been working out at second base, trying to improve his agility to play the pivot better.
Winning the job at second would be the best outcome for all involved. The Cardinals would be able to keep Carpenter's bat in their regular lineup while shoring up a position that has been an offensive disappointment in recent seasons.
However, if Carpenter doesn't win the job, could another team make a play for him?
The Cards will likely hold on to him, but at Carpenter's age, is it better to see what he can fetch in a trade? Someone who can provide some left-handed pop from a corner infield spot would surely draw some interest from teams like the Seattle Mariners, Philadelphia Phillies and Chicago White Sox.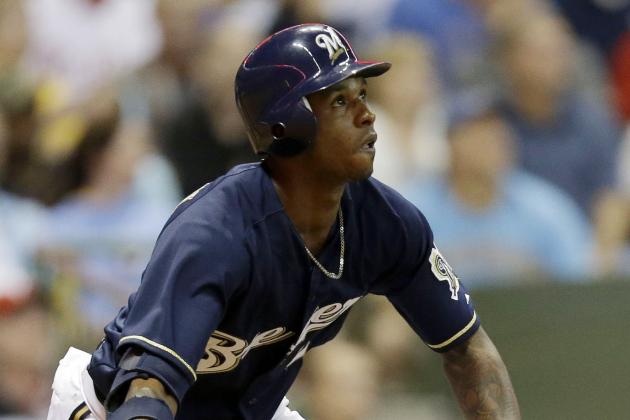 Mike McGinnis/Getty Images

Nyjer Morgan hasn't endeared himself to his team in recent years.
After two years in Milwaukee, the Brewers have had enough of his temperamental personality and are committed to Carlos Gomez in center field next season.
Having an alter ego, Tony Plush, is charming when a player is productive and a team is winning. But when he's struggling—as Morgan did last season, batting .239 with a .610 OPS—the whole charade becomes strained and silly.
Morgan is one year removed, however, from compiling a .304 batting average and .778 OPS. He's also a good defensive center fielder, according to FanGraphs' ultimate zone rating, showing above-average performance at his position.
Teams looking for center field help, but have no interest in spending free-agent dollars or trading away prospects, could get some value out of a lower-cost option like Morgan.
He could help a club like the Miami Marlins or provide depth for teams like the Cincinnati Reds or Los Angeles Dodgers. Morgan could also aid the Chicago Cubs, though the front office might not want him hanging around guys like Starlin Castro.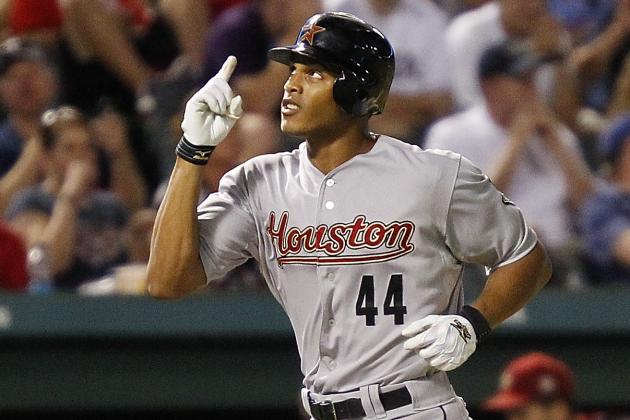 Rick Yeatts/Getty Images

A player who cranked 18 home runs with 53 RBI in 352 plate appearances last season would seemingly draw some interest around MLB, yet Justin Maxwell might not even be a starting outfielder for the 107-loss Houston Astros because he hit only .229 with a .764 OPS last year.
Maybe Maxwell can get some more plate appearances in the upcoming season with the Astros moving to the American League and using a designated hitter in their lineup.
In the meantime, an inexpensive player who can provide some right-handed pop and excellent defense in center field (according to FanGraphs' ultimate zone rating) would be a great fit for the New York Mets. Perhaps he could be part of a platoon with the Philadelphia Phillies or Detroit Tigers as well.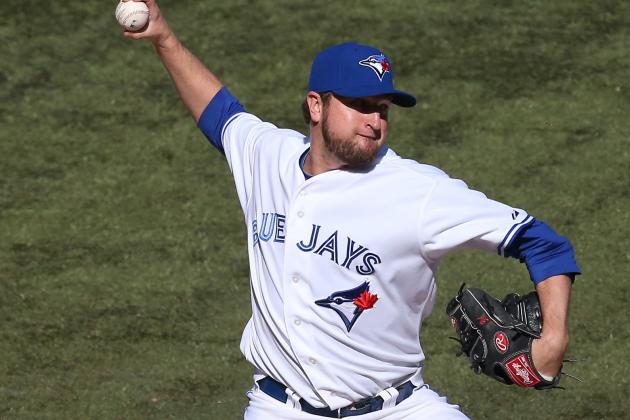 Tom Szczerbowski/Getty Images

When Brandon Lyon signed a three-year, $15 million contract with the Houston Astros before the 2010 season, it was widely viewed as a mistake and overpay for a pitcher who was best-suited for middle relief.
The Astros eventually unloaded Lyon to the Toronto Blue Jays before the trade deadline last year, getting something in return for a player the team was sure to let go once the season ended.
But without having to justify his contract any longer, Lyon could still be a solid addition to any team's bullpen next season. He compiled a 3.10 ERA between Houston and Toronto, striking out 63 batters in 61 innings.
Perhaps it's because free agency was imminent, but Lyon picked up his strikeout pace with the Blue Jays, punching out an average of 10.1 batters per nine innings. Going from the National League to the American League—and AL East competition—doesn't always work so well for pitchers.
With the appetite for bullpen help around MLB, especially in middle relief, it's hard to believe Lyon hasn't drawn stronger interest to this point.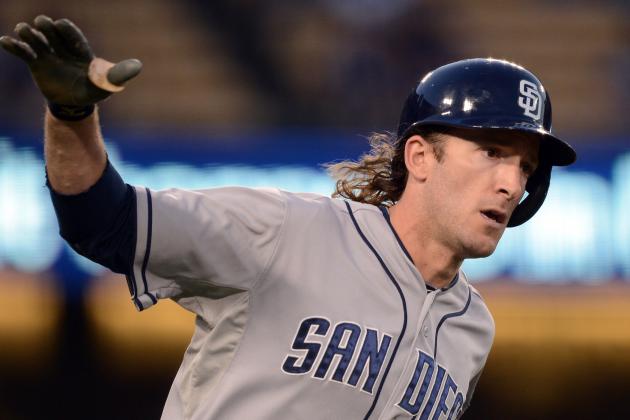 Harry How/Getty Images

Several teams are looking for a right-handed outfield bat. The Detroit Tigers, Atlanta Braves and Philadelphia Phillies are among the teams seeking a platoon player or an outright starter.
Chris Denorfia of the San Diego Padres could be an appealing target for those clubs or anyone else who needs a productive hitter with speed. Denorfia also plays solid defense in either corner outfield spot, which makes him even more valuable.
Denorfia projects as the fourth outfielder on the Padres' roster next season, with all three outfield spots occupied. The Padres could keep him for depth, but if teams want to trade a decent prospect for him, it's in San Diego's best interests to listen.
The Tigers, in particular, could use Denorfia in a left-field platoon with Andy Dirks. Detroit reportedly wants Avisail Garcia to get plenty of plate appearances, which likely means he will begin the season in the minors.
Dirks may be ready to take the position full-time, but having some insurance in the outfield certainly wouldn't hurt—especially with 37-year-old Torii Hunter in right field.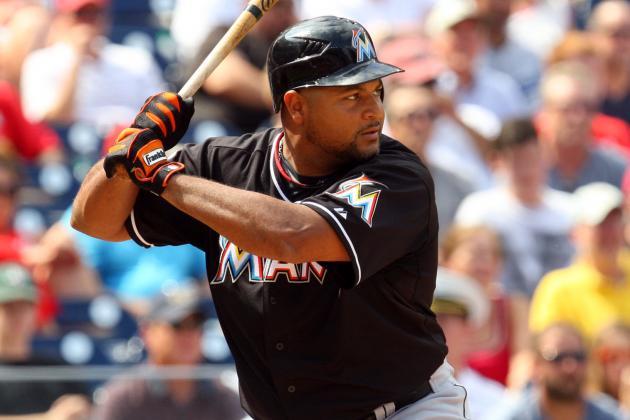 Ned Dishman/Getty Images

Here's the one that might make you slap your forehead as you scroll through this list.
Carlos Lee? The guy who refused a trade to the Los Angeles Dodgers and ended up with the Miami Marlins? The increasingly expanding 37-year-old who hit nine home runs last season?
Yep, that's the guy.
To be sure, 2012 wasn't one of Lee's best seasons. The aforementioned nine homers to go with a .264 average and .697 OPS will not compel MLB teams to clog up the phone lines at his agent's office.
But Lee did drive in 77 runs last year. While RBI has been overvalued as a stat in the past and is more a reflection of the lineup a player bats in, it might be an undervalued number in Lee's case.
"El Caballo" didn't play for powerhouse lineups that could frequently put runners on base to drive in. He played for the Astros and Marlins, the two lowest-scoring teams in the National League last year, and still drove in nearly 80 runs.
What could Lee do in a lineup that's actually good, one that presents him with even more run-producing opportunities?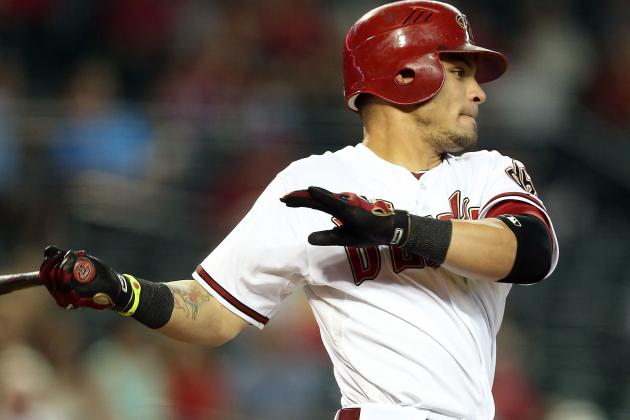 Christian Petersen/Getty Images

Calling Gerardo Parra a "hidden gem" might be a bit of a stretch. He's more of a known commodity than some of the other players on this list.
But when two other Arizona Diamondbacks outfielders—Justin Upton and Jason Kubel—are attracting most of the trade rumor headlines throughout MLB, the lesser known player who hits .280 and plays good defense at all three outfield positions might be the more economical pick-up for several teams.
Depending on what the D-Backs do with Kubel or Upton, Parra could end up as the fourth outfielder in the Arizona lineup. The team seems committed to Adam Eaton in center field and the recently-signed Cody Ross will probably take over in left, which makes Parra expendable.
Parra would be a terrific fit for the New York Mets, who could put him in center or left and bat him at leadoff. He would also be the sort of inexpensive option that general manager Sandy Alderson prefers to add as the team works with a significantly lower payroll.
The Marlins, Braves, Phillies and Mariners are also teams that could show an interest in Parra if he's available.
Follow @iancass on Twitter