Colts vs. Ravens: How Baltimore Can Pull off the Wild Card Round Win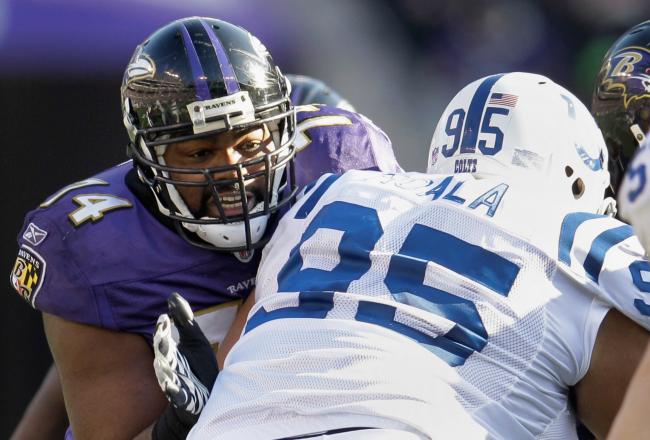 The Indianapolis Colts are the first obstacle in the way of a potential Ravens Super Bowl appearance.
Rob Carr/Getty Images
The Baltimore Ravens are AFC North champions and play host to the Indianapolis Colts on Sunday in the Wild Card Round of the 2012 NFL playoffs. The Ravens are just one of 12 teams that made it to the "second season," and this year marks the fifth time they've done so in as many seasons.
During that span, they Ravens fell short of the Super Bowl each time, though they've been in the AFC Championship twice. Here's how they can make another run at the Lombardi trophy starting with a win over the Colts in Baltimore on Sunday afternoon.
Keep Running the Ball
With Cam Cameron gone, the Ravens run game has finally been unleashed.
Rob Carr/Getty Images
Now that former offensive coordinator Cam Cameron is out, replaced by Jim Caldwell, the Ravens are finally running the ball often and, with Ray Rice as their lead back and Bernard Pierce behind him, extremely well.
In their Week 16 trouncing of the New York Giants as well as in their close loss in Week 17 to the Cincinnati Bengals (in which the majority of their starters were rested after a few first-quarter series), they ran the ball more than 40 times. Their commitment to the run has been clearly established, and it needs to continue against the Colts this week.
The biggest area of weakness for Indianapolis' defense is against the run. They're allowing an average of 137.5 rushing yards per game and 210.7 on average over their last three games, even though teams are running against them just 26.8 times—ranking them 17th in the league. It's clear that the Ravens don't even have to run the ball 40 times to take advantage of the Colts defense, but if they do it, they could have a blowout win on their hands that also keeps the pressure off of quarterback Joe Flacco.
Though Flacco ended the regular season throwing for more yards than he has in his previous four seasons, finally breaking through the plateau of just over 3,600 yards that he's sat upon in the past three years, he still hasn't been any more consistent.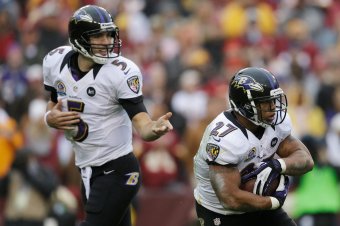 Quarterback Joe Flacco may have just a supporting role in his offense against a terrible Colts run defense.
Rob Carr/Getty Images
Not counting his eight throws in Week 17,
Flacco
has had six games with fewer than 200 passing yards this year and five with more than 300, as well as four games with a completion percentage of 50 or less. Though
Flacco
has been a more integral part of the entire Ravens game plan this year, with the defense dealing with injuries and free-agency losses that have dropped them from being one of the league's best units to
17th presently in yards allowed
(and much lower than that earlier in the season), he would have been more successful and helped considerably had Cameron's offense called for more running.
Now that Caldwell has increased the importance of Baltimore's run game (a good idea, considering the talent they have at running back), and the Colts' struggling run defense is coming to town, it should be easy for the Ravens offense to march down the field.
Defending Andrew Luck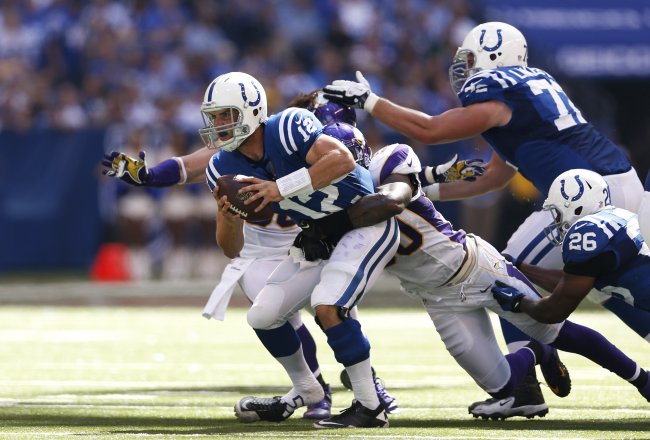 The Colts' pass-heavy offense leaves quarterback Andrew Luck open to punishment—and being picked off.
Joe Robbins/Getty Images
On the one hand, the Ravens defense knows what to expect from the Colts offense—rookie quarterback Andrew Luck is going to pass, a lot. With an average of 39.2 passes per game, the Colts throw the ball the
sixth-most often
of any team in the league, which has resulted in 258 passing yards per game,
the seventh-most
in the NFL.
Though Luck's 4,377 passing yards in the regular season has him in the company of greats like Peyton Manning and Aaron Rodgers, he ranks next-to-last in the league when it comes to completion percentage, at 54.1. He also ranks third overall in interceptions, with 18, fourth in sacks, at 41, and 14th in touchdowns, with 23.
This offense lives and dies on the arm of their rookie quarterback, so forcing Luck into making mistakes, not completing passes and getting pressure on him on a regular basis is a quick and dirty way to keep the Colts at bay.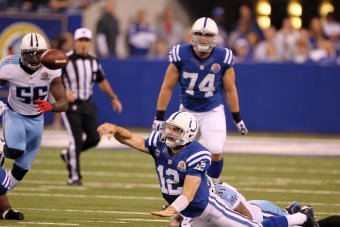 So much throwing by Andrew Luck has ultimately resulted in a lot of interceptions.
Brian Spurlock-USA TODAY Sports
In the past two weeks, the Ravens defense has kept their opponents to fewer than 200 total yards, and kept opposing quarterbacks to fewer than 200 yards in the air over the past three games. Their earlier struggles to contain offenses seem to have progressively faded away—though the Ravens are giving up an average of 350.8 yards per game over the course of the season, that number drops to 241.7
over their last three games
.
The sack and interception numbers aren't as good for Baltimore, with their 13 interceptions ranking them 19th in the league and their 37 sacks ranking them 15th, but those trends don't entirely translate to the Luck-based Colts offense that they'll be facing on Sunday. The Colts will give the Ravens ample opportunity to generate turnovers and get to Luck—it's just a matter of their defense picking their spots and not missing their chances.
This article is
What is the duplicate article?
Why is this article offensive?
Where is this article plagiarized from?
Why is this article poorly edited?