Fiesta Bowl 2013: Live Score, Analysis and Results for Oregon vs. Kansas State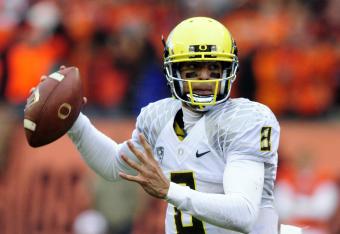 Steve Dykes/Getty Images
FINAL: Oregon 35, Kansas State 17
After being crowned the 2013 Fiesta Bowl champions, the Oregon Ducks are left thinking of what could have been. UO, which was just a whisker away from a national title berth, put together an impressive and convincing 35-17 victory over the Big 12 Champion Kansas State Wildcats.
The Ducks looked like a national title contender in the win, going for 218 yards on the ground and playing a clean, turnover-free game.
De'Anthony Thomas, Kenjon Barner and Marcus Mariota all shined as bright as their green, winged helmets, each accounting for a touchdown in the victory.
On the other side, the Duck defense intercepted Collin Klein twice and held the Wildcats to just 283 yards of total offense.
Thanks to those who followed along tonight, and feel free to drop your thoughts on Oregon's BCS blowout in the comment section below.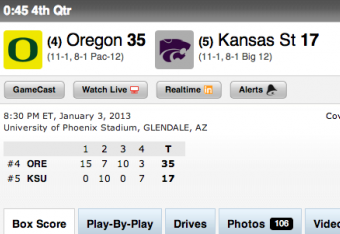 As UO kneels this clock out, you can sense the disappointment for the Ducks.
Great to have the BCS win, but they have to be thinking about what could have been, just an overtime field goal away from a national title berth.
While we all ponder that, here's a shot at the final box from ESPN: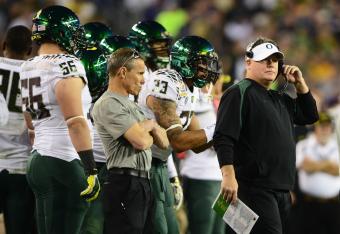 Kansas State Intercepted
Klein with a desperation heave and it's picked off.
As this one comes to a slow, merciless end, I'd like to say thanks for following along.
We'll have a full in-depth recap after the game and a bunch of Fiesta Bowl-related content across the site tonight and tomorrow.
Again, feel free to comment below with your thoughts on Oregon's BCS blowout.
Oregon Field Goal
Oregon 35, Kansas State 17—Fourth Quarter, 2:27
Alejandro Maldonado brings us back to a conventional look on the scoreboard and we can go ahead and crown Oregon the 2013 Fiesta Bowl champions.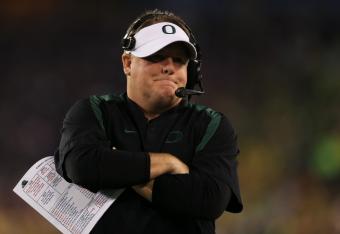 Chip Kelly still barking commands from the sideline.
Is this the last time we'll see him coaching in the college ranks?
Oregon with the Cool Whip out, looking to finish off this game. Clock ticking under four minutes and the Ducks are about to add to their score total.
He might end the game anyway, just a bit slower.
Another first-down run for the senior back.
Kenjon Barner nearly ended this game, but he was snared just before he took it the distance.
I'd take that job:
Shoutout to the manager that holds Bill Snyder's headset.

— Grant Dovey (@GrantDovey) January 4, 2013
URGENT:
Puddles, the Oregon Duck, has taken a bunch of pom poms and festooned a hat with them.

— Bryan Fischer (@BryanDFischer) January 4, 2013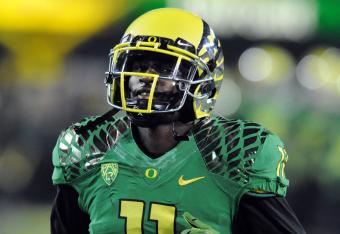 Kansas State Punt
A false start comes back to haunt K-State on this drive.
Then on the return, Oregon just averted disaster, as returner Bralon Addison was knocked down as he bumped into his blocker.
Luckily, Addison fell right underneath the flight of the ball and was able to haul in the kick from the ground.
Oregon keeping everything in front of them.
Ducks are playing very smart D. They know they have a two-touchdown lead, so they can afford to give up short plays.
Angelo Pease breaks a nice first-down run. He has quietly put together a great performance in his final game for KSU. 59 yards of total offense for the senior.
Still a lot of time left on the clock by the way. 10:27 to go in this final frame.
Oregon Punt
Just what the doctor ordered for the Wildcats. KSU came out with a few nice tackles and some pressure on Mariota to end the drive early.
Unfortunately, K-State flagged for a block in the back to nullify a nice return.
KSU will have a long way to go to score on this drive.
Don't look now, but K-State is a big play or a TD and a defensive stop from making Oregon very, very nervous.

— David Ubben (@davidubben) January 4, 2013
Wildcats need to summon up another three-and-out on this drive.
That's Hubert's first receiving touchdown of the year and Klein's 16th passing score.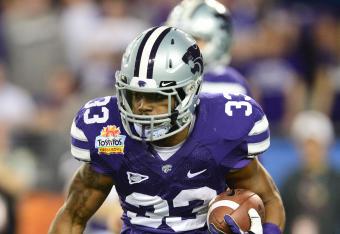 Kansas State Touchdown
Oregon 32, Kansas State 17—Fourth Quarter, 11:35
That was one of the best shovel passes I have seen in a while. Klein drew in a couple of UO defenders then pitched to Hubert who made a few nice cuts through his blockers to the end zone.
A glimmer of hope for KSU, but it's small.
Time still heavily on Oregon's side.
If you're still mind-boggled by that one-point safety, take a look at this article for a clean breakdown:
Synder with a look of disappointment after a KSU false start. Odds are already stacked against the Cats—they can't afford any mistakes now.
End of Third Quarter
Oregon 32, Kansas State 10—Start of Fourth Quarter
Klein with a huge run to bring us to the final frame.
It's not over yet, but the Wildcats will need a lot more of that to complete this comeback.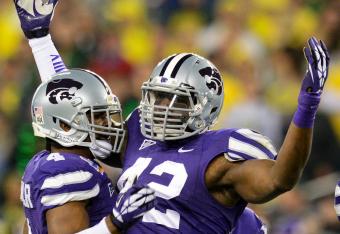 Oregon Turnover on Downs
KSU defense not giving in just yet, apparently.
Meshak Williams eats up Mariota on a huge fourth-down sack. KSU with just a bit more than 16 minutes to make up a 22-point deficit.
I see your one-point safety and raise you:
22-pointer would be more helpful - RT @mellinger K-State should go for the rare 14-point touchdown on this drive.

— Kellis Robinett (@KellisRobinett) January 4, 2013
BFFLs:
Apparently Brad Nessler and I have witnessed two of the four one-point safeties in CFB history. Guess we're going to get tattoos.

— Bryan Fischer (@BryanDFischer) January 4, 2013
K-State defense just looks defeated right now.
A lot of walking around, negative body language and hopeless gazes toward the retractable roof in Glendale.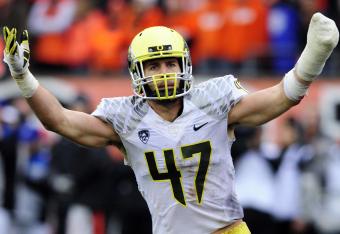 Kansas State Punt
Alonso with a well-timed hit on third down and the door is quickly closing for the Wildcats. If Oregon scores again, K-State can warm up the buses.
This article is
What is the duplicate article?
Why is this article offensive?
Where is this article plagiarized from?
Why is this article poorly edited?

Oregon Ducks Football: Like this team?