NFL Head Coaching Vacancies: The Pursuit of Chip Kelly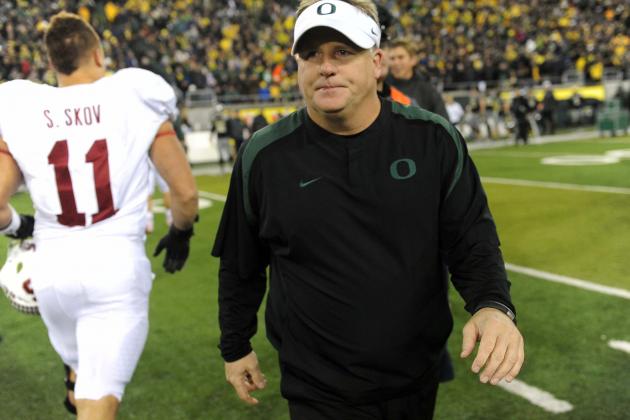 Steve Dykes/Getty Images
Chip Kelly- NFL Head Coach
If you are as enamored with the NFL's pursuit of Chip Kelly as I am, then you know that reports have surfaced linking the Oregon Ducks head coach to three possible teams. The Buffalo Bills, Philadelphia Eagles and Cleveland Browns.
So who's the best fit and where should this offensive guru start looking for houses?
My friends, it's time to start the slideshow below and check out the top three reasons why Chip Kelly would take the job in each city that wants him.
Begin Slideshow

»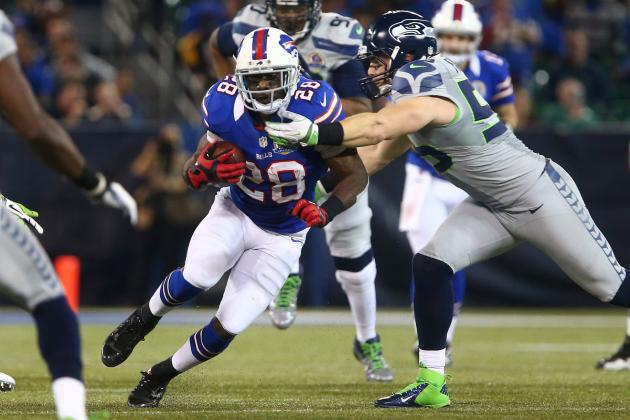 Tom Szczerbowski/Getty Images
CJ Spiller
Have you seen what Chip Kelly has managed to do with quick running backs during his career at Oregon? If you have, then you know C.J. Spiller would thrive in a Chip Kelly system.
He's lighting fast, super elusive and has a knack for the big play. If Kelly takes the Buffalo gig, C.J. Spiller would not only become a must start fantasy option next year, but Buffalo's anemic offense would become absolutely dynamic in the process.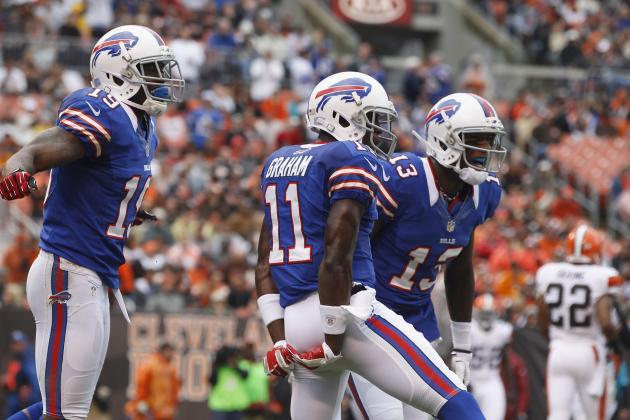 Matt Sullivan/Getty Images
Buffalo Bills Wide Recievers
There's no doubt Buffalo's roster is dripping with talent. Talent that was so grossly misused by former head coach Chain Gailey, it made even the toughest Bills' fans break down and shed a tear.
But even after a dreadful 2012 season, many pundits still believe the Bills are just a few pieces away from being a serious playoff contender. They just need to find themselves the right leader to come in and move along the process.
Believe me when I tell you it's stunning to witness how big of a leap a well coached roster can make in just its first year. Just take a look at the Indianapolis Colts.
With Kelly at the helm, Buffalo could use its high draft pick on a potential franchise QB, giving Kelly a dynamic roster full of special players.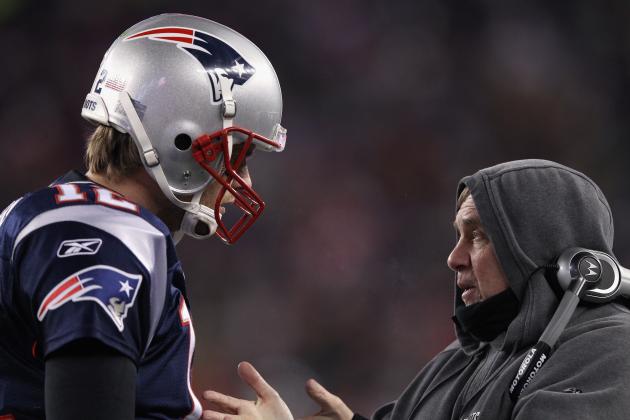 Elsa/Getty Images
Bill Belichick and Tom Brady
When you're the head coach of any team or program you want to be the absolute best you possibly can. And in order to be the best, you need to beat the best. That's where Bill Belichick and Tom Brady fall into the Chip Kelly equation.
If Chip Kelly decides to take the job in Buffalo he would have his hands full from day one. Playing the incredible B&B combo twice a year would result in Chip being forced to provide his team with some dynamic game planning.
Sure the other divisions have great coaches to. But nothing would be quite as satisfying as beating New England and guiding the Bills franchise back to the top of the AFC mountain.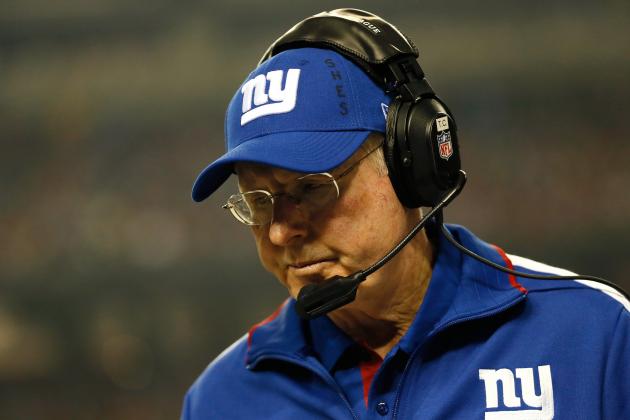 Kevin C. Cox/Getty Images
The Competition in the NFC East
Like facing Belichick or Brady twice a year, playing in the NFC East would provide Chip Kelly with some serious competition.
Thanks to the emergence of Robert Griffin in Washington and the always competitive Dallas and New York teams, Chip Kelly would be forced to create a successful movement in Philly from the moment he walked in the front door.
Would a playoff run be harder in Philly? Absolutely. But if you achieve success in the city of brotherly love, you can become a household name right away.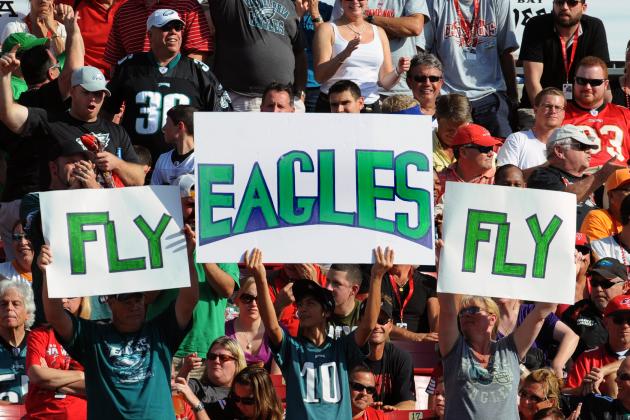 Al Messerschmidt/Getty Images
Fly Eagles Fly
I'm not knocking Browns fans, or even Bills fans here. But truth be told, there is something unique about the Philly faithful. They would do just about anything to watch their Eagles soar on Sunday.
And just like the New York media market, Philadelphia is a high-pressure area.
The combination of a loyal fan base and a surging media market would provide Chip Kelly with his fair share of the national spotlight on a weekly basis. And what coach doesn't want a chance to shine?
Taking the Eagles job means big time national games and big time national pressure.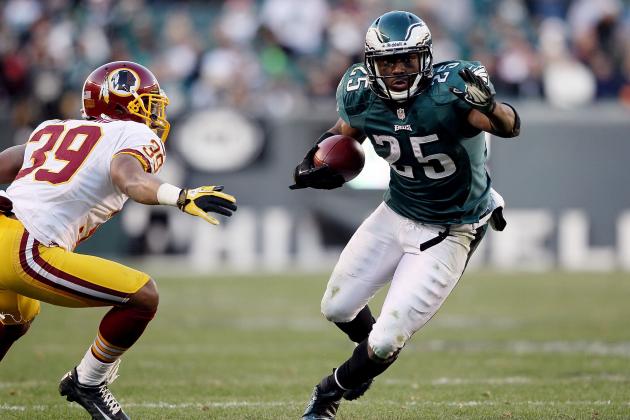 Alex Trautwig/Getty Images
LeSean McCoy- Eagles
The Eagles boast a tremendous amount of speed on their roster. And if you know Chip, you know he loves himself some Earth scorching speed.
With so many explosive weapons stashed away in Philadelphia, to say the Eagles personnel would fit Kelly's traditional "spread" approach is a gross understatement.
Guys like Bryce Brown, LeSean McCoy and Jeremy Maclin could stretch the field for a Kelly offense and give defenses with headaches all season long.
If the current Ducks coach wants to run an NFL spread, and run it right, Philly would be the best place to go.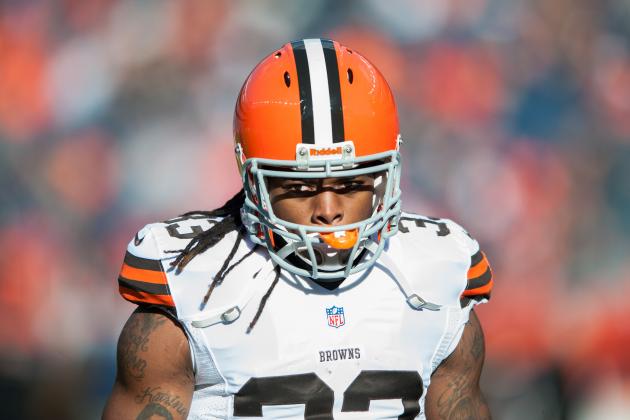 Dustin Bradford/Getty Images
Trent Richardson- Cleveland Browns
Just like the Buffalo Bills roster, the Cleveland Browns boast some wonderful talent. The major difference is the Browns talent is super young, unpolished and full of hell.
If Chip Kelly ends up in Cleveland he would have a dynamic roster of young guys at his disposal, who could step up and turn the Browns into contenders down the road.
Guys like Josh Gordon, Trent Richardson, Joe Haden and Phil Taylor are all primed to be big time NFL playmakers. Chip Kelly could do worse than taking over a team with a bunch of ready to use Jesse James type young guns.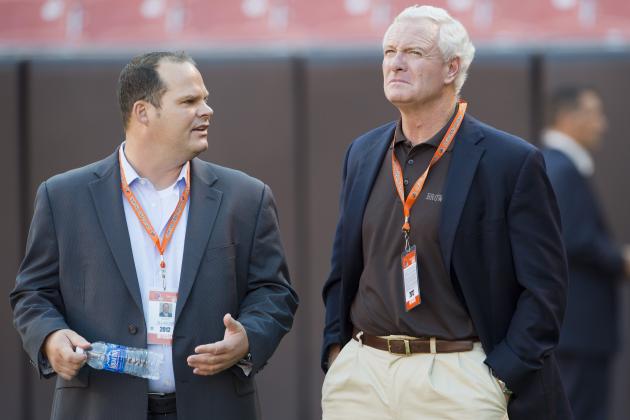 Jason Miller/Getty Images
Jimmy Haslam—Owner of the Cleveland Browns
Taking the Cleveland job is like starting your own company. Unlike with Buffalo or Philadelphia, in Cleveland Chip Kelly would be starting off fresh.
The Browns don't have many ailing contracts or veteran players to lose sleep over. So as the leader of the Browns, Chip would get his chance from day one to implement that much needed Kelly change.
Don't forget people, a clean slate is a beautiful thing to have.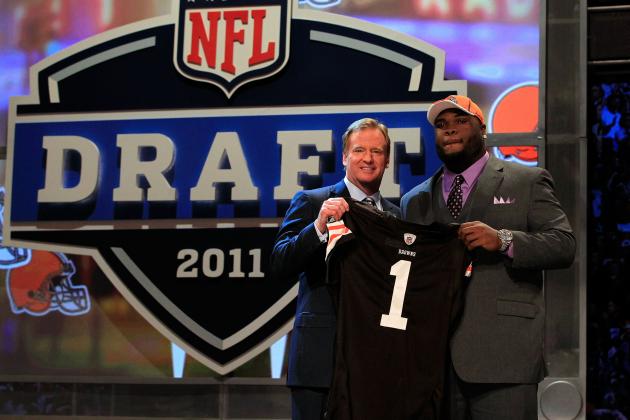 Chris Trotman/Getty Images
Browns NFL Draft
Not having control over your team is huge. Just look at the Rex Ryan situation in New York.
If one things guaranteed in Cleveland it's that Chip Kelly would have a ton of control when it comes to the day to day operations and personnel moves of the Browns franchise.
It's not a secret that Browns CEO Joe Banner wants to his head coach and General Manager to have a working relationship. Given Kelly's expertise at the college level and his potential massive salary, there's no doubt his opinion would be taken very seriously in the front office.
If Kelly ends up in Cleveland he would be able to implement change, and that change would be "Chip Kelly brand." A brand the Browns need desperately.