Power Ranking John Cena's 7 Biggest Moments in WWE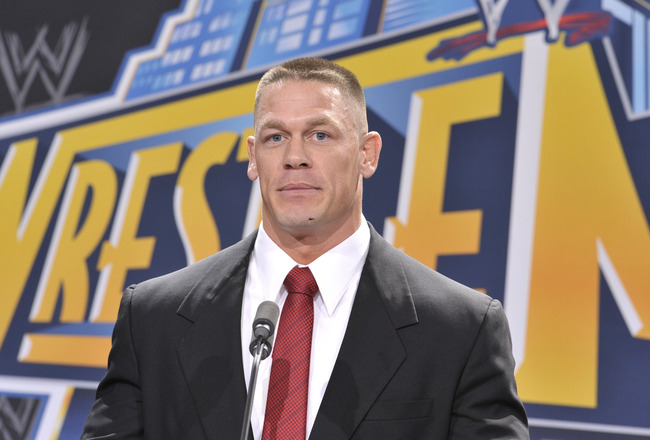 Michael N. Todaro/Getty Images
John Cena has been the face of the WWE for nearly eight years, so it should come as no surprise that he has had countless crowning achievements over the course of his impressive career. There are probably many more to come as well, but it's worth reflecting upon what he has already accomplished.
As Cena said on Raw, 2012 was not a banner year for the 12-time world champion. He lost big matches to the likes of The Rock, CM Punk, John Laurinaitis and Dolph Ziggler, but he still managed to be the focal point of the main-event scene, and he put on several great matches as well. Love him or hate him, Cena remains on the top of his game.
Even if Cena were forced to retire today, though, his career accolades look good next to pretty much anyone who has ever been a part of the business. He has won almost every meaningful title, beaten almost every top star of his era and performed at a high level on the grandest stage of them all on many different occasions.
With that in mind, it may seem like an impossible task to narrow down the greatest moments of Cena's WWE run. I'm always up for a good challenge, however, so here are the seven biggest moments in the Cenation leader's successful career.
7. Cena Debuts by Challenging Kurt Angle
John Cena is synonymous with his jean shorts and dog tags along with his dominant performances these days, but his WWE career had humble beginnings.
On a 2002 episode of SmackDown, Kurt Angle called out anyone from the back to come out and face him, as he so often did. Rather than an established star challenging him, a rookie named John Cena answered the bell and announced his intent to show "ruthless aggression."
Cena looked a lot different, as he wore red tights and wrestling boots, but he had the same aggressive attitude. Cena tossed Angle around like a rag doll for most of the match and looked poised to score a huge upset. Angle managed roll up Cena for a three count, though, and escape with the victory. Cena was disappointed, but the wrestling world got its first look at a guy who would go on to become one of the biggest stars in WWE history.
Making a good first impression is important in wrestling, as setting a bad tone can ultimately ruin potential. Cena made an impact from day one, and that is a huge reason why the fans got behind him early and he became a star so quickly. Had Cena debuted by squashing The Brooklyn Brawler, there's no telling if he would have reached the same heights that he has.
6. Cena Hits Edge and Big Show with Attitude Adjustments at WrestleMania XXV
Seeing as John Cena is the WWE's top draw, it should come as no surprise that many of his greatest moments have come at WrestleMania. One fantastic moment that often goes unnoticed was Cena's win over Edge and Big Show at WrestleMania XXV. Edge entered the match as the World Heavyweight Champion, but Cena left with the big gold belt for the second time in his illustrious career.
More impressive than the win itself was the fact that it was a high-quality match. Generally speaking, matches that involve Big Show aren't always the best, but he acquitted himself well while both Cena and Edge carried the load. When the match was nearing its conclusion, Edge had Big Show in a sleeper hold, and Cena proceeded to hoist both of them on his shoulders for an Attitude Adjustment. Edge slithered away, but he hit Edge with an AA onto Big Show soon after.
The image of Big Show and Edge on Cena's shoulders at the same time has been played many times since WrestleMania XXV, and it will be seen many times in the future as well. On top of that, Cena had a near-impossible task to put on a great show, as the match came on after Shawn Michaels vs. The Undertaker and before Triple H vs. Randy Orton. Cena and his opponents engaged the fans, though, and came through with a clutch performance.
5. Cena Beats Big Show for United States Championship at WrestleMania XX
Over the course of his WWE career, John Cena has won championships on 19 different occasions. Perhaps titles lose their luster when you win them that many times, but it's impossible to forget the first.
In 2004, Cena was quickly rising up the ladder in the WWE, and he entered WrestleMania XX as the challenger for Big Show's United States Championship. They opened the event and Cena started it off right, as he left with the US title in tow.
The match itself was Cena's first on the big stage, and it provided him with some instant WrestleMania moments. He was able to hit Big Show with an FU early in the match, and while he kicked out, it clearly impressed the fans.
Cena then did something that he rarely resorts to these days, as he attempted to hit Big Show with a chain. The referee confiscated it, but Cena then used brass knuckles on Big Show when the official's back was turned and executed an FU for the victory.
The crowd was firmly behind Cena, and that win definitely springboarded him to new heights, as he would win the WWE Championship one year later. Since Cena has held world titles so many times since his win over Big Show at WrestleMania XX, many fans dismiss that moment. Cena needed it in order to reach the next level, though, and it was a big reason for his eventual success.
4. Cena Goes One-on-One with The Great One at WrestleMania XXVIII
A WrestleMania match had never been announced a year ahead of time, but the night after WrestleMania XXVII, John Cena and The Rock agreed to do battle in the main event of WrestleMania XXVIII. The build toward the match received a lot of criticism since The Rock was often away doing movies, but things heated up in the weeks leading up to the event. the match itself didn't disappoint, as it certainly had a big-time feel.
Cena vs. The Rock was billed as "one in a lifetime," and although there is speculation that it could happen again this year, I'm hopeful that it doesn't. The WrestleMania XXVIII match was special because it pitted an icon from the current era against an icon from the Attitude Era. Fans often talk about dream matches without there being any possibility of them coming to fruition, but Cena vs. Rock was a real-life dream match that became reality.
Sun Life Stadium in Miami was absolutely electric for the match, and the fans didn't step yelling until long after it ended. There are differing opinions on the match quality, but I didn't have many complaints, seeing as it was The Rock's first singles match in seven years. Both men worked hard and put on a show that wrestling fans will always remember. Cena came out on the short end of the stick in this one, but when it comes to importance, this was the biggest match of his career.
3. Cena Beats Shawn Michaels at WrestleMania 23
One way to tell that you've truly made it in the wrestling business is to face Shawn Michaels at WrestleMania. HBK has earned the moniker of "Mr. WrestleMania" over the years due to his penchant for stealing the biggest show of the year, so all of his matches are watched with keen eyes. It was no different at WrestleMania 23, as John Cena defended his WWE Championship against Michaels in the main event of the most-watched WrestleMania ever.
Cena had already been a world champion on a couple occasions entering the match and established himself as one of the top stars in the entire company, but it can be argued that he hadn't yet had a truly iconic moment at WrestleMania. He had a couple big victories, but didn't have that classic match on his resume that so many of the greats before him possessed. That all changed at WrestleMania 23, as Michaels helped truly make him a star.
There was plenty of back-and-forth action throughout, and even though most fans figured that the match was set up for HBK to give Cena the rub, it was extremely exciting. Michaels hit Cena with Sweet Chin Music late in the match, but Cena somehow found the strength to kick out and mount a comeback. Cena is a better pure wrestler than he is given credit for, but he needs another great worker to have a top-notch match. He had that in Michaels at WrestleMania 23, and beating him clean made Cena look amazing.
2. Cena Returns and Wins 2008 Royal Rumble
After holding the WWE Championship for an entire year, John Cena was forced to surrender the title in late 2007 due to a torn pectoral muscle. He was supposed to miss at least seven months and perhaps as much as a year in order to rehabilitate the injury, but Cena shocked the wrestling world at the 2008 Royal Rumble. Despite being just four months removed from suffering a major injury, Cena returned as a surprise entrant and won the Rumble match for the first and only time in his career.
Many people like to call Cena "Super Cena" nowadays due to his penchant for overcoming the odds in a kayfabe sense, but his return to win the Rumble in 2008 was truly a superhero moment. Triple H was dominating the match and seemed like a sure bet to win, but when Cena's music hit, The Game stared toward the ramp in shock. The crowd went nuts as Cena posed during his entrance. That scene has become one of the most memorable ones in Cena's storied career.
Cena entered the ring and cleaned house to win the match. He used his title shot against Randy Orton at No Way Out instead of WrestleMania, and although he didn't capture the title, winning the Royal Rumble was a signature moment for him. Cena truly defied conventional wisdom by healing in time to compete in the Rumble, and it truly helped grow his already considerable legend.
1. Cena Beats JBL for First WWE Championship at WrestleMania 21
When it comes to the greatest matches of John Cena's career in terms of in-ring work, his match with JBL at WrestleMania 21 is rarely mentioned. That isn't a huge surprise since the match itself was fairly basic, but the result signaled that Cena had finally made it in the WWE. Just one year earlier, he defeated Big Show for the United States Championship at 'Mania, but at WrestleMania 21, he had a chance to win his first world title.
JBL had developed into a great heel champion and was standing in Cena's path to greatness, but Cena refused to be denied. He beat JBL and became WWE Champion for the very first time. He has won that title nine times since then, but no matter how many times he wins it in the future, that first triumph will always be special. He was overshadowed in some ways, as Batista main-evented the show by beating Triple H for the World Heavyweight Championship, but Cena unquestionably went on to become the bigger star.
Had Cena never won the title at WrestleMania 21, it's possible that his push would have been delayed, and he wouldn't have been as successful as he ultimately became. Pretty much everything traces back to his win over JBL regardless of how good the match itself was. Had the match been for the United States Championship or for no title at all, then it probably wouldn't be remembered, but Cena's first WWE Championship win is something that will live forever in the annals of WWE history.
Follow @MikeChiari on Twitter and listen to him on Ring Rust Radio.
Keep Reading