Advantages Terry Francona Has over Manny Acta as Cleveland Indians Manager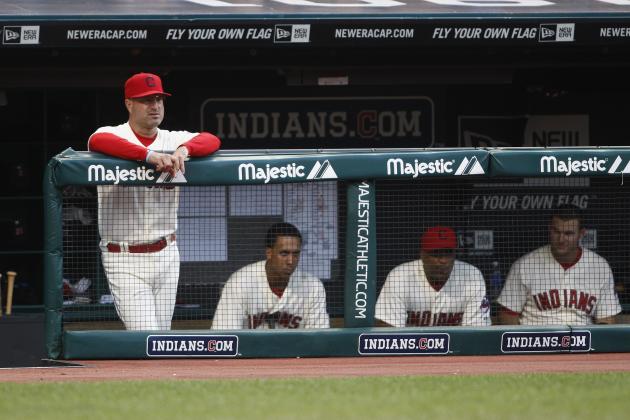 John Grieshop/Getty Images

Manny Acta had three interesting seasons in Cleveland.
While compiling a 214-266 record (.446), he managed the Tribe to a couple of impressive first-half results in 2011 and 2012. Unfortunately, both teams collapsed and the top came down on Acta when he was fired on September 27 with six games left in the 2012 season.
Acta had a pretty rough go of things after looking at the successful offseason that Indians GM Chris Antonetti is putting together right now. Fans remember management not tacking on a third year for Josh Willingham before watching him put up 35 home runs and 110 RBI for the division rival Minnesota Twins.
Acta always seemed to be handicapped by the limited roster that he was given.
Terry Francona has many advantages already as the new manager of the Cleveland Indians.
Begin Slideshow

»
Jonathan Daniel/Getty Images

Give me a 32-year-old at $7 million over a 39-year-old for $5 million any day of the week, please.
Terry Francona has Brett Myers in 2013 as a newly acquired rotation-filler, while Manny Acta saw Derek Lowe come in.
Lowe had gone 25-29 with a 4.52 ERA over 380.2 innings in 2010 and 2011 with the Atlanta Braves. As he was aging and getting progressively worse, why not move him to the American League and expect him to do better, right? He gets to face the DH instead of the pitcher, so he should really thrive due to his veteran leadership qualities.
Um...no. I said this on June 1 about trading Lowe:
Lowe has made ten starts and has a 3.25 ERA over 61 innings, posting a 6-3 record. Lowe's statistics show that he really hasn't been as good as his results, as his FIP is 4.01 and his xFIP is 4.37. His K:BB is 18:18, and his strikeout rate is the lowest of his career...

However, Lowe turns 39 today, June 1, and the Indians are going to win or lose games with or without him due to the other members of the Indians rotation.
Lowe went on to finish his Indians career with a 1-7 record and an 8.77 ERA over 51.1 innings and 10 starts before getting released on August 10.
While Brett Myers pitched in relief in 2012 for Houston and the Chicago White Sox, he did manage to go 21-22 with a 3.79 ERA over 439.2 innings for Houston in 2010 and 2011 as a starter.
At 32, Myers still has a lot left on his arm, as long as transitioning from the bullpen to the starting rotation for the second time in his career (he did the same thing in 2008 after appearing in 51 games in 2007 for Philadelphia) does not come with a setback.
While Myers is not an ace, he should be capable of maintaining long-term success over the course of a 162-game season, something that was so clear on June 1 that Derek Lowe was incapable of.
Advantage: Francona.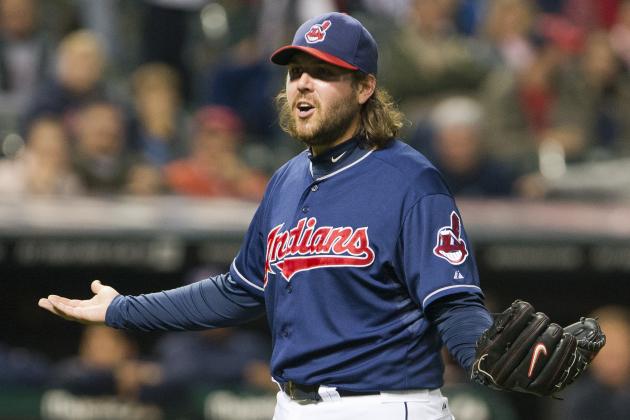 Jason Miller/Getty Images

Chris Perez, Vinnie Pestano, Joe Smith and Esmil Rogers...
The group combined to post a 13-12 record with a 3.02 ERA over 247.2 innings.
The rest of the bullpen was 7-6 with a 4.84 ERA over 280.2 innings.
While having four solid arms to run to is great, when the rest of the bullpen was so unreliable, it must be considered a weakness overall.
Esmil Rogers is gone now, traded to the Toronto Blue Jays for Yan Gomes and Mike Aviles.
Tony Sipp, the lone "reliable" left-handed pitcher from 2012 (his 4.42 ERA makes that questionable), was a part of the trade that landed the Tribe Trevor Bauer from the Arizona Diamondbacks.
Now, the club still has Perez, Pestano and Smith, while hoping that Cody Allen, who posted a 3.72 ERA over 27 appearances in 2012, can step into the role that Rogers filled so well after being acquired from the Colorado Rockies.
The club also added Bryan Shaw (3.49 ERA over 64 appearances in 2012) and Matt Albers (2.39 ERA over 63 appearances in 2012) to the mix in the deal with Arizona.
While the left-handed duties are currently looking like they could be filled by Scott Barnes, Nick Hagadone or David Huff, there aren't any sure things in that group.
However, with six arms that look solid in Perez, Pestano, Smith, Allen, Shaw and Albers, Terry Francona seems poised to have a solid bullpen in 2013.
Advantage: Francona.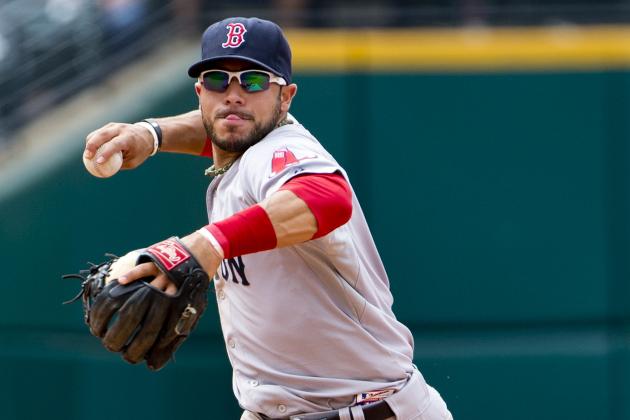 Jason Miller/Getty Images

As mentioned in the previous slide, the Indians traded Esmil Rogers to the Blue Jays for Yan Gomes and Mike Aviles.
Aviles is a huge upgrade for the Tribe, as he can play second, short and third off the bench, while having enough in his bat to fill in long-term if an injury were to occur.
Jose Lopez, Jack Hannahan (who was really a bench player until Lonnie Chisenhall was hurt), Brent Lillibridge, Juan Diaz and Jason Donald were the options off of the bench in 2012. Not great.
In addition to Aviles, Antonetti has brought in Chris McGuiness through the Rule V draft. McGuiness, just 23, hit .268/.366/.474 with 25 doubles and 23 home runs in Double-A in 2012.
While he is an unknown due to his lack of experience, McGuiness did win the Arizona Fall League MVP and could play first when Mark Reynolds needs a day off, or DH if the Indians don't upgrade there prior to the start of the season.
Lopez is gone, Hannahan and Donald are in Cincinnati (nice multi-year deal on Hannahan, morons), and if Diaz hangs around as the 25th man, the bench is already improved.
Not to mention that Yan Gomes provides a powerful right-handed bat. He has played catcher, first, third and some outfield in his career, so his versatility would also be useful while making lesser players expendable.
Advantage: Francona.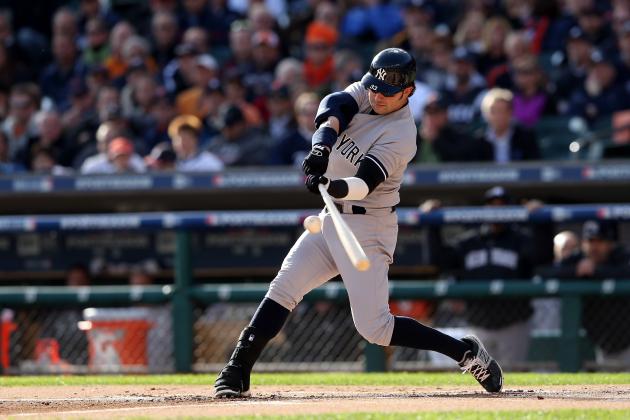 Leon Halip/Getty Images

In 2012, Asdrubal Cabrera, Carlos Santana, Travis Hafner and Michael Brantley were occupying the 3-4-5-6 spots in the everyday lineup. Of course, that was when Hafner wasn't on the shelf, which wasn't very often.
In 2013, Cabrera, Nick Swisher, Santana and Mark Reynolds will likely fill the 3-4-5-6 spots in the order. While only two of those names are new, you have to respect the solid bats that have been added to the lineup.
Swisher provides a powerful, switch-hitting option in the middle of the order. While he is unlikely to become an MVP candidate as the cleanup hitter, his .828 career OPS is very solid and his ability to stay on the field (only playing fewer than 150 games twice in his career: 2005, 2012) makes him an asset for Cleveland.
Reynolds is an all-or-nothing swinger who tends to hit mammoth home runs or strike out. Reynolds has averaged over 30 home runs per season over his six-year career, and his career .332 on-base percentage is pretty solid given his career average of .235.
If Cabrera maintains his solid first-half numbers over the whole season, something he hasn't been able to do in the past, and Carlos Santana hits like he did in the second half of 2012 (.281/.389/.498), the Indians could, surprisingly, be very dangerous in 2013.
Advantage: Francona.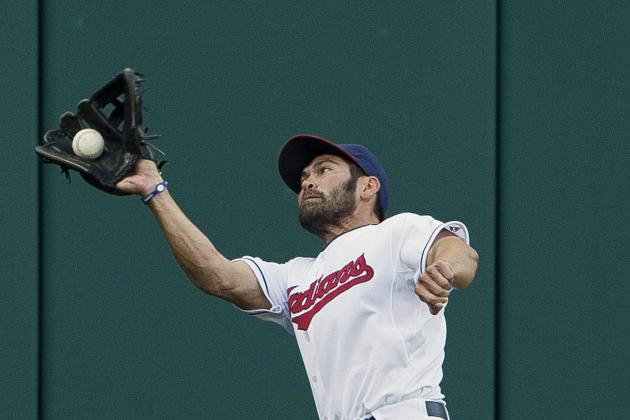 Jason Miller/Getty Images

Johnny Damon, Derek Lowe, Jose Lopez and Aaron Cunningham...
They just aren't as good as Nick Swisher, Mark Reynolds, Brett Myers and Mike Aviles.
Whether it was the Dolans' knowledge that they were going to be selling SportsTime Ohio and having nearly $630 million of income over the next 10 seasons, or seeing all of the empty seats in Progressive Field in 2012, ownership opened their wallets heading into the 2013 season.
Additions of Trevor Bauer, Matt Albers, Bryan Shaw and Yan Gomes are not to go unmentioned here, but the sudden moves and improvements after a stagnant 2011-2012 offseason are very impressive.
Poor Manny Acta.
Advantage: Francona.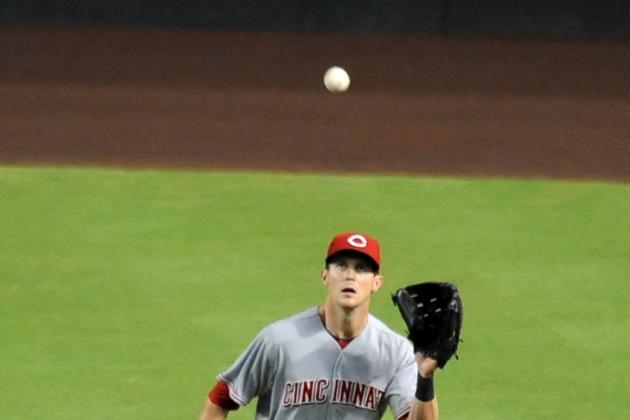 Norm Hall/Getty Images

Michael Brantley handled center field pretty well in 2012. Little do some know that Brantley's range factor in center (2.37) was actually better than Drew Stubbs' (2.05), as was his fielding percentage (.997 to .982).
Fielding statistics are hard to measure, though, as Stubbs did not get as many opportunities to field the ball in center due to the Cincinnati Reds' rotation possessing more strikeout pitchers (1,248 for Cincinnati and 1,086 for Cleveland).
Shin-Soo Choo, despite being a Gold Glove finalist, was well below-average defensively in right. Choo actually cost the Indians runs based on zone fielding stats, and his range factor was below league average, as well.
Nick Swisher was above-average in range factor and was right around 0-1 in zone fielding stats, so he did not cost the New York Yankees runs.
With Brantley, Stubbs and Swisher in the outfield, the Indians could become a better defensive team, even after ranking ninth in MLB in fielding in 2012.
Advantage: Francona.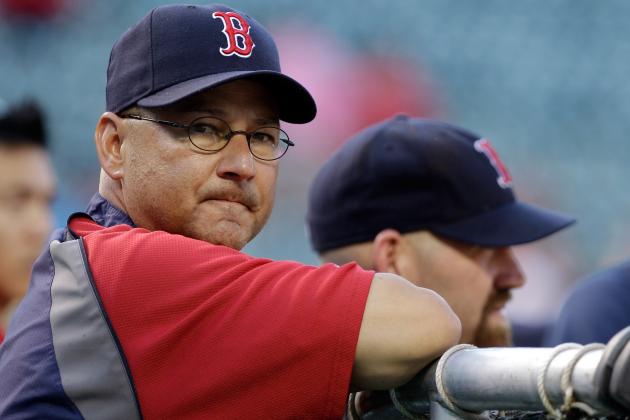 Rob Carr/Getty Images

Terry Francona had the advantage of becoming the manager of the Boston Red Sox when the Saux had Manny Ramirez, David Ortiz and Pedro Martinez on their roster.
Terry Francona has the advantage of becoming the manager of the Cleveland Indians when the Tribe added Nick Swisher, Mark Reynolds and Brett Myers prior to his first season.
While Ramirez, Ortiz and Martinez are likely Hall of Famers and Swisher, Reynolds and Myers aren't even close, the Tribe have their best roster since 2007, the last year that they made the playoffs.
Terry Francona has advantages that Manny Acta could only have dreamed of. The Dolans have money, management is making moves and the team is improving.
Advantage: Francona.
Poor Manny Acta.