WWE SmackDown: 5 Things to Watch for During This Week's Show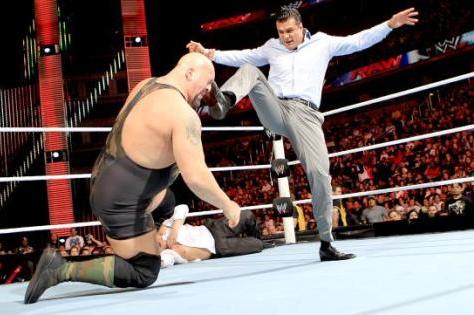 Photo courtesy of WWE.com
With the busiest time of the year on the WWE calendar quickly approaching, each and every show is of the utmost importance. That will be true of this week's episode of SmackDown as the WWE builds toward the Royal Rumble pay-per-view and the road to WrestleMania.
While we already know that CM Punk and The Rock will be facing off for the WWE Championship and the Rumble match itself is in place, the rest of the card is shrouded in mystery. That includes a potential World Heavyweight Championship match, as it is still uncertain who Big Show will be facing a few weeks from now.
Also, there is plenty of mid-card action going on in the WWE currently and SmackDown seems to spend a decent amount of time on those feuds. Wade Barrett and Kofi Kingston are battling over the Intercontinental Championship as Barrett took the strap on Raw, while United States Champion Antonio Cesaro and The Miz got heated on Main Event.
With all of that and more sure to play out on the blue brand this week, here are the top five things you should be looking for while watching SmackDown.
Begin Slideshow

»
Since winning the World Heavyweight Championship at Hell in a Cell, Big Show has continued to feud with Sheamus. They have had a number of great matches, but the feud itself has dragged on a bit. Big Show beat Sheamus decisively in a chairs match at TLC, so their rivalry appeared to be over, but things heated back up as Sheamus beat Big Show in a lumberjack match.
After Sheamus scored that win, Alberto Del Rio got involved in the title picture. Del Rio turned face at TLC as he saved Ricardo Rodriguez from an attack at the hands of 3MB. His character has continued to evolve since then, and he has started to get over as a face. Del Rio has protected Ricardo's honor as of late against the Big Show, and that appears to be the root of their feud.
Big Show knocked out Ricardo prior to their scheduled match on SmackDown last week, and he tossed Rodriguez around on Raw. Del Rio made the save and it looks as though a Royal Rumble match is being built toward. You never know what might happen since Sheamus still has his hand in the world title cookie jar, but it seems likely that Big Show and Del Rio will take the next step toward a Royal Rumble match on SmackDown this week.
Randy Orton has been on the shelf for a couple weeks due to a shoulder injury suffered at Tribute to the Troops, but he made his televised return on Monday. The Shield was scheduled to face Ryback in a three-on-one handicap match, but it turned into an all-out brawl with Sheamus ultimately interfering. The Viper then evened the odds as he ran to the ring and helped both Ryback and Sheamus clean house.
Although Orton's injury had nothing to do with The Shield in actuality, the group was given credit as it put him through a table on SmackDown two weeks ago. Now that Orton is back, he figures to appear on SmackDown, and it will be interesting to see what he does. Orton has been floundering in the upper mid-card for over a year, and he has barely even sniffed a world title during that time.
Because of that, he would have been an ideal candidate to feud with Big Show, but it looks like Alberto Del Rio has taken that spot. A fatal four way at the Royal Rumble isn't outside the realm of possibility as Orton and Sheamus could be thrown into the mix, but it's more likely that Orton will be in the Rumble match itself. Additionally, Orton still has an issue with The Shield, so one has to wonder whether he'll continue feuding with them and perhaps even have a run in with them at the Royal Rumble.
Although he fell short in his Intercontinental Championship match at TLC, Wade Barrett made amends on Raw as he defeated Kofi Kingston for the prestigious title. Barrett boasted about his victory on Main Event and defeated Yoshi Tatsu, JTG and Justin Gabriel in a gauntlet match, but Kingston spoiled his fun by announcing that he would exercise his rematch clause on SmackDown.
Barrett and Kingston have a long history when it comes to feuding over the IC strap. Barrett won the title from Kofi as the leader of The Corre and did it again on Raw, so it can be said that the bare-knuckle brawler has Kingston's number. Nevertheless, Barrett and Kofi tend to have some exciting matches as their contrasting styles mesh well together. Hopefully their match on SmackDown is as good as their performance on Raw and at TLC.
From a storyline perspective, there is no way that Barrett loses this match. Champions who lose their titles very rarely regain them in a rematch. The WWE simply doesn't have as many knee-jerk title changes as it used to, so when somebody gets a championship, there is normally a long-term plan of some kind. For Barrett, that plan likely involves him holding the belt until there is an opening in the main-event scene. Barrett has all the tools necessary to be a world champion in the WWE, but he has to bide his time as Intercontinental Champion first.
Since winning the United States Championship at SummerSlam, Antonio Cesaro has taken on and defeated all comers. Despite that, he hasn't had a true feud for the fans to latch on to. That may be changing, however, as Cesaro and The Miz exchanged words on Main Event. After the Swiss superstar impressively retained his title against The Great Khali with a Gotch-style Neutralizer, Cesaro called out The Miz at the announce table.
Not surprisingly, The Miz responded with an excellent promo of his own as he discussed the virtues of the United States of America and hurled a number of insults in Cesaro's direction. That would seem to indicate that a feud between Cesaro and Miz is on the horizon. That is certainly a good thing for Cesaro as The Miz is a former WWE Champion and his first legitimate opponent, but I'm not so sure how advantageous such a rivalry would be for The Miz.
From an in-ring perspective, I'm excited about some of the great matches we could potentially see, but whoever ultimately loses the feud loses in a big way. Cesaro's momentum would be killed if he dropped the title, while The Miz needs a big win to bolster his face turn, so a loss would damage him as well. Also, I don't necessarily like the idea of Miz going back to the United States Championship when he already held the belt long ago. Whatever the case, perhaps we'll learn more about where things are heading on SmackDown.
Ever since winning the Royal Rumble a year ago, Sheamus has been firmly in the World Heavyweight Championship picture. He defeated Daniel Bryan for the belt at WrestleMania XXVIII in 18 seconds and proceeded to defend it successfully for nearly seven months before losing it to Big Show at Hell in a Cell. Now, for the first time in nearly a year, The Great White's presence in the world title scene is certainly in question.
Sheamus failed to recapture the belt from Big Show at Survivor Series and TLC, but he got into a tussle with Big Show the night after TLC and beat him in a lumberjack match on the Christmas Eve edition of Raw. That would seem to indicate that he is still a player for the World Heavyweight Championship, but Alberto Del Rio has suddenly emerged as the top contender, as he and Big Show have had a couple disputes stemming from Big Show's abuse of Ricardo Rodriguez.
Now, Sheamus is suddenly in a state of flux. He could possibly be thrown into the world title mix at Royal Rumble in a triple threat or fatal four way, but it seems more likely that he'll enter the Rumble match again after winning it last year. Don't expect Sheamus to be out of the mix for long, though, as I can see Randy Orton turning heel and feuding with Sheamus over the World Heavyweight Championship leading up to WrestleMania.
Follow @MikeChiari on Twitter and listen to him on Ring Rust Radio.