The Miami Marlins are now willing to at least hear offers for Giancarlo Stanton, according to Jim Bowden of ESPN.com/Sirius XM. However, the organization is not actively shopping him. After trading away essentially the entire team over the last six months, the Marlins' only remaining trade chip is the coveted outfielder.
Only 23 years old, Stanton has batted .270/.350/.553 with 93 home runs over his first three seasons. Besides possessing the best raw power in the game, he's also under team control through the 2016 season.
Considering the nature of their other recent trades, the Marlins would presumably seek a package of elite prospects in return for their right fielder. Depending on the organization, a trade for Stanton has the potential to completely deplete a farm system. That may sound exaggerated and drastic, but it's true. Other than Mike Trout or Bryce Harper, is there any other active Major Leaguer with as much upside as Stanton?
There are only a few teams with both the quantity and quality of prospects in their system to execute such a blockbuster: the Texas Rangers, Seattle Mariners, Pittsburgh Pirates and St. Louis Cardinals.
The only team that has reportedly inquired about Stanton thus far is the Seattle Mariners, according to Jon Paul Morosi of FoxSports.com. After missing out on Josh Hamilton and still in search for an elite, middle-of-the-order bat, it's definitely a deal and an idea worth exploring.
Even though the Mariners boast arguably the top farm system in the game, the price for Stanton will be steep, and it will involve anywhere from three to five of their best prospects.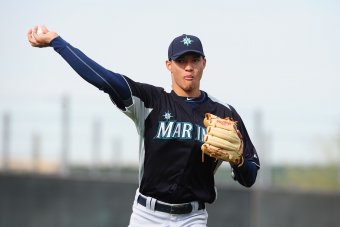 Mark J. Rebilas-USA TODAY Sports
The organization will probably have to part with top pitching prospect Taijuan Walker, who is currently ranked as the fifth-best prospect in the game. Only 20 years old, the 6'4" right-hander is both highly athletic and projectable, and pitched the entire 2012 season at Double-A Jackson.
With two promising left-handers in Justin Nicolino and Andrew Heaney already in their system, I don't see the Marlins targeting Danny Hultzen. However, the Mariner's other southpaw prospect, James Paxton, would likely be included given his upside as a backend starter.
Even though they addressed their shortstop situation through the acquisition of Adeiny Hechavarria from the Blue Jays, the Marlins still lack a long-term solution at both second and third base. Therefore, it's conceivable that they would also require middle infielder Nick Franklin, 21, who reached Triple-A for the first time last season.
And why not address third base while they're at it? It makes sense that the Marlins would target two projectable infielders. Therefore, they could also ask for Brad Miller, a left-handed hitter with an above-average hit tool and advanced plate discipline. He's a shortstop at the moment, but his size and defensive ceiling suggest a future at the hot corner.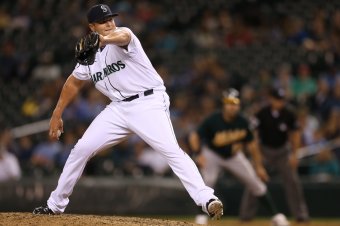 Otto Greule Jr/Getty Images
Finally, the Marlins would likely attempt to pry away one of the Mariners' power bullpen arms. Although the leading trade candidate would likely be Tom Wilhelmsen, given his experience and success, Stephen Pryor could serve as a solid alternative. With a plus-plus fastball that reaches triple-digits, the 6'4" right-hander has the makings of a future closer but currently lacks experience.
Although such a trade between the two organizations appears increasingly unlikely, according to Morosi, it's a perfect example of the type of return that the Marlins should, and will, command in return for the mighty Giancarlo Stanton.