Rating the Chelsea Players Against QPR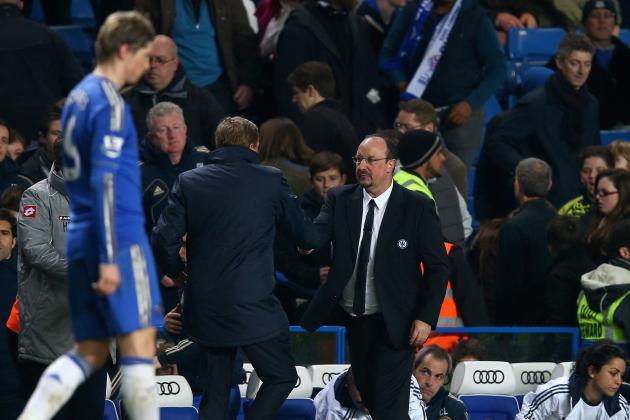 Clive Rose/Getty Images

Chelsea started 2013 with a whimper as they slumped to a 1-0 defeat at home to QPR in the West London derby. The Blues were slow on the ball and looked disjointed and disinterested. Without Juan Mata or Eden Hazard in the starting lineup, they lacked any potency in attack and were reduced to taking shots from well outside the box for the majority of the game.
Here are my individual player ratings for this match. I start every player on 5/10 and points are awarded for positive or negative contributions. All stats are provided by Opta.
Begin Slideshow

»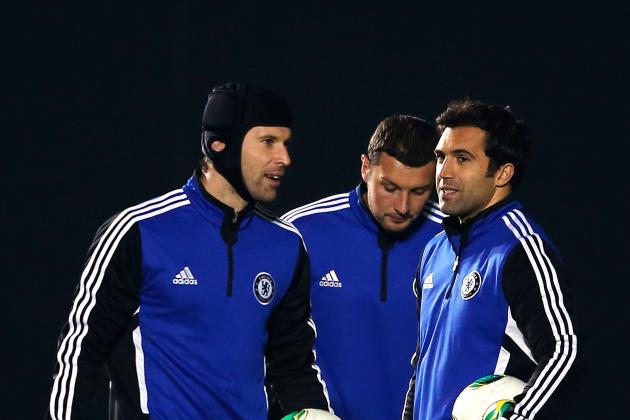 Lintao Zhang/Getty Images
Turnbull in training with Chelsea's first-choice 'keeper Petr Cech.
6/10
Turnbull was called upon to deputise for the injured Petr Cech and was largely untroubled throughout the match. He was forced to save a shot from Granero in the second half and did well to hold on to it, but he could do nothing about Shaun Wright-Phillips' eventual winner.
His distribution was impressive, with 90 percent of his passes finding a Chelsea player.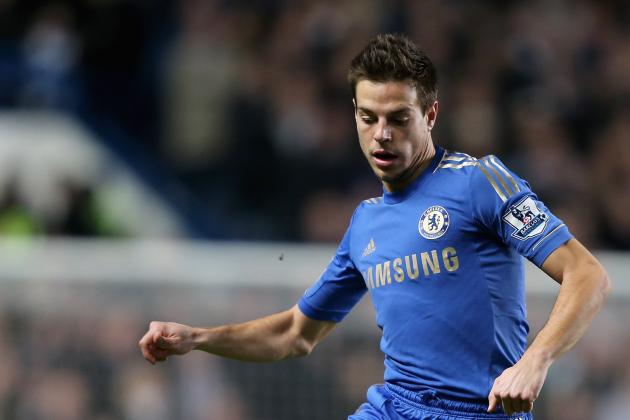 Ian Walton/Getty Images

7/10
In a drab team performance, Azpilicueta stood out as one of the more creative Chelsea players on the pitch. His runs down the right led to some crosses that QPR did well to clear, and his passes were successful 89 percent of the time, including 12 of 13 completed in the attacking third.
It was his block that conceded the corner that QPR scored from, but overall he put in a solid performance at full-back.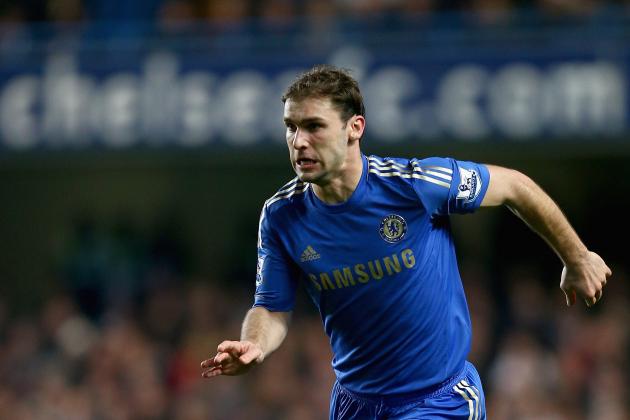 Clive Rose/Getty Images

6/10
Ivanovic picked this game to step into the wasteful marauding defender gap that had been left by David Luiz's move to the defensive midfield position. Time and again he found himself in the attacking third and he had four shots at goal, all of which were way off target. One was nearer the corner flag than the goal. Having said that, it was nice to see at least one player show desire to win the game.
Defensively he was average, completing four of eight clearances, and his passing was accurate 86 percent of the time.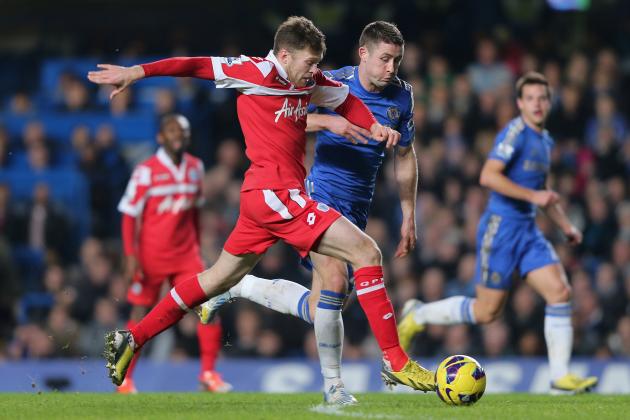 Ian Walton/Getty Images

6/10
Gary Cahill opted to stay back and concentrate on defending whilst Ivanovic went wandering, and he did his job well. He produced a fine tackle after 60 minutes when Jamie Mackie was released on the edge of the box, and his passing was accurate 93 percent of the time.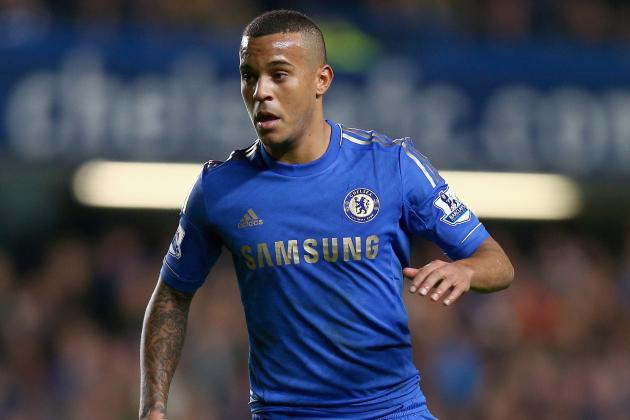 Clive Rose/Getty Images

6/10
Bertrand was started ahead of Ashley Cole and showed why he is being touted as Chelsea's replacement for their current first-choice left-back. He created two chances and had a 94 percent passing success rate, and defensively he made four of five clearances successfully.
Despite a good performance, I think he still needs one more year as Cole's understudy before he is ready to play on a weekly basis.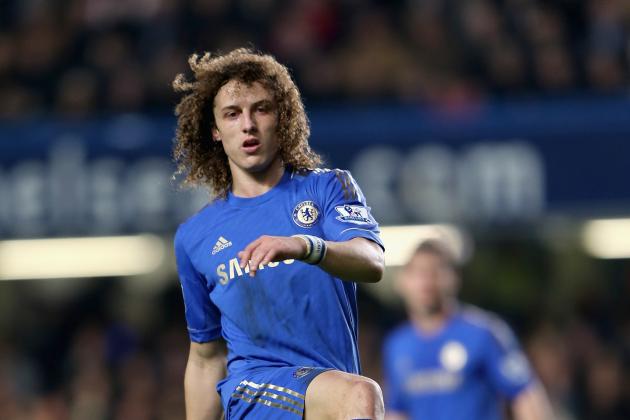 Ian Walton/Getty Images

5.5/10
Despite causing far less stress to the side with his forward forays now that there is the comfort of the back four behind him, Luiz needs to make his runs count. He lashed three shots over the bar in the game, and when Chelsea had a chance to level the score late on through a free kick just outside the box, he shot straight at the 10-man QPR wall.
If he works on becoming more like Roberto Carlos then it might turn out OK for him, but with a passing accuracy of 81 percent, it is clear that he still needs to settle into his role within the team.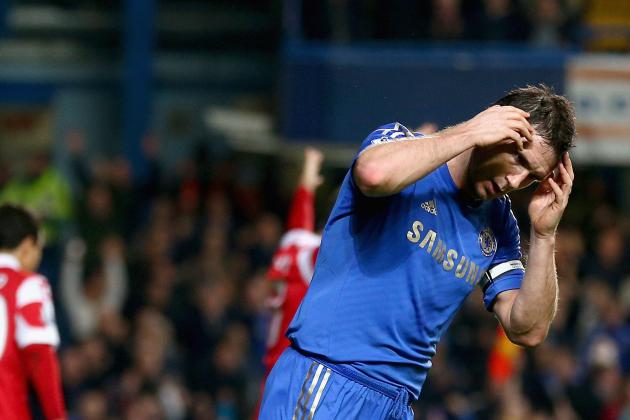 Clive Rose/Getty Images

6/10
Frank Lampard thought he'd equalled Kerry Dixon's record of the second highest goal-scoring tally in Chelsea history when he shot across the face of goal after 66 minutes. However, he was fractionally offside and had to curtail his celebrations.
He struggled to find any space as Chelsea's sluggish pace allowed QPR plenty of time to organise themselves, and his passing was only 74 percent accurate. Other than the goal that never was, he was pretty invisible and was replaced by Ramires with 10 minutes remaining.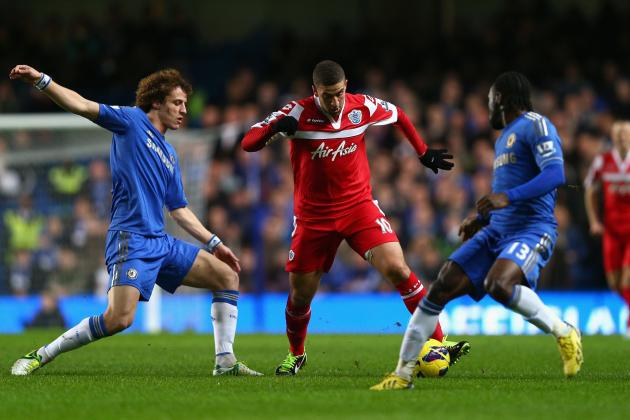 Clive Rose/Getty Images

6.5/10
Victor Moses was the brightest attacking player in the starting lineup for Chelsea and was the only one who appeared to have any energy. He had a good chance early in the second half and was unlucky not to score. His bad fortune continued as he just failed to get on the end of crosses from Azpilicueta and Marko Marin.
Moses was very effective at link-up play and completed 94 percent of his passes, including six of seven in the attacking third.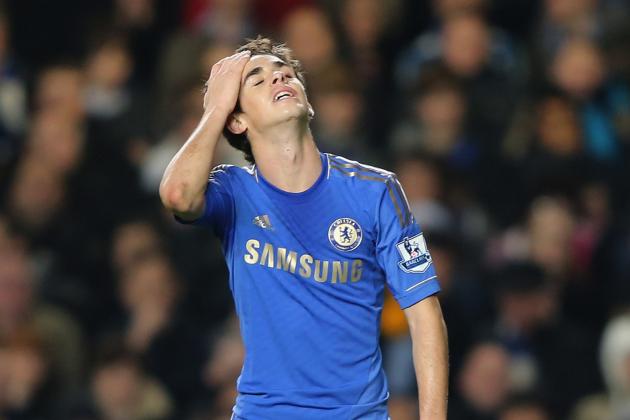 Ian Walton/Getty Images

5.5/10
On his return to the starting lineup after three substitute appearances, Oscar was invisible for large chunks of the game as he found himself frustrated by the QPR defence. The best of his three chances was foiled by a dreadful first touch, and he did well to even get the shot away. Despite creating four chances for his team mates, his passing was only accurate 81 percent of the time.
Oscar showed Wednesday that he needs either Eden Hazard or Juan Mata to work with, as without one of them to support him, his creativity tends to be wasted.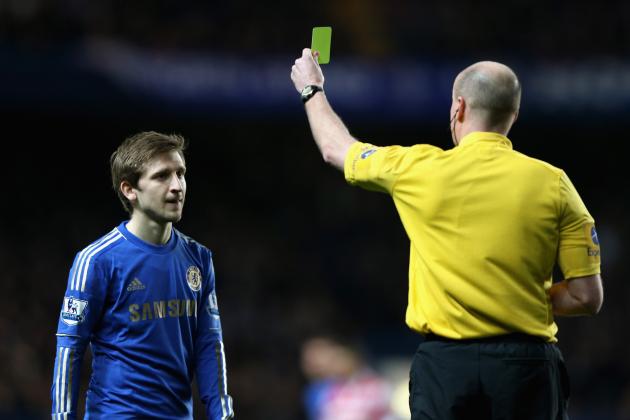 Ian Walton/Getty Images

5.5/10
In his first Premier League start, Marin was very lucky to last more than five minutes on the pitch when a late, high challenge on Stephane Mbia was punished only with a booking. His boisterous enthusiasm continued throughout the game and despite his passing being accurate only 79 percent of the time, he created three chances for his teammates, two of which came very close to being converted.
If he is given a decent run in the side and calms down as a result, he could end the season with plenty of assists to his name.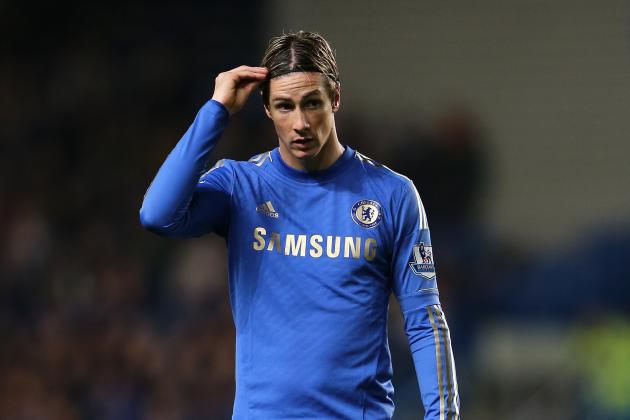 Ian Walton/Getty Images

4/10
I have run out of words to describe how utterly useless Fernando Torres has been since his arrival at Chelsea, from his perpetual sulking to his woeful ineptitude in front of goal.
The impending arrival of Demba Ba from Newcastle United will most likely see Torres onto the bench for a few games, and so it should. He had three chances to score Wednesday, and the one of those which was on target was so soft that Cesar had no trouble saving it. His passing accuracy was 61 percent, and he created no chances for anybody else.
I would strongly suggest moving him in the January window, maybe as part of a deal for someone who enjoys playing football for a living and is willing to put some effort in.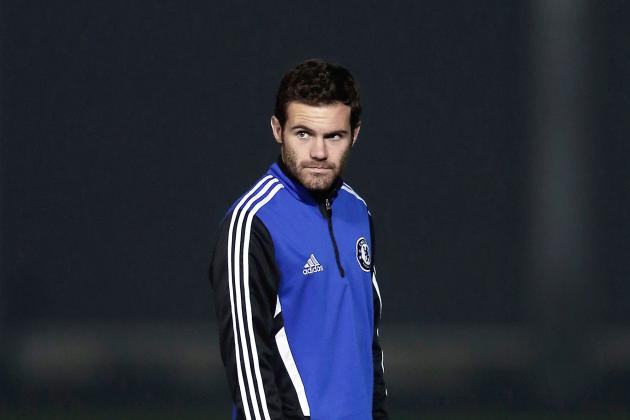 Lintao Zhang/Getty Images

Eden Hazard: 6/10
Hazard entered the game with 30 minutes left to play and went on to create four chances and complete 14 of 16 passes. If two of the three amigos have to be dropped, it makes sense that Hazard is the one left in the starting 11.
Juan Mata: 6/10
Having been playing without a break since August 2011, Mata was rested for the game against the Premier League's bottom side, until Rafael Benitez could no longer ignore the impact that the playmaker's absence was having on the team performance. He came on after 75 minutes, completed 12 of 12 passes and created two chances. Excellent as usual.
Ramires: 5/10
After replacing Frank Lampard in the 79th minute Ramires didn't really have a chance to make much of an impact on the game, other than fouling QPR's Adel Taarabt twice.