Ronaldinho's Most Entertaining YouTube Clips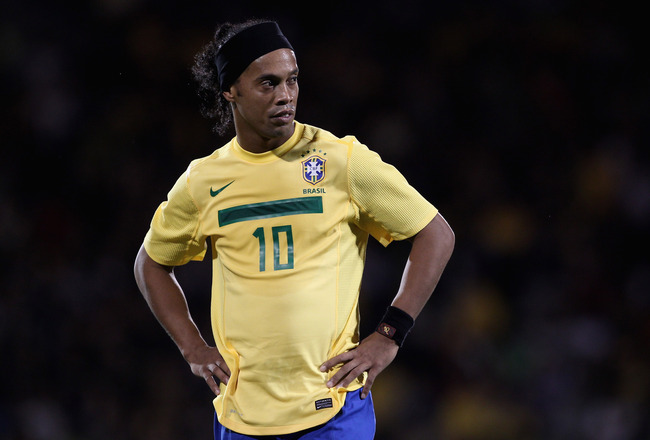 Clive Rose/Getty Images
Ronaldinho has long been one of football's biggest showman, with his playing style based upon individual brilliance that can win matches for his side in a matter of seconds.
It is no surprise, therefore, that video-hosting websites such as YouTube are simply awash with examples of innovation and creativity hand-picked from the entire duration of his footballing career.
In addition, of course, there are those videos specially produced by companies who have looked to cash in on his talents.
So, in chronological order, let's take a look at some of the YouTube videos that define the Brazilian star.
A Blast from the PSG Past
It may seem a long time ago now, but after emerging as the bright young thing of Brazilian football, Ronaldinho moved to Paris Saint-Germain and began to offer the world a glimpse of what was to follow.
This goal offers a glimpse of the brilliance we would see on hundreds of occasions later in his career, rejecting a simple finish in favour of a wondrous lob.
Unfortunately, despite the goal, Bordeaux would knock PSG out of the 2001-02 Coupe de la Ligue at this semifinal stage, and Ronaldinho would end his spell in Paris without a trophy.
Nike Viral Advert
Ronaldinho's silky skills have always been an advertiser's dream, particularly when combined with his unique image.
In this instance, Nike made use of ever-improving video technology to make a viral advertisement that many have since tried to recreate in any manner of different styles.
With Ronaldinho's brilliant control of a football, though, who's to say it isn't all real?
Taming the Bernabeu: A Masterclass
On Nov. 19, 2005, Ronaldinho was handed the ultimate tribute by supporters of rival club Real Madrid, who gave the Brazilian a rousing ovation for his role in a 3-0 Barcelona win at the Santiago Bernabéu.
As the video shows, the Seleção star and his teammates ran Real ragged. Los Merengues simply could not get near their Catalan rivals, in what was a brutal footballing demonstration.
This piece (from the Guardian) gives more background and reaction to the performance. But it certainly was not a night that poor Sergio Ramos will want to remember in a hurry.
Top 10 Goals
One thing YouTube is always good for is a goals compilation, and when it comes to Ronaldinho, there are plenty to choose from.
Ronaldinho's back catalogue of stunning finishes is virtually impossible to match for their innovation and precision. Leo Messi and Cristiano Ronaldo both may score more than the Brazilian ever did, but neither demonstrates quite the same level of improvisation.
At the time, there was simply no competitor for the crown of best player in the world. Ronaldinho's star shone brightly above all others.
The Teammate: Nobody Is Safe
Another Ronaldinho to sweep round the Internet in no time at all was this cracker. Then at AC Milan, the forward torments a teammate during a pregame warm-up and, predictably, comes away laughing.
First, the Brazilian icon demonstrates some almost compulsory ball juggling skills, before beating his man with a trademark "elastico" move through his teammate's legs.
The best part of the entire video is his colleague's bemused expression. He has no idea what just happened.
Red Card Fail
Another video from his AC Milan stay. This time, too much hilarity, as the pony-tailed magician is accidentally shown a red card by the referee in a derby fixture with rivals Inter.
Fully aware of the official's mistake, as ever, the Brazilian plays to the cameras and begins to leave the field.
The referee, though, is quick to call him back.
JogaTV Advert: Futsal
Ronaldinho and Eric Cantona in the same advert? This video was always destined to be a winner.
Inspired by archive footage of a youthful Ronaldinho playing futsal, the advertisement splices the video with similar recordings of a modern-day version of the Brazil star.
The result is an eye-catching, if gimmicky, video that was quickly shared right around the world.
Those Free-Kicks
Back to footballing matters and, this time, Ronaldinho's year-long spell at Flamengo.
The Brazilian has become somewhat famed for his ability to confuse defences with his innovative free-kick taking, and this under-the-wall effort is now somewhat of a trademark.
On this occasion, 'Dinho defeats Santos keeper Rafael in a match that saw Ronaldinho go head to head with prodigious youngster Neymar. Unfortunately for the veteran, it was the game where Neymar did this.
He's Still Got It
Against Figueirense in early October, Ronaldinho put in one of the best individual performances of the season, including this stunning top-corner effort, as Atlético continued their title challenge.
Whether the goal was intentional or not—that is a debate that will never be resolved. However, the goal saw a rare display of emotion from the star, who broke down in tears following the death of his stepfather just a day earlier.
Ronaldinho's goal broke the deadlock, and five more would follow as the highly motivated star grabbed himself a memorable hat trick.
Skills Packages
Any Ronaldinho-related YouTube tour has to mention the numerous skills compilations and packages that have become somewhat of a trademark of the website's football coverage.
The featured package is from this season and offers a variety Ronaldinho's showings at Atlético Mineiro, but there are hundreds of similar videos from virtually any point of his illustrious career to choose from.
Ronaldinho is ideal for a YouTube compilation. In nearly every game he plays, there will be a neat trick or two to add. Forget the other 89 minutes of indifference and savour those seconds of magic that can light up a stadium.
Keep Reading