WWE: What You Missed Since Last Week's Raw; Langston Big Winner, Colons Losers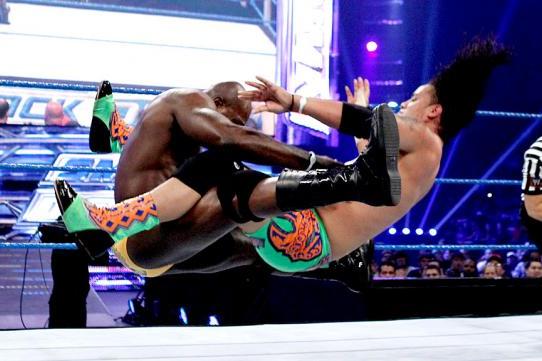 Image credit: WWE.com
Three of WWE's top talents have already been announced for this year's Royal Rumble match: John Cena, Sheamus and Randy Orton. When you announce names that are that big and you announce them as early as WWE has, there's one thing WWE is trying to communicate: this year's Rumble is going to be big.
But there are 27 more spots to be filled, and even the WWE doesn't have 27 more main event level superstars. There are a handful of superstars other than these three that could conceivably walk away with the victory, but certainly not 27.
As history will show, however, you don't have to win the match for it to be a boost to your career or a feather in your cap. Kane, for example, will always be feared in January's pay-per-view, ever since he broke the record for most eliminations in one match (11) in 2001.
In 2002, Maven had the highlight of his career when he eliminated the Undertaker from the Rumble match. Ten years from now, guys like Kofi Kingston and John Morrison may be remembered most of all for the spectacular ways they avoided elimination in 2012 and 2011, respectively.
Since everyone knows that changes can be made at the very last minute in the world of WWE, the mid- and lower-card superstars have a few weeks left to impress WWE creative and to earn a spot in the Rumble.
But as we anticipate one of the year's biggest matches, is there any way to get a clue as to which of our favorite up-and-comers are getting pushed and may get the chance to join the Rumble and be eliminated by someone already headlining pay-per-views?
To that extent, we can take a look at my weekly review of WWE's four "other" shows: NXT, Main Event, Superstars and Saturday Morning Slam. After we review everything that happened on these shows, we'll decide who benefited the most last week and who needs to be sending feelers to TNA and ROH.
My "highlights" version of all four shows is below.
If it piques your interest enough to read on, the slideshow breaks down the shows individually, segment by segment, complete with my questions, predictions and/or honorable mentions. If you disagree with my selections for who benefited/suffered the most, there's a comment section below.
Highlights
On NXT, Seth Rollins, Dean Ambrose and Roman Reigns show up for the first time on NXT as The Shield, and Bo Dallas defeats Epico in a match that reveals a slight new tweak to Bo's gimmick.
Sasha Banks returned to the ring, this time in a losing effort to Tamina. Kassius Ohno and Leo Kruger teamed up to defeat Tyson Kidd and Justin Gabriel in tag team action.
The main event saw Seth Rollins defend the NXT Championship against Corey Graves. The Shield interfered to end the match before Graves could win the belt. Before the show was over, Dusty Rhodes announced that Rollins will defend the NXT Championship against Big E. Langston next week.
On Main Event, Antonio Cesaro successfully defended his United State Championship against The Great Khali, who continues to be accompanied to the ring by Natalya and Hornswoggle. The seeds have also been planted for a Cesaro/Miz feud.
We also got the official word that CM Punk will definitely defend his title against Ryback in a TLC match on Raw. The final match of the evening featured Wade Barrett running the Gauntlet, pinning Yoshi Tatsu, JTG and Justin Gabriel, before Kofi Kingston finally defeated the new Intercontinental Champion.
This week's Superstars was filled with as many Raw Rebounds as we've grown accustomed to. But there were a couple of decent matches, too.
The Primetime Players lost to the Usos again after the Usos used a bit of "Twin Magic," and Brodus Clay defeated Primo in the final match.
On Saturday Morning Slam, the focus was almost exclusively on Team Hell No and 3MB. The interviews and very brief video packages set up matches between both teams, Kane vs. Jinder Mahal and Daniel Bryan vs. Heath Slater. Team Hell No won both matches.
Now, if you care to read more about any of these happenings, please enjoy the slideshow.
Begin Slideshow

»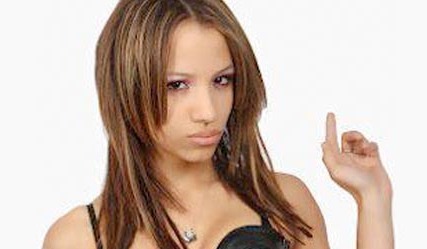 Sasha Banks continues to impress, though winless (image retrieved from sescoops.com)
As soon as Coheed and Cambria's "Welcome Home" stops playing, we're taken directly to the ring, where The Shield are attacking two unidentified men who were apparently in the middle of the match. The men's names are never mentioned, and I didn't recognize them.
Dusty Rhodes comes out, and after a solid promo by Dean Ambrose, Rhodes says that he told them to make an impact when they left, not to do what The Shield has been doing. Since Seth Rollins was the first NXT Champion, he was supposed to be a leader for NXT, not a coward.
After Rollins says there's nothing Rhodes can do about it, he says that there is, and that Rollins will defend his title against Corey Grave tonight. Rollins says that Rhodes had better be careful what he wishes for.
After a commercial break, Tony Dawson and William Regal are set to do commentary.
Bo Dallas vs. Epico (match length 5:06)
Now that Bo Dallas has felt the Big Show's Knock-Out Punch, his new gimmick appears to be that he loves pain. Epico and Primo are coming off of a loss to the Usos that the Colons guaranteed they would win, so Epico will be trying to turn the momentum back in his favor.
As the match begins, the NXT Universe is chanting "We Want Rosa" since she is not at ringside, and I can't say that I felt any differently. Bo Dallas has a crazed look in his eye as he begins on the offensive.
Thanks in part to the distraction provided by his cousin at ringside, Epico takes control soon after the match starts and maintains control for most of the match. As the end approaches, Dallas' masochistic side kicks in again, and all of Epico's offense is useless. Dallas ends the match with a Spear moments after the crowd starts chanting for it.
Post-match, the Colons back Dallas into a corner. But before they can attack, Michael McGillicutty comes out to even up the sides, and the Pureto Ricans leave the ring before any contact is made.
Sasha Banks vs. Tamina (match length 2:52)
Banks is back for her second NXT match after losing to Paige in the weeks past. During the match, Regal says that Banks is related to Snoop Dogg. I have no idea if that is true, but if it's not, I have even less of a clue as to why he'd say that.
Banks is given the opportunity to show off her athleticism and obvious experience in the ring, pulling off some impressive offense against one of WWE's toughest Divas, but ultimately, Tamina gets the win after hitting the top-rope Superfly Splash.
Honorable Mention: If SmackDown were a part of this review, Tamina may have been named my Biggest Winner this week, with a solid victory on SmackDown as well as this solid victory here.
Kassius Ohno and Leo Kruger vs. Tyson Kidd and Justin Gabriel (televised match length 8:11)
Apparently, Gabriel and Kruger have fought before in their shared homeland, but this match stems from Ohno attacking Kidd after a match, only to be saved by William Regal. They make a big deal out of the different styles of offense between these two teams, Ohno and Kruger with a more mat-based offense, Kidd and Gabriel with more of an aerial attack.
Ohno and Kidd start the match for their teams, but Ohno tags Kruger in early on in the match. Kidd and Gabriel use a lot of quick tags to isolate Kruger, highlighting the fact that they've been teaming together for some time, whereas Ohno and Kruger are teaming for the first time.
As is so often the case, Kidd and Gabriel perform some impressive high-flying, double-team moves that leave their opponents on the floor outside the ring, and we head to a commercial break. The faces are still in control when we return from the advertisements, but it's not long before Kruger hits a spinebuster to put the momentum back in his team's favor.
Ohno is tagged in, and he goes to work on Kidd. Kidd fails to get any offense in, and now Ohno and Kruger begin the process of quick tags and opponent isolation. As Kruger beats on Kidd, it's obvious that they are building for a hot tag to Gabriel.
Once that hot tag is made, the pace of the match remains quick for the remainder of the match, with wrestlers in and out of the ring and multiple near-falls. Kruger eventually hits the Kruger End on Gabriel to win the match.
Seth Rollins vs. Corey Graves (match length 4:41)
NXT Championship Match
Jim Ross joins the commentary team for this last match that will conclude without a commercial break. Graves comes to the ring, and I have to wonder what he's done to earn this title shot. Rollins makes his way to the ring with little fanfare—no entrance music, a graphic that just says "Shield," rather than a video and no other members of The Shield at his side.
During the match, Regal makes the comment that Rollins' in-ring style has changed since forming The Shield, from that of a "sportsman" to a more "aggressive" style. That speaks highly of Rollins, that he can not only make the switch in his personality, but that it also translates in his wrestling style.
After a minute or so of offense and a few early pin attempts by Graves, Rollins stays in control for the beginning of the match. Eventually, however, Graves gets another chance at offense and manages to lock a submission hold on Rollins in the middle of the ring. When it looks as though he just might tap, The Shield rush to the ring and attack Graves to get the match thrown out.
Less than a minute later, Rhodes appears at the top of the ramp, signaling for the NXT locker room to come to the ring to take care of The Shield. The rebellious band manages to fight off the ten or twelve men who come to the ring, putting an exclamation point at the end by delivering their signature Triple Powerbomb to Bo Dallas.
Once it is clear that The Shield is standing tall in the ring, one more Superstar makes an appearance: Big E. Langston. As he meanders to the ring, The Shield all back away and exit the ring. Rhodes appears to announce that Langston will receive a shot at the NXT Championship on next week's NXT.
Prediction: I fully expect Sasha Banks to make her Raw or SmackDown debut in 2013 (along with Paige, and hopefully Audrey Marie). Look for her to have a significant impact on the WWE Divas division.
Image credit: WWE.com
Michael Cole and The Miz are in the ring as this week's episode of Main Event begins. We already know that the main event will be Antonio Cesaro defending against The Great Khali in a US Title match. They inform us that we will also find out whether or not the WWE physicians will clear CM Punk for his match on Monday.
A fairly standard video package is shown to highlight Cesaro's dominant reign as United States Champion. He makes his way to the ring, says that the video is no good, and goes into an anti-American spiel until The Miz stops him. They banter for a bit before a video package is shown for The Great Khali.
The challenger is set for an interview backstage with Natalya and Hornswoggle. After they reaffirm Natalya's crush on Khali and her illusion that Khali is anything like the wrestling legends of her own family tree, Khali finally gets to the ring for his title match.
Antonio Cesaro vs. The Great Khali (televised match length 8:05)
United States Championship Match
No one clearly dominates from the beginning, and no one takes a clear advantage right away. Hornswoggle and Natalya serve as distractions, causing Cesaro to take his focus off of Khali just long enough for Khali to gain control as we head to the first commercial break.
Khali is still in control when we return from the break, and the crowd seems to be in favor of this. As the match edges closer to the end, Khali prepares to land a chop to the head of the champion, but Cesaro avoids the contact.
Less than a minute later, Cesaro manages to nail Khali with the Neutralizer. I believe the visual of Cesaro hitting this move on a 400-plus pound giant was the primary motivation for booking Khali against Cesaro. Another successful defense for the Swiss competitor.
Post-match, he is interviewed in the ring by Matt Striker. After bragging about his win, he calls out The Miz. Their feud is all-but official now, but no match has been set in stone.
Honorable Mention: Again, if SmackDown were a part of this analysis, Cesaro may have earned the Biggest Winner nomination this week, since he had this impressive win and was involved in a match with three former and/or current World Champions.
After a commercial break, we watch a Tout that the official WWE physician sent saying that Punk is cleared to defend the WWE Championship in a TLC match on Monday at Raw.
After this announcement, Kofi Kingston is at the commentary table with Cole and Miz who are grilling him about losing his Intercontinental Championship to Wade Barrett. Barrett was apparently listening backstage, as he comes out to interrupt. Apparently, there is a rematch set for SmackDown.
Kofi gives (in my opinion) a weak promo about why he needs the IC Title. Barrett continues to express his belief that he's considerably more talented than Kofi. He's so confident that he issues an open challenge to anyone in the back for a gauntlet-style match.
Wade Barrett vs. Yoshi Tatsu, JTG, Justin Gabriel, Kofi Kingston (televised match length 10:12)
Gauntlet Match
Barrett takes out Yoshi Tatsu in about fifteen seconds after hitting him with the Souvenir elbow, now named the Bull Hammer.
JTG comes out next and lasts a little longer than Tatsu, even getting in a little offense. But he still lasts less than a couple of minutes and suffers the same fate as Tatsu.
Justin Gabriel comes out next, catching Barrett off guard a little bit, sending him over the top ropes and out of the ring as we head to a commercial break. Although Gabriel is still in control when we return, it isn't long before Barrett makes a comeback.
Although Gabriel lasts several more minutes, Barrett is still going at his own pace, his strength overcoming Gabriel's high-flying antics. Gabriel makes a fairly convincing comeback towards the end, but Gabriel gets hit with the Bull Hammer as well.
Honorable Mention: Coupled with his tag team loss on NXT, Gabriel was nearly named the Biggest Loser of the week.
The fourth and final leg of the gauntlet turns out to be Kofi Kingston. Building momentum for his rematch on SmackDown, Kofi hits the Trouble in Paradise shortly after entering the ring and ends the gauntlet match.
Before the program ends, we find out that next week's Main Event will be headlined by Sheamus vs. Dolph Ziggler.
Prediction: Ziggler gets the win over Sheamus next week, with an assist from AJ Lee and/or Big E. Langston.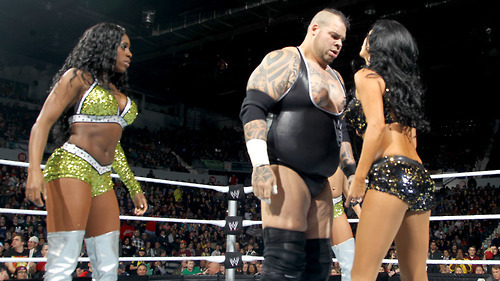 Image retrieved from fyeahrosamendes.tumblr.com
Matt Striker and Scott Stanford are on commentary as the Primetime Players make their way to the ring for the opening contest on the first Superstars of 2013.
The Primetime Players vs. The Usos (televised match length 8:04)
They are calling this match a rematch from the last SmackDown on 2012 when the Usos defeated Titus and Darren, thanks to the Usos' version of "Twin Magic." I'm a little surprised they ended the match that way on SmackDown, given how hard they're pushing the Usos as faces and PTP as heels.
Darren starts the match with Jimmy Uso, but to be honest, I only know it is Jimmy because the commentators said so. I haven't become interested enough in the Usos to learn to tell them apart on my own.
Before the commercial break, Jimmy (okay, I finally learned it, he's the one with the half-sleeve tattoo job...I think) did his best Undertaker impression, running and launching himself over the top rope onto both of the Primetime Players who were trying to regroup outside the ring. As is often the case, the heels are down outside the ring while the faces celebrate inside the ring.
When we return from the break, however, Darren has Jey under control as he and Titus begin making quick tags and isolating Jey. The Players maintain control for several minutes.
After a failed double-team move that left Darren on the mat, Jey looked like he was about to make the hot tag, but Titus prevented it. A few minutes later, however, the hot tag is indeed made, and Jimmy enters the ring to dominate.
Titus put a stop to that with a big boot, but the Usos pull another "Twin Magic" move while he celebrates, which ultimately leads to another Uso win.
Honorable Mention: If their match from SmackDown were taken into consideration, the Usos may have received Biggest Winners, and the Primetime Players may have received Biggest Losers.
After a commercial break, we get a recap of CM Punk and Vince McMahon from Raw (as well as the official Tout from Main Event) in which we learn that Punk will, indeed, have to defend his title against Ryback in a TLC match on Raw.
After another commercial break, we get another Raw Rebound, this time replaying the segment on Raw that saw Randy Orton and Sheamus come to the rescue of Ryback in his handicap match against all three members of The Shield.
After yet another commercial break, we finally get another match. And even if the match is a flop, we'll at least get to see Cameron, Naomi and Rosa.
Brodus Clay vs. Primo (match length 3:25)
Brodus Clay has a significant winning streak on Superstars, and when is the last time you remember half of a bona fide tag team defeat a solid singles performer?
There wasn't anything of note to add about the in-ring happenings, and it never looked like there would be any conclusion other than a victory for the Funkasauras.
Question: With Brodus Clay doing a whole lot of nothing else, couldn't WWE build an angle for him around his Superstars streak? It could help keep Clay relevant in light of the jobbing he often does on Raw or SmackDown, and may even bring some new fans to Superstars.
On Raw or SmackDown, Clay could approach a GM, saying that he feels as though he deserves a title shot, since his record on Superstars is so impressive. He could even get title matches on both shows, US and Intercontinental, and lose those matches. Then, when they need a transitional champion, Clay could win the title on Superstars, only to lose it on Raw or SmackDown soon after.
Superstars ends with a replay of Dolph Ziggler and AJ Lee's New Year's Eve toast from Monday Night Raw.
Prediction: This mini-feud between the Usos and Primetime Players will continue (since neither team is quite ready to hold the tag titles) and the PTP will get a measure of revenge for these arguably unfair victories.
Image credit: WWE.com
This week's episode of Saturday Morning Slam looks to focus primarily on Team Hell No and 3MB. The first few minutes of programming are filled with a quick history of how each team came to be.
After this, Natalya is backstage to interview the tag team champions about their upcoming matches for today's show: Kane vs. Jinder Mahal and Daniel Bryan vs. Heath Slater. Kane actually gave a fairly humorous promo, obviously geared towards the little ones, but still amusing. For the first time that I can recall, both guys actually say "we are the tag team champions."
Kane vs. Jinder Mahal (match length 2:51)
Josh Mathews and Booker T are on commentary as all three members of 3MB approach the ring for the opening match. Kane makes his way to the ring alone.
A win by Jinder would have to be considered an upset, even if the other members of 3MB get involved. Kane dominates the opening minutes and Mahal has to leave the ring when Kane shows signs of preparing for a chokeslam.
After a group huddle, all three members of 3MB begin to enter the ring, surrounding Kane. But of course, Daniel Bryan comes out to make the save. Moments later, once the ring has been cleared of everyone besides the two competitors, Kane wins the match with a top-rope clothesline.
Daniel Bryan vs. Heath Slater (televised match length 8:58)
With all of the necessary components already at ringside, the second match starts immediately after the commercial break. After a few successful offensive moves on the part of Slater, Bryan takes control of the match.
Despite the fact that most of the offense comes from Bryan in this match, there's something to be said for Slater in that he kept up with one of WWE's best technical wrestlers. Guys like Daniel Bryan, CM Punk and Chris Jericho can't look good if their opponents are sloppy and highly susceptible to botching.
Slater manages to send Bryan over the top ropes to the outside. Mahal and Drew McIntyre approach him, but they back off when Kane comes around. We head to a commercial break, and when we return, Bryan is breaking out of a submission hold that Slater has him in, and reverses it for a two-count.
Slater continues to dominate, and if there's any reason to extend this rivalry, perhaps Slater will get a win. It's good programming once a thought like that slips into the back of your mind and won't go away until the match ends.
If you're not used to SMS, the awkward camera shots of the commentators can be obnoxious. Since the show is specifically geared towards small children, there are a lot of moves they can't show on the program. Rather than preventing the wrestlers from using them, they just cut away to a shot of the crowd or the commentary team.
It's clear the end is coming soon when Bryan begins to hit his signature moves and is obviously preparing for the No Lock. This prompts both of Slater's partners into jumping up on the apron as distractions, but Bryan takes care of Mahal as Kane takes care of McIntyre.
Slater tries to take advantage of the distraction, but Bryan reverses his suplex attempt into the No Lock and both members of Team Hell No leave with a victory.
The show proves to be educational when Natalya (apparently the new backstage interviewer for SMS) gets a word from Damien Sandow. He says that although he's normally a "post-meridian" (PM) performer, he's making an exception to be an "anti-meridian" (AM) performer on SMS next week.
The interview is interrupted by Randy Orton, and the announcement of Sandow vs. Orton for next week's SMS is how this week's programming ends.
Prediction: Randy Orton gets the win next week.
Question: Will the Orton/Sandow match be any good? Could this just whet our appetites for a feud between the two somewhere down the line?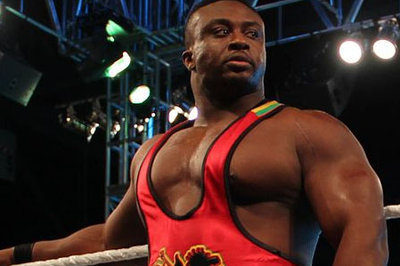 Image retrieved from SportsKeeda.com
After taking a look at all four of WWE's "other" shows from last week, which superstar came away the biggest winner? Who came away the biggest loser? Who looks like they'll earn a spot in the Royal Rumble and who looks like they'll be watching from the locker room?
Biggest Winner: Big E. Langston

To be fair, there weren't any especially spectacular performances or bookings for a single superstar this week.
Sure, Cesaro had another successful title defense in which he showed off his ungodly strength. And yes, Team Hell No essentially dominated the entire episode of Saturday Morning Slam.
Heck, Langston didn't even have a match on these shows this week! But his brief spot on NXT was, in my opinion, the most impressive spot of the week.
After The Shield saved Rollins' title, they proceeded to take care of something like a dozen wrestlers from the NXT locker room. They fended off half of the roster and gave their display of dominance an exclamation point by delivering a Triple Powerbomb to Bo Dallas.
Then, Big E. Langston came out. Twelve men getting physically involved wasn't enough to stop The Shield. Big E. Langston simply walking to the ring was.
On top of that, Langston was named the No. 1 contender for the NXT Championship and was shown in multiple Raw Rebounds alongside Ziggler and Lee.
Biggest Losers: The Colons
In a time when the WWE's tag team division is as solid as it has been for as long as most fans can remember, none of the duos want to spend a majority of their time jobbing.
Especially not the former Tag Team Champions. Especially not in singles matches.
Epico lost to Bo Dallas on NXT; Primo lost to Brodus Clay on Superstars. For a couple of guys with the talent and history of Primo and Epico, it has to be hard for the Colons to justify their stay with WWE.
The message this week's programming sent was two-fold: 1) that this team doesn't really matter in the tag team division, and 2) as singles competitors, these two aren't that great either. Just enough to be named this week's Biggest Losers.
Do you think someone else had a better week on these shows than Big E. Langston? Do you think someone took a bigger hit than the Colons? Please, let's discuss!
You can follow Dustin on Twitter, check out his blog or listen to his podcast.