5 Facets of Eric Gordon's Game the New Orleans Hornets Need the Most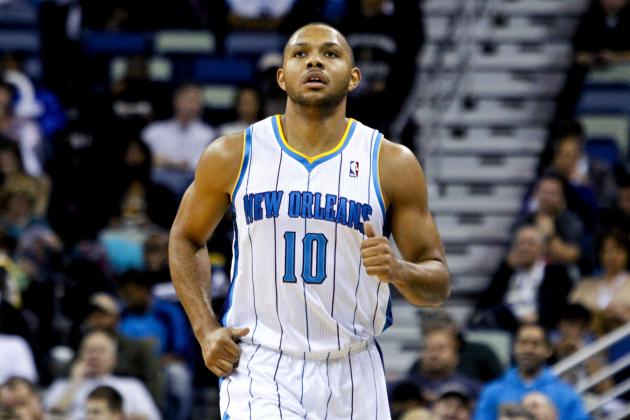 Derick E. Hingle-USA TODAY Sports

The return of New Orleans Hornets shooting guard Eric Gordon helps the team in a number of areas. The multi-talented Gordon strengthens a Hornets' roster that has a ton of talent, but has been largely disappointing in his absence.
Gordon made his season debut on Dec. 29, scoring a game-high 24 points and adding seven assists in a win over the Charlotte Bobcats. The victory bolstered the team's record to 7-23. Since then, the Hornets have dropped two straight, with the team opting to sit Gordon in its most recent loss against Houston as the Hornets monitor the oft-injured guard's workload.
The season might not be salvageable for New Orleans, but Gordon's arrival seems to have come at the right time. Point guard Greivis Vasquez earned Western Conference Player of the Week honors for Dec. 24-30. Once Gordon returns to the starting lineup, he and Vasquez will give the team a nice pair in the backcourt to go along with leading scorer Ryan Anderson and No. 1 overall pick Anthony Davis.
The Hornets tried to get by with veteran Roger Mason Jr. and rookie Austin Rivers filling in for the former Indiana Hoosier, but neither made much of an impact. Gordon's presence gives opposing defenses someone they have to game-plan for.
It also helps the development of a young guy like Rivers, who can learn from watching the team's best player in action as opposed to in a suit at the end of the bench. Head coach Monty Williams told Hornets.com's Jim Eichenhofer that he's advised Rivers to keep a close eye on Gordon.
Monty:"I told Austin (Rivers) watch Eric and learn from how he plays.Try to watch how he reads pick-and-rolls and the change of pace he has."— Jim Eichenhofer (@Jim_Eichenhofer)https://twitter.com/Jim_Eichenhofer/status/285823321273147392" data-datetime="2012-12-31T19:02:44+00:00">December 31, 2012
Gordon's presence and leadership aren't the only qualities that will help this Hornets team. Here's a look at some of the other things Gordon brings to the table that the Hornets have been sorely lacking while he's been gone.
Begin Slideshow

»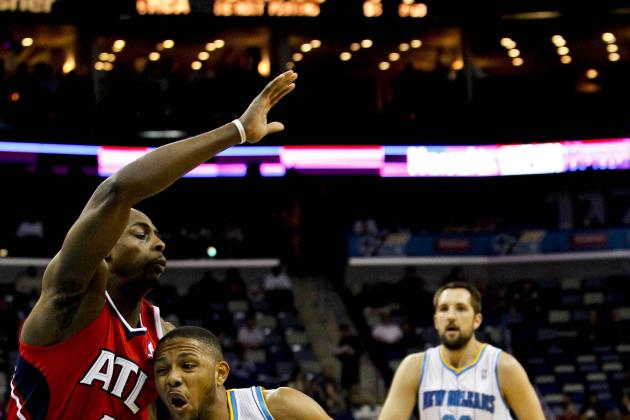 USA TODAY Sports

The most promising thing to take away from Gordon's return against Charlotte was his willingness to attack the basket. Despite missing most of last season and a good chunk of this season with knee troubles, Gordon was aggressive in his approach on offense. The result was him going 12-for-14 from the free-throw line.
Gordon is averaging nine free-throw attempts a game this season, albeit after only two appearances. However, the next-closest Hornet in terms of getting to the charity stripe is Davis with 3.9 per game.
Gordon showing no reluctance to drive to the basket is a good sign for a number of reasons. First, it shows that his knee isn't giving him any trouble nor is it forcing him to change his game. Second, Gordon's ability to get calls puts opposing teams in foul trouble while also allowing him to pile up easy buckets.
Other than Gordon, the Hornets' roster is comprised of mostly shooters and young guys who lack the aggressiveness to attack the basket. Small forward Al-Farouq Aminu is at his best when he plays aggressive, but he doesn't do it consistently enough for him to be a factor. Aminu's averaging under two attempts at the free-throw line a game, while also scoring just under eight points a night.
Now that Gordon is back and ready to take on whoever's guarding the paint, his penetration will open things up for shooters on the outside if he finds an open window to kick the ball out. Attacking the basket is a huge part of Gordon's game and the fact that he's utilizing it immediately upon his return should alleviate some concerns over his knee.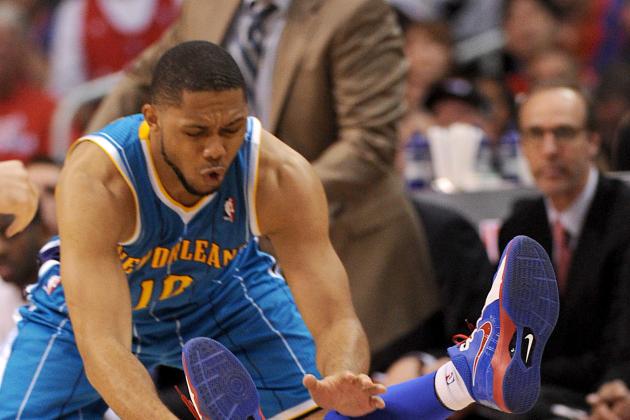 Jayne Kamin-Oncea-USA TODAY Sports

While Gordon is hardly the second coming of Gary Payton, he has shown quick hands in the two games he's played this season. Gordon has three steals since making his debut on Dec. 29. His ability to create turnovers is a welcomed asset to the lineup, as the team doesn't have many stellar defenders on the wing.
Gordon's average of 1.5 steals a game leads all Hornets, just narrowly edging Aminu's 1.12 steals per game. To further put Gordon's defensive prowess in perspective, current starter Mason has three steals since Dec. 18. Rookie Rivers has fared better than Mason at stripping the ball lately, but isn't a defensive whiz either.
It will be interesting to see if Gordon can keep this defensive streak up. Williams is a coach that prides himself on defense, and the Hornets' best chance at winning going forward will be to force turnovers and score in transition.
Gordon averages a little over a steal a game for his career, which is better than the rest of the guards on the roster. With most of the Hornets' best defenders playing in the frontcourt, it's good that the team has someone who can defend the West's elite guards like Gordon can.
If Aminu can go back to being the defender he was late last season, the Hornets can improve on a defense that is 16th in the league in points allowed and finish the season on a high note.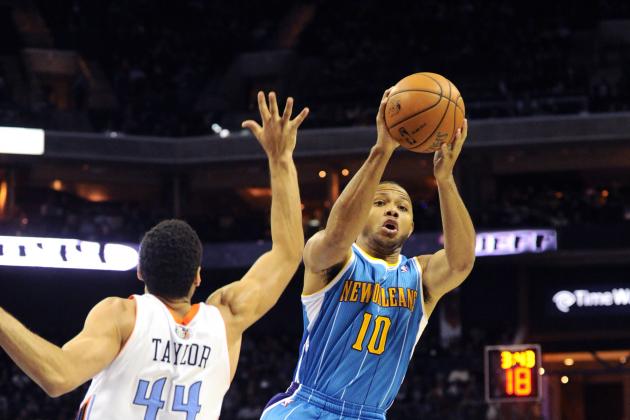 USA TODAY Sports

Despite his talents as a scorer, Gordon has a unique ability to get others involved and make those around him better. The attention that defenses show Gordon will open up opportunities for other scorers on the team. After the win over the Bobcats, Anderson mentioned how Gordon's return worked to his benefit.
Anderson on getting open 3's tonight: "We've been talking about how Eric coming back is going to force the defense to focus on him a ton."

— Jim Eichenhofer (@Jim_Eichenhofer) https://twitter.com/Jim_Eichenhofer/status/285210071460376577" data-datetime="2012-12-30T02:25:54+00:00">December 30, 2012

In his big game against Charlotte, Gordon notched seven assists. That kind of unselfishness can help the Hornets in a huge way. Anderson was already leading the team in scoring and shooting 40 percent from behind the arc with defenses knowing he was the team's only scoring option.
With Gordon finding Anderson for more open looks, the Hornets become more dangerous on offense. It also gives the team another facilitator besides Vasquez and could lead to the team pairing Gordon and Rivers in the backcourt more often.
Gordon's distribution skills caught Williams off-guard.
Monty on Gordon (7 assists): "I certainly didn't expect that kind of impact right off the bat, but I thought he could make guys better."

— Jim Eichenhofer (@Jim_Eichenhofer) https://twitter.com/Jim_Eichenhofer/status/285223660967559168" data-datetime="2012-12-30T03:19:54+00:00">December 30, 2012

The Hornets already had an excellent facilitator in Vasquez. However, Vasquez doesn't draw the attention of defenses like Gordon does. Gordon's ability to draw defenses in and then find the open man will make teams think twice about applying the double-team.
It will also add a versatility to the offense that the other shooting guards on the roster couldn't offer.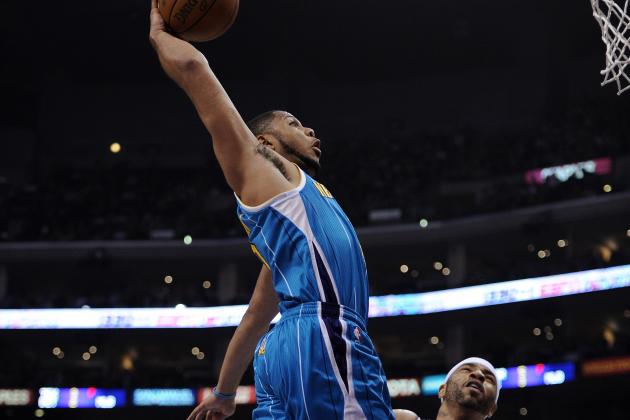 Harry How/Getty Images

The Hornets don't have many athletes on the roster, especially in the backcourt. Vasquez has great size at 6'6" and good court vision, but his athleticism doesn't really stand out. Mason is more of a shooter, and Rivers is still learning how to utilize all of his tools.
The only other guy on the wing with Gordon's kind of hops is small forward Aminu, who lost his starting job to undersized power forward Lance Thomas. Gordon's athletic ability gives the team another option on the fast break besides big man Davis. The team doesn't have many go-to guys when moving the ball in transition.
Gordon's willingness to play above the rim bodes well with his aggressive style of play on offense. Gordon likes using his big body to absorb contact and attack the basket. It allows him to draw fouls and get to the line. His athleticism makes him an excellent finisher at the rim. Gordon has the innate ability to bounce off defenders while still putting up tough shots.
If his troublesome knee doesn't give him any trouble going forward, Gordon will fill up highlight reels with amazing dunks and will serve as an excellent recipient of the occasional Vasquez lob. His athleticism adds a rare dimension on a team filled with shooters and gives the team an exciting element in the backcourt.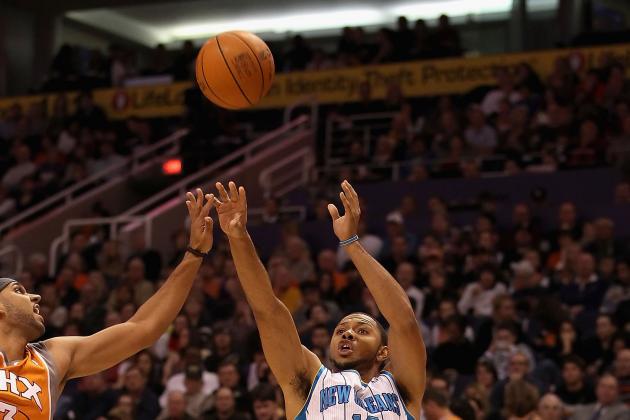 Christian Petersen/Getty Images

The ability to shoot the basketball is one of the main facets of Gordon's game. It hasn't been on display as much this season, as he's shooting 33 percent from the field and 22 percent from the three-point line. However, once he gets more comfortable, Gordon will prove himself to be one of the league's best shooters.
The Hornets already have a number of shooters in guys like Anderson (league leader in three-point attempts) as well as veterans Vasquez and Mason. Gordon makes a strong area for the Hornets even more formidable.
The former Los Angeles Clipper is a career 45-percent shooter from the field, 37 percent from behind the arc. He's the team's best scoring option, and his ability to score from long-range or by attacking the basket gives versatility on offense.
Gordon's ability to regain his shooting touch will depend on the strength of his knee and his confidence in repeatedly flexing it. The knee is a crucial body part when it comes to shooting. If there's any reluctance by Gordon to bend his knee, it can alter his timing as well as throw him out of his comfort zone when shooting the basketball.
Gordon's aggressiveness attacking the basket shows he has confidence that his knee will hold up. Once he gets into better game shape, he'll be able to develop a better rhythm shooting the basketball. That gives the team a reliable shooter on the perimeter besides Anderson. It will also force teams to pick their poison when both Gordon and Anderson share the court together.
Guys like Mason, Vasquez, Rivers and Brian Roberts are decent shooters who can supplement the offense by hitting the occasional open jumper. They aren't go-to options like Gordon and Anderson. Having another consistent shooter on the floor will also open things up down in the paint for big men like Davis and Robin Lopez.