How Signing with Top Rank Has Hurt Timothy Bradley's Career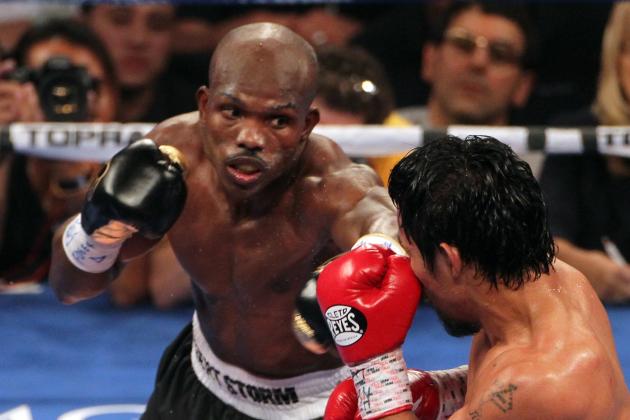 Jeff Bottari/Getty Images

Timothy Bradley was a world athlete on the rise in the beginning of 2011. He was undefeated, a world titlist in the junior welterweight division and signed to unify with Devon Alexander.
The match went down and turned out to be a dud, both financially and critically. Bradley was then nearly set to move on to the next big fight with another hot world titlist, Amir Khan.
This is when Top Rank came into the picture and gave Bradley a deal he couldn't refuse. Fast forward two years later and he has had a fight with Manny Pacquiao and a welterweight world title—but not much else.
After Bradley's fight with Pacquiao failed to sell over a million pay-per-views and Bradley won a controversial split decision that nearly all but the judges scoring the fight thought he lost, Bradley has become a rather unpopular fighter.
He's richer than he's ever been, but his career is starving for a direction. Is it possible that signing a deal of a lifetime with Top Rank may have hurt Bradley's career?
Begin Slideshow

»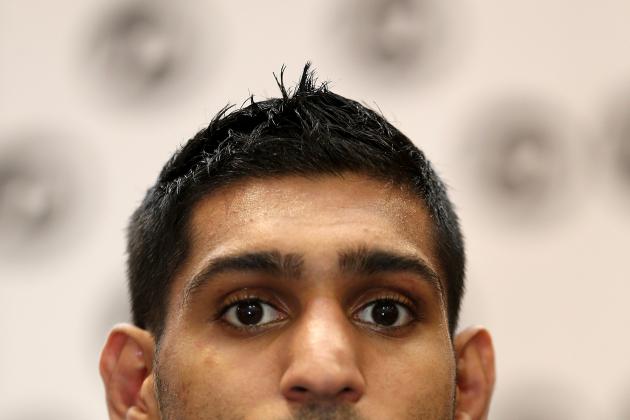 Clive Brunskill/Getty Images
Amir Khan
Amir Khan vs. Timothy Bradley for the majority of the belts at junior welterweight was supposed to be the event of the summer in 2011.
By signing with Top Rank, Bradley deprived boxing fans of that fight and insured that it would never happen. Khan's promoter Golden Boy and Bradley's new promoter Top Rank don't like each other.
The chances of that fight happening are now nonexistent. Bradley has less fans after his controversial win over Pacquiao than he would've had if he had unified against Khan.
Sure, Khan-Bradley wouldn't have been the big moneymaker a Manny Pacquiao fight would've been, but Bradley would've gained far more fans who would've continued to chart his rise to the stars.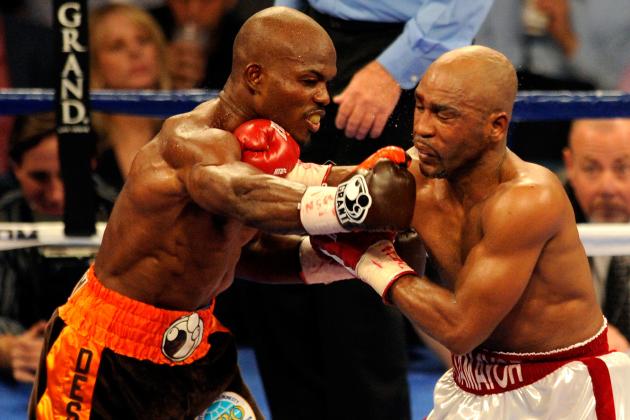 Ethan Miller/Getty Images
Bradley in the process of battering a 40-year-old Casamayor back into retirement.
When Bradley was added to the Pacquiao-Marquez III undercard in November 2011, it was meant to showcase his skills to wider audience that may not be familiar with Bradley.
Instead, what fans were treated to was one of the worst ways to reintroduce a fighter—ever.
What Bradley's new promoter gave the fans was a fight with a 40-year-old washed up Joel Casamayor who had tested positive for marijuana after the fight.
Bradley took eight painfully slow rounds to batter a helpless Casamayor into a merciful stoppage. Going from this directly to a Pacquiao fight gave the feeling that Bradley was undeserving of his shot.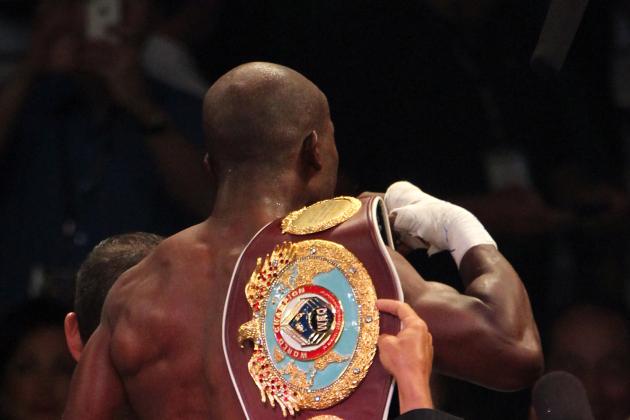 Jeff Bottari/Getty Images
Timothy Bradley looks to the future unsure of what comes next.
Bradley, now a former unified junior welterweight champion and current WBO welterweight champion, has nowhere to go in the aftermath of his controversial "win" against Manny Pacquiao.
It's not so much that the controversy happened, because erroneous decisions happen in boxing all the time, but how his promoters are reacting that is still hurting Bradley's career at this moment.
Bradley didn't draw the ratings Pacquiao is accustomed to, so Top Rank saw it more valid for Pacquiao to fight Juan Manuel Marquez a fourth time than fight Bradley a second.
Pacquiao had two official wins in his rivalry with Marquez before he met him in the ring again last December. The fourth match was cynically made because of their ability to draw a big audience.
Bradley's promoter is looking at making Bradley vs. Lamont Peterson next according to Lem Satterfield of The Ring. Bradley already handily beat Peterson to a dominant unanimous decision.
Beating Peterson again who doesn't even own an extra belt will do nothing for Bradley except buy him time.
The only thing Top Rank can do is either give Bradley a rematch with Pacquiao or let him face the man who knocked out Pacquiao, Juan Manuel Marquez, in a battle of those who beat the Pacman.
Either match would be highly lucrative and give Bradley the forward progression his career should have as a young undefeated champion in the height of his talents.