Florida Football: Grading All 22 Starters from the Sugar Bowl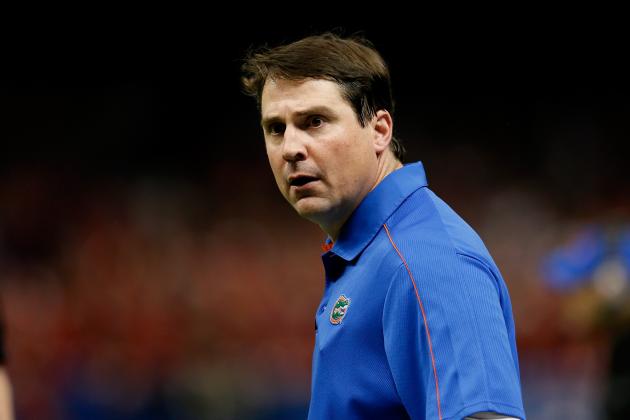 Kevin C. Cox/Getty Images
Florida head coach Will Muschamp
The Gators said all the right things leading up to the the 2013 Sugar Bowl, but actions speak louder than words. Florida came into the game a heavy favorite over their opponent, but the Gators players and Will Muschamp insisted that they respected the Cardinals and that they were taking them seriously.
If the Gators took the Cardinals seriously it surely didn't show. Florida came out flat on offense and defense and the game wasn't as close as the scoreboard will show.
Louisville's 33 points were the most that Florida gave up all season, and Teddy Bridgewater's 266 passing yards were the most the Gators had allowed since November 5, 2011.
It's back to the drawing board for the Gators who will need to remember this feeling, being embarrassed on national television and use it as motivation as they prepare for next season.
Let's take a look at all 22 starters and grade their performance in the season finale.
Begin Slideshow

»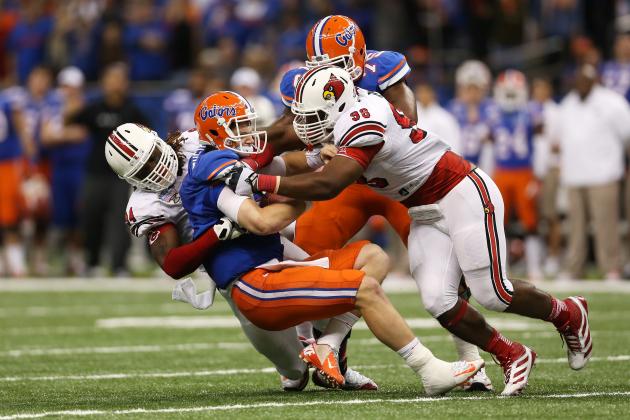 Matthew Stockman/Getty Images
Jeff Driskel struggled in his first bowl game
Grade: D
It was a game that Jeff Driskel will likely want to forget.
The sophomore signal-caller didn't go through progressions and stared down his primary receiver all night long.
Driskel's first pass of the game was thrown behind Andre Debose, tipped, intercepted and returned for a Louisville touchdown. Driskel finished the game 16-of-29 for 175 yards, one touchdown and two interceptions.
Driskel's second interception came on another pass that was thrown behind a receiver and tipped. The second interception came in the red zone and changed the momentum of the game.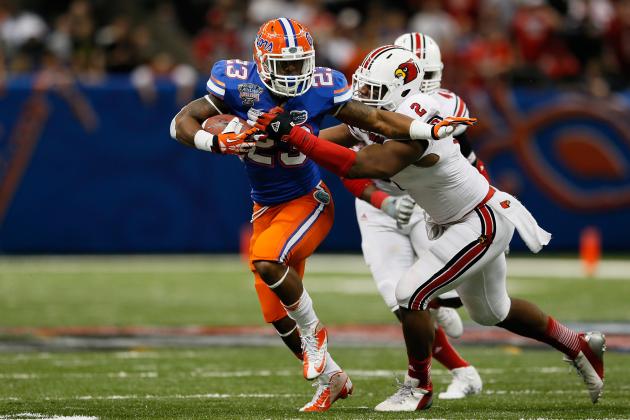 Kevin C. Cox/Getty Images
This wasn't the kind of game we expected from Gillislee
Grade: B-
Florida got behind early and never got into their normal run-heavy offense.
Gillislee carried the ball just nine times but managed 48 yards. His 5.3 yards per carry were impressive, considering how Louisville was stacking the box and how badly the entire offensive line played.
USA Today Sports
Trey Burton is the Gators Jack-of-all-trades
FB: Hunter Joyer
Grade: A
Joyer didn't record a carry, but that isn't his role in the offense. Joyer once again was solid in run-blocking and pass-blocking all night.
"F": Trey Burton
Grade: C
The do-it-all player for the Gators was his normal self in the Sugar Bowl. Burton carried the ball five times for 24 yards, but his best play was for something he didn't do. Brent Pease dialed up a wildcat pass play.
Burton saw that Jordan Reed was covered in the end zone, and rather than forcing a pass, tucked the ball down and ran for three yards. It's Burton's football IQ that makes him a weapon for the Gators.
Kim Klement-USA TODAY Sports
Jordan Reed struggled to make an impact
Grade: F
In what could be Reed's last game as a Gator he had his worst game of the season.
Reed was targeted twice, catching one pass for seven yards. Reed had been the Gators' leading receiver coming into the game but was completely taken out of the game by Louisville's defense.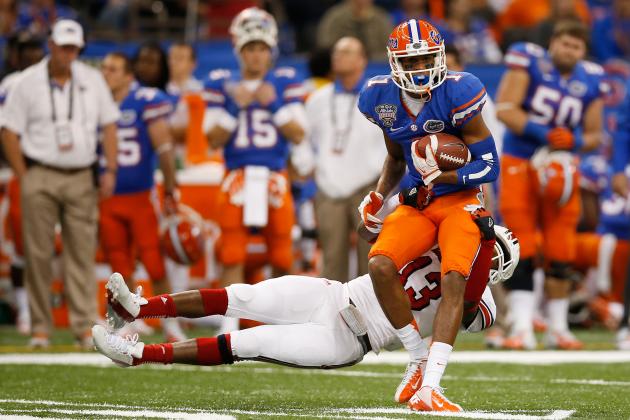 Chris Graythen/Getty Images
Quinton Dunbar is primed to have a breakout season in 2013
Quinton Dunbar
Grade: B
Dunbar caught a team-high five passes for 77 yards and provided some good blocking on the outside. Dunbar had a pass go through his hands for an interception, but Driskel threw a fastball high and behind the receiver. Credit the interception to Driskel rather than Dunbar.
Overall, a productive game for Dunbar and a good way for him to head into the offseason as the Gators will continue to desperately search for playmakers on offense.
Frankie Hammond Jr.
Grade: D
Two receptions for 22 yards in what was his last game in orange and blue. Hammond did catch an 11-yard pass on 3rd-and-1 on Florida's final scoring drive of the game.
Overall, it was an uneventful way to end his career at Florida.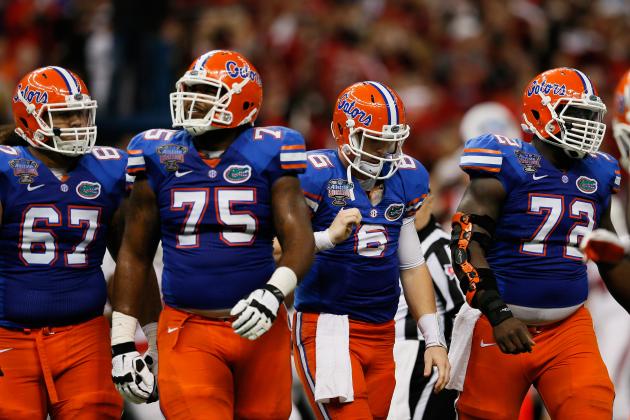 Kevin C. Cox/Getty Images
The offensive line regressed in the season finale
Xavier Nixon
Grade: F
This game couldn't end fast enough for Xavier Nixon. Nixon should have been replaced by D.J. Humphries midseason.
James Wilson
Grade: D
Wilson struggled like the rest of the offensive linemen. Wilson was beat regularly by his man and sent Driskel running for his life.
Jon Harrison
Grade: C
Harrison had, by far, the best game of any of the offensive linemen.
Jon Halapio
Grade: D
Jon Halapio has been the best offensive linemen this season, but he struggled tonight. Halapio whiffed on a block when Florida faked a field goal and struggled to block a simple stunt from Louisville's defense.

Chaz Green
Grade: D
Chaz Green has struggled off and on all season. Green has had some solid moments, but tonight was not one of them. Green and Halapio's side of the line was consistently getting bullied all night.
Harrison, Green and Halapio are all returning next season, and they will be pushed to the limit by Florida's impressive offensive line recruits who are already enrolled and those who will enroll in the summer.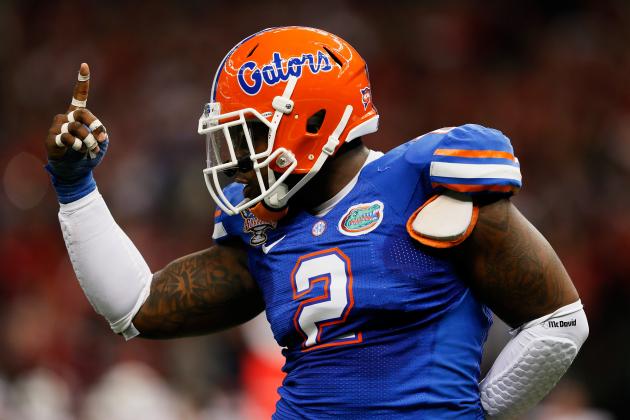 Kevin C. Cox/Getty Images
Is this the last time we will see Easley in orange and blue?
Grade: A+
Dominique Easley was a beast. Easley finished the game with five tackles, one sack, 3.5 tackles for a loss and he batted a pass at the line of scrimmage that was intercepted.
Easley was disruptive all game.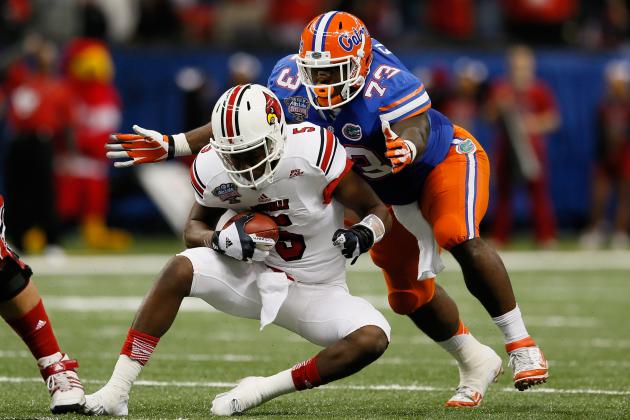 Kevin C. Cox/Getty Images
Sharrif Floyd sacks Teddy Bridgewater
Grade: A+
In what was his last game (Hays Carlyon of The Florida Times-Union) as a Gator, Sharrif Floyd impressed.
Floyd finished the game with five tackles, two sacks, two tackles for a loss and a blocked field goal. Floyd was disruptive against the run and was in Louisville's backfield all night long.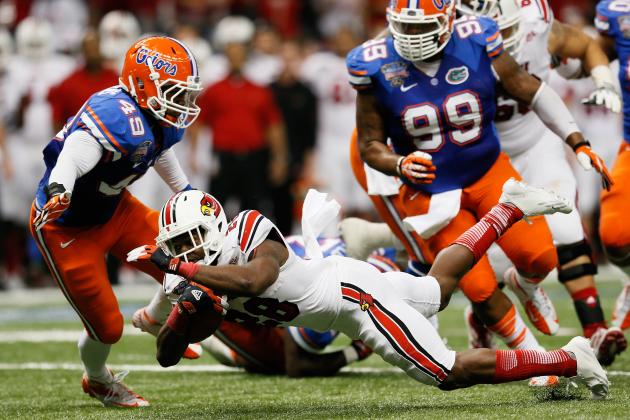 Kevin C. Cox/Getty Images
Hunter would have liked to make more of an impact in his final collegiate game
Grade: D
Omar Hunter finished the game with one tackle. He did his part defending the run but was ineffective for most of the game.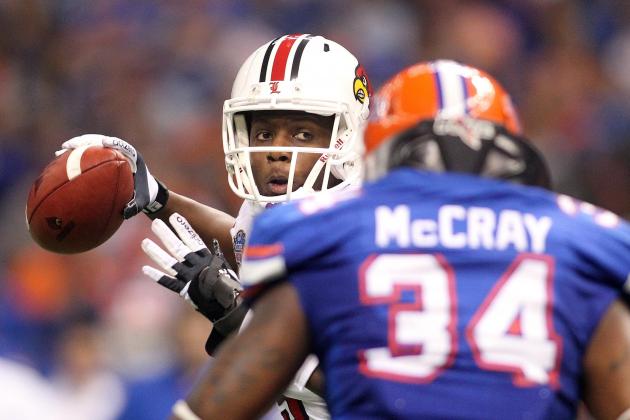 USA Today Sports
Lerentee McCray getting pressure on the quarterback.
Grade: C
Lerentee McCray started off slow, but played much better in the second half.
McCray finished with two tackles and one sack.
USA Today Sports
Antonio Morrison has a bright future ahead of him but this was not his best performance
Grade: D
I've been singing Morrison's praises all season long, but the Gators really missed Jelani Jenkins today. Morrison is a very physical linebacker, but he has a lot to learn when it comes to pass coverage.
Morrison struggled to cover receivers and finished the game with three tackles.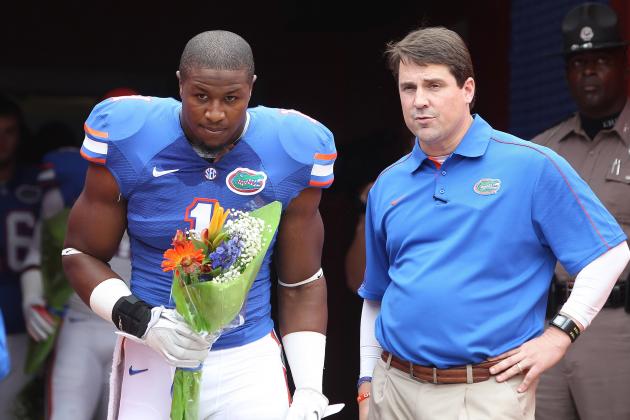 Kim Klement-USA TODAY Sports
A tough way to finish a great career in Gainesville.
Grade: C
This wasn't the typical Jon Bostic game.
Bostic was hit with a personal foul on Louisville's first offensive drive that kept the Cardinals drive going. Bostic finished the game with six tackles, but like Morrison, struggled in pass coverage.
USA Today Sports
Watkins making a tackle in the Sugar Bowl.
Grade: C-
Other than getting beat for a touchdown pass, Watkins had an alright game. Watkins got beat by a good route and a great pass on the first play of the third quarter after Florida failed to recover an onside kick.
He finished with four tackles on the game.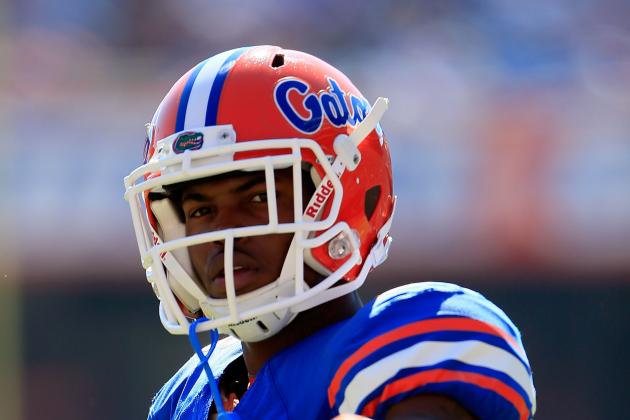 Sam Greenwood/Getty Images
Marcus Roberson is primed to have a breakout junior season in 2013
Grade: B+
Roberson finished the game with just three tackles, but that was due more to Bridgewater throwing away from Roberson all game.
Roberson was solid in coverage and had a good game that should give him confidence going into the offseason.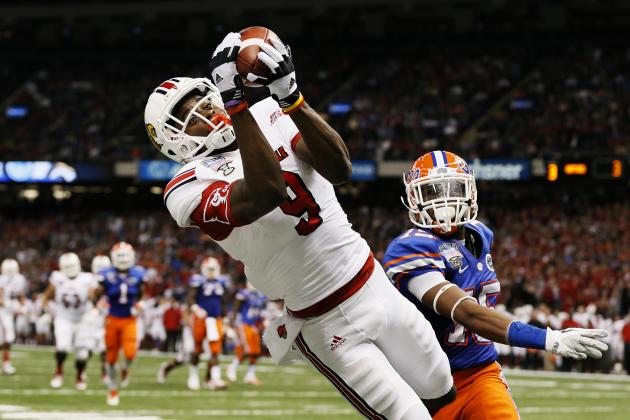 Kevin C. Cox/Getty Images
Loucheiz Purifoy had a rough game.
Grade: D
Loucheiz Purifoy got away with a pass-interference call on Louisville's first drive of the game, got beat for a touchdown and then left the game with a thigh bruise before recording any stats.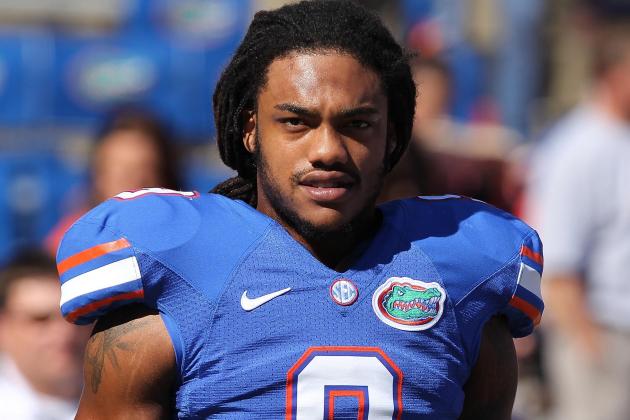 Kim Klement-USA TODAY Sports
Josh Evans had a career year
Grade: B
Josh Evans finished the game with four tackles, but he should have had more if he took better routes to the ball-carrier.
Evans was able to come down with an interception that could have really changed the momentum of the game if the offense would have been able to capitalize on the field position.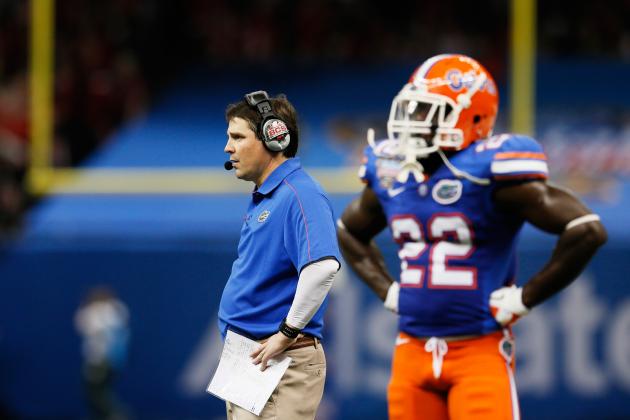 Kevin C. Cox/Getty Images
Matt Elam will go down as one of the best safeties in school history
Grade: A+
Even though he said he made up his mind after the game, Elam played the Sugar Bowl like he knew it would be his last game as a Gator.
Elam finished the game with 11 tackles, one sack and a handful of hits that made the crowd go "OHHH!"
Elam really came on in his junior season, and the Gators are going to miss his intensity and leadership on the field.