Updated Indiana Pacers Player Power Rankings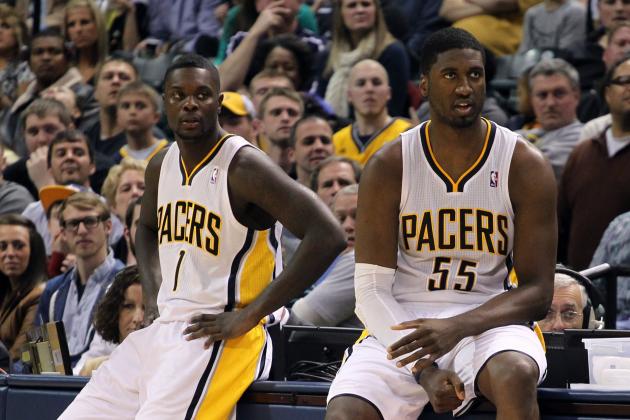 Brian Spurlock-USA TODAY Sports

From the first game of the 2012-13 NBA season, the Indiana Pacers players have surprised fans in different ways.
From the early season struggles of Paul George to the continuing failure on offense of Roy Hibbert, this team looks much different than many thought it would at the beginning of the season.
In order to properly rank the players, their overall play for the season will be considered. However, more recent play is more important to their rankings.
Beyond that, the players have had to have played in at least 10 games so far this season, leaving out relatively unquantified players like Orlando Johnson and Miles Plumlee.
All statistics are accurate as of 1/2/2012
Begin Slideshow

»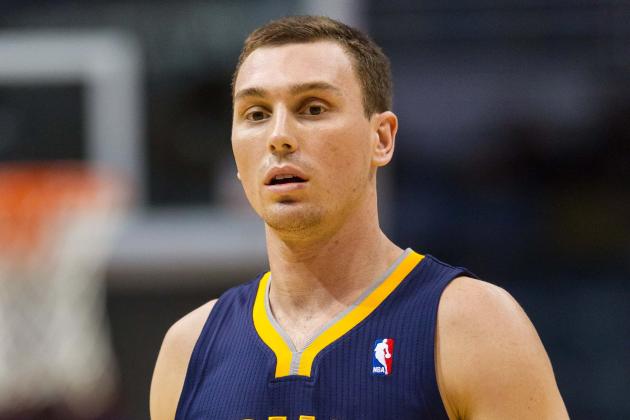 Jeff Hanisch-USA TODAY Sports

11. Ben Hansbrough, PG
Ben Hansbrough barely qualifies for this list, having played in only 11 games thus far this season. In those games, he has managed to play just nine minutes per game, averaging 2.1 points while shooting 31.6 percent from the floor.
To go along with that, Hansbrough has posted a team low PER of 5.7. All in all, he is not expected to do much for the Indiana Pacers, and he has certainly met expectations.
10. D.J. Augustin, PG
Coming into the season, Augustin was looked at as a solid backup point guard option to George Hill. Instead, the Pacers have found a largely ineffective guard who has only played 13.7 minutes per game.
Thus far, Augustin sports a PER of 9.3 while averaging 3.7 points and 2.4 assists per game. Where D.J. has truly struggled is in his shooting percentage. Augustin is currently shooting at 28.3 percent from the field and 25.9 percent from beyond the arc, qualifying him as the worst shooter on this list.
9. Sam Young, SF
Sam Young was close competition for Augustin, but he managed to be ranked just ahead. Young is averaging 3.7 points and 2.9 rebounds per game, similar numbers to D.J, but is shooting 38.8 percent on the season, the better of two evils.
Like Augustin, Sam Young has been largely inefficient for Indiana in his 16.2 minutes per game, and his 7.2 PER for the season speaks volumes as to his usefulness.
8. Gerald Green, SF
Ah, another Pacer who came into the season with high expectations and has failed to perform. So far, Green has averaged 7.6 points and 2.8 rebounds per game to go along with a PER of 8.5.
Green is also shooting just 38.5 percent from the field, although his middling 34.7 percent from beyond the arc makes up for it somewhat. It certainly doesn't help that Green was given a starting position early after Danny Granger was injured.
7. Ian Mahinmi, C
If I had to guess prior to the season, Ian Mahinmi would be nowhere near the seventh best player on the Pacers' roster. Still, here he is, in large part due to the ineffectiveness of his fellow teammates.
So far, Mahinmi is averaging 5.2 points and 3.6 rebounds in 16.1 minutes per game to go along with a very average 10.6 PER. Mahinmi is ranked seventh (and not higher) because of his shooting percentage, 40.8 percent, which is much lower than his career average of 52.3 percent.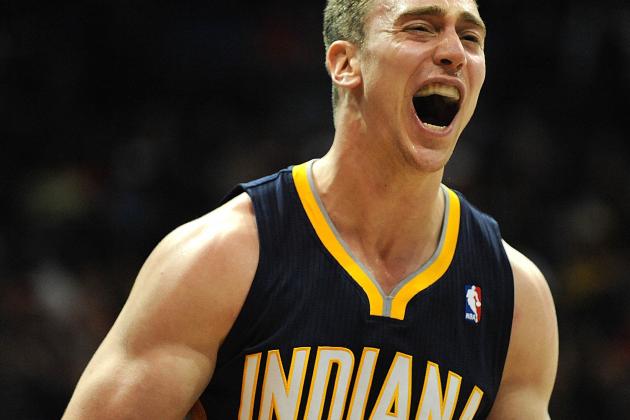 Kevin Liles-USA TODAY Sports

With just 16.4 minutes per game, Tyler Hansbrough hasn't earned himself very many minutes so far this season, but that is mostly due to the effectiveness of David West.
Still, Hansbrough has been solid in his minutes played, averaging 6.2 points and 4.4 rebounds per game while shooting 43.8 percent from the field.
Even better, he has managed to accumulate a PER of 14.4 for this season.
Unfortunately, it seems pretty clear at this point that Tyler is not the future at power forward for the Indiana Pacers, as he continues to fail to make a major impact on either end of the floor.
Despite that, Hansbrough can be considered the sixth best player on the Pacers' roster, largely due to the ineffectiveness that his teammates continue to show.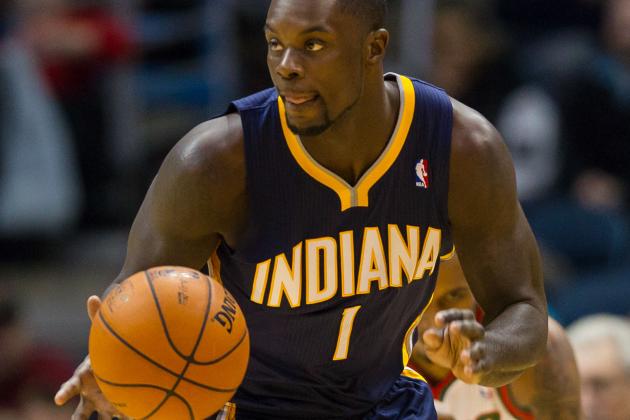 Jeff Hanisch-USA TODAY Sports

One of the few bright spots for the Indiana Pacers this season has been the play of Lance Stephenson, their third year guard.
So far, Stephenson is averaging 7.7 points, 3.3 rebounds and 2.6 assists per game while playing 26.9 minutes per game and starting 23 games this season.
Surprisingly enough, Lance is shooting 49.6 percent from the field, second best on the team, including 39 percent from beyond the arc.
Stephenson has been relied on even more lately, averaging 29.2 minutes per game in December. To his credit, he has upped his scoring to 8.4 points while shooting 51.1 percent from the field.
Lance Stephenson has played well enough this season to earn himself a starting spot with the absence of Danny Granger and to separate himself from both Sam Young and Gerald Green in order to grab playing minutes.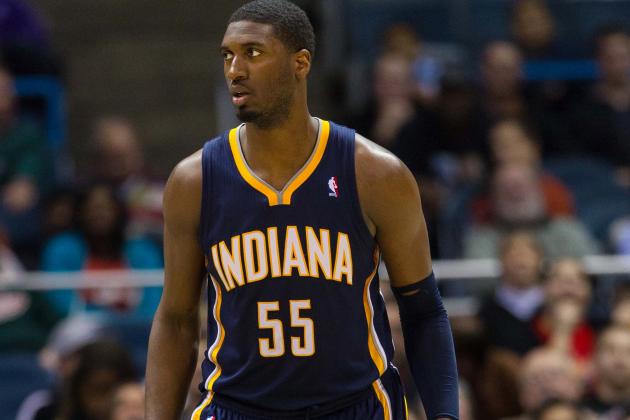 Jeff Hanisch-USA TODAY Sports

After signing a major contract, Roy Hibbert has largely failed to live up to expectations by averaging a mere 9.5 points and 8.1 rebounds per game. Even more disappointing has been his shooting percentage, an awful 39.5 percent from the field.
Roy's drop in field-goal percentage, from 49.7 percent last season, can partly be explained by the absence of go-to scorer Danny Granger, but his drop in free-throw percentage, from 71.1 percent to 64.3 percent, indicates something else is also at play.
Still, Hibbert has managed to make up for some of his offensive woes by averaging a career high 2.8 blocks per game. That, along with his 3.7 offensive rebounds per game, has given him some usefulness to the Indiana Pacers.
Roy Hibbert has been a huge disappointment for Indiana Pacers fans, who were expecting to see improvements upon last season after the big contract. Still, his defensive presence has allowed him to be ranked the fourth best Pacer this season.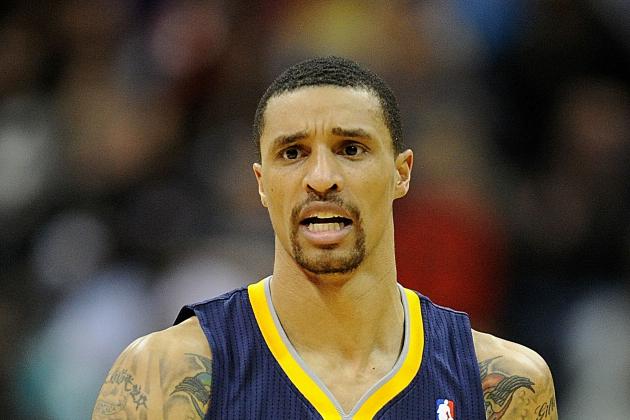 Kevin Liles-USA TODAY Sports

This season is George Hills' first as a full-time starter, and boy, he has responded well.
So far this season, Hill is averaging 15.2 points, 5.1 assists and 4.4 rebounds per game while posting a PER of 17.1. This is up from 9.6 points, 2.9 assists and 3.0 rebounds per game.
Even better, Hill has managed to play 35.4 minutes per game, easily the most of his career, and has turned the ball over only 1.8 times per game.
George Hill has played outstanding all-around ball for an Indiana Pacers team who desperately needed a stable offensive presence.
It is all the more exciting for Pacers fans that Hill is only a fifth-year player and is in the midst of his first season as the team's starting point guard.
Brian Spurlock-USA TODAY Sports

This was the one true difficult decision in the power rankings, but Paul George simply cannot be considered the best Pacer right now.
Still, George has been extremely good lately and has rebounded wonderfully from his early-season woes. Currently, Paul is averaging 16.5 points, 7.1 rebounds and 3.7 assists while managing to grab 1.45 steals per game.
George has been even better in the past month, averaging 18.8 points, 7.6 rebounds, 4.1 assists and 1.7 steals per game while shooting 45.8 percent from the field and 38.8 percent from beyond the arc. His shooting percentage is up from his awful month of November when he shot 39.2 percent.
Paul George has proven in the past month that he can be a future star of the Indiana Pacers, something he has been billed as for the past couple of years. He could easily be the best player on another NBA team, but he is simply being outperformed by his frontcourt mate.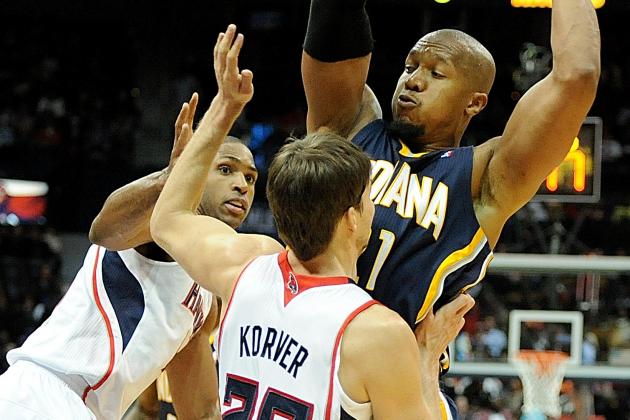 Kevin Liles-USA TODAY Sports

And the winner is David West!
West, the 32-year-old power forward, is having an outstanding season for the Indiana Pacers. He is currently averaging 17.5 points, 8.0 rebounds and 2.6 assists while playing 33.8 minutes per game.
More importantly, West is shooting 49.6 percent from the field, including 50.9 percent in the month of December, and he boasts a PER of 20.1, a team high.
David West has given the Pacers a consistent scorer and defensive rebounder, something that they have deeply needed with the absence of Danny Granger.
His consistency and leadership have allowed the Pacers to regain some of their 2011-12 glory while giving them hope for the future.
It's just too bad he is a free agent after this season.