10 Greatest Knockout Artists in MMA History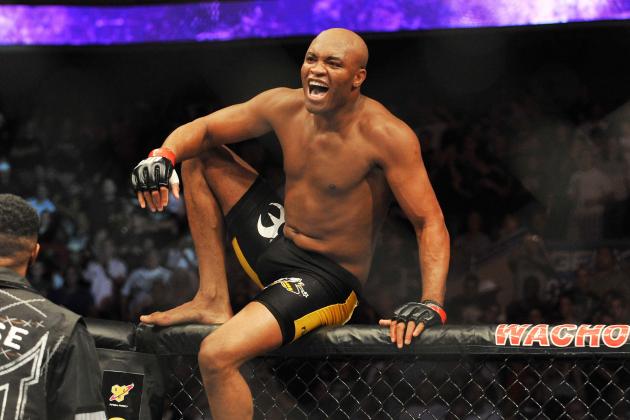 Jon Kopaloff/Getty Images
Anderson Silva, as one would expect, ranks highly on the list of MMA's top knockout artists.
Who doesn't love a good knockout? Nobody, that's who.
We've seen a lot of fighters over the years with extraordinary levels of talent ply their skills in an effort to render another hapless man unconscious. The results are usually pleasing.
Naturally, some fighters are better than others at doing this. Some are, dare I say, artistic when it comes to finishing fights?
Welcome, ladies and gentlemen, to the 10 Greatest Knockout Artists in MMA history. Here we look at the fighters who have separated themselves from the rest of the pack, be it through creativity or consistency, and established themselves as the Leonardo da Vinci of turning somebody into a bloody mess.
Enjoy the exploration of these past-and-present fighters and find out who could possibly be the best of this bunch of legends.
Begin Slideshow

»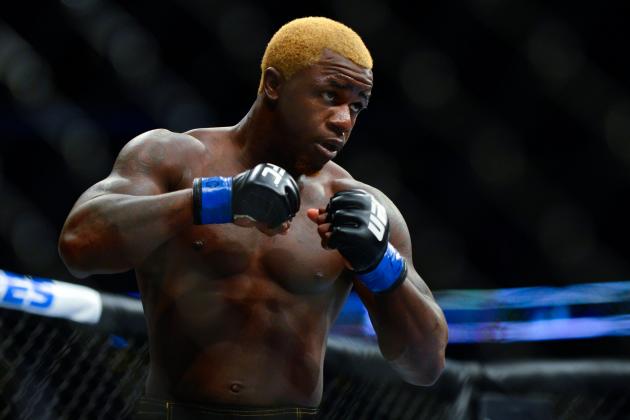 Ron Chenoy-USA TODAY Sports
Melvin Guillard has punched, kicked and kneed his way through many opponents over the years.
Melvin "The Young Assassin" Guillard has been facing some rough times lately. That said, he's still one of the greatest knockout artists in MMA history.
Guillard has always gotten by on his ability to hit people really, really hard. While this is the primary reason that he finds himself wondering about his job security with the UFC, it is also what originally got him a shot in the promotion, and what has since made him one of the most popular, entertaining lightweights in the history of the division.
With seven years of fighting for the UFC, he has delivered some crazy knockouts. Probably his most famous victory came when he caused Gabe Ruediger to fold to the mat with a single punch to the body. He also owns some crazy wins over Dennis Siver, Waylon Lowe and Evan Dunham.
Of his 30 wins, 19 have come via knockout (63 percent). Unfortunately for Guillard, calling him a "knockout artist" is almost a bad thing. After 10 years of fighting, he still has a remedial ground game, which has led to nine of his 12 losses coming via submission, and a propensity for being dominated by wrestlers.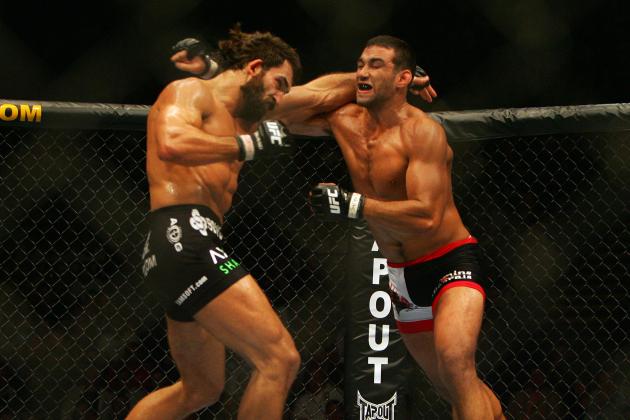 Gary M. Prior/Getty Images
Andrei Arlovski put away many opponents with strong kickboxing skills.
Andrei Arlovski has delivered a solid number of beatdowns over the length of his career, and more than deserves a spot on this list.
From 2000 to 2008, "The Pitbull" was the most enduring heavyweight striker in the UFC, and racked up win over win at the expense of the best available heavyweights at the time. After leaving the UFC, he would knock out Ben Rothwell and Roy Nelson, but would suffer several losses in Affliction and Strikeforce that would threaten his career.
He has since gotten back on track, and is 4-0 (1) in his last five fights. The one no contest came from his silly sort-of-legal-but-not-really soccer kicks of Tim Sylvia in One FC (you can read about that whole situation here).
Statistically, Arlovski has 19 wins, 14 of which have come from knockouts. This works out to 74 percent and does not include fights like his original bout with Tim Sylvia where he rocked the future champ standing to set up a submission on the ground.
Watch for Arlovski to fight fellow former UFC heavyweight Jeff Monson in February.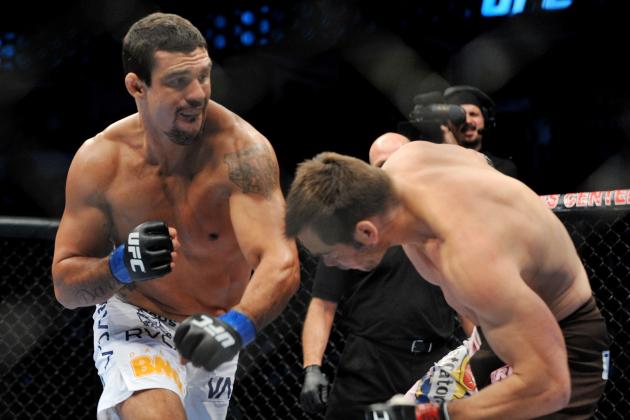 Jon Kopaloff/Getty Images
Vitor Belfort is one of the best in MMA history at finishing opponents standing.
Vitor Belfort entered the Octagon for the first time at age 19 at UFC 12. At the event, he would knock out Tra Telligman and Scott Ferrozzo. Now 35, Belfort has not really slowed down since.
Having fought for several promotions, Vitor Belfort has been knocking out fighters around the globe for 16 years. His method of choice? Something I like to call the "Belfort Blitz."
Very few have demonstrated the sort of ability that Belfort has when it comes to chasing down opponents once they're hurt. Throughout the years, he has beaten a slew of opponents by wobbling them, and following it up with a deluge of punches.
He did it to Tank Abbott. He did it to Wanderlei Silva. He did it to Rich Franklin. He did it to Yoshihiro Akiyama.
The result is that 67 percent of his 21 MMA victories have come via knockout. The UFC has kindly put up a couple of his top highlights on YouTube. You can check out his knockout of Rich Franklin here, and his victory over Tank Abbott here.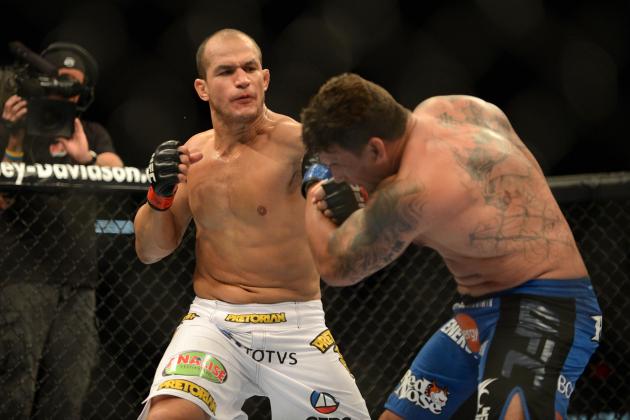 Ron Chenoy-USA TODAY Sports
Junior dos Santos will likely climb further up this list as he continues to put opponents' lights out.
While the now-former heavyweight champ is still nursing a badly-busted face from his UFC 155 loss to Cain Velasquez, Junior dos Santos is still one of the most powerful strikers in MMA today, and one of the best knockout artists in MMA history.
In smaller Brazilian promotions, "Cigano" racked up a 6-1 record, five of those wins by knockout. From there, he scored a shocking knockout victory over the highly-ranked Fabricio Werdum in his UFC debut.
At this point, in 10 UFC bouts, JDS has six knockouts, a verbal submission from Mirko Cro Cop (who bowed out after his orbital bone was broken), and the brutal beatdowns of Roy Nelson and Shane Carwin.
Seventy-three percent of Junior's wins have come via knockout so far (11 out of 15, not including the Cro Cop fight). My favorites? It's still hard to get over his victory over Werdum.
Past that, his belt-seizing knockout over Cain Velasquez remains a shocker for the ages, and I strongly encourage all of you to look back to his fight with Frank Mir, where he demonstrated absolutely absurd hand speed and accuracy.
According to Dana White at the UFC 155 post-fight press conferences, he will be facing off with the winner of Alistair Overeem vs. Antonio Silva. Watch for dos Santos to add one of those two to his list of victims.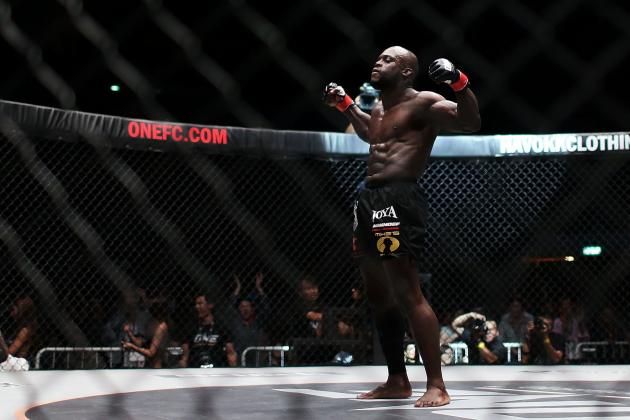 Chris McGrath/Getty Images
Almost all of Melvin Manhoef's wins have come via knockout.
When people talk about a "Dutch kickboxer," they're probably focused on Alistair Overeem. The thing about Overeem, though, is that while he is regarded as one of the scariest strikers in the heavyweight division, the majority of his wins have, in fact, come via submission (and not many were submissions to strikes, mind you).
When you're talking about a Dutchman who is actively looking to knock somebody's block off, the conversation should start and end with Melvin Manhoef.
Manhoef, by a considerable margin, has the highest knockout rate of anybody on this list. Of his 27 wins in MMA, 25 of them have come by knockout.
Ninety-three percent of his wins have come by knockout.
Manhoef has, disappointingly, kept a safe distance from the UFC throughout his career, fighting in Europe from 1999 to 2006, and predominantly in Japan since. While he has mostly faced no-namers, he does hold wins over the likes of Mark Hunt, Evangelista Santos, Kazushi Sakuraba and Kazuo Misaki.
Most recently, he scored a brutal knockout over Denis Kang at Dream 18 with a perfectly-placed knee to the body.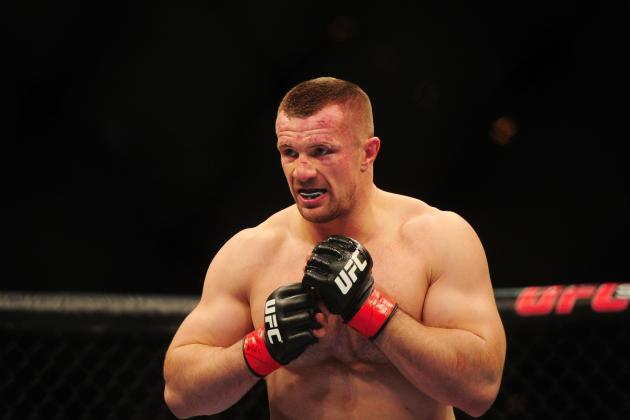 Mark J. Rebilas-USA TODAY Sports
Mirko Cro Cop's kicking game left many with busted legs and massive headaches over the years.
When you use your reputation as an elite kickboxer to propel your MMA career, it probably means you're going to be racking up lots of knockouts. From 2001 through 2006, Mirko "Cro Cop" Filipovic was one of the best in that department.
He began his MMA career by scalping Kazuyuki Fujita with a knee as he shot in, and didn't slow down from there. Through his first 21 wins fighting in Japan, 15 of those came via knockout.
Not included in that is when Josh Barnett tapped from having his eye punched out. While his famous "right leg, hospital; left leg, cemetery" line brags about his kicks, his powerful knees from the clinch and huge punches were equally fearsome.
What seemed to be the tail end of his career was mired with a slew of losses in the UFC, but Cro Cop has found new life in 2012, going 3-0 in kickboxing and beating disgraced former Sumo wrestler Wakakirin Shinichi at the Inoki Bom-Ba-Ye 2012 New Year's Eve event. At this point, Cro Cop has 20 KOs in his 28 wins, good for a 71 percent knockout rate.
Cro Cop's "greatest hits" include his 2001 fight against Kazuyuki Fujita, his 2004 bout against Ron Waterman and his 2006 barn-burner with Wanderlei Silva. Check any one of them out if you want a sympathetic headache.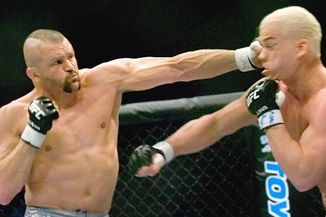 Chuck Liddell knocked out many other MMA legends in his prime. Photo c/o CagePotato.com.
Perhaps the single greatest light heavyweight in UFC history, and possibly the promotion's biggest PPV draw from 2004 through 2008, Chuck Liddell earned his fame by knocking out lots and lots of other fighters. Not only did he knock out lots of fighters, but he knocked out some of the biggest names in MMA history.
He knocked out former UFC heavyweight champion Kevin Randleman. He knocked out former heavyweight and light heavyweight champion Randy Couture twice. He knocked out former light heavyweight champion Tito Ortiz twice. He knocked out future Strikeforce heavyweight champion Alistair Overeem.
Chuck Liddell made short work out of many of the best fighters of the time with downright scary ease. In fact, from 2004 through 2006, there wasn't a single opponent Liddell faced that he didn't knock out.
Think about that!
Liddell has 13 knockouts in 21 wins, which translates to a 62 percent knockout rate, and his powerful kicks and piston-like fists remain some of the greatest sights to behold in MMA history.
To see his inhuman hand speed, make sure to check out his 2001 Pride fight with Guy Mezger, or his original match with Tito Ortiz in 2004. Also make sure to check out my personal favorite, his 2002 head-kick knockout of Renato Sobral.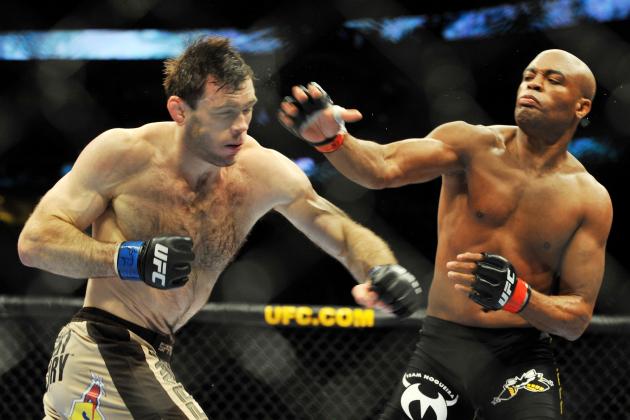 Jon Kopaloff/Getty Images
Anderson Silva has been known to literally play with his opponents before knocking them out.
It probably doesn't surprise you to see Anderson Silva near the top of this list (you might even be surprised he isn't in the top spot). Just in terms of what we've seen from him in his reign as the UFC middleweight champion, he has produced more highlights than any other fighter could ever hope.
His inhuman quickness and pinpoint accuracy combine to create a unique, inimitable style.
Have we ever seen somebody knock out an opponent the way Anderson Silva did when he embarrassed Forrest Griffin? How about when he kicked Vitor Belfort in the face? How about the picture-perfect knee he landed on Stephan Bonnar?
Those are just three of the highlight=reel knockouts he has put out and, honestly, I had to cut out several just so this slide wasn't too long. Suffice it to say, when you've knocked out as many opponents in as many ways as Anderson Silva has, you find yourself near the top of any list discussing being generally awesome at beating people up.
With 20 KOs in 33 wins, Silva is sitting on a 61 percent knockout rate, a strong percentage given how long he has been fighting. What gets him the nod over some of the other fighters on this list is the sheer variety of ways he has taken out opponents, and the creativity he has displayed in doing so.
Having recently signed a new 10-fight deal with the UFC, expect at least a few more crazy knockouts from "The Spider" over the next few years. You can check out some of his top moments on his official YouTube page here, and check out his electrifying knockout of Vitor Belfort here.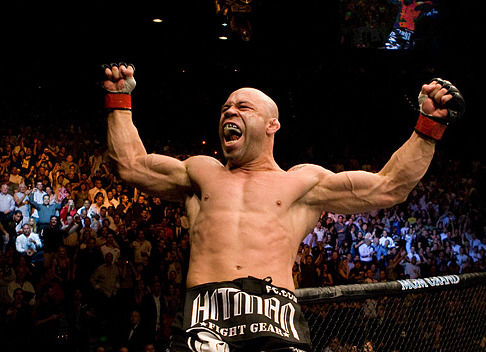 Wanderlei Silva mauled a huge number of opponents in Pride. Photo c/o UFC.com.
Wanderlei Silva is a scary dude. Like...really scary.
"The Axe Murderer" became famous in Japan's Pride FC by consistently delivering merciless, savage knockouts. Time after time after time.
Pride's wiggle room for soccer kicks, stomps and knees to the head of downed opponents gave him more opportunity for cringe-worthy finishes than the UFC afforded. Because of that, Wanderlei Silva frequently left fans saying "oh man, he just killed that guy."
Top highlights from his lengthy career include any of his wins over Kazushi Sakuraba and Quinton "Rampage" Jackson, his punch-out of Keith Jardine, or any of his bare-knuckle affairs in Brazil from the 1990s.
Really, though when 71 percent of your wins come via knockout (24 out of 34, not counting two submissions from strikes), it is hard to pick out fights not worth watching.
Basically, if you want to see a great knockout, check out almost any given one of Wanderlei Silva's wins. There's a reason for his nickname.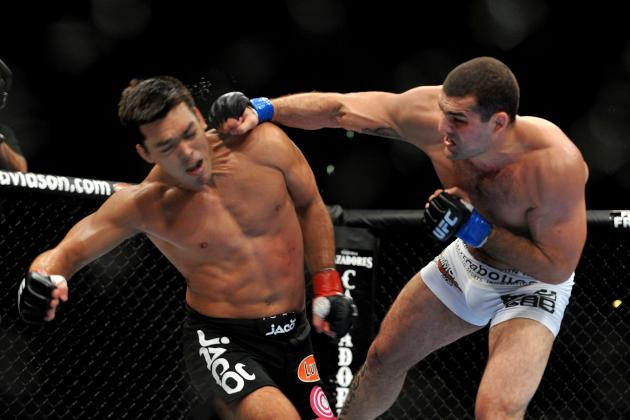 Jon Kopaloff/Getty Images
Mauricio "Shogun" Rua sits at the top of this list courtesy of his ability to consistently put opponents out with strikes.
Pride had plenty of fighters that can be considered knockout artists. Just off this list, you've seen a few. The best of the best from that lot, though, is Mauricio "Shogun" Rua.
Rua has 21 wins. Eighteen of them have come by knockout, meaning an absurd 86 percent of his victories have come by the referee pushing him away from an unconscious opponent. In 13 fights in Pride, he earned nine wins by knockout.
For all the props Wanderlei Silva got earlier, "Shogun" matched every bit of ferocity and had more technical prowess than "The Axe Murderer." Watching him put opponents onto the ropes and stomp them in the face still makes me cringe.
Seeing the quickness and accuracy he used when he knocked out Chuck Liddell and Lyoto Machida still remind me that he is, in reality, a savvy, technical striker.
Having fought in huge promotions for the vast majority of his career, and having the second-best knockout rate on this list, Rua finds himself in the top spot. Hopefully he can bounce back from his recent struggles and start adding to his legend.
There are a few of his top knockouts available from the UFC on YouTube. Check out his second fight with Lyoto Machida here and his knockout of Chuck Liddell here.