Ranking OKC Thunder's Serge Ibaka Among the NBA's 7 Most Improved Players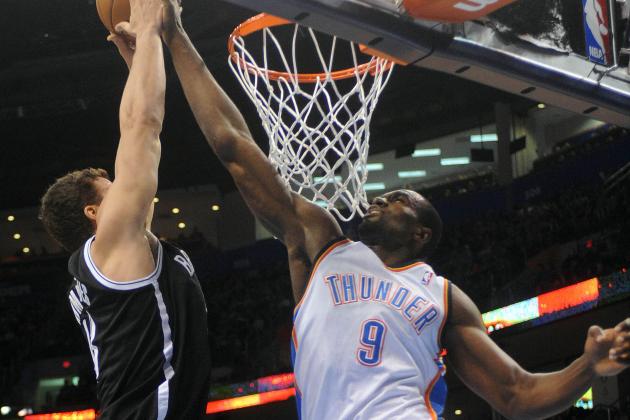 USA TODAY Sports

The Oklahoma City Thunder's Serge Ibaka has put himself among the front-runners for the Most Improved Player award after putting up career-high numbers through the first part of the 2012-13 NBA season. But where does the young power forward actually rank among those front-runners?
Determining the most qualified candidates for Most Improved Player is about more than just looking at whose stats jump the most from one season to the next. Not only does statistical improvement count, but the situation of each player from season to season is also very important.
What is particularly important is looking at the amount of time a player is playing from season to season. It is great if a player scores five more points per game, but it's greatness is significantly lessened if the player's minutes per game have increased even more (which should be your clue that James Harden will not be on this list).
Ibaka looks like a solid contender. While he is playing more minutes, he played starter's minutes in 2011-12 also. The fact that he has improved most of his numbers and play in those similar minutes is huge.
The question is whether there is another NBA player who has accomplished more.
Begin Slideshow

»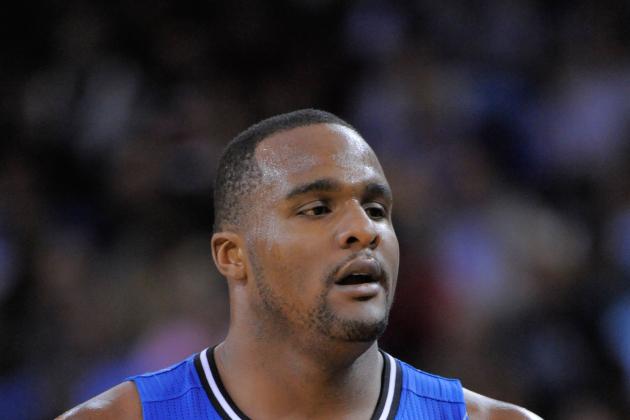 USA TODAY Sports

2012-13 Stats (Career Highs in Bold)
16 points, 7.9 rebounds, 44.9 percent from field, 74.7 free-throw percentage
In the 2012 offseason, the Orlando Magic went from being a team built around a defensive superstar who was offensively challenged to a team built around a decent frontcourt player who can score pretty well and defend nothing.
Despite his defensive liabilities and the fact that the Magic are not very good, Glen Davis has become a better player than anyone expected. Those numbers are all career highs, and they are not the only ones he is posting. He is a player who, once considered to be a career bench player, is now a very good starting big man in the NBA.
However, Davis is severely penalized by the big increase in the minutes he is playing. He is playing nearly 10 more minutes per game than he did last season, as he is now a starter.
While his improvement is impressive, it is not as much when you consider how many more opportunities he is getting right now.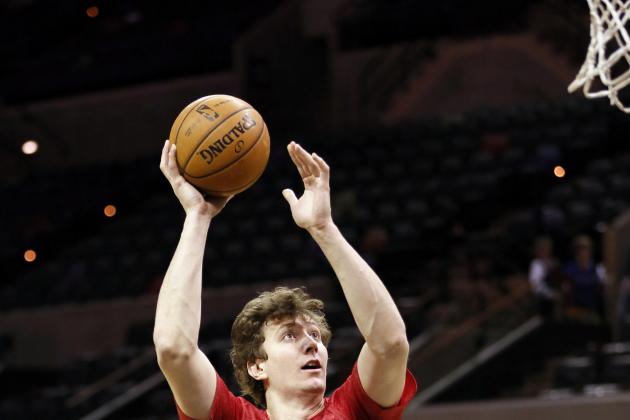 USA TODAY Sports

2012-13 Stats (Career Highs in Bold)
10.4 points, 11.8 rebounds, 1.1 blocks, 51.5 percent from field
A lot of people though that Omer Asik could be a solid defensive big man, especially considering how well he backed up Joakim Noah for two years in Chicago. Few expected him to be as good immediately as he has been as a starter in Houston.
In just his third season in the NBA, Asik is establishing himself as one of the best defensive big men in the league and is in the top five in rebounding. He is also contributing solidly on offense.
While Asik is one of the biggest reasons that Houston will probably contend for a playoff spot, there is a massive disadvantage he has in this race, and it is similar to the one Glenn Davis had. Only worse.
Asik's minutes have more than doubled in Houston, which makes sense given the vastly different makeup of the team he is on compared to the one he left. That is why the increase in his numbers are not that impressive. Considering the rates at which he had scored and rebounded in the past, his current numbers are not that surprising.
USA TODAY Sports

2012-13 Stats (Career Highs in Bold)
18.2 points, 3.8 assists, 3.7 rebounds, 1.3 steals, 46.2 percent from field, 46.3 percent from three
A move from a bench role for the Memphis Grizzlies to a starting role for the Dallas Mavericks looks like it has suited O.J. Mayo, who is posting career highs and near career highs in just about everything this season.
Stop right there; I know what you are thinking. "Mayo's minutes increased too. Why is he lower than Omer Asik and Glen Davis?"
The reason is a simple one that has to do with looking at the players' prior seasons. Mayo has played more per game in a previous season than he is now. In that particular season. He played nowhere near as well as he is right now.
Another big benefit for Mayo is that, while his shots, touches and minutes have increased, he has increased his efficiency at the same time. As James Harden has shown us this season in his new home of Houston, that is not an easy feat.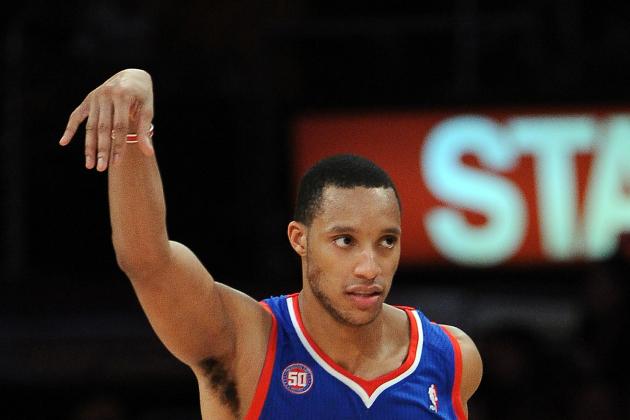 Jayne Kamin-Oncea-USA TODAY Sports

2012-13 Stats (Career Highs in Bold)
14.6 points, 6.8 rebounds, 4.3 assists, 0.9 steals, 44.2 percent from field, 44.1 from three
Evan Turner had been something of a disappointment after being drafted at No. 2 overall in 2010 by the Philadelphia 76ers. However, he is finally showing just how good he can be this season.
Turner is shooting a career high from three, and his previous career high had been just 31.8 percent. He has also upped just about everything on his stat line and is playing markedly better than he ever has in Philly.
The reason for this improvement is not necessarily just Turner working on his game, though. The offseason trade that shipped out Andre Iguodala appears to be why Turner is doing better. He is getting more shots and minutes. While he has improved his game, he has to be penalized by benefiting from the loss of a player who made the team better.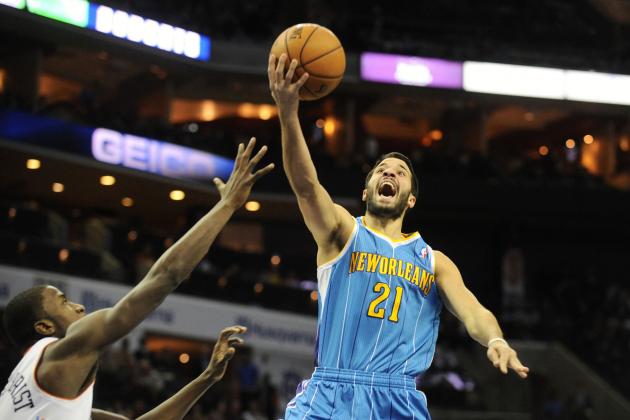 USA TODAY Sports

2012-13 Stats (Career Highs in Bold)
13.6 points, 8.8 assists, 4.5 rebounds, 42.7 percent from field, 36.7 from three
Greivis Vasquez is another player who has improved by leaps and bounds from one season to the next. Back in Memphis, Vasquez looked like he would never be a starting point guard, but rather looked like a solid backup point.
However, he is doing well to change that perception so far this season. He is ranked among the NBA's elite in assists per game, and his points per game have increased by nearly five per game.
Vasquez's ability to completely change the perception of him allows me to forgive him a bit for the fact that he is also playing significantly more this season than he has before. He is doing more with his minutes now than ever, and he is doing it on one of the youngest teams in the NBA.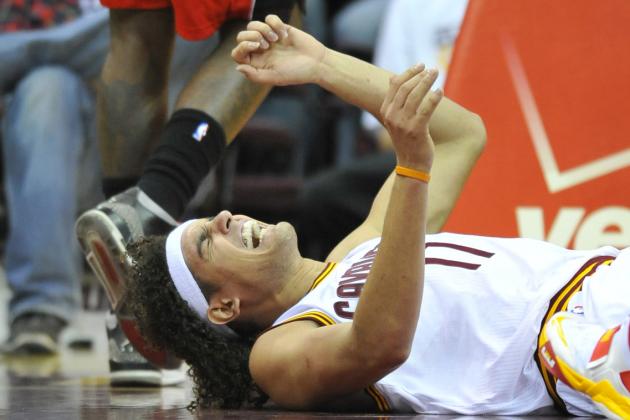 USA TODAY Sports

2012-13 Stats (Career Highs in Bold)
14.1 points, 14.4 rebounds, 3.4 assists, 1.5 steals, 47.8 percent from field, 75.5 from free-throw line
At age 30, Anderson Varejao should be nearing the end of his prime, Instead, he looks like he is still getting better and better.
A mere role player for years and years in Cleveland during the LeBron James era, Varejao has now established himself as one of the best centers in the NBA. The points and rebounds he is averaging will grab the most headlines, but his assists and passing are the biggest way he has improved in the 2012-13 season.
Varejao would probably No. 1 if not for a couple factors. The first is that his shooting efficiency has decreased somewhat, and the second is the fact that he really broke out more last season than this one.
USA TODAY Sports

2012-13 Stats (Career Highs in Bold)
14.3 points, 8.5 rebounds, 3.0 blocks, 56.5 percent from the field, 82.3 from the free-throw line
That's right. I'm putting Serge Ibaka as the most improved player as of this point in the season. The reasons are a culmination of all the reasons the previous players have not been.
Ibaka is playing more minutes and getting more shots, but it is not because he switched teams or had another player depart. The reason is his own improvement and development as a young player. He is averaging career highs in basically everything but blocks.
Increasing his scoring by more than five points per game while also increasing his shooting percentage means that he is getting more shots because he is more efficient. Ibaka is not scoring more just because he is shooting more.
The fact that Ibaka has played so much better in all these areas is impressive, but the fact that he is doing it while having to share the ball with so many other stars pushes him over the top in this race. He is basically the No. 4 option offensively, and no other player on this list is that low down the totem pole.