Colts vs. Ravens: 6 Bold Predictions for Wild Card Game 3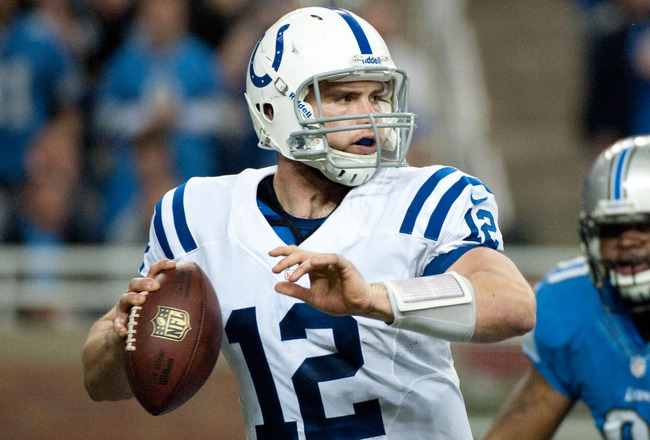 Tim Fuller-USA TODAY Sports
Rarely do rookie quarterbacks play in postseason games, but Andrew Luck (along with several other passers) is no ordinary rookie. His skill, leadership and poise have bought the Colts 11 wins and a chance to play in the Wild Card Game against the Ravens.
Meanwhile, the Ravens will be playing with plenty of urgency and emotion with the news of Ray Lewis' pending retirement after the season. Lewis is not the same player he was a few years ago, but every player on the roster will give every effort they have to give him one more chance to make a playoff run.
Here are bold predictions for this week's matchup in Baltimore.
Ray Rice Will Run for over 180 Yards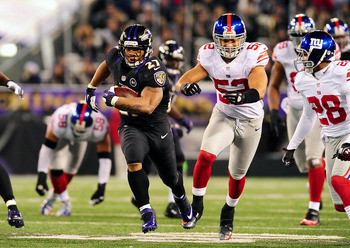 Evan Habeeb-USA TODAY Sports
The Colts surprised plenty of people by making the playoffs, but the weak run defense they have had this year (29th overall) was very predictable.
In a new 3-4 defensive scheme, they have had to endure plenty of growing pains with new, young personnel. According to ProFootballFocus, the 80th-ranked Antonio Johnson is the team's best defensive tackle, and the team is dead-last as a team in run defense.
Meanwhile, the Ravens are ranked 11th in the NFL in rushing and feature a star runner in Ray Rice. Rice may not have been quite as dominant as he has been in the past, but he is still averaging 4.4 yards per carry.
Plus, the Ravens will want to hide their average offensive line from the likes of Robert Mathis and Dwight Freeney. Rice having a big day will slow down their pass-rush and open up the passing game.
Andrew Luck Will Throw 3 Interceptions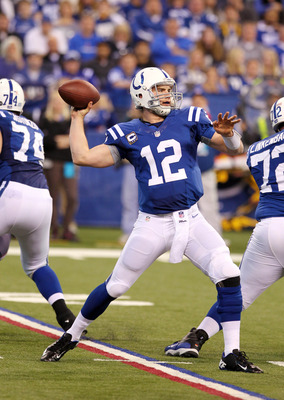 Brian Spurlock-USA TODAY Sports
Andrew Luck has had a terrific rookie season taking the Colts to the postseason, thanks to his willingness to take shots down the field.
However, while he has may plenty of great plays, he also has turned the ball over plenty of times with 18 interceptions on the year.
Meanwhile, the Ravens defense has managed to maintain efficiency despite their mounting injuries in the secondary. With the possibility of this being Ray Lewis and Ed Reed's final game, you can bet that the rest of the defense is going to play with a little extra motivation and drive to help deliver their two veteran leaders a ring.
Look for Haloti Ngata to dominate a weak Colts offensive line and apply plenty of pressure to Luck. In turn, Luck will have to hurry throws, and Ed Reed will be around plenty of them.
Robert Mathis and Dwight Freeney Will Combine for 5 Sacks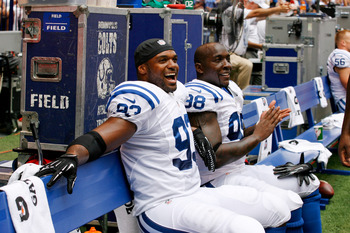 Brian Spurlock-USA TODAY Sports
The heart and soul of the Colts defense, Mathis and Freeney are going to have to turn in great performances if they are going to stop the Ravens offense. When given time, Flacco can make terrific throws for big plays to Torrey Smith.
However, the Ravens' pass protection has been very unspectacular this year. PFF ranks them as the ninth-worst team in pass-blocking on the season.
Some of that is on poor offensive design and quarterback play, but Michael Oher has not played up to his billing as a former first-round pick on Joe Flacco's blind side. Look for the two veteran rushers to take advantage of their favorable matchup and Joe Flacco's tendency to hold onto the ball and rack up sack totals.
Anquan Boldin Will Catch Fewer Than 3 Passes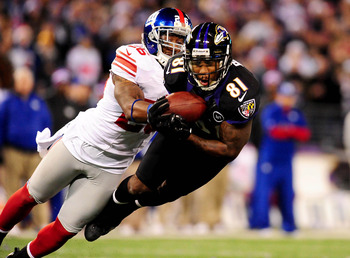 Evan Habeeb-USA TODAY Sports
At this point in his career, Anquan Boldin must rely on his terrific hands to make plays because he cannot gain any separation any more.
The Colts will likely assign the physical Vontae Davis on him for most of the afternoon, who has played solid football since being traded to the Colts in the preseason. Davis is the Colts top corner, and the Colts would be wise to leave him on Boldin and roll their coverage over to Torrey Smith.
Given the Ravens' all-or-nothing style of pass offense, expect them to look more at Smith than a locked-up Boldin in coverage.
Vick Ballard Will Run over 100 Yards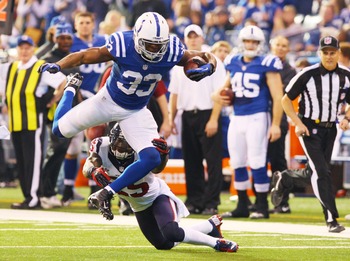 Brian Spurlock-USA TODAY Sports
The Colts are not known for their ability to run the ball, but PFF ranks them 10th in rushing offense efficiency. Vick Ballard has given their offense an element of physicality they lacked with Donald Brown as the lead back.
The Ravens will also get Ray Lewis back, but their defense has actually improved with him out of the lineup, as the Ravens have moved back to the middle of the league in run defense in PFF's rankings.
There is no way John Harbaugh is going to keep Lewis on the bench for what could be his last game, but it could hurt them on the field from a pure production standpoint.
Still, Haloti Ngata and the Ravens front is always capable of a big game but expect the Colts to run the ball a lot to ease their rookie quarterback into his first playoff game.
Colts Win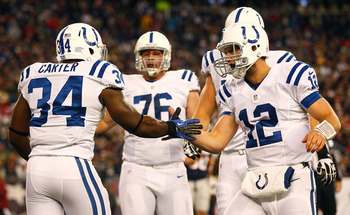 Jared Wickerham/Getty Images
The narrative for this game is that the Ravens play their hearts out for veteran leaders Ray Lewis and Ed Reed, ending the Cinderella story that has been the 2012 Indianapolis Colts.
But does the NFL ever go the way everyone thinks it will?
In the end, this game will come down to the poise of both quarterbacks, which in this rare case, the rookie has the edge. Time and time again, Andrew Luck has brought his team back from behind and has shown the ability to shake off early mistakes. Joe Flacco, on the other hand, lets his mistakes snowball into dreadful performances.
Much has been made about the Ravens' edge in veteran leadership, but there.are plenty of experienced players on the Colts' roster that would love to end the Ravens' season. Players like Dwight Freeney, Robert Mathis, Reggie Wayne and Antoine Bethea all have experience playing in the postseason, including the Super Bowl.
This game will be close, but the Colts young, energetic roster will find a way to win for coach Pagano.
Keep Reading

Indianapolis Colts: Like this team?