New Orleans Hornets vs. Houston Rockets: Postgame Grades, Analysis for Houston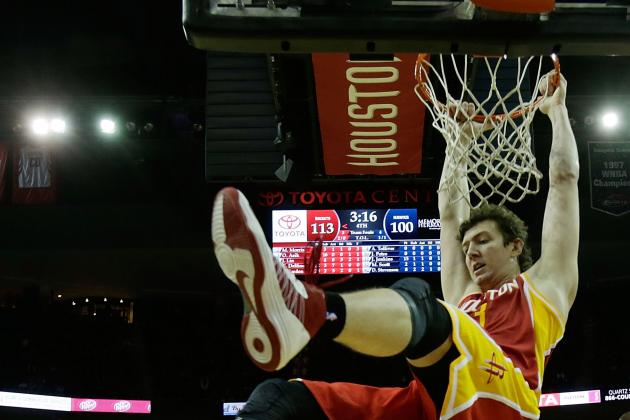 Scott Halleran/Getty Images
Omer Asik is getting better and better still.
The Houston Rockets improved to 18-14 on the season by defeating the hapless Hornets, who have won just seven of their 32 games this season and look to be making a return to the lottery once again.
The Rockets are now 13-6 at home, and though they had their flaws Wednesday night, they managed to hold off the Hornets.
New Orleans was playing without Eric Gordon because it was the second night of a back-to-back and because Gordon is still easing his way back into the rigors of the NBA schedule.
Let's have a look at the postgame grades and analysis for the Houston Rockets from their 104-92 victory.
Begin Slideshow

»
Jeremy Lin's impact can't all be derived from his stats. Offhand, he had a very poor shooting night, just 3-of-10, but he impacted the game in a multitude of ways.

Lin ignited several fast breaks by pushing the ball in transition, and he kept the Rockets moving the ball with good penetration and kicks out to perimeter players. With just over five minutes left in the game, Lin had just seven points, but dished out seven assists and grabbed six boards. He finished with nine points (and the same number of assists and rebounds).

But yes, there was the poor shooting, which keeps Lin from receiving the highest of high grades. His defense was also poor when he wasn't playing passing lanes, as both Greivis Vasquez and Brian Roberts had big nights for the Hornets (combining for 26 points).

It's important to remember Lin is still less than 100 games into his pro career. Inconsistency will continue to be an issue until he's been in the league longer, and he's still going to make young players' mistakes.
Overall, though, Lin's impact went beyond what could be discerned just by looking at the stat sheet Wednesday night.
Grade: B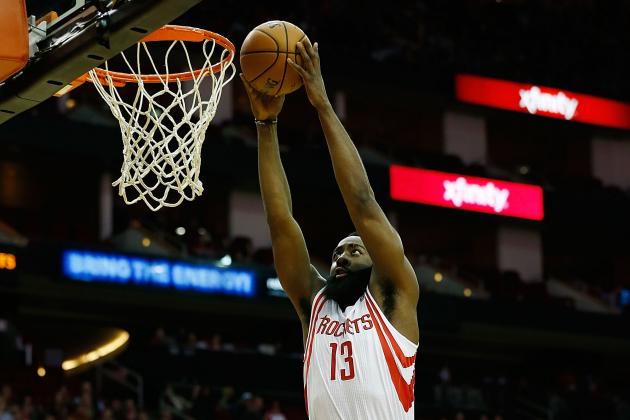 Scott Halleran/Getty Images
On an off-shooting night, Harden took it to the hole plenty.
James Harden diversified his offense very well Wednesday night. He hit jumpers, took it to the basket, initiated contact and got his teammates involved. Harden played a consummate all-around offensive game and kept the Rockets ahead all night.
Harden had 13 points in the third quarter, as the Rockets extended their five-point halftime lead to eight to enter the fourth quarter. Harden struggled from three-point range, but the entire Rockets team did, and when Harden wasn't missing threes, he was actively getting to the basket and scoring both outright and getting three-point plays.
This was Harden's 10th consecutive game with 25-plus points, and he ranks fourth in the NBA in points per game. He's great and continually getting better.
Harden's emergence should enable the Rockets to acquire some top-tier free agents this offseason, as his star power and Houston's young core make the Rockets an attractive landing place for top free agents.

Grade: A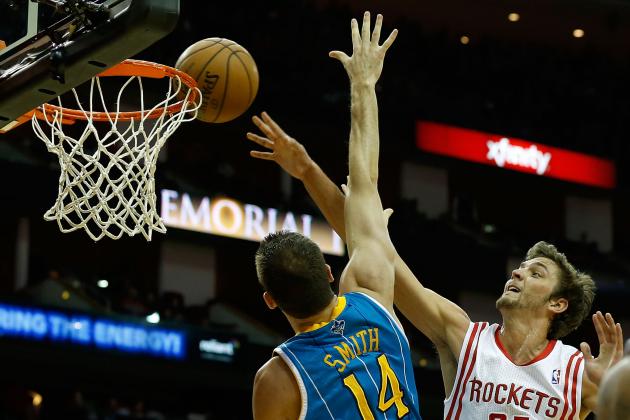 Scott Halleran/Getty Images
Parsons doesn't look like himself lately.
Chandler Parsons was invisible for most of Wednesday night and just didn't look to be himself. One play in the fourth quarter was emblematic of Parsons' lack of confidence: With a clear lane to the basket and just one defender, rather than take it up to the rack, Parsons dumped the ball behind himself to Jeremy Lin, who couldn't receive the awkward pass. It ended the fast break and the Rockets had to take the ball back out and run a half-court possession.
Parsons wasn't horrible. He had a very solid 5-of-9 from the floor and had 10 points and 10 rebounds, but he didn't look himself, and the last couple Rockets games he has not been as brilliant as he was a few weeks ago.
It seems to be a lack of confidence, and it's really nit-picking when a guy has a double-double and shoots over 50 percent from the floor, but Parsons is capable of better play than this.
Grade: C+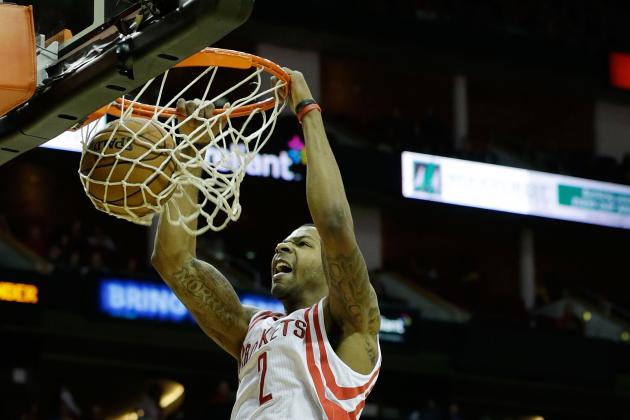 Scott Halleran/Getty Images
Morris was nowhere near as involved as he was the last two Rockets games.
Marcus Morris didn't make a huge impact this time around. He opened the second half with a three-point shot, which was only the Rockets' second three of the night, but he played subpar defense on Ryan Anderson (as did Patrick Patterson) and really never got all that involved on the boards either.
Morris had just four rebounds in 21 minutes of play and hit just 2-of-7 from the floor.
It was a fall to earth after scoring 15 points last game against the Hawks (Dec. 31) and a season-high 24 points against the Thunder on Dec. 29. Fortunately for the Rockets, Morris' backup, Patrick Patterson, played some great ball off the bench.
Grade: D-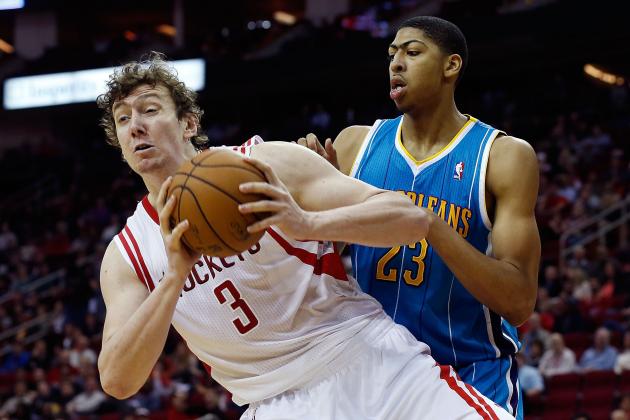 Scott Halleran/Getty Images
Asik may be an All-Star in a season or two.
Omer Asik was very active in the first quarter, trading baskets with Robin Lopez. Asik had eight points and two rebounds in the first quarter in eight minutes of play.
Asik scored four more points and grabbed two more rebounds in the second quarter, and his energy was crucial inside. He covered a lot of weak-side rotations and really got going in the second half.
Asik finished 8-of-14 from the floor, and he even drew some double teams from the Hornets. In the second quarter, Monty Williams called for timeout after Asik scored on a double team for his 10th point.
Asik is getting better offensively by the game and is a far better player than many analysts thought when they criticized the Rockets' signing of the former Joakim Noah backup this summer.
Grade: A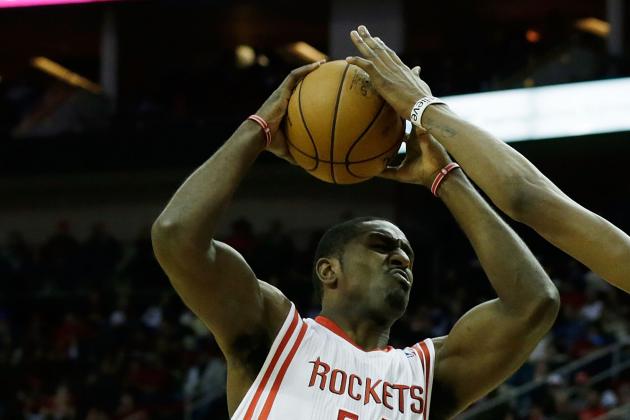 Scott Halleran/Getty Images
Patterson was HUGE in the fourth.
Patrick Patterson's play off the bench was crucial Wednesday night, as starter Marcus Morris was transparent all game. Patterson hit 7-of-8 from the floor, hitting both inside and outside, and ignited the Rockets when the offense got stale at several points in the fourth quarter.
In fact, Patterson did most of his damage in the fourth, scoring 13 of his 15 points in the final period as the Rockets outscored the Hornets 30-26 in the final period of the game.
Patterson finished the game with 10 rebounds, but five of those came in the fourth quarter. If the grade were based on the first three quarters, it would be a D, but Patterson came alive in the fourth, and saved the game for the Rockets.
Grade: A -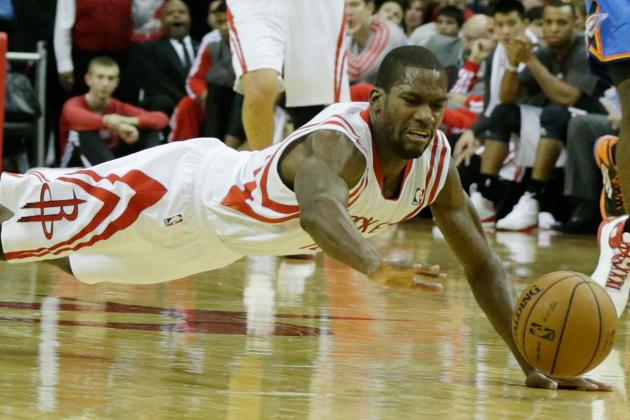 Scott Halleran/Getty Images
Toney Douglas had a nice second quarter.
Outside of sixth man Patrick Patterson, the Rockets received very little off the bench. Toney Douglas made an impact in the second quarter, scoring eight points in seven minutes, but then disappeared in his second stint in the game, failing to score and attempting only one shot in that span.

Carlos Delfino was ice cold (1-of-6 from the floor, 0-of-4 from three-point range) and Greg Smith had a couple nice offensive rebounds which led to second-chance points, but the Rockets bench was handily outplayed by the Hornets bench.

The Hornets bench accounted for 51 of their 92 points and kept the Hornets in the game, while the Rockets relied mostly upon their starting five.

Grade: C-