BCS National Championship 2013: Most Important Player Matchups To Watch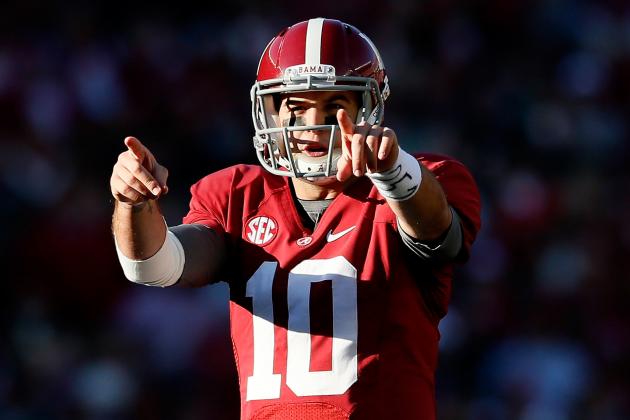 Kevin C. Cox/Getty Images

We talk all the time about those "keys to the game"—what each team must accomplish if they hope to come away from a particular meeting with a victory.
This brief list runs down the five key player matchups that will decide the BCS National Championship.
Notre Dame and Alabama meet in Miami with one team looking to establish a dynasty and the other seeking a return to glory.
These two titans of college football clash in what is sure to be a hard-hitting game filled with plenty of defense and head coaches with really great hair.
The player matchups listed here will go a long way toward determining the winner of this epic meeting and which team gets to hoist the crystal ball at the end of the night.
Begin Slideshow

»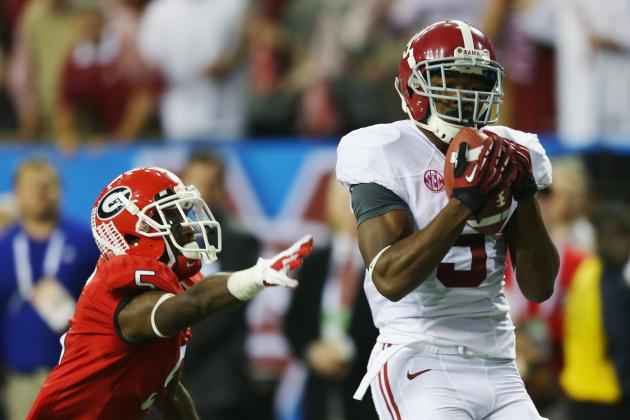 Mike Ehrmann/Getty Images

Amari Cooper was a revelation for the Tide at wide receiver this season, providing some much-needed explosiveness to a unit that was sure to miss Marquis Maze.
He played the position like a savvy vet instead of the freshman that he is, putting up an average of nearly 17 yards per catch and emerging as the clear favorite downfield target for A.J. McCarron.
He has an opportunity to add more to his legend in this game.
The Notre Dame secondary is an interesting unit, having to deal with season-ending injuries to both projected starters Jamoris Slaughter (S) and Lo Wood (CB).
And now the field is a secondary loaded with ex-wide receivers.
Notre Dame sophomore Matthias Farley was a scout-team wide receiver last season.
KeiVarae Russell, a true freshman, played running back in high school and was recruited to play...wide receiver
Bennett Jackson was a wide receiver when he joined Notre Dame in 2010.
All three of them will be starting in the secondary for the Fighting Irish in the BCS title game.
The secondary has not been the liability that many thought it might be; instead, it has lived up to the stellar play provided by the front seven.
That said, Cooper is a tough matchup with his size and speed, and this battle deep down the field when 'Bama is on offense will be key.
Harry How/Getty Images

Unlike Alabama counterpart A.J. McCarron, Notre Dame quarterback Everett Golson is mobile. And he has gotten progressively more effective with that mobility as the season has worn on.
Golson has cut down on his turnovers, made better decisions and used his mobility more effectively in the latter part of the regular season.
He presents a challenge not unique to C.J. Mosley and his fellow linebackers, but one that can create problems.
While Golson is no Johnny Manziel, it would be foolish to ignore the fact that they are similar, and Manziel gave the Tide defense all kinds of headaches with his ability to move out of trouble and extend plays.
The Irish have not been as consistent on offense as Alabama and will need Golson to make some plays if they are going to be competitive in this matchup.
How the Alabama linebackers fare in containing Golson and limiting his damage on broken plays will be particularly key to the result of this game.
If they can contain him, the Tide should find themselves pulling away in the third quarter. If not, they will be in trouble because Notre Dame does not lose close games.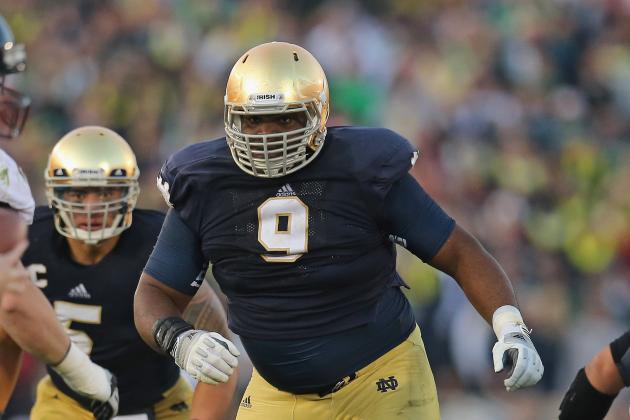 Jonathan Daniel/Getty Images

Alabama's offensive success is predicated on the effectiveness of its running game.
The Tide average nearly 225 yards on the ground per game, and the running game helps loosen up the secondary for A.J. McCarron and the passing game.
That's why this matchup is so key.
Alabama center Barrett Jones has stated he is healthy enough to play in the BCS title game, and he will have his work cut out for him with Louis Nix.
Jones, last season's Outland Trophy winner and 2012 Outland Trophy finalist, anchors the Alabama line and is one of the best offensive linemen in the nation.
His ability to move Nix will be key to the punishing 'Bama rushing attack, but it won't be easy.
Nix finished the season with 5.5 tackles for loss and two sacks, and he anchors a rush defense that allows only 92.4 yards per game.
Nix is not easy to move in the middle, and his ability to clog things up could make it very difficult for 'Bama to get anything going up the middle of the stout Irish defense.
If, however, Jones is able to move Nix and create some gaps in the center of the defense, this game is not even going to be close.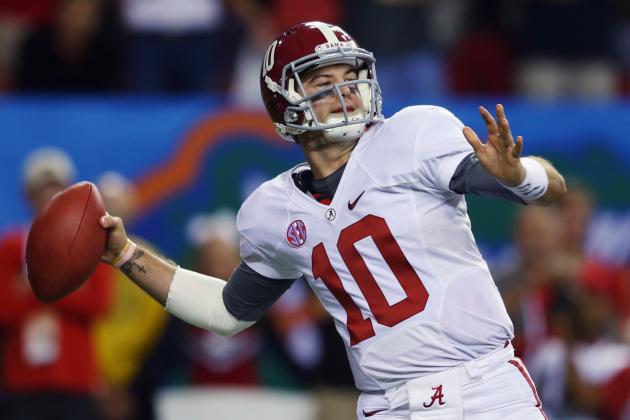 Mike Ehrmann/Getty Images

Stephon Tuitt is Notre Dame's key threat to disrupting the passing game of the Tide.
While it seems to make more sense to pair up Tuitt and one of Alabama's offensive linemen, A.J. McCarron's play against Tuitt will be key.
Usually, McCarron is great at feeling pressure and stepping up into the pocket, and he has faced some of the most talented defensive ends in the nation.
With McCarron's incredible offensive line protecting him, he hasn't had to spend much time worrying about getting sacked.
But guess what?
Tuitt has more sacks (12) than any other defensive linemen the Tide have faced this season, with the exception of Texas A&M's Damontre Moore. He presents a unique challenge to McCarron: to make sure that he gets the ball of quickly but makes a good read.
If the Irish get McCarron all bent out of shape and hurried, it's going to be a long night for the Tide.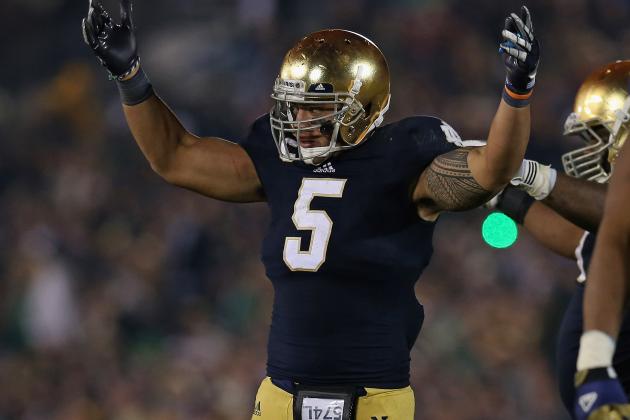 Jonathan Daniel/Getty Images

We have heard about Manti Te'o and his exploits nearly ad nauseum, but the kid deserves all the hype.
He seems to have a good head on his shoulders and came up with a big play in every big game for the Irish this season. Most notably, there was the goal-line stand against Stanford and the interception against Oklahoma.
He finished the season with 101 tackles and seven interceptions and as a Heisman Trophy finalist.
Now Te'o faces the best tandem of running backs the Irish have had to try and slow all year in Eddie Lacy and T.J. Yeldon.
The duo has been huge for the Tide, racking up 27 rushing touchdowns between them and amassing 2,182 yards. Lacy punishes opponents; Yeldon provides an effective secondary punch.
Te'o and his teammates will have their hands full trying to slow the dynamic duo, and if they don't, this game will be over after Alabama's first possession.