NFL Wild Card Weekend 2013: Who Moves on to the Divisional Round and Why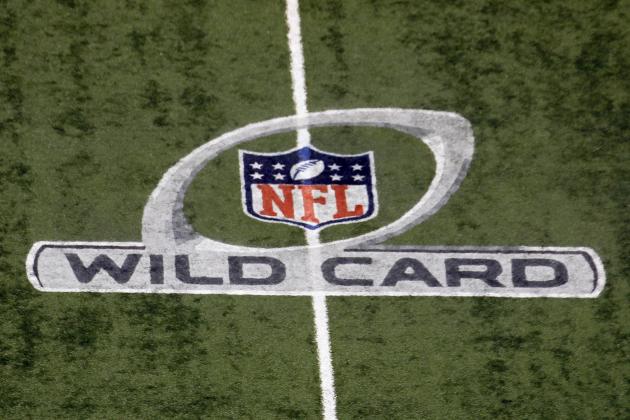 Derick E. Hingle-USA TODAY Sports
Who will make it past this round and onto the Divisional Round next weekend?
It is finally everyone's favorite time of the year: the playoffs! The whole season has been built up for this: 12 teams, 11 games and just one final winner at the end of it all. This weekend is the first step of the process and it brings with it tons of excitement, opportunity and possibility. Just think about it—any of the teams playing this Wild Card weekend could possibly be holding the Lombardi trophy in about a month.
Each team comes in with strengths and flaws, which will all be on full display for the entire country to see this weekend; depending on how well each of those is either displayed and/or exploited in their games will decide who moves on.
The Texans were once 11-1 and thought of as possibly the best team in the league and were sure to have the 1-seed in the AFC, but they tailed off this month and ended up at 12-4 and the 3-seed instead. They still have a great defense and their offense has Andre Johnson, Arian Foster and a great cadre of blockers to make running lanes and protect during passes, so it would be a mistake to count them out just yet.
The Ravens backed in by losing 4 of 5 games and have been crushed by injuries, but they have never been one-and-done under John Harbaugh and should have an emotional boost from the return of Ray Lewis on defense.
The Colts won 11-5 and have been the love of the league all year because of their success despite their coach being diagnosed with cancer. Also, of course, because of the amazing abilities of Andrew Luck, who led them on 7 game-winning drives. The question is, then, how far can he drag a team still lacking in overall talent?
The Bengals finally have pushed themselves into consecutive playoff appearances for the first time in about 30 years mostly due to great play from their outstanding defense, but their offense has been lacking and could be what ultimately causes their demise.
In the NFC, the Packers come in as a pretty hot team after winning nine of 11 games and have one of the (if not the) best QBs in the league in Aaron Rodgers leading them. They have the potential to be the most dangerous team in the NFC, but that is only if the O-line holds up (Rodgers was sacked a league-high 51 times) and the defense can find a way to outgrow their youth and make the key plays needed in the playoffs to advance.
The Redskins come in with a 7 game winning streak and a pair of amazing rookies leading their offense in RG3 and Alfred Morris. Their defense has been overachieving through some brilliant scheming during this streak though, so if their opponent can attack it right they will be in major trouble.
The Seahawks have a really tough defense that will beat up any opposing offense on every level of it, but don't forget their mightily impressive rookie QB who plays well beyond his years (Russell Wilson). Behind Wilson, the Seahawks have scored the most points of any team over the past five weeks, including a 58-0 win over the Cardinals and a large blowout of the 2-seed 49ers a couples weeks ago. They have overall struggled on the road all year though, so it will be a challenge for them to do so this week.
Minnesota has easily the best RB in the game today in Peterson, and they are up against a team that in two matchups he put up over 400 yards rushing on. They only won one of those however because the passing side of the offense is not as formidable and that could end up costing them this weekend.
Now, onto the actual matchups, who will win, and why.
Begin Slideshow

»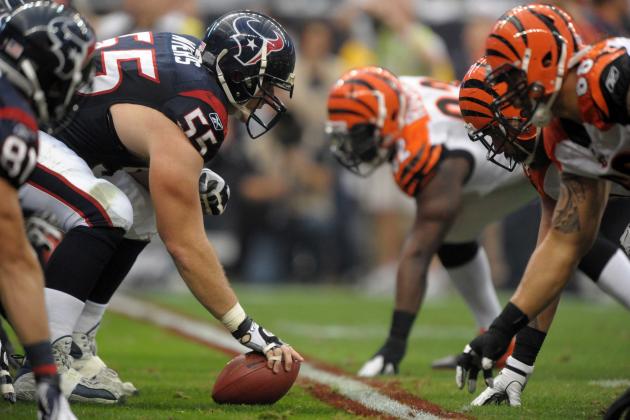 Kirby Lee-USA TODAY Sports
Can the Texans O-line keep a hot Bengals defense from shutting down their offense?
A rematch of last year's game between these same two teams, same seeding and everything. There are some major differences this time though.
While the Texans come in on a slump again, they actually have their top QB available this time around (3rd stringer T.J. Yates was their default starter at this point last year). Andre Johnson is actually fully healthy and coming off a hugely productive season this time instead of just working his way back into shape. They also are not playing as great on defense recently, but their overall knowledge of the scheme and potential ability for plays are all much farther along than last season too.
The Bengals come in much hotter this time around, winning eight of nine and beating out their AFC North foes Baltimore and Pittsburgh in consecutive weeks to make the playoffs and exorcise some inferiority demons that plagued them in the past. Their offense has one of the NFL's top receivers in A.J. Green and their defense has improved to one of the best units in the league too.
I see both defenses having great days since their lines are capable of dominating with players like J.J. Watt (Houston) and Geno Atkins (Cincinnati), so it will depend which offense can make a few great plays. Each side has players fully able to do so. Houston has Foster and Johnson, while Green and Jermaine Gresham are in Cincy. I think the QBs are mostly a wash as Matt Schaub is slightly better than Andy Dalton, but Cincy's defense is somewhat better than Houston's.
For me, the success in this game will end up being traced significantly to two players and whichever has the bigger impact will be the catalyst of victory for their side. For Houston I'm focused on Owen Daniels, while for Cincy I'm thinking about BenJarvus Green-Ellis. If Daniels has a big game it means Schaub is spreading the ball around to more than just Andre Johnson (who he has focused heavily on recently). If their offense is running fluidly, I think their defense will hold down the Cincy offense enough that they make it out. The Cincy option of Green-Ellis would mean the Bengals are successfully running the ball and that will open things up for the rest of their offense. Also since he has been injured, if he doesn't play I don't see them doing anything significant on the ground at all, so it is really up to him as to whether they have a chance at a balanced attack.
Which way do I side? Ultimately, I think Daniels makes that necessary impact for Houston and they bust out of their slump to move onto next week for a rematch against the team who started it, New England.
Houston Texans 27
Cincinnati Bengals 17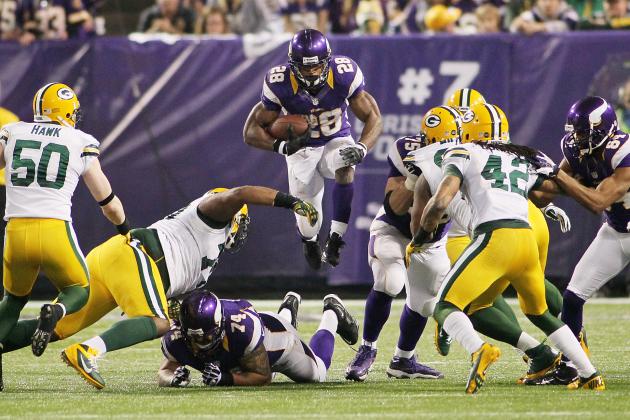 Andy King/Getty Images
After putting up over 400 yards in two regular season meetings, how many can Peterson put up in round 3?
Packers vs Vikings: Round 3. If last week's game was any indication, this game will be yet another amazing display from many angles. Peterson will have another huge day running, while Aaron Rodgers does the same in passing form. We could talk all day about those two, but what will matter most here is the way two other aspects turn out for both sides.
Let's start with the road team. The real reason the Vikings won last weekend was not Peterson, though it certainly helps. It instead was the passing offense. Here's the deal: Peterson almost always has field days no matter who he plays, so what really ends up deciding the majority of games is how well Christian Ponder and the receiving corps hold up their end.
That illustrated itself well in the two games against the Packers this year. In game 1, Ponder made crucial mistakes and barely got over 100 yards passing, which tanked a great game by Peterson and brought the Vikings a loss. Last weekend, he acclimated himself much better and as a result (along with another great Peterson game), they won. So which Ponder shows up?
On to the home team. The Packers offense has not been as great as last year's unit, but Rodgers has been able to still make tons of plays despite getting sacked a league-high 51 times and still having no consistency in the running game. There is a correlation in the win/loss difference with the usage of the run game in these matchups for the Packers too. In the first matchup, they ran the ball 36 of 73 plays on offense, which was about half. By doing so, they kept control of the ball and it helped use up the clock and preserve a lead on the way to a win.
This past game however, they only ran 16 of 66 plays, which was about a quarter of the time. If they had run more, they could've controlled the game better and therefore had a better chance at winning. So can they find a way to produce more closely to that first game or will it more closely relate to the second one?
The main thing both sides need to have prepared though is their defenses. By being ready on that side, they can each slow down the strength of the other team and have a much higher chance of taking this game and moving on. For the Vikings that means defending the pass better. When they have Antione Winfield on the field like they did in the first half last week, they were able to do so. As soon as he was hurt though, their secondary was vulnerable and got destroyed by Rodgers. If he is back all game it will make it easier, but everyone will have to stay at the top of their game for 60 minutes to keep that second half from repeating.
For the Packers, somehow slowing Peterson will make the Vikings pass (which can be exploited since Ponder can be erratic). If they have to pass more, they are taking the ball out of their most dangerous player's hands and that can only be good news for Green Bay. So which one accomplishes their goal better?
The answer to all those questions will give the answer to who wins. I'll cut to the chase: I think Ponder will play OK, but much closer to his Game One version than Game Two. The emergence of DuJuan Harris at RB will give the Packers the confidence to call more run plays and he won't disappoint by having a good day running.
The Vikings don't slow down the Packers passing, but Green Bay does manage to cut at least 50-75 yards off of Peterson's usual 200 against them this season. All of those combine to give us a Green Bay victory.
Green Bay 34
Minnesota 20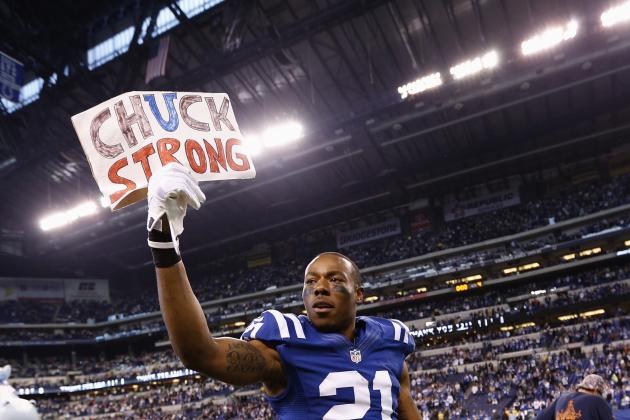 Joe Robbins/Getty Images
Will the #Chuckstrong train keep moving?
Both teams have the huge theme of emotion fueling this game. The Colts have been riding the emotion of #Chuckstrong all year while surprising everybody to make it to 11-5; the Ravens are getting back Ray Lewis from injury for what might be his final game as a Raven (he is retiring after the season ends). Obviously both teams want to bring home a win for each of their causes, but how will they do it? Let's look at the strengths at play.
The Colts may not have great overall talent, but they have an amazing QB in Andrew Luck and some brilliant coaching to lead them. Behind the great efforts of Luck and the coaching staff, this team has found a way to take a former 2-14 team and bring it to 11 wins with 7 game-winning drives. Luck has made everyone around him better and the coaches have found ways to inspire the team to play well above its expected ability.
The Ravens have not been as strong defensively as most years, but their most important players have made the plays necessary when needed on both offense and defense. That is a fine line to play with, but despite their injuries to many key people they ended up on the right side of that line more times than not and took home another AFC North crown because of it (and the home game that comes with it, which is great since they play much better overall there than the road).
Now for some cons to each side. It is tough for any road team to win in the playoffs, especially when there are some other factors in play as well. The Colts are one of those out-of-nowhere teams that nobody expected to be even close to the playoffs. Andrew Luck, while someone who put up a hugely successful rookie year, is still a rookie and made plenty of mistakes over the year.
The defense is not close to being a good, much less great, unit. The coaching staff, while impressive, is in their first year on the job and that can be beaten by one with more cohesion. The Ravens however are currently running offense under a new play-caller and have been reeling as a team lately.
When it comes down to it, I see a game that comes down to the wire because all the flaws from each side don't allow either team to pull away. That means a final drive will decide everything here. While the Ravens have never been one-and-done under John Harbaugh, if it comes down to one drive on either side, the way the Colts have been able to make those game-winning plays all season makes it so enticing to pick them. Despite that, my gut just says that the Ravens pull this one out somehow. We'll see whether it is right.
Baltimore 24
Indianapolis 20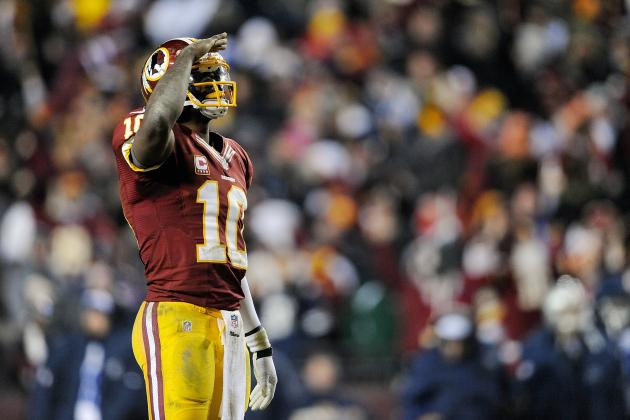 Patrick McDermott/Getty Images
Can RGIII see another win on the horizon? Or is that the offseason?
The last of the weekend's games could be the most exciting. The Redskins have gone from NFC East bottom-dweller to champion behind RGIII in one year, while the Seahawks have followed the calm ability of Russell Wilson back into the playoffs after multiple years at 7-9. Each has a great rookie QB, a strong run game, big play receivers and defenses that have made the plays needed to win games.
The Redskins have done so much better than in many recent years because of many factors, but it starts with the QB. Of all qualified QBs, RGIII has the lowest interception percentage in the league. He has given the team passing skills not seen in Washington ever before, while also adding in some brilliant running ability that kills defenses. Past him their rookie runner Alfred Morris ended up being the second best runner in the league behind Adrian Peterson this year, which makes it even harder to choose what opposing teams must try to stop. Try lining up normally to prevent a huge passing day and Morris tears up the defense up front. Stack the box on him and then RGIII has play-action and his receivers like Pierre Garcon ready to exploit the secondary in single coverage.
Even on defense, where injuries killed them early on, the Skins have done so well at scheming that they have been able to hold down the score for when the offense hasn't functioned at its best. Add in their kicker (who missed a field goal for the first time in his career last week) and they are going to be tough to defeat.
The Seahawks are no slouches either. Their QB has had the highest QBR (the 0-100 rating system for QBs; more comprehensive and accurate on performance than passer rating) of any QB for the 2nd half of the year. He also has shown a huge knack for making the right play and taking care of the ball tremendously well. They have their own great RB who pummels defenses as well (Marshawn Lynch) and keeps the offense open and able to make plays.
Their defense has played well all year too, with players like Chris Clemons and Richard Sherman making plays all year long and causing hell for offenses. Of the teams playing this weekend, plenty of people would consider this team to be the most dangerous and scary for opposing teams to go up against.
I think when it comes down to it, these teams are very close and putting Seattle on the road could tilt things towards the Redskins. I think that the road factor no longer matters as heavily against the Seahawks now though since they proved against Chicago how they can take down a tough team in their own stadium. I see the Seahawks taking this one at the end by breaking through the scheming of the Redskins in the fourth quarter and finishing them off to move into a meeting with the Falcons in Atlanta next weekend.
Seattle 27
Washington 20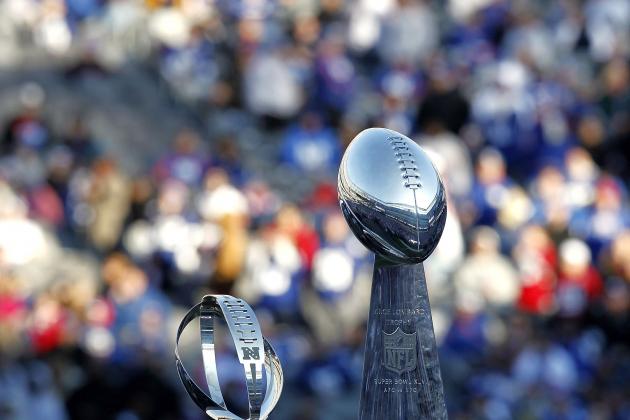 Jeff Zelevansky/Getty Images

2012
0-0
2011
8-3; Picked Giants over Patriots in SB
2010
8-3; Picked Packers over Steelers in SB
2009
9-2; Picked Saints over Colts in SB
2008
9-2
2007
7-4; Picked Giants over Patriots in SB
SB Picks 4-1
Overall: 41-14