Michigan State Basketball: 5 Bold Predictions for the B1G Season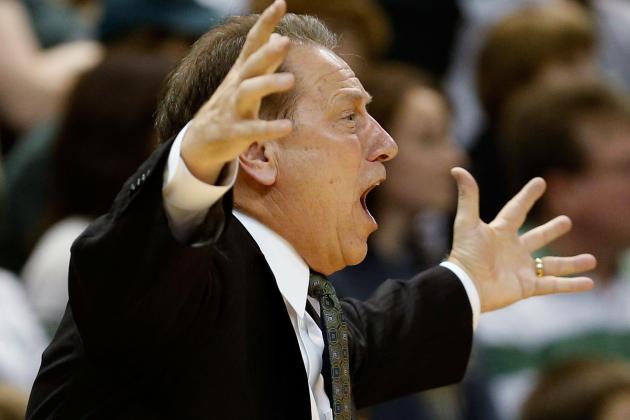 Gregory Shamus/Getty Images
Spartans coach Tom Izzo, a 400-game winner, has another talented group that could lead Michigan State to another Final Four.
High expectations drive Tom Izzo and the Michigan State Spartans.
And this season, those lofty hopes are once again present in East Lansing.
Izzo has the athletic talent and uncanny coaching savvy to make Michigan State a league and national championship contender for at least the next two seasons.
But don't look that far ahead—the Spartans can do it this year if they find the consistency they currently lack.
With freshmen like Gary Harris and Lansing native Denzel Valentine, the Spartans are stacked with potential at the guard position. Sophomore Travis Trice is finding his stride, and sophomore swingman Branden Dawson is one of the conference's elite athletes.
Keith Appling, a junior, is the engine that propels the Spartans. He could be Izzo's third Big Ten Player of the Year since 2009 if he continues his rampant pace of 14.9 points per game, about a 20 percent increase from last year's average of 11.6 points per game.
Big men Adreian Payne and Derrick Nix give Izzo's Spartans a frontcourt that's both agile (Payne) and physical (Nix and Payne).
Izzo certainly has the means necessary to snag a league crown. He might just find himself knee-deep in March Madness, forging down a path to Atlanta, the site of the 2013 Final Four.
So, what's in the cards for Michigan State? The Big Ten season is underway, and the Spartans have high standards in place.
Will they rule the league, or will they fall behind the likes of Ohio State, Indiana and Michigan?
Glad you asked.
Begin Slideshow

»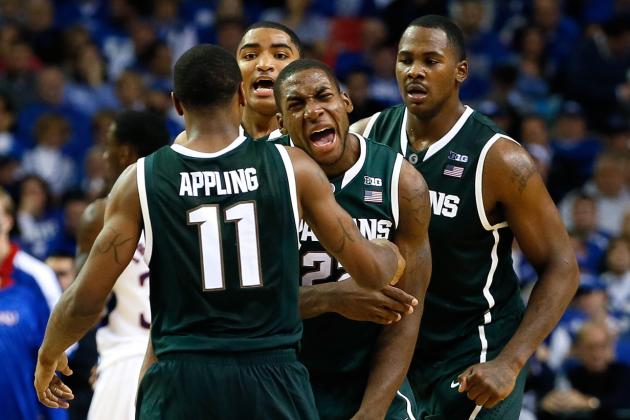 Kevin C. Cox/Getty Images
Keith Appling, Branden Dawson, Gary Harris and Derrick Nix give Michigan State plenty of firepower and versatility.
It's almost ludicrous to even suggest that the Spartans won't win the Big Ten this year.
After all, they've won it outright, or at least a share of it, three times since 2009 and have a trio of players in Keith Appling, Branden Dawson and Adreian Payne that is among the league's best at their respective positions.
Per usual, it looks like the Big Ten champ won't escape interleague competition with less than four losses. A 14-4 or 13-5 record seems to be the benchmark.
Plus, the Spartans opened their Big Ten season with a loss at ninth-ranked Minnesota, putting them behind before getting to the heart of their schedule.
Five or six losses seem likely, and all but one will probably come on the road, given the Spartans' success at the Breslin Center.
Michigan State has an absolute gauntlet on the horizon, facing No. 8 Ohio State in East Lansing, and then moving on to back-to-back road duels with Wisconsin and No. 5 Indiana before hosting No. 11 Illinois on Jan. 31.
Eighth-ranked Ohio State could down the Spartans. A split would be the best-case scenario for Michigan State, which tangles Feb. 24 with the Buckeyes in Columbus.
A loss to the Hoosiers in Bloomington is quite possible.
Too much too soon could spell doom for the Spartans' regular-season title aspirations. But there's always the Big Ten Tournament...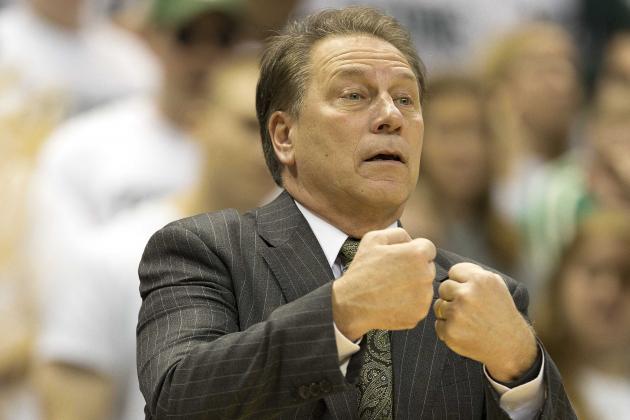 Mike Carter-USA TODAY Sports
Tom Izzo's Spartans have traditionally struggled in postseason B1G play.
Michigan State wins the Big Ten Tournament?
Is that a joke?
No.
For some reason, this year's Spartans team has the late-bloomer feel. Take a few minutes to really slow down the way you watch them play, and you'll likely come away feeling that they have some type of late explosion in them waiting to happen.
That's why it's not totally illogical to project them winning postseason B1G festivities and completing their first back-to-back conference tournament title run.
Derrick Nix is a senior. He knows what's at stake. If his will is half of what Draymond Green's was last year, Tom Izzo will have yet another passionate player to lean on heading into March.
A Big Ten tournament win would vault the Spartans' confidence before the NCAA Tournament.
Imagine the increase in Nix's level of intensity if that happens. Picture Keith Appling playing best ball in what could be his final year with Izzo. The same could be said for Branden Dawson and Adreian Payne.
Each of the three underclassmen have NBA potential. Why wouldn't they want to go out on a high note?
For Nix and Appling, former Detroit Pershing stars, this year could be the last that they ever play together on the same team. They share a strong high school bond. They'll be on a mission.
As mentioned in the previous slide, a Big Ten regular-season championship may not happen. But they could get hot in late February.
And that's what Izzo wants to see before setting his sites on his favorite month of the year.
Tom Izzo describes his relationship with Derrick Nix as a love/hate affair, according to Diamong Leung of MLive.
That's kind—maybe even a little generous for him to say.
Izzo has had his fill with the tantrum-prone center in years past.
Nix has since apologized for his behavior, vowing to be a better person, student and player after April's unfortunate marijuana-related incident.
Love/hate?
More like infuriating and annoyingly frustrating.
Nix's career has been interesting, to say the least. He didn't want to go to Maui two years ago, threatening to leave Izzo and give up basketball at Michigan State. He's been known to throw fits.
The arrest in April for marijuana possession was over the top, especially given Nix's past.
But through it all, Izzo remains committed to the former Pershing Doughboy star. And, in hindsight, that was the best move. Nix's emotions are vital to Michigan State's success—his positive, uplifting and team-motivating emotions, not his past self-centered tiffs.
Knowing what's on the line will surely encourage Nix's best behavior. He owes his coach that much.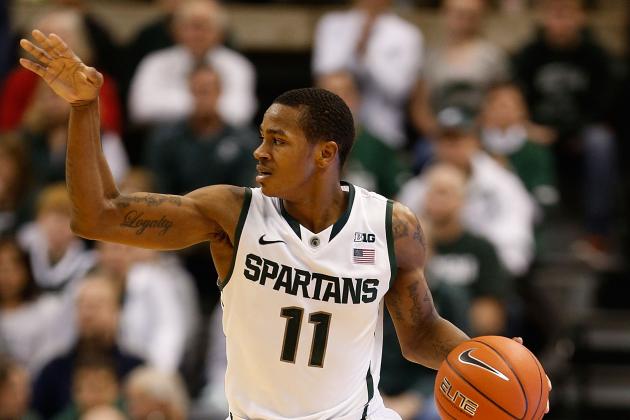 Gregory Shamus/Getty Images
Keith Appling has healthy competition in the race for title of Big Ten's best guard.
The Big Ten is loaded with great guards.
Michigan has Tim Hardaway Jr. and Trey Burke making up one of the elite guard pairs in the land.
Illinois' Brandon Paul is on fire through the early-goings, averaging an impressive 18.7 points per game.
Indiana has Victor Oladipo.
Get the point?
Keith Appling and Gary Harris also make up one of the best tandems in the league. However, individual displays of scoring prowess from Paul and Oladipo, coupled with high-energy highlights from Hardaway Jr. and Burke, could leave the Spartans guards in the back of the minds of Big Ten fans.
Harris and Appling are bound for productive seasons, but it'll be difficult to outshine guys like Burke and Oladipo.
It's the "Year of the Guard" in the B1G.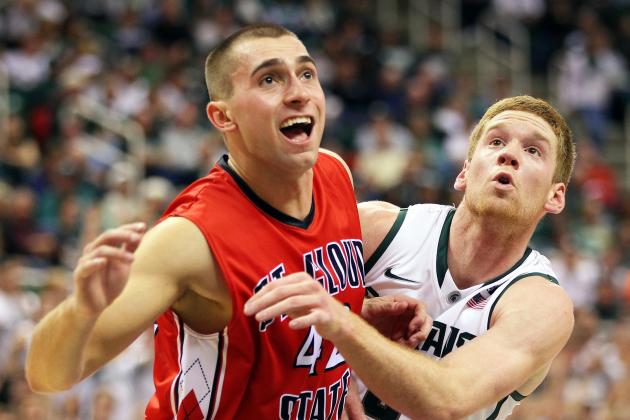 Mike Carter-USA TODAY Sports
Russell Byrd (right) hasn't just battled opposing players, he's fought with nagging injuries, too.
An assassin-like accuracy mixed with size and length—that was Russell Byrd while starring at Blackhawk Christian High.
Off-the-mark, inconsistent and flat-out disappointing is Byrd at Michigan State.
It's been painfully evident that injuries have derailed Byrd's progress with the Spartans. To no fault of his own, pesky knees and feet have kept him on the bench.
He's seen an increase in minutes this season, but there hasn't been production to match.
Unless Byrd makes drastic changes, his slow-starting tenure at Michigan State could come to a complete stall this winter. And when judging by what Byrd's shown this year, a significant improvement on the court doesn't seem likely.
Follow Bleacher Report's Adam Biggers on Twitter @AdamBiggers81