Chelsea Transfer News: Picking a Starting XI to Include Demba Ba and Torres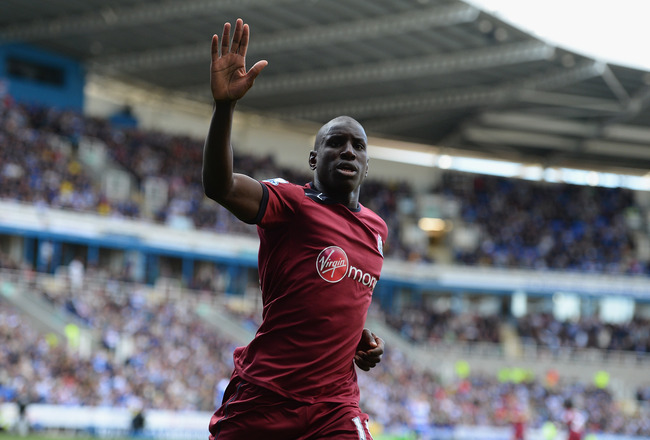 Mike Hewitt/Getty Images
Chelsea appear all but set to sign Newcastle United striker Demba Ba in the January transfer window, according to reports from various media outlets.
Both The Guardian and The Telegraph report that the Senegalese striker is set for a switch to the West London club after Chelsea activated the buyout clause in his contract.
Newcastle manager Alan Pardew was quoted saying that Ba will go to Chelsea "with our blessing," and is likely to complete his medical at the club sometime this week—the final step remaining before either club can officially announce the transfer.
Believed to cost around £7 million, Ba will reportedly sign a five-year, £70,000-per-week deal at Stamford Bridge that will see him play alongside Fernando Torres in the top of the attack—a move that hopefully brings good reward for Rafa Benitez and the Blues themselves.
How will Ba fit into the starting lineup and how will he do it alongside Torres? Here's a starting lineup that could be used to accommodate for both strikers.
GK: Petr Cech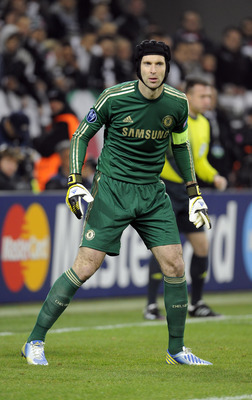 Claudio Villa/Getty Images
Petr Cech established himself once more as a world-class goalkeeper in 2012 and will no doubt continue that trend at the back for Chelsea in 2013.
The veteran is a model shot-stopper and continues to impress week in and week out for the Blues and has a position in goal at Chelsea for seemingly as long as he desires.
He will miss the next three weeks due to a groin injury (per The Daily Mail)—a time that will no doubt be tough for the West London club, but also an opportunity to see just how important the 30-year-old is to them.
LB: Ashley Cole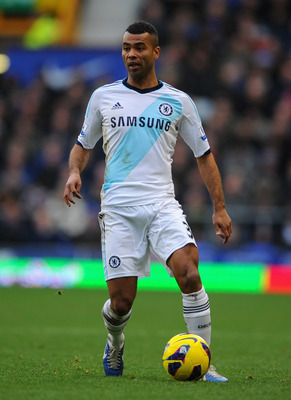 Michael Regan/Getty Images
Ashley Cole is another obvious solution at left-back here, with the England international continuing to establish himself as arguably the best left-back currently playing in the Premier League.
The 32-year-old defender is currently in the top three in the club for pass completion percentage, tackles and interceptions this season and, despite being off-contract at the end of the year, continues to be an integral part of the Blues' defense this season.
LCB: David Luiz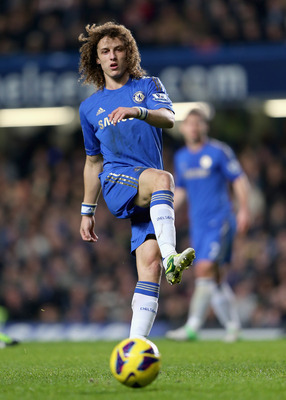 Ian Walton/Getty Images
David Luiz has really stepped up for Chelsea this season—particularly in the absence of John Terry due to injury—and has shown he can be a genuine force for the Blues in both attack and defense.
Often pushed into a central defensive midfield role, Luiz is primarily a defender, but one with some great attacking intent inherent in him, and he has shown that at times this year—Luiz led the team in shots taken in their recent loss to Queens Park Rangers.
The Brazilian currently leads the team in interceptions and long balls this year and is ranked second in total passes per game—proving how integral he has become to the Blues' style of play. I've put him back in central defense here, which is his primary position, but still expect him to get forward and provide that link between the defense and midfield throughout the back half of the year.
RCB: John Terry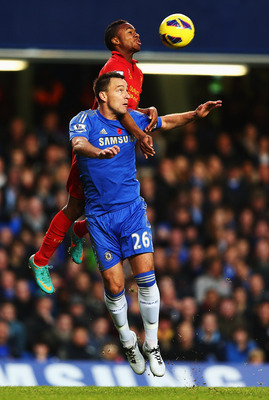 Clive Rose/Getty Images
Chelsea legend John Terry is another automatic inclusion in the back line here given his leadership, experience and skill that he has shown at Stamford Bridge for many, many years now.
His presence is clearly missed at the back, as is his passing game and ability to hold the ball at the back—leading all Chelsea players in pass completion percentage this season.
Gary Cahill is a good player who has done well whilst Terry is out due to injury—and will likely continue to do so until he returns—but there is simply no questioning who the starter will be when both players are healthy.
Terry wins that debate every single time.
RB: Branislav Ivanovic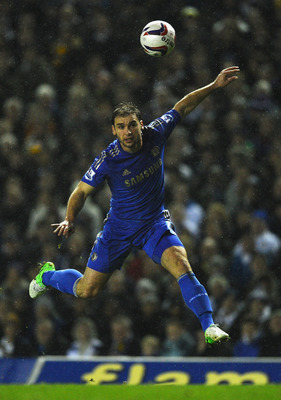 Laurence Griffiths/Getty Images
Rounding out the back is Branislav Ivanovic, who I feel beats out the likes of Cesar Azpilicueta, Ryan Bertrand and Gary Cahill for a spot out on the right flank.
The Serbian international has been excellent for the Blues this year—missing just one match all year in the Premier League—scoring four goals and an assist on top of his strong defensive contributions.
Ivanovic ranks highly in tackles and interceptions as well as effective clearances and blocked shots per game—all of which, combined, make him a more than useful asset at both ends of the pitch this season.
CDM: John Obi Mikel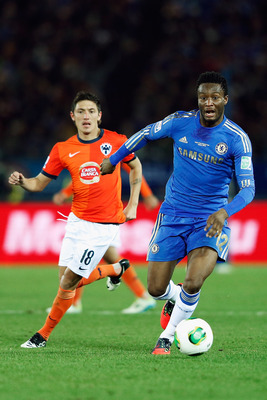 Lintao Zhang/Getty Images
Few will doubt the inclusion of John Obi Mikel into central defensive midfield here, with the Nigerian international proving once more that he can thrive in that holding role for the Blues.
Mikel currently leads the team in tackles and interceptions this year and is the funnel through which Chelsea's attack begins the vast majority of their movements.
The 25-year-old makes more passes per game than any other player at a 90 percent completion rate—a very high number by anyone's standards and second overall at the club.
There is little doubting Mikel's importance to this team and his necessary inclusion into any starting side.
LM: Eden Hazard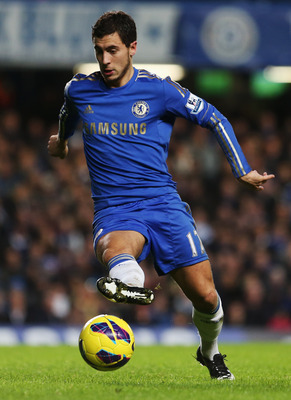 Julian Finney/Getty Images
Now we're into the effects of putting Demba Ba into the starting lineup—starting with the fact Chelsea have now just got the one holding midfielder, with the respective wingers on either side likely to assist out Mikel in midfield as well as getting forward in attack.
The first of those is Eden Hazard—Chelsea's big summer signing—who has gotten his Premier League career off to a strong start this season, netting four goals and six assists to date.
The Belgian international ranks second behind Juan Mata in assists and goal-scoring opportunities created this season, with his ability to bring others into the game a hallmark of Chelsea's success this year so far. He is an effective runner with the ball and has an excellent finishing prowess—both of which will continue to show their importance through the back half of the season.
It is hard not to include Hazard in any starting lineup, as Rafa Benitez found out the hard way against Queens Park Rangers on Wednesday.
CM: Juan Mata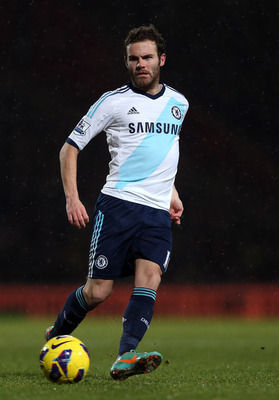 Julian Finney/Getty Images
Speaking of players that you have to include, Juan Mata of Chelsea will have the No. 10 role, or trequartista (playmaker) position in behind the striker for as long as he would like.
The Spanish international has been superb again this year for the Blues—leading in both goals and assists—and has been their best consistent attacking weapon this season.
Mata averages over 50 passes per game and creates more goal-scoring opportunities than any other Chelsea player—making him a much-needed factor in their attack this season and subsequent quest for a top-four finish in the league.
RM: Oscar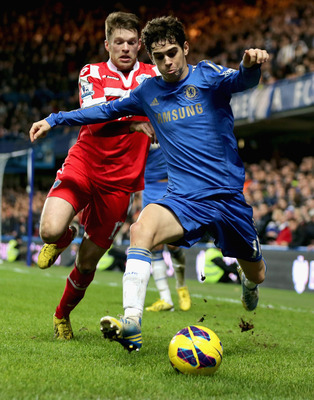 Ian Walton/Getty Images
Coming in on the right-hand side here is talented youngster Oscar, who has shown just how strong he will be over the next few years in his debut season at Chelsea.
The 21-year-old has netted just one goal and four assists in the Premier League to date, but is a prolific passer of the ball—averaging 1.3 goal-scoring attempts created per game—and is a strong attacker on the ball, with his dribbling numbers for the season also high.
What Oscar also provides is another playmaking threat that isn't Juan Mata—giving him extra freedom to operate but also attracting some the attention from Mata. That, in turn, allows the Spaniard to play more effectively and for the Blues to reap rewards from his skills better.
LF: Fernando Torres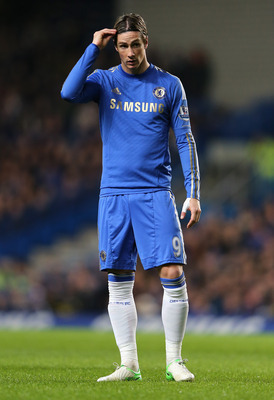 Ian Walton/Getty Images
With that back line and midfield behind him, Chelsea are therefore left with their two marquee strikers at the top of the attack—Fernando Torres and now Demba Ba.
The Spanish international has been a revelation under Rafa Benitez since the former Liverpool boss took over—leading the club in goals this season and sitting second in shots per game, which is what the club want from the man at the top of their attack.
With Ba alongside him, Torres will surely thrive more now as a playmaker and as a goal-scoring threat, with another strong attacker to feed him and work with him to terrorize defensive units. Expect big things from El Nino in the opening half of 2013.
RF: Demba Ba
Clive Brunskill/Getty Images
And obviously, that leaves Chelsea's latest signing, Demba Ba, to take his place out on the right hand side of the attack where he has spent most of the season for Newcastle.
Ba is a prolific attacker who has netted 13 goals in the Premier League this season—averaging 4.5 shots per game—that will surely be a great fit at the West London club given the depth of talent that exists in behind and around him on this team.
He will not start every game and will not be the No. 1 striker at the club, but at the same time, Benitez has not bought the 27-year-old so that he can sit on the bench every week.
Expect Ba to get plenty of playing time and plenty of opportunities, which means that we can expect big things from the Chelsea attack in the new year in the process.
Conclusion and Notes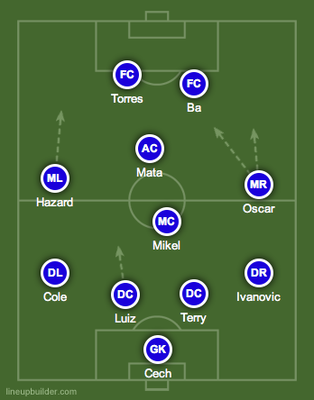 With our potential starting team, let's just have a look at a few points that arise out of this formation and tactics that could possibly be used with Demba Ba in the Chelsea starting lineup.
1. Out wide could cause some issues
Neither Eden Hazard nor Oscar would be considered "wingers" in the traditional sense of the word, but this new formation means that, at times, the pair will need to play like wingers.
Both are brilliant on the ball going forward and are simply deadly when they're at their best, and their inclusion into any starting side is a much-needed force.
The likes of Cole and Ivanovic have great responsibility to make sure that they are snuffing out any attacking raids down the wings, which, having seen how far forward the pair can get in defense, shouldn't be too much of an issue here.
2. David Luiz can still change games
Watching the last few Chelsea games, defender David Luiz has thrived when played in defensive midfield—being allowed the opportunity to push forward into the attack and offer assistance when needed.
This formation still allows him to do the same—pushing up to play alongside Mikel in defensive midfield and, essentially, leaving the Blues with a three-man back line.
3. Where's Frank Lampard?
Simple answer: there's just no room for the Chelsea legend here. Something has to give with the arrival of Ba, and here it's Lampard in central midfield.
The most likely situation in which those five main attackers could all play as well as Lampard is either with the England international making a straight swap for Mikel or playing two defensive midfielders alongside Mikel and taking out Ivanovic and playing a three-man back line.
Either way, it certainly isn't easy to get all of the Blues' best players on the field at the same time.
What do you make of this starting lineup including Demba Ba?
Comment below or hit me up on Twitter: Follow @dantalintyre
Keep Reading

Chelsea: Like this team?