Ranking Players Most Likely to Win Offensive, Defensive MVPs of BCS Title Game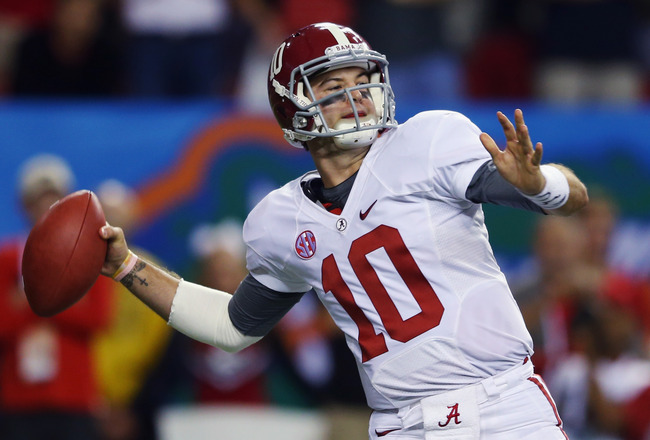 Mike Ehrmann/Getty Images
When the confetti falls and the game between Alabama and Notre Dame is finished, there will be a BCS national champion crowned. When everybody is then able to take in what just happened, there will also be a couple of players announced as MVPs.
One guy on each side of the ball will be considered the most valuable player during the 60 minutes of action, and these guys are usually on the winning side of things. There are many quality players to choose from on both clubs, but realistically only a handful of guys have a shot at winning the award.
So who are your picks to win the offensive and defensive BCS title MVPs?
Let's take a look at some of the top candidates.
Note: The top five candidates for the defensive MVP are listed first, followed by the offensive MVP candidates.
5. Louis Nix, NG, Notre Dame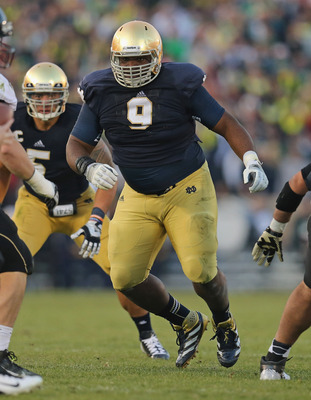 Jonathan Daniel/Getty Images
Louis Nix doesn't put up the gaudy numbers that you would usually see from a MVP candidate, but he is the glue to a Notre Dame defensive line that has produced 33 sacks on the year. While Nix only has two of those, he is somebody that demands respect from the opposing offensive line and usually frees up his teammates by demanding two blockers.
Nix is the guy that does most of the dirty work on defense and doesn't receive nearly as much credit as he should. He could have easily locked up a solid draft pick in next year's NFL draft, but decided to return for his senior season to earn that degree that he promised his mother.
We have seen a couple of big defensive linemen win the MVP in the past such as Nick Fairley and Marcell Dareus, and it wouldn't be surprising if Nix had a big game and finally received the credit he deserves.
4. C.J. Mosley, LB, Alabama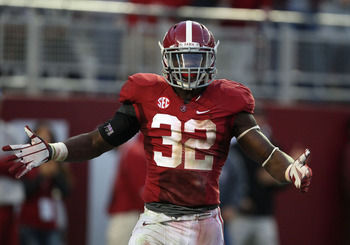 Mike Zarrilli/Getty Images
C.J. Mosley has quietly become that next solid Alabama linebacker this year.
He leads the team with 99 tackles, while Trey DePriest, the guy who is second on the team, only has 56. Needless to say, Mosley is all over the field and hits just about anything he sees. He is also terrific in pass-coverage, making him one of the more complete linebackers in college football.
With four games of double-digit tackles, Mosley will constantly be around the ball. Much like Nix, Mosley could have also left school early, but decided to return to almost guarantee first-round status in the 2014 draft.
An Alabama linebacker won the defensive MVP last year in Courtney Upshaw; why not Mosley this season?
3. Dee Milliner, CB, Alabama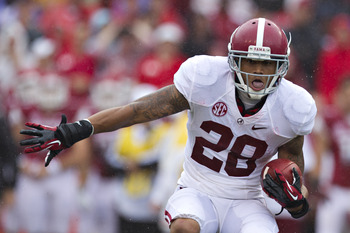 Wesley Hitt/Getty Images
It almost goes without saying that cornerback Dee Milliner is the best player on this Alabama defense.
He reacts well to the football, is about as physical as they come at the line of scrimmage and does a wonderful job of timing his jump when it is in the air. He is also solid in run support, picking up 51 tackles on the season.
Milliner is almost a lock to be a top-15 pick in this year's draft and will spend quite a bit of time paying attention to Notre Dame tight end Tyler Eifert. The same Irish receiver that told Milliner he would jump over his head if he sees him in the open field.
The Alabama cornerback should shine bright during the championship game, and he could become the first secondary player to win the award since Michael Huff was with Texas.
2. Stephon Tuitt, DE, Notre Dame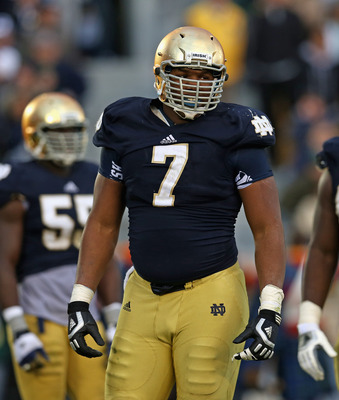 Jonathan Daniel/Getty Images
Stephon Tuitt is somebody who could easily be starting for Alabama this very second. Having offers from multiple SEC schools, the speedy defensive end turned them all down to come to South Bend.
His speed off the ball and ability to simply blow by opposing offensive linemen is amazing. With his quick first step, he is truly one of the better pure pass-rushers in the country. Just watch this fumble return to get a general idea of how fast Tuitt really is and how much his athleticism has helped the Irish this season on defense.
The Notre Dame defensive lineman has 12 sacks on the year and is somebody that could really give Alabama fits up front. If Tuitt is able to build momentum in this game, we could witness a remarkable performance from somebody who should become a household name next year.
1. Manti Te'o, LB, Notre Dame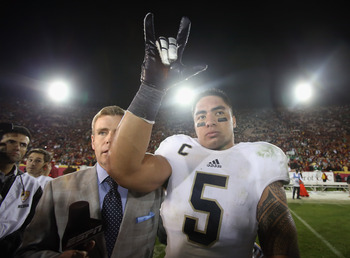 Jeff Gross/Getty Images
You wouldn't be wise to expect anybody but Manti Te'o to win the defensive MVP of the national championship. Not only is he one of the more popular guys in all of college football, but he seems to make the biggest plays at the biggest moments.
Whether you want to talk about his 103 tackles, seven interceptions, 5.5 tackles for loss, crucial sacks or his multiple pass deflections, Te'o seems to always be in the right place at the right time. You just get the feeling that he is going to come up with another big play at some point in the game for Notre Dame.
Whether the Irish win the game, Te'o will have made a case for the MVP. If his team does upset Alabama, the award will likely be his.
5. Tyler Eifert, TE, Notre Dame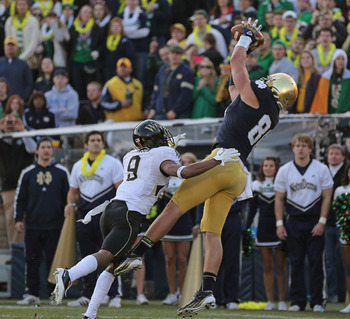 Jonathan Daniel/Getty Images
If Notre Dame is going to be successful when throwing the football, it will likely start with tight end Tyler Eifert. He is the most successful player at the position in program history and even received the John Mackey Award this year as the best tight end in college football.
He is somebody who can line up all over the field and catches nearly everything that is thrown his way. He leads the team with 44 receptions, 624 receiving yards and is tied with TJ Jones with four receiving touchdowns.
Eifert should be considered the best tight end in the nation and is a security blanket for quarterback Everett Golson. Look for a lot of passes to head his direction, as he tries to give this Irish team a spark on offense.
4. Amari Cooper, WR, Alabama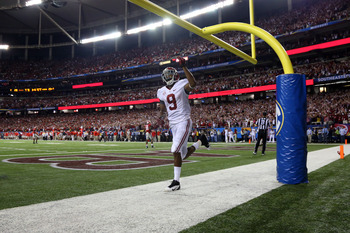 Mike Ehrmann/Getty Images
Big play ability and explosive touchdown receptions can really help put a player in the position to win the offensive MVP award. If that is what you are looking for, it really gets no better than true-freshman Amari Cooper at wide receiver.
The first-year player has caught 53 passes this season and 26 of them have gone for at least 15 yards. He has scored nine touchdowns and is averaging more than 17 yards a reception. His sure hands, great route running and his ability to get down field in a hurry make him arguably the best offensive playmaker in this matchup.
With a young Notre Dame secondary tasked with keeping Cooper in check, the freshman could end up having a big game.
3. Eddie Lacy, RB, Alabama
Kevin C. Cox/Getty Images
The game plan for Alabama on offense is no secret. Everybody in the building knows that it is going to want to run the ball behind a massive offensive line that features many future NFL players. Eddie Lacy is the guy that should receive the majority of the touches, making him a solid candidate for the award.
As of late, Lacy appears to have his feet under him, rushing for well over 300 yards and scoring a combined four touchdowns in the last two games. The junior running back looked nearly unstoppable in the SEC Championship Game against Georgia, and he has the potential to break one once he gets a full head of steam going.
Two of the last three offensive MVP awards have gone to running backs, including Alabama's Mark Ingram back in 2010. If Lacy runs the way he did against Georgia a little over a month ago, he will take home some hardware before leaving for the NFL.
2. Everett Golson, QB, Notre Dame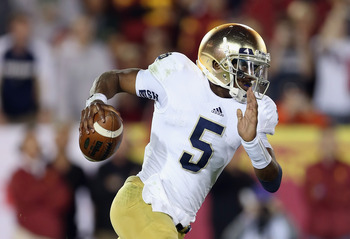 Jeff Gross/Getty Images
Having Everett Golson this high may surprise some people, but the MVP usually goes to the quarterback position. In fact, six of the last eight during the BCS era have been awarded to the quarterback.
Golson hasn't been somebody that has lit it up this year and has even been pulled from games for making mistakes. However, he has improved his play over the last several games, and he does have that dual-threat ability that gave Alabama issues when it faced Johnny Manziel.
This isn't to say that Golson will perform the same way the Heisman winner did against this tough defense, but he does have a similar skill set and can make plays in a variety of different ways.
Golson will need to step up for Notre Dame to win this game. If he is able to make enough plays and the Irish win, the offensive MVP will likely be given to the quarterback that led them down the field.
1. AJ McCarron, QB, Alabama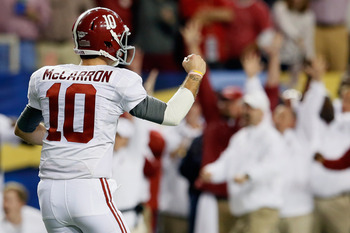 Kevin C. Cox/Getty Images
AJ McCarron has played so well this year that he was even a Heisman candidate at one point. His decision-making has drastically improved, while he has put up even better numbers than he did last year, despite throwing the ball less.
McCarron has thrown 26 touchdowns, which is 10 more than last season, and he has also produced 30 passing plays that have gone for more than 25 yards. The junior seems to have far more confidence than he did last year, and he has quickly developed into somebody who can seriously hurt you in the passing game.
McCarron won last year's offensive MVP award in the title game with a solid performance.
As long as Alabama ends up winning the game and the Crimson Tide quarterback plays even a little part in the outcome, he will have a good shot at winning this award for the second year in a row.
Keep Reading