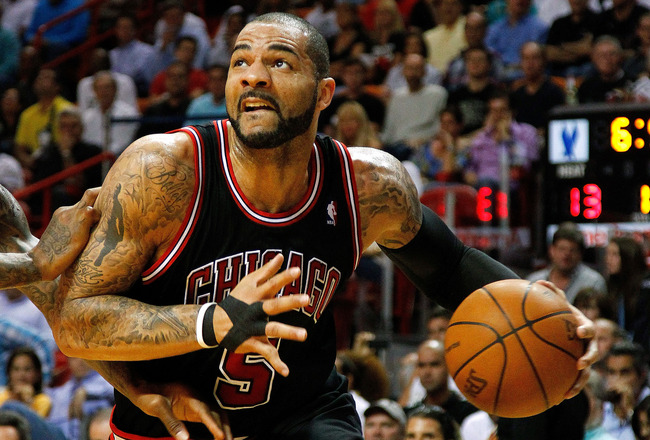 Mike Ehrmann/Getty Images
In a must-win game for the reeling Chicago Bulls, Carlos Boozer led the way to a 96-94 victory over the Orlando Magic.
Boozer finished the game with a season-high 31 points. He was one of three Bulls players to finish with at least 20 points.
On the other side, Jameer Nelson led Orlando with a game-high 32 points. Nikola Vucevic contributed 20 and 12 rebounds of his own, thus creating a down-to-the-wire finish.
Fortunately, two late free throws by Luol Deng sealed the win for the Chi-Town crew. One that was much-needed after dropping three of their previous four.
So how did it all go down?
Kirk Hinrich, Point Guard
Overall Grade: C
Minutes Played: 32
Stat Line: 7 points, 8 assists, 2 rebounds, 3 steals, 1 block, 2/9 FG
Kirk Hinrich had his hands full tonight, as Jameer Nelson appeared to make everything that he put up.
Nelson finished with 32 points on the evening, converting 11-of-20 field-goal attempts and 6-of-9 from beyond the arc. Fortunately, Hinrich forced him to miss a late jump shot that would have tied things up.
As for Hinrich's offense, he scored seven points on 2-of-9 shooting.
Fortunately, Hinrich tallied eight assists, two rebounds, three steals and a block. He also committed just one turnover and had a game-high +/- of positive-8.
Hinrich made an excellent play on an early drive by Nelson, blocking a shot with 0.3 seconds remaining in the first quarter. That was the extent of his highlights, however, as he struggled down the stretch.
Hinrich's late turnover nearly costed Chicago the game. Defensive tenacity saved it.
Richard Hamilton, Shooting Guard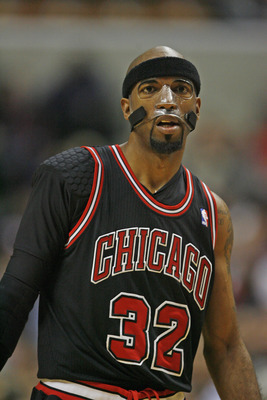 Brian Spurlock-USA TODAY Sports
Overall Grade: B
Minutes Played: 30
Stat Line: 4 points, 9 assists, 2 rebounds
Known for his jump shooting, Richard Hamilton shocked everyone as he finished the game with a season-high and game-high nine assists.
It was the first time since January 23, 2012 that Hamilton had at least nine dimes.
No assist was bigger than when Hamilton found a diving Carlos Boozer by threading the needle on the interior. Boozer would finish and give the Bulls an eight-point lead with 3:54 remaining.
Minutes later, Hamilton hit one of his two field goals of the evening.
Due to the fact that Hamilton played his best during the fourth quarter, his grade is saved. The fact that he led all players with nine assists gives him a solid grade, in general.
His shooting must improve if the Bulls are to win more consistently, but this was an encouraging sign from Rip.
Luol Deng, Small Forward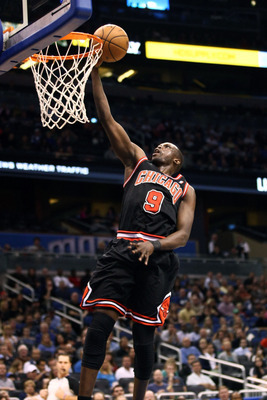 Douglas Jones-USA TODAY Sports
Overall Grade: A
Minutes Played: 39
Stat Line: 23 points, 3 rebounds, 2 assists, 1 steal
Luol Deng was quietly devastating to the Orlando Magic's hopes of achieving victory.
Deng was second on the Bulls with 23 points, converting 8-of-16 field-goal attempts in the process. He also connected on two three-pointers.
The key plays from Deng were not field goals, however, as he hit Taj Gibson with a beautiful feed at the 5:01 mark of the fourth quarter. Gibson's conversion was the key to Chicago building enough momentum to hold Orlando off.
Deng hitting two clutch free throws with 04.2 seconds remaining made it a four-point deficit and won the game.
Deng was one of just three Bulls to score in double-digits. He also came up in the clutch on both ends of the floor.
Although we're used to seeing a more well-rounded performance, Deng stepped up as an All-Star is supposed to. The grade reflects that.
Taj Gibson, Power Forward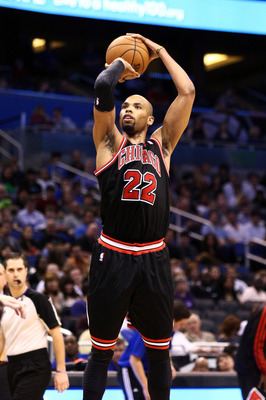 Douglas Jones-USA TODAY Sports
Overall Grade: A+
Minutes Played: 45
Stat Line: 21 points, 11 rebounds, 3 assists, 4 blocks
In his first start of the season, Taj Gibson was absolutely phenomenal.
Gibson was scoring with efficiency, crashing the glass and protecting the rim at a tremendous rate. The proof is in the numbers.
Gibson tallied a grand total of 21 points, 11 rebounds and three blocks on 8-of-12 shooting from the floor.
The biggest play of the game for Gibson came with 11.3 seconds remaining in the fourth quarter.
With the Bulls up 94-92, Jameer Nelson drove the lane and attempted to go off glass. Gibson instantly rose up and swatted the shot well out of bounds.
As for why we believe Nelson would have made it, he finished with 30 points.
On the other end, Gibson made a series of plays which displayed his raw nature.
Carlos Boozer found Gibson in the paint with two beautiful passes during the second half. Each time, Gibson failed to handle the pass and allowed it to go out of bounds.
With that being said, Gibson chased down his own rebound every time he missed. You know, when he actually did.
He was dominant on the glass, clutch on defense and consistent with his scoring. If this was an audition, Gibson passed with flying colors.
As did his frontcourt mate.
Carlos Boozer, Center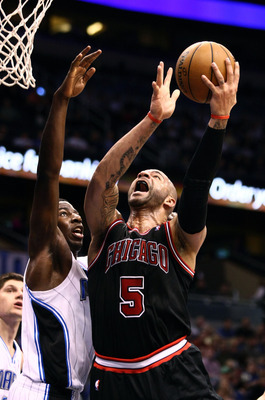 Douglas Jones-USA TODAY Sports
Overall Grade: A+
Minutes Played: 40
Stat Line: 31 points, 11 rebounds, 2 assists, 2 steals
You couldn't ask Carlos Boozer to start any hotter than he did.
Boozer made eight of his first 11 shots and tallied 17 first-half points. He also made a handful of phenomenal passes to Taj Gibson along the interior.
Boozer wouldn't slow down during the final two periods.
The embattled power forward finished with a season-high 31 points. He also proceeded to grab 11 rebounds and swipe two steals.
For a team that struggles to score, Boozer's 31 were the key to picking up this victory.
During the fourth quarter, Boozer began to stumble as Nikola Vucevic dominated the glass and racked up 10 quick points. Boozer would proceed to respond with a contested two off a feed from Rip Hamilton.
The bucket made it an eight-point game with 3:54 remaining.
Although he remains the most criticized athlete in Chicago, Boozer earned a perfect grade for this evening. More importantly, he earned a victory by carrying the team on his broad shoulders.
This was the sixth time in Boozer's Chicago tenure that he topped 30 points.
Nate Robinson, Sixth Man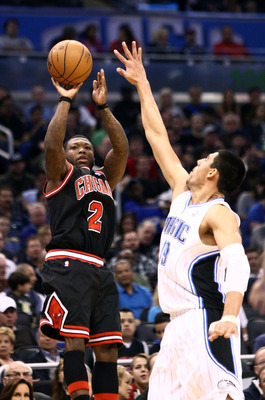 Douglas Jones-USA TODAY Sports
Overall Grade: D
Minutes Played: 16
Stat Line: 6 points, 0 assists, 2/7 FG, 2/4 3PT
Nate Robinson has had an excellent season with the Chicago Bulls. Tonight wasn't an example of such a truth.
Robinson's scorer's mentality was on full display as he failed to hit open teammates in transition. Instead, Lil' Nate would take it himself and miss more times than he'd make it.
Six points on 2-of-7 shooting is evidence. Fortunately, those two field goals were three-pointers.
With that being said, any point guard who fails to pick up a single assist is failing.
Considering Robinson hit two three-pointers for a team that ranks dead last in three-point field goals per game, his grade is partially saved.
Nate saved himself from an F. He barely did enough to save his team.
Reserves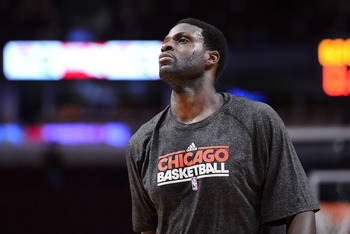 Mike DiNovo-USA TODAY Sports
Overall Grade: F
Average +/-: -2
Combined Stat Line: 10 points, 6 rebounds, 3 assists, 1 steal, 3/12 FG
The Chicago Bulls' second unit has struggled since the beginning of the season. With reserves being forced into starting roles for Derrick Rose and Richard Hamilton, it isn't hard to see why.
Even as Hamilton returned, however, the bench did nothing. At all.
Tom Thibodeau's second unit tallied 10 points, six rebounds, three assists and one steal. That was less production than Taj Gibson put out on his own.
With Joakim Noah's potential return from flu-like symptoms, Gibson will return to the reserves. In turn, they will perform at a higher level.
For tonight, however, the lack of depth in Chicago was on full display.
Keep Reading

Chicago Bulls: Like this team?
Load More Stories