West Virginia Football: Grading All 22 Starters from the Pinstripe Bowl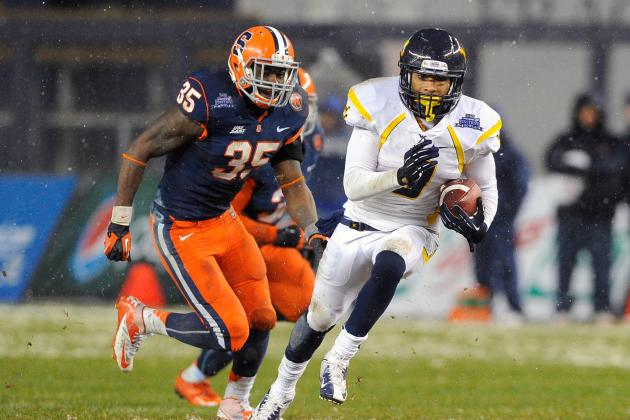 Rich Barnes-USA TODAY Sports

The West Virginia Mountaineers' season finale loss to the Syracuse Orange in the Pinstripe Bowl couldn't have been a more accurate representation of the Mountaineers' 2012 campaign.
WVU entered the game with high expectations, just as it did for this season, but came away disappointed with a 38-14 loss at the hands of former Big East Conference rival Syracuse in a game where nothing seemed to go the way of the gold and blue.
Then again, since about Oct. 7, very little has gone West Virginia's way.
Against the Orange, the Mountaineers were plagued by a blocked field goal, dropped interceptions, two safeties, terrible weather conditions and 10 penalties—each coming at a more inopportune time than the next.
Through all of that, WVU just wasn't able to do enough to move the ball against a well-prepared Syracuse defense or counter a strong power running game presented by that same Orange squad.
Here are the individual grades for each of West Virginia's Pinstripe Bowl starters:
Begin Slideshow

»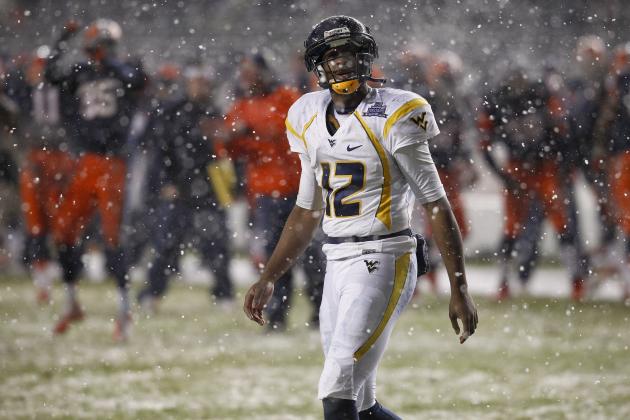 Jeff Zelevansky/Getty Images

Overall Game Grade: B
Geno Smith's final game in a West Virginia uniform was not the fitting end he pictured.
It wasn't an awful performance from Smith, and for the most part, he fell victim to a sound, well-executed game plan from Syracuse.
He was also hampered by the poor weather and field conditions.
The Orange logged 29 more snaps and possessed the ball 13 minutes longer than the Mountaineers in the game, and as a result of that disparity, WVU's loss came down to just a handful of plays gone wrong.
Smith did have two safeties and missed on a number of throws, clearly impacted by the heavy, wet snow that fell nearly for almost the entirety of the contest in the Bronx.
On one safety, he actually fumbled the ball, but Josh Jenkins luckily was there to jump on the loose ball. On the second, it appeared as though he was intentionally tripped by a Syracuse defensive lineman.
We saw flashes of the good Smith on throws to J.D. Woods on the sideline, Tavon Austin over the middle and on a touchdown to Stedman Bailey.
However, we also saw him miss badly on a few throws where the only logical explanation was a lack of footing or grip in the snow. Despite the conditions, he ended up 16-of-24 for 197 yards and two touchdowns.
Syracuse QB Ryan Nassib had an even tougher time than Smith, and the WVU QB didn't throw an interception. Additionally, the offensive line in front of him and his running game really struggled.
All things considered, this loss can't be placed on the shoulders of Smith.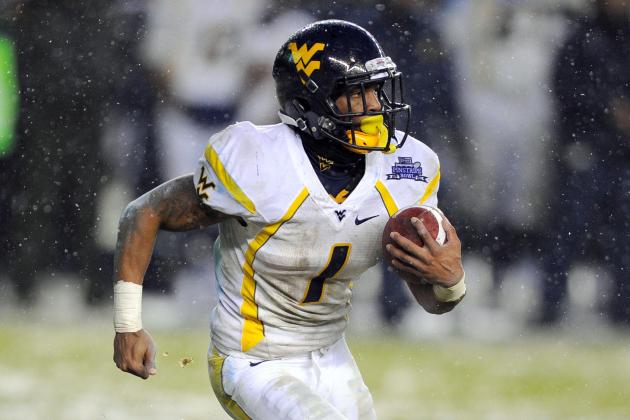 Rich Barnes-USA TODAY Sports

Tavon Austin: B+
Andrew Buie: B-
Shawne Alston: C
Tavon Austin actually started in his slot receiver position, but he was utilized more as a running back throughout the action.
He had some nifty runs as usual but didn't have a breakout game for a few reasons. The first was Syracuse.
The Orange defense was simply ready to contain Austin and the entire WVU running game. This was a great plan on their part, as they noticed that the Mountaineers are much more dangerous when they can successfully run—especially in poor weather.
On many occasions, when No. 1 took a handoff, there were multiple Orange defenders pushing him to the sideline, not allowing him to make cutbacks to the middle of the field where he is most dangerous.
He also seemed just a little bit slower in the snow, making sure he had the footing to make his cuts, though that didn't impact his game all that much. He ended up going for 54 yards on the ground.
Perhaps the biggest reason he and the rest of the West Virginia backs lacked success was the offensive line, which had an abysmal game overall.
Buie didn't have a great game, but he also had a couple of runs called back, including a huge touchdown dash. On this play, fullback Cody Clay was called for a hold, which eventually led to a punt.
The WVU fullbacks didn't have a great day altogether, as Clay and Ryan Clarke could both be seen missing blocks, which is far from customary for these two ordinarily sound blockers.
This had a big impact on Alston's day, as he finished with a net of five yards. The very few times he had room to run, he did well, but he was often met in the backfield by multiple Orange defenders.
On a sunny day, he may have been able to generate more power in the backfield and go through those tackles, but in the end, he just couldn't do much when his linemen were being pushed back in his face.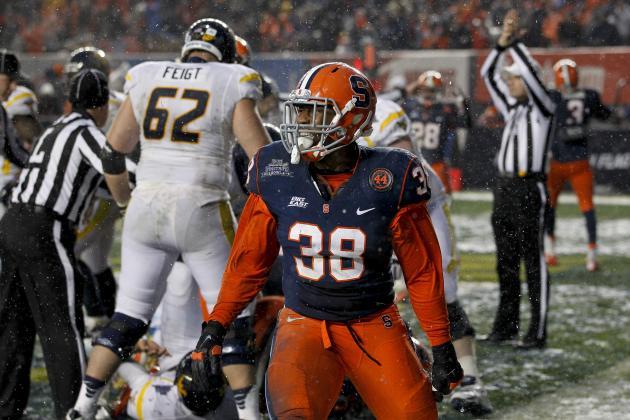 Jeff Zelevansky/Getty Images

Quinton Spain: F
Josh Jenkins: F
Jeff Braun: F
Pat Eger: F
Curtis Feigt: F
With that, we'll transition right into the offensive line.
Despite these grades, the game wasn't all bad for this group. I counted at least one nice block made by each of these guys, which led to a solid gain for the West Virginia playmakers.
And to be fair, they were without their best and most consistent lineman—center Joe Madsen.
His absence was obvious, though there were no real issues with the exchange between Braun and Smith.
And aside from those few nice blocks, this line as a unit was as bad as it has ever been.
The group was blown off the line and pushed back time after time in running and passing situations.
Every time a member of this unit did something well, they followed it up with an even more costly mistake.
Going down the line, Spain looked very good leading the way down field on a first-down run early in the game. Later, he was pushed all the way back to Smith, which led to his fumble in the third quarter.
Jenkins had a solid block on a first-down run by Buie, but later negated that as he was flagged for a holding call on a first-down run by Austin.
Braun also paved the way for a Buie first-down run but was at the center of an ugly blocking collapse that resulted in a failed fourth-down attempt by WVU.
Eger showed some very nice upfield blocking on a long run by Austin, but was also completely bowled over on the first play of the game as Alston was wrangled in the backfield.
Feigt had a beautiful block on Bailey's long sweep run but looked slow laterally throughout the whole game, missing a cut block on a negative run by Alston and was embarrassed on a blocking attempt on a pitch to Austin.
Smith was sacked three times in total, twice for a safety. The running game netted just 88 yards at a rate of 2.4 yards per carry.
Just a terrible performance and outcome for this group.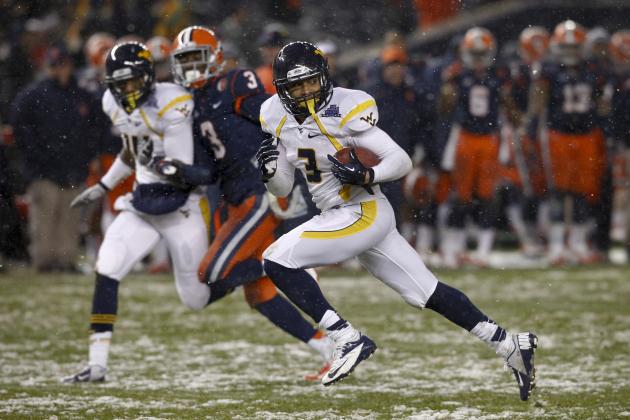 Jeff Zelevansky/Getty Images

Stedman Bailey: A+
Tavon Austin: C
Connor Arlia: F
J.D. Woods: B
Stedman Bailey did absolutely everything he could to show NFL scouts that he is a first-round talent. The junior, who will be leaving WVU early, had seven receptions for 126 yards and two touchdowns.
One of those scores came on a screen play in which he seemingly shed 11 Syracuse tacklers on his way to the end zone.
The second came on a deep ball. The Syracuse corner tried to start a shoving match, which Bailey obviously won, casting the defender aside and hauling in a perfectly placed throw from Smith for an easy score.
He really did an outstanding job showing off his physical prowess in the game, not only on those two plays, but on special teams as well. He made some nice blocks on kickoffs and was in on a tackle in kick coverage as well.
Austin had just two receptions for 21 yards, but this lack of performance wasn't to his fault. He simply wasn't utilized in the passing game a whole lot.
He did have quite a few touches in the backfield, but he didn't have many opportunities with the ball in the middle of the field where he can be truly lethal.
Arlia received the start and really had a poor game, not looking at all like himself. He has never been a huge playmaking threat, but he was at least reliable in the past.
Against Syracuse, he wasn't. He missed a block that resulted in a blown-up screen to Bailey and later straight up dropped a key third-down conversion. The pass from Smith couldn't have been better—it hit Arlia right in the chest.
The problem was, Arlia tried to catch it with his body rather than his hands, which was covered in Pass Catching 101. After that, he pretty much disappeared altogether.
Woods had a solid game, and it would have been better if it weren't for a couple of errant throws from Smith.
Woods had a few nice grabs near the sideline and ended up with 41 yards receiving.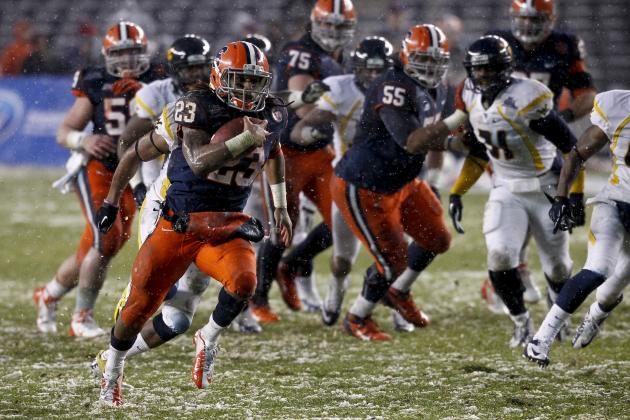 Jeff Zelevansky/Getty Images

Jorge Wright: F
Shaq Rowell: F
Will Clarke: F
While taking notes on this game, I found myself writing phrases like "blown off the ball" and "handled up front" over and over again in regard to the West Virginia defensive front.
This image here of Syracuse running back Prince-Tyson Gulley running away from the WVU defense also happened over and over again.
Whether it was Gulley or Jerome Smith in the game, Syracuse never had a problem running the ball.
The Syracuse offensive line was always able to generate a push one way or another and open huge running lanes for these backs.
The Orange ran a lot of zone running plays, where they would just push the WVU defenders to one side, allowing their running backs to simply cut back against the grain, resulting in enormous gains.
At the end of the hideous performance for West Virginia up front, it had been outrushed by 281 yards, as Syracuse netted 369 on the ground.
The deficiencies of WVU up front on defense played a major role in the loss. As head coach Dana Holgorsen admitted after the game (via WVUSports.com), "Any time you get out-rushed by 300 yards, you're going to have some problems."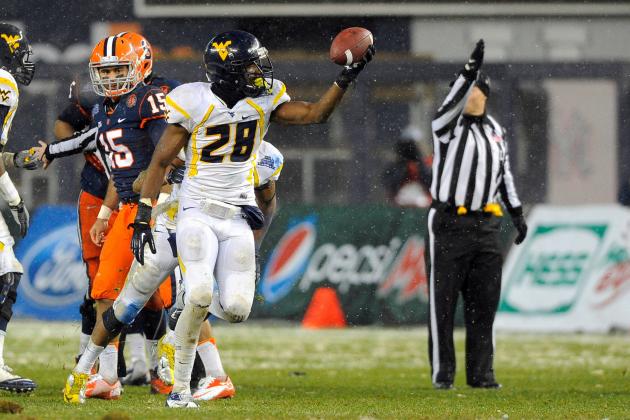 Rich Barnes-USA TODAY Sports

Terence Garvin: A
Josh Francis: D
Doug Rigg: C-
Isaiah Bruce: B+
Like Stedman Bailey, senior Terence Garvin made the most of his final game in a West Virginia uniform.
He had arguably the best game of his entire career, tallying 15 tackles, three tackles for a loss, two sacks, a pass breakup, a forced fumble and the recovery to go along with it.
He just made plays all over the field and couldn't have been much better for the Mountaineers in New York.
Isaiah Bruce had a solid game as well. He had just five tackles in the contest, but also had an interception. He nearly had two picks, as he tipped a pass in the red zone, but in an unfortunate turn of events, that tip fell right into the hands of a Syracuse receiver in the end zone.
I was a little puzzled with how Josh Francis was used in this game. He is primarily a rushing linebacker sent into the backfield to disrupt plays.
However, in this one, he was utilized in coverage way too often. On numerous occasions, he was beat in zone coverage. Francis is certainly not his best while dropped back defending the pass, so I am a bit confused as to why he was put in that situation so often.
Finally, Rigg ate up nine tackles on the day, but he really should have had more. He was a big part of WVU's struggles defending the run and could be seen often overpursuing in the face of Syracuse's zone blocking, causing him to miss the patient Orange runners.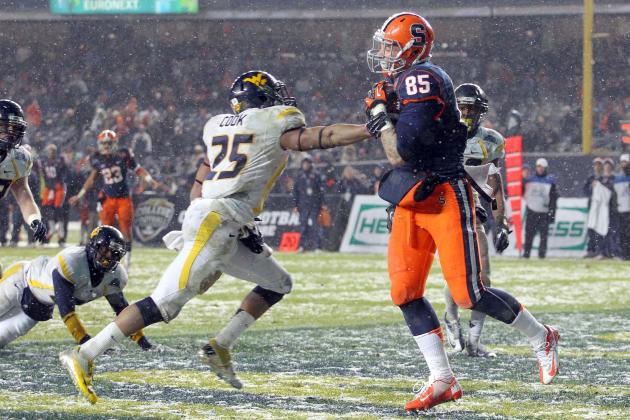 USA TODAY Sports

Pat Miller: A
Darwin Cook: F
Karl Joseph: C
Brodrick Jenkins: F
Pat Miller had a very good game for West Virginia—a statement I'm sure you didn't expect to read this season.
He played a big role in holding Syracuse's 1,000-yard receiver Alec Lemon to just three catches for 11 yards and wasn't beaten deep in this game like he was earlier in the season. He even made an excellent play on a deep ball at the end of the first half and almost came up with an interception.
No. 6 also had a great tackle on a screen play despite being held. He has really worked as hard as just about anyone on the WVU defense, even through an incredible amount of criticism, so it's good to see him come up with a good game to end the season.
On the other side, Jenkins had a very rough day. He missed numerous tackles and was run over by blockers on a few occasions.
Adding to that, he was also roasted in zone coverage, which was one of the few areas the Syracuse passing game was able to find some success.
At the safety position, Karl Joseph actually didn't receive the start. Terrell Chestnut earned the nod but was injured in the early going.
Regardless, Joseph didn't have the best game once he came in. He made seven total tackles but wasn't the bone-jarring tackling force that he was over the course of the season and was even flagged for a pass interference.
Finally, I'll end with Darwin Cook, who just had an awful game.
It was about as rough of a game as defender can have, as Cook missed a whole bunch of tackles, was embarrassed in coverage and drew numerous flags.
He did make a nice play to help stop a Syracuse 4th-and-goal attempt and made a nice play knocking the ball loose on a third-down play.
However, two of his mistakes directly resulted in Orange touchdowns, including a defensive holding call on third down and a missed tackle on Gulley's touchdown reception off a screen.