College Football's 10 Hardest Hits of 2012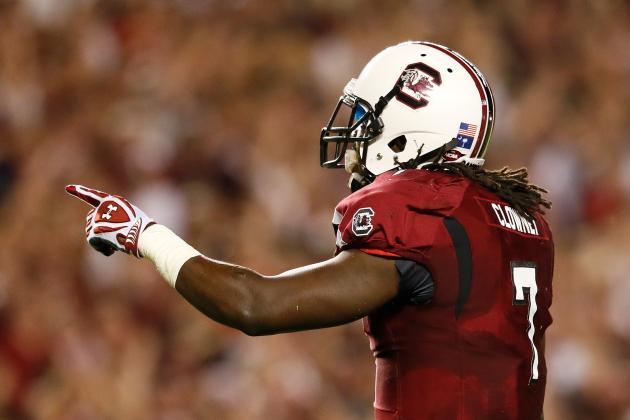 Kevin C. Cox/Getty Images

By now the entire college football world has seen the thunderous hit laid on Michigan's Vincent Smith by South Carolina's Jadeveon Clowney. That hit late in the fourth quarter forced a fumble and spurred the Gamecocks on to a last-second victory over the Wolverines in the 2013 Outback Bowl.
But that wasn't the only great hit of the 2012 season.
College football is a contact sport, and we thought we'd honor those players who go out and lay the lumber on the opposition. There aren't many hits as good as Clowney's, but there were a lot of great decleaters this season.
Note: We have purposefully decided not to honor any hit that deservedly drew a personal foul penalty.
Begin Slideshow

»
This one isn't really a hit in the traditional sense, but a stiff-arm from a linebacker on a fumble return for a touchdown is something we just can't ignore.
There weren't a lot a bright moments for Auburn in 2012, but this was one.
The penalties on this play had nothing to do with the stiff-arm, so to borrow some referee lingo, "The call stands."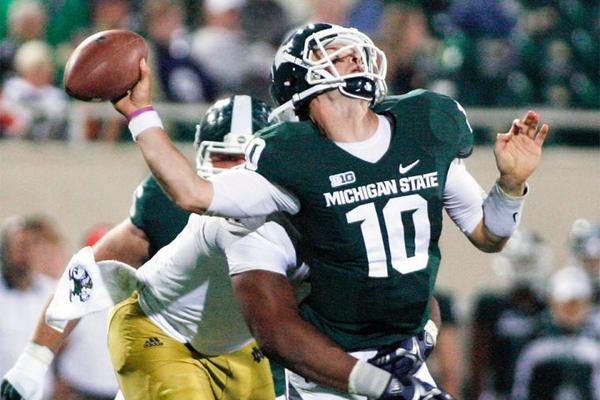 (Photo: AP)
Just in case there are any Alabama fans out there who think Notre Dame doesn't have any big hitters on defense, we'd like to introduce you to T.J. Jones.
How hard can he hit? Just take a look at the head of Andrew Maxwell.
It's incredible how quickly something great can go to something stupid. D.J. Swearinger learned that lesson against Clemson this season.
After absolutely blowing up Clemson's Andre Ellington—a hit for which we give Swearinger credit—he stands over Ellington and taunts him, costing the Gamecocks 15 yards and a Clemson first down.
Swearinger obviously has some major football skills. His sportsmanship skills, on the other hand, leave much to be desired.
The flag was not for an illegal hit but a dead-ball unsportsmanlike conduct foul, so we're keeping this bone-crusher on the list.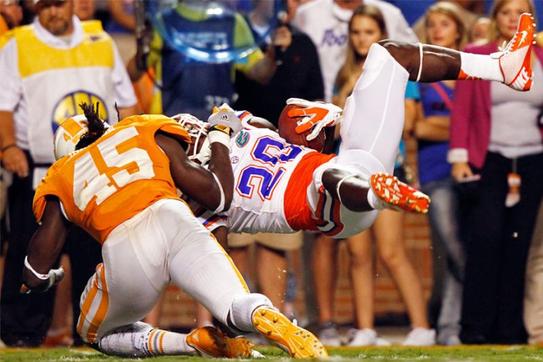 (Photo: USA Today)
Remember when we all thought this might be the breakout year for the Tennessee Volunteers?
Well, it was this Week 3 game against Florida that started the long downward spiral that eventually cost Derek Dooley his job, decimating the orange pants industry in Tennessee.
The Volunteers may not have panned out in 2012, but A.J. Johnson still wasn't ready to let Florida's Omarius Hines get away without a few bruises.
We had a hard time with this one.
We stated earlier that we wouldn't be including any hits that drew flags, but this hit should have drawn a flag. Without question.
Alabama's Quinton Dial lined up a coward's cheap shot on Georgia quarterback Aaron Murray during an interception return during the 2012 SEC Championship Game. We'll acknowledge that this was a bone-crushing hit, but the fact that it came at the end of the play against a quarterback nowhere near the ball makes Dial look the quintessential thug.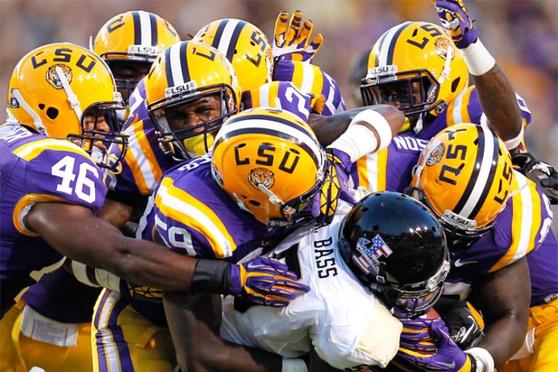 (Photo: USA Today)
Way back in Week 3, when LSU was still considered a top contender for the BCS National Championship Game, lowly Idaho came into Death Valley to face the mighty Tigers.
LSU won, 63-14, which is about what most people expected. And if a single picture can tell the story of a game, it's gotta be this one.
Being tackled by one LSU defender is painful enough. But seven?
Ouch.
All you young football players out there, take note. This is the way to throw a block.
There's nothing vicious about this hit, other than the result. Clint Moseley lowers the shoulder, leads with his pads, turns his head away from the collision and simply levels a guy who's wearing the wrong color jersey.
It may not involve the ball-carrier, but the epic block to ensure a touchdown can be just as important. Just ask Nebraska's Kenny Bell.
In the 2012 Big Ten Championship Game, Bell lowered the boom on Wisconsin's Devin Smith, who was so focused on the football he forgot about the other 10 Cornhuskers on the field.
He won't make that mistake again.
This block drew a penalty flag, but as the commentators correctly noted, "That's football!"
We give a lot of credit to Tre Mason for hanging on to this ball after Christian Robinson absolutely levels him.
But you better believe Mason never took his eye off of Robinson after this hit.
Finally, we come to what is easily the biggest hit of the 2012 college football season.
This hit wasn't just the kind of hit that makes your hair stand on end, it was a big hit for other reasons too. South Carolina had just been gypped out of a turnover on downs—even after a measurement that was clearly short. Instead of hanging his head, Jadeveon Clowney went back out on the field and did what he does best: destroy ball-carriers.
The hit, forced fumble and recovery by Clowney set up a go-ahead touchdown in the fourth quarter. South Carolina eventually scored the game-winner with 11 seconds left—something that would have been impossible without this game-changing beatdown by good old No. 7.