Sugar Bowl 2013: Live Score, Analysis and Results for Florida vs. Louisville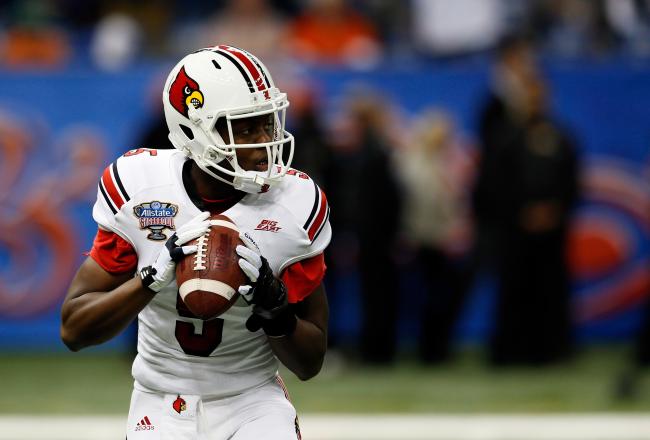 Kevin C. Cox/Getty Images
FINAL: Florida 23 Louisville 33
The Louisville cardinals shocked a nation tonight.
Louisville intercepted Jeff Driskel's first pass of the game and returned it for a touchdown.The Cardinals would never trail after that first play. The Cardinals defense then forced a three-and-out and Bridgewater led a 12-play, 83-yard touchdown drive to extend their lead to 14 points.
Florida was able to go into the locker room at halftime down 24-10 but a disastrous play doomed them to start the third quarter. Florida went for a quick onside attempt and not only did Louisville recover at the Florida 49-yard line, but the Gators were hit with two personal fouls that gave the Cardinals the ball at Florida's 19-yard line.
Bridgewater found Damian Copeland on the very next play with a beautiful pass and catch for a touchdown.
Florida's defense came up with a couple of big stops, and blocked an extra point but the offense couldn't capitalize and never really got into a rhythm. Credit Louisville's defense for coming in with a good gameplan and forcing Florida to throw the ball more than they are used to.
Charlie Strong and the Louisville Cardinals are your 2013 Sugar Bowl champions.
Here is your final box score for the 2013 Sugar Bowl from ESPN.

Teddy Bridgewater was named the "Most Outstanding Player" of the Sugar Bowl.

Bridgewater played a near flawless game and is very deserving of the award. Stats Via ESPN
Here are the final stats for the 2013 Sugar Bowl. Via ESPN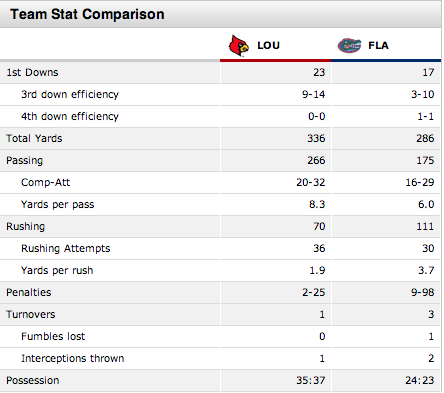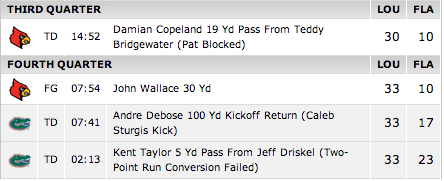 Here's how they scored in the second half. Via ESPN
Florida's defense and special teams play gave the team a chance but the offense couldn't capitalize when they needed to.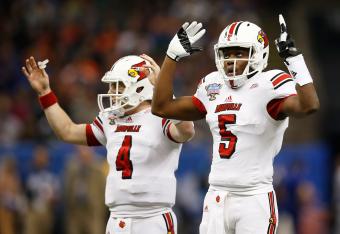 Louisville shocked the world!
Teddy Bridgewater introduced himself to the nation and to Heisman voters tonight.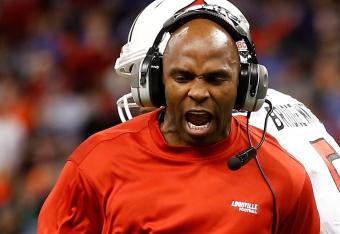 Charlie Strong takes a Gatorade bath.
Strong spent 27 years as an assistant coach and was finally given a shot to be a head coach at the age of 50. Strong re-paid that loyalty by turning some SEC schools down this season and sticking around at Louisville.
Louisville recovers the onside kick and that should ice this game.
Xavier Nixon gets beat by his man and Driskel gets sacked from his blindside.
Nixon has struggled in his final game as a Gator.
Florida 23 Louisville 33
Jeff Driskel finds Kent Taylor for the freshmen tight end's first career touchdown. Florida will go for two.
Matt Jones picks up 17-yards down to the Louisville two.
Jeff Driskel gets stuffed on the QB keeper and Florida has to call a timeout.
The Gators have moved the ball past midfield but with 3:35 left to play it will take a miracle for Florida to come back.
The punt is downed at the 3-yard line.
It's just been that kind of night for Florida.
BREAKING NEWS: Louisville has a punter on the team and he is.... wait for it.... punting the ball for the first time tonight!
The onside kick goes out of bounds and Louisville will start another drive in Gator territory.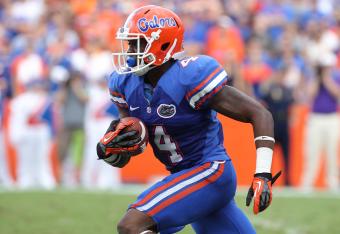 The 100-yard kickoff return is a Sugar Bowl record and that was Debose's school record fourth kickoff returned for a touchdown.
Florida 17 Louisville 33
Andre Debose returns the kickoff for a touchdown.
Too little too late for the Gators.
STAT OF THE GAME: Louisville has yet to punt the ball today.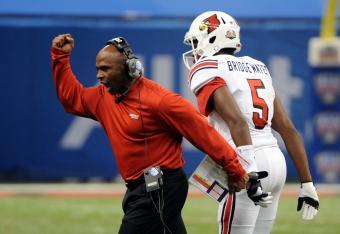 Florida 10 Louisville 33
I don't think anyone outside of the Louisville program saw this result coming.
Louisville has dominated Florida from the first play of the game and this game hasn't even been as close as the score.
Florida got whipped today and it is going to be a long offseason in Gainesville.
Another third down conversion for Louisville. The Cardinals are 9-of-12 on third down. Florida had the No. 6 ranked third down defense in the country coming into the game.
Driskel's pass goes right through Quinton Dunbar's hands and is intercepted in the endzone.
Florida can't seem to do anything right tonight and that interception will likely seal Florida's fate.
Omarius Hines picks up a first down on a reverse. A nice block from Quinton Dunbar.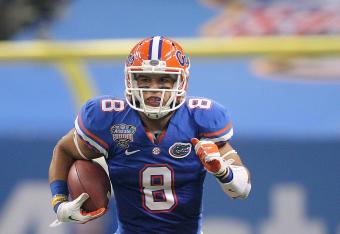 Florida goes with a Trey Burton wildcat run on second-and-11. Predictably, the Gators will have a third-and-long to start the fourth quarter.
Teddy Bridgewater's pass is tipped by Dominique Easley and Josh Evans is there to come down with the interception.
Outstanding effort from Easley.
Chaz Green and Jon Halapio can't handle a simple stunt and Driskel gets sacked on third down.
This Florida offense is hard to watch.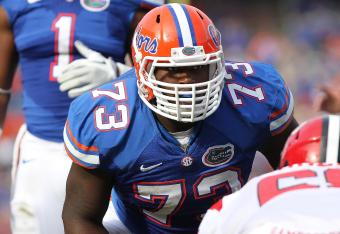 Louisville is called for a chop block which negates Wallace's field goal.
Sharrif Floyd blocked the re-kick but Florida's offense hasn't been able to move the ball. Time is running out for the Gators who are still down 20 points with just 3:45 left in the third quarter.
This article is
What is the duplicate article?
Why is this article offensive?
Where is this article plagiarized from?
Why is this article poorly edited?