2013 NFL Draft: 5 Potential Late-Rounders That Could Become Stars
Chris Chambers/Getty Images

When it comes to the NFL draft, there are always late-round players that end up having a significant impact on the team that drafted them. The 2013 NFL draft will be no different as there are plenty of small-school players who are good enough to play in the NFL right away; they just haven't been seen by very many people.
The 2012 NFL draft class had a few gems that teams found late. The Indianapolis Colts found wide receiver T.Y. Hilton at the end of Round 3. The Cleveland Browns found defensive tackle Billy Winn in the sixth round. At the top of this year's list is running back Alfred Morris, a player the Washington Redskins found in the sixth round. These players are examples of late-round picks that have made a tremendous impact on their teams.
There is value to be had throughout the draft and hitting on one of these late-round players can change the fortunes of a franchise. Let's look at five players who could be on next year's list of the best players who were late-round picks.
Begin Slideshow

»
Robert Alford is a 5'11", 184 pound cornerback from Southeastern Louisiana University. He earned first-team All-Southland Conference honors for his play in 2012. In 2012, Alford had 39 tackles to go with four interceptions, five tackles for loss and 12 passes broken up.
Alford is a sticky cornerback as he never looks beaten on any play. He is always in the right place and in position to make a play on the ball. He has great hands and has made a few circus catches for interceptions. Alford also handles punt return duty and has returned seven punts for 99 yards and a score.
Alford is a fast-twitch athlete who can flip his hips and run with the receiver he is covering. He has great closing speed and great ball skills. There are bound to be questions about the lack of quality competition that Alford sees on a weekly basis. Alford has been invited to the Senior Bowl and he will have a chance to answer those questions.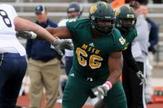 Photo courtesy of www.mssulions.com
Brandon Williams is a gigantic man who plays defensive line for Division II Missouri Southern State University in the Mid-America Intercollegiate Athletic Association. Williams is 6'3", 325 pounds and was recently named MIAA defensive player of the year.
Williams had an incredible senior season with 68 total tackles, 16.5 tackles for loss, 8.5 sacks, two pass breakups, eight quarterback hurries, five forced fumbles and a safety. Williams plays as a nose tackle, but is versatile enough to play any position from a 0-technique (lined up directly over the center), to a 5-technique (lined up on the outside shoulder of the offensive tackle).
During his senior season, Williams broke the Missouri Southern sack record, and he finished with 27 sacks during his career at school. Williams is not just a sack artist however, but a complete football player who can stop the run and get to the quarterback.
He is another smaller school player with competition questions to answer, but he will get to answer those questions by playing against better competition at the Senior Bowl. Williams is the kind of player that could make a great physical impact in the NFL and surprise a lot of people along the way.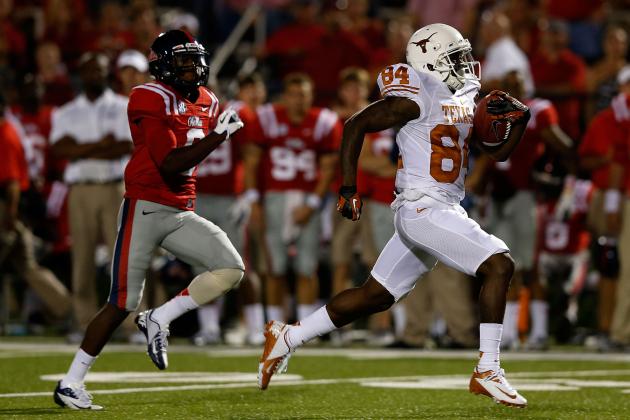 Scott Halleran/Getty Images

Marquise Goodwin is one of the fastest players in college football in 2012. He is an undersized receiver at 5'9" and 180 pounds, and his projection is to the slot receiver position in the NFL. We have witnessed the year T.Y. Hilton has had as an undersized slot receiver in Indianapolis, and Goodwin has the speed to do the same thing next year.
Goodwin has run a 4.34 40-yard dash already and he will look to improve on that number when he runs for NFL teams at the combine. Make no mistake, he is raw but the kind of speed he has simply can't be taught. He has the physical tools to help a team with his speed as a receiver, a running back and in the return game.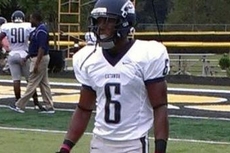 Photo courtesy of www.rookiedraft.com
Jumal Rolle is a 5'11", 187 pound cornerback from Catawba College. In 2012, Rolle had 56 tackles to go with six interceptions, two fumble recoveries and 10 passes broken up. He has also blocked four punts. Rolle has been all over the field as a senior and the numbers show how good he has been.
Rolle is an outstanding athlete with great coverage and ball skills. He is a natural playmaker who can alter the game in many ways. Like most small-school prospects, there are going to be questions about the lack of quality competition that Rolle sees on a weekly basis.
Alford will have the opportunity to play in one of the college all-star games over the next month and he will have a chance to showcase his skills for talent evaluators.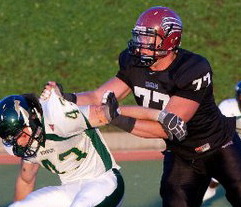 Photo courtesy of www.beyondthecombine.com
Luke Marquardt is a massive man at 6'8" and 322 pounds. He plays at the left tackle position and he is another in the line of kids that come over from the basketball court to play football. He originally went to Division II Azusa Pacific to play basketball but transferred to the football team to play tight end.
He has grown and now is an athletic tackle, using really good footwork and very long arms to keep defenders at bay. Marquardt is a long-term project at the tackle position, as he needs to add bulk and get some NFL coaching under his belt.
There are very few people in the world that are Marquardt's size with the athleticism that he has. He is the perfect project as he has the physical tools to play at the left tackle position in the NFL.