New Orleans Hornets vs. Houston Rockets: Live Score, Results and Game Highlights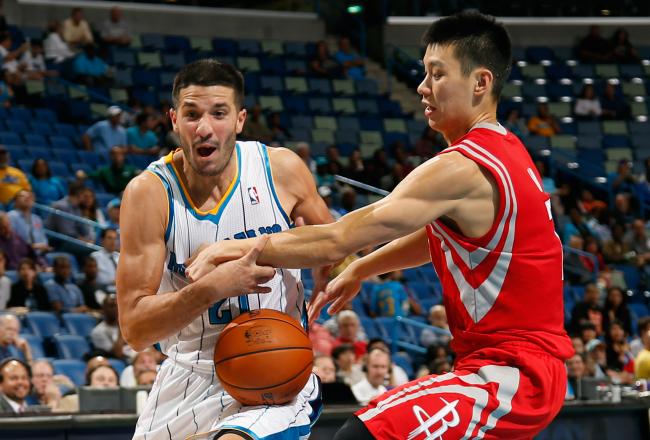 Chris Graythen/Getty Images
The Hornets and Rockets are going at it in Houston. Keep it here for live coverage and analysis!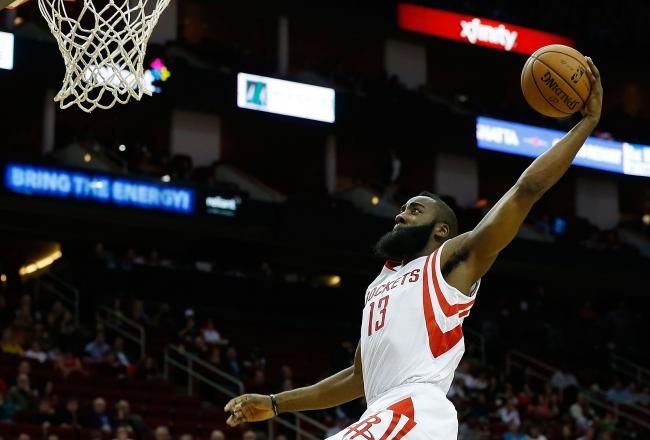 The New Orleans Hornets came into tonight's game with the right attitude, but their collective youth was just too inexperienced for the equally young Houston Rockets. As inexperienced as Houston is, Harden's playoff experience was enough to carry them late in the game. He finished the night with 31 points and seven assists, cementing his status as the player of the game.
On New Orleans' end, it all came down to failure to execute. The team shot 42 percent from the field, and guys like Greivis Vasquez, Anthony Davis and sharpshooter Ryan Anderson did not make the important baskets down the stretch.
Houston, despite shooting just 21 percent from long range, got key baskets throughout the night from Harden, Omer Asik and Patrick Patterson. The game was theirs to lose from the start, and they managed to stay focused despite struggles and having to play out of their comfort zone.

New Orleans' grandest disappointment, however, was once again in the form of rookie Austin Rivers. I said at the beginning of the evening that he needed to be great in the absence of Eric Gordon, but he once again moved into draft bust territory. The former Blue Devil finished with just four points, shooting 1 of 5 from the field and a poor 1 of 6 from the charity stripe.
The Hornets aren't going to have much time to think about this loss, as they take on the Rockets again just one week from today. That game will be in New Orleans, so maybe the team will have a better chance with a rowdy home crowd cheering everyone on. Eric Gordon will also likely play, which will provide the Hornets with a consistent spark from start to finish.
Either way, despite losing tonight, New Orleans should be proud of their performance against Houston. All flaws aside, they gave one of the hottest teams in the league a run for its money tonight, and should use that as a motivation tool over their next few games.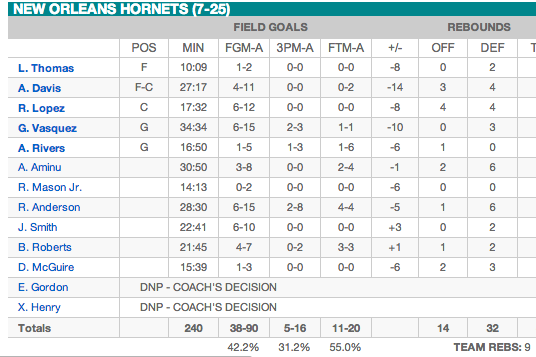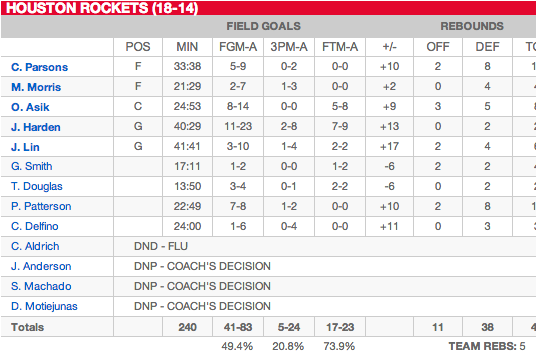 Final boxscores of tonight's game between the Houston Rockets and New Orleans Hornets
The game is pretty much over for the Hornets. A three by Harden increases the lead to 13 with less than a minute to go, and they take a 2-0 lead in the season series. Their record is pushed to 18-14, despite being forced to abandon the run-and-gun for much of the game against the Hornets.
FINAL SCORE: HOUSTON ROCKETS 104, NEW ORLEANS HORNETS 92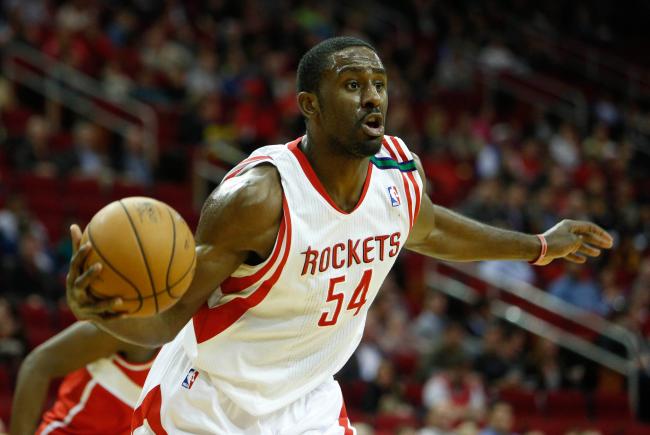 Time is running out for the feisty Hornets. The Rockets are finding their groove, and the final nail may have just been driven into the coffin.

After being left wide open in the corner, Patrick Patterson sinks a three-pointer to increase Houston's lead to 11.
ROCKETS 99, HORNETS 88
It seems that for every move the Hornets have, James Harden has two. Granted, he has shot just 10 of 22 and 1 of 7 from long range tonight, but his 28 points have been the difference-maker thus far.
Ryan Anderson has sunk yet another jumper, however, and the Hornets remain in the hunt as time winds down.
HORNETS 92, ROCKETS 88
Thus far, the story of the game is the Hornets' second unit. Three bench players have scored in double figures: Jason Smith, Brian Roberts and Ryan Anderson.
The only starter who has really been a major factor is Greivis Vasquez, who has 15 points and 12 assists. Anthony Davis has six points and six rebounds, but is having an off night in shooting just 3 of 9.
It's clear that New Orleans is missing Gordon, but the team's tenacity is beyond admirable. They can win this game, and there's no way to predict a clear-cut winner now.
The Hornets are officially back in the game. Anderson works the pump-fake and sinks a three-pointer to tie the score up at 82.
Naturally, the Houston crowd has gone silent.
ROCKETS 82, HORNETS 82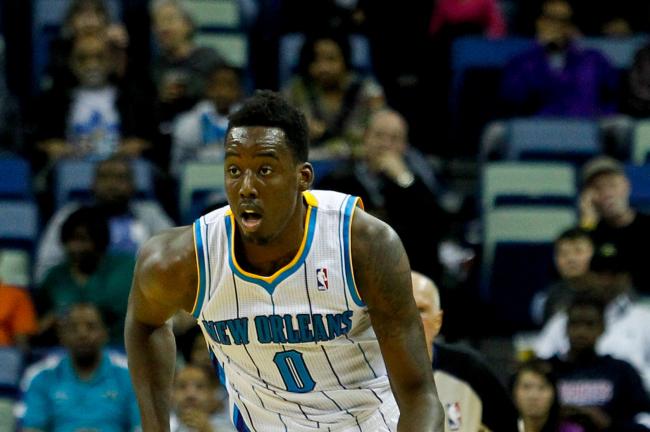 Just thought I should note this. Al-Farouq Aminu has played 22 minutes tonight, the most playing time he has seen in weeks. Given how he has posted eight rebounds and a blocked shot to go with his eight points and the Hornets are keeping the game close against the Rockets, it's time to make this man a regular once again.
The three-point prowess of Ryan Anderson
At long last, Ryan Anderson hits a three-pointer, his first of the night. Yet, the Hornets still trail by seven.
That is, until Vasquez hits one of his own to trim the lead to four.
ROCKETS 76, HORNETS 72
The Hornets appear to be heating up. Vasquez just found Aminu for an alley-oop, and New Orleans trails by eight heading into the fourth quarter.
ROCKETS 74, HORNETS 66
And Harden does it again, this time nailing a wide-open three to give himself 25 points on the night.
ROCKETS 72, HORNETS 61
The Hornets' offense has been hellishly inconsistent tonight, and that of the Rockets has proven to be superior. Even with New Orleans' defense forcing Houston to shoot just 2 of 17 from downtown, the Rockets are still up by nine with just two-and-a-half left in the third quarter.
James Harden is proving to be the real deal and not just a good player performing well on a mediocre team. Rather, he is showing that he is a great player and making a case for MVP. The reigning Sixth Man of the Year has 20 points and seven assists on the night, and he and Asik seem unstoppable on offense.
The Hornets had better get into a groove soon, or else this game is going to be lost...badly.
ROCKETS 67, HORNETS 58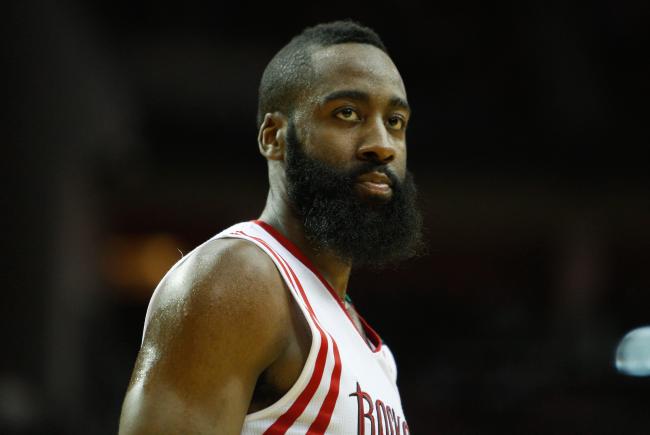 After a short cable outage, I finally have the game back. Houston has been in control throughout the third quarter, and leads 56-50.
Joel Meyers just made an interesting point about Rockets forward Chandler Parsons, who has been limited to just four points on 2 of 5 shooting. Meyers said, "That's when Houston starts to get worried."
I'll say this much. Parsons may only be a second-year player, but his leadership and scoring abilities speak for themselves. Without him being a factor, Houston has been forced to work extra hard on offense. His ability to stretch the floor and shoot threes has been missed.
Meanwhile, James Harden completes a three-point play to put the Rockets up by nine, and Harden has scored at least 20 points in four straight games.
ROCKETS 59, HORNETS 50
The halftime buzzer has sounded, and the score is not indicative of who has played the better game. The Rockets lead 49-44, but have shot just 1 of 11 from three-point range.

New Orleans has taken out the run-and-gun game, and Houston is being forced to do something it has struggled at all season: play defense. The Hornets are out-rebounding the Rockets 26-24, and have also forced five turnovers.

However, the Hornets have quite the battle ahead of them if they are to pull off the upset. Remember when I said that rookie Austin Rivers had to be great? Well, he has yet to answer the bell.
Now that Vasquez is in foul trouble, Rivers is getting more opportunities to shine. Instead, he has scored just four points in 14 minutes and has shot just 1 of 6 from the free-throw line. New Orleans is instead relying on guys like Brian Roberts and Jason Smith to bring the offense, a complete testament to how versatile head coach Monty Williams can be with his rotation.
11 different Hornets have played tonight, so it will be interesting to see who gets the important playing time down the stretch.
HALFTIME SCORE: ROCKETS 49, HORNETS 44
Now the Rockets are in trouble. Omer Asik just picked up his third foul and has been sent to the bench.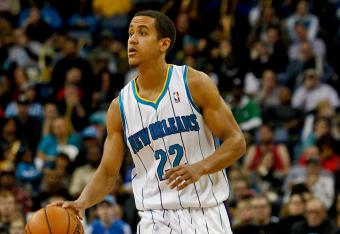 As close as this game has been, it's already going to be an uphill battle for the Hornets. Greivis Vasquez already has three fouls, and the first half isn't even over yet.
As a result, they have lost some great size in the halfcourt game and the Rockets' run-and-gun is beginning to run wild.
On the bright side, Hornets fans are getting a taste of a fine young point man in Brian Roberts. The 27-year-old rookie has only played 10 minutes tonight, but get this.
He's leading the team with nine points.
Houston's run-and-gun game is back in action, with the Rockets' last few buckets coming on a fast break and in the paint. Asik continues to be a force down low, and Jeremy Lin could be starting to heat up as well.
Not surprisingly, the Hornets needed to call time out to reset. And the Houston fans roared.
ROCKETS 36, HORNETS 32
Wow. Austin Rivers actually did something right!
After being unable to get the layup, the former Blue Devil dishes off a pretty bounce past to Anthony Davis, who slams the ball home.
ROCKETS 32, HORNETS 32
I'm sorry, but this is a game where Houston should be in complete control. They have the experience and size to keep up with New Orleans in the paint, but have struggled the entire game thus far.
It's times like this that make me wonder why the team has not utilized rookie Terrence Jones, currently in the D-League. The man is an explosive stretch forward and incredible athlete, but McHale doesn't appear to be too fond of him.
Seeing as how the Rockets are being out-rebounded by New Orleans, 16-13, GM Daryl Morey and McHale need to reconsider giving the man more playing time. All Jones needs is minutes, and he can be effective in the paint and on the perimeter.
In the meantime, we come back from a TV timeout as the Hornets maintain a slim lead.
HORNETS 30, ROCKETS 29
The first quarter has come to an end, and Hornets broadcaster Joel Meyers said that the key to the game is "keeping everything under control."
The man could not be more right. New Orleans has taken the run-and-gun out of the game thus far, and a pair of baskets from big man Jason Smith have them ahead at the start of the second quarter.

On the perimeter, Houston is no match for the Hornets' big men. Asik cannot stretch the floor like this, and Houston's power forwards are still learning aspects of their offensive game.
As of now, it's the Rockets' game to lose and nowhere near the fast-paced game many thought it would be.
I have to give the Hornets credit. Even with Vasquez in foul trouble early, they're making the Rockets play their game.
Houston only just made its first jump shot of the night, thanks to Marcus Morris, but doesn't look as confident in the paint. Al-Farouq Aminu also appears to be getting some extended minutes as a pest, so my prediction has come true thus far.
This game is going to be close, and on New Orleans' terms.
ROCKETS 19, HORNETS 17
Fear the Beard! James Harden breaks away with a steal and gives Houston the lead courtesy of a one-handed slam.
ROCKETS 13, HORNETS 11
As we take a TV timeout, one thing is obvious. This game is going to be close.
Houston appears to be backpedaling on offense, thanks to the tough D of New Orleans, and the players don't appear to have much confidence in their jump shots. The entirety of the Rockets' offense has been in the paint, and they must move away from that approach with Davis and Lopez looming.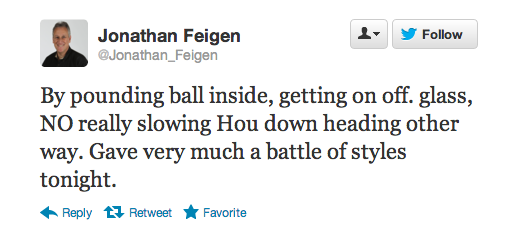 This team does best with its mid and long range games, and fans came to the arena tonight to see that type of offense.
Bring out the run-and-gun, McHale!
It appears that rookie and reigning No. 1 pick Anthony Davis is starting to heat up. He has four points, and has already shown incredible versatility with his offense.
Aside from being a fine presence on the inside, Rivers has also sunk a shot from the high-post tonight. As a result, the Hornets have the game tied at 10 as we reach the halfway point of the first quarter.
Both teams have relied heavily on the paint thus far, which means we need to watch out for one thing: defense.
In this department, the Hornets have a slight advantage, thanks to Davis and Lopez in the starting lineup.
Meanwhile, Al-Farouq Aminu makes 1 of 2 free throws.
HORNETS 11, ROCKETS 10
Speaking of Robin Lopez, he has scored all six of the Hornets' point thus far. Perhaps the hair makes him aerodynamic?
ROCKETS 8, HORNETS 6
This article is
What is the duplicate article?
Why is this article offensive?
Where is this article plagiarized from?
Why is this article poorly edited?