All 30 MLB Teams' Top Trade Chip They Should Hold onto Until July's Deadline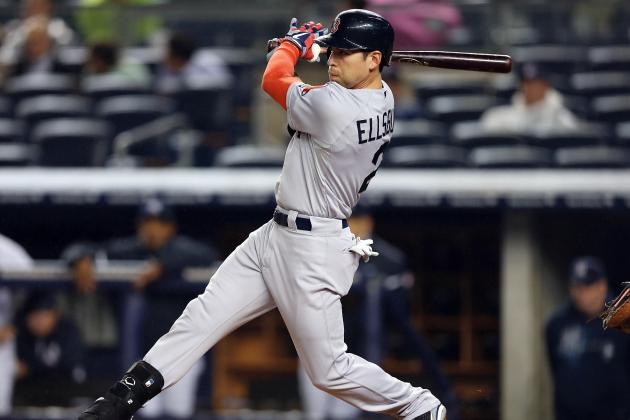 Elsa/Getty Images

With the hot stove starting to cool and trade rumors beginning to die down, the wheelings and dealings of the offseason are coming to a close as spring training pushes ever closer.
A number of signings and moves will still be made between now and then, but it's never to early to turn our attention to the July trade deadline and what type of activity could be taking place midway through the 2013 season.
For one reason or another, every team has at least one player who profiles as a more attractive trade chip come July than he would be right now. Here is a look at the top trade chip each MLB team should hold onto until the July deadline.
Begin Slideshow

»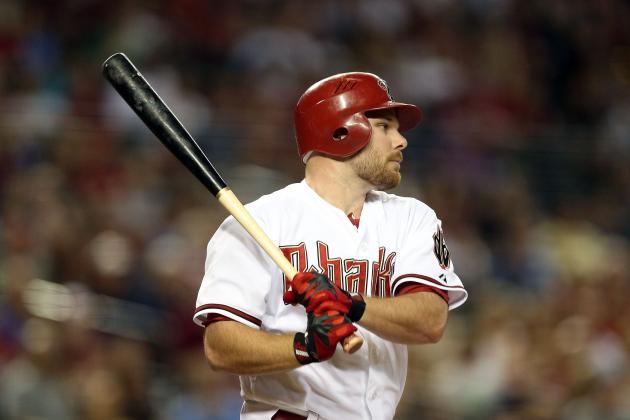 Christian Petersen/Getty Images

Let me start by saying I think the Diamondbacks No. 1 priority should be getting some closure on the Justin Upton situation before the season starts. Either trade him now or take him off the trade block for good and let him play without the constant rumors.
Assuming they hold onto him, Kubel could be moved instead, but the team may want to keep him around. After all, he carried the Diamondbacks' offense for stretches last season on his way to a 30-HR, 90-RBI season.
The Diamondbacks have the pieces to contend, and if Kubel can turn in a similar season at $7.5 million this coming season, they might as well hold onto him.
If they're out of contention by July or one of their prospects such as Adam Eaton and A.J. Pollock are making a serious push for playing time, he could be moved then. But they need his power bat in the lineup at this point.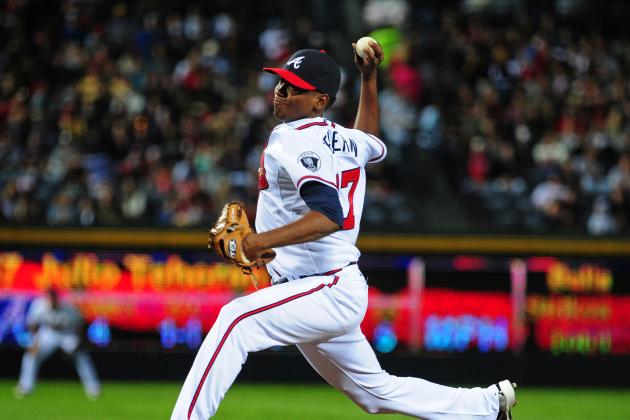 Scott Cunningham/Getty Images

After going 15-3 with a 2.55 ERA as a 20-year-old in Triple-A during the 2011 season, Teheran entered 2012 as one of the most highly regarded prospects in baseball.
Expected to compete for a rotation spot, he instead opened the season in the minors and wound up making just two big league appearances and giving up four runs in 6.1 innings of work.
The Braves need a left fielder, and with a number of other young starting pitching options, they could very easily put together a trade package centered around Teheran to fill that void.
However, he's still just 21 and that ace-caliber potential is still there. He could take a big step forward right off the bat this season, So before the team considers moving him, it should give him a little more time to live up to his vast potential. He could be a franchise cornerstone if everything breaks right.
If he struggles again, though, the Braves could still sell on his high ceiling and get a solid return at the deadline.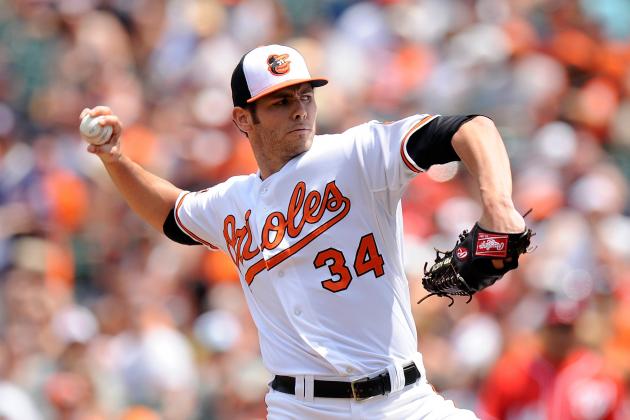 Greg Fiume/Getty Images

Entering 2013, there are a number of pitchers who at one point were viewed as key pieces of the Orioles' future but now appear to be expendable.
Brian Matusz, Tommy Hunter and Steve Johnson all appear to be on the outside looking in for rotation spots but may have a home in the bullpen. Former No. 1 starter Jake Arrieta, on the other hand, is likely headed to the minors unless something changes.
Still only 26, Arrieta got the Opening Day nod last season but went just 3-9 with a 6.20 ERA in 24 games (18 starts) and wound up getting sent down.
He has some trade value now. But if the team holds onto him and gives him a chance to boost his stock in the minors or even at the big league level if injury strikes, he could net a far greater return at the deadline.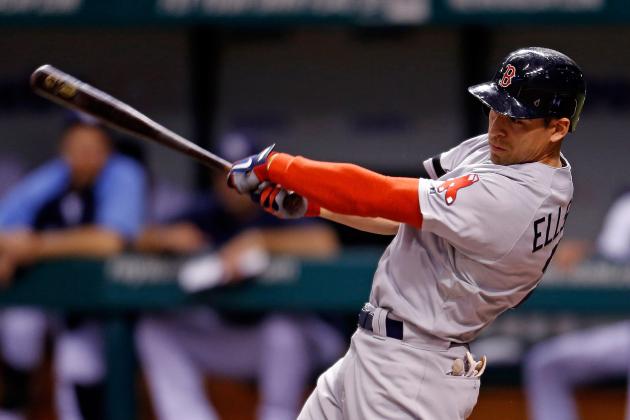 J. Meric/Getty Images

Back in December I wrote a piece on the Red Sox's impending decision regarding the future of Jacoby Ellsbury.
A free agent at the end of the year, Ellsbury turned in a a phenomenal season in 2011, but it was sandwiched between a pair of injury-shortened seasons in which he played a total of 92 games.
The team is unlikely to re-sign him at the end of the season, so they can either trade him now, trade him at the deadline when his value may be at its highest or simply make him a qualifying offer at season's end and shoot for draft pick compensation.
For the sake of getting the most out of his value, waiting until the deadline should net the best return. But if he plays well enough and the team finds themselves in contention, they may just hold onto him.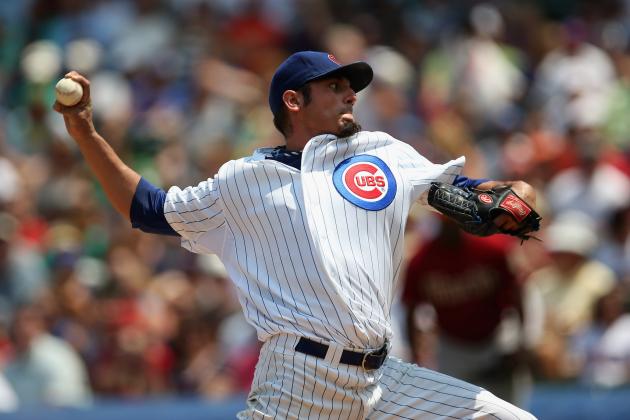 Jonathan Daniel/Getty Images

Had it not been for an injury right at the deadline last season, Garza likely would have been dealt last July. But instead he wound up making his last start of the season on July 21.
The 29-year-old should be healthy to start the 2012 season, and while the chances remains that the Cubs could sign him to an extension, if they don't, he's a lock to be dealt at the deadline.
The team hasn't shopped him this offseason, and understandably so as his value no doubt took a hit with the injury, Putting together a healthy and productive first half could make him the top pitching target of the deadline.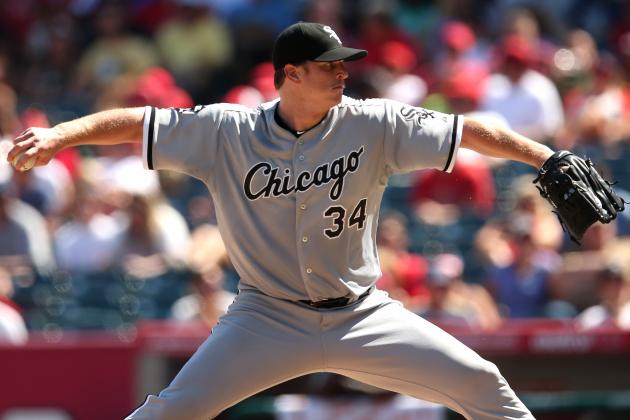 Stephen Dunn/Getty Images

A surprise contender last season when they were expected to be rebuilding, the White Sox return essentially the same team they had last season and could have an outside shot at contention again in 2013.
Floyd has never matched his breakout 2008 season when he went 17-8 with a 3.84 ERA, but he's been solid throughout his time with the White Sox, going 63-61 with a 4.20 ERA. A free agent at the end of the season, Floyd will likely be playing elsewhere in 2013, so the team could look to trade him at some point this season.
Left-hander John Danks was limited to just nine starts due to injury last season, so until he proves to be healthy, the team would be wise to hold onto Floyd as an insurance policy.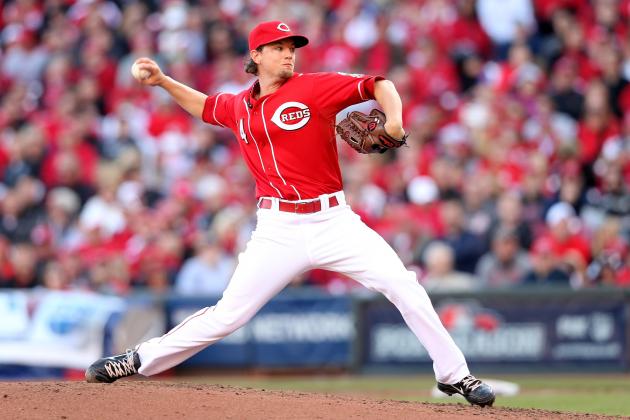 Andy Lyons/Getty Images

Much like John Lannan last season, it looks as though Leake will open the season in Triple-A despite establishing himself as a solid big league starter.
With Aroldis Chapman making the move to the rotation, Leake is the odd man out. But the team would be wise to hold onto him as an insurance option in case Chapman proves unable to handle starting.
If by midseason Chapman has settled into his starting role, Leake could be viewed as expendable, especially since top pitching prospect Tony Cingrani could potentially pass him on the depth chart by that point.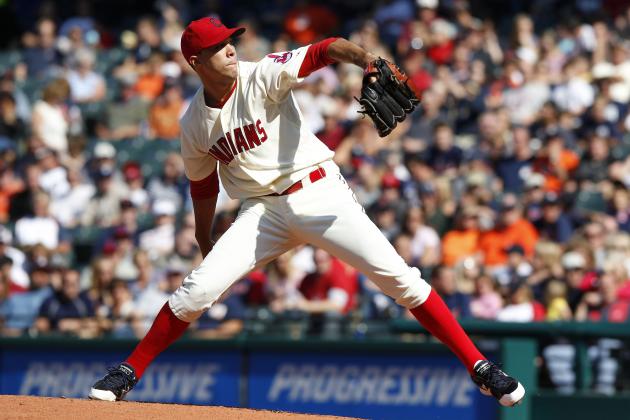 David Maxwell/Getty Images

Jimenez took the league by storm in 2010, going 19-8 with a 2.88 ERA and finishing third in NL Cy Young voting.
He failed to replicate those numbers the following season and was dealt to the Indians at the deadline for a package of prospects built around Drew Pomeranz.
Since joining the Indians, he's gone 13-21 with a 5.32 ERA. Last season he led the American League with 17 losses, so he has little trade value right now.
He has an $8 million option for 2014 with a $1 million buyout. If he gets off to a solid start, the rebuilding Indians could look to move him in July.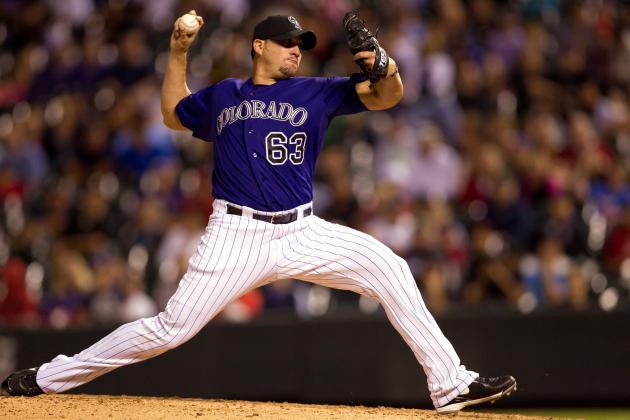 Justin Edmonds/Getty Images

Betancourt served as closer for the first time in his career last season at the age of 37, and he was one of the few bright spots on the Rockies' pitching staff with 31 saves and a 2.81 ERA.
He's signed through 2013 with a $4.25 million option for 2014. But the Rockies could look to move him this season since they acquired a potential replacement from the Astros in Wilton Lopez.
Relievers are always among the most coveted players at the deadline, so Betancourt's value would likely be highest come July, especially if he can put up numbers similar to his 2012 stats.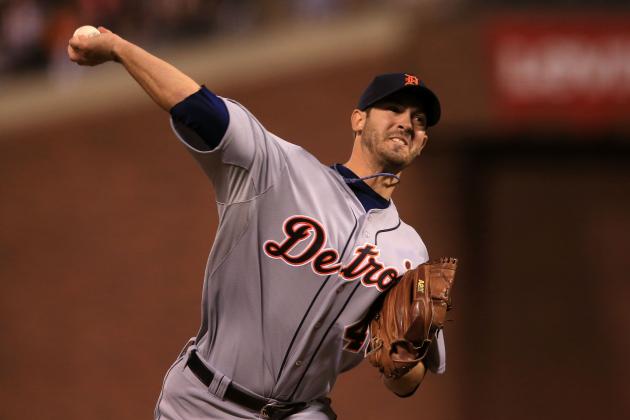 Doug Pensinger/Getty Images

After their signing of Anibal Sanchez, the Tigers began fielding calls from teams interested in both Porcello and Drew Smyly (h/t Danny Knobler via Twitter), and those two will be competing for the fifth spot in the rotation.
Still just 24, Porcello already has 48 career wins and a 4.55 ERA. Although he only went 10-12 last season with a 4.59 ERA, he could be in line for a breakout season.
While he certainly has appeal now, the Tigers would be wise to hold onto Porcello as they don't have much in the way of depth. If Porcello does break out, he could give the Tigers a huge boost.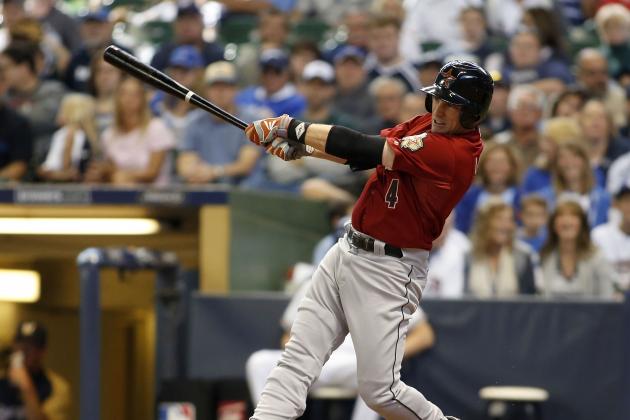 Mark Hirsch/Getty Images

The Astros don't have much left in the way of movable veteran pieces, but one player who could have some value is Lowrie.
The 28-year-old shortstop had 16 home runs and 42 RBI through 97 games last season before injuries cut his season short.
While he certainly has trade value now, seeing as the shortstop market is so thin, he is also under team control through 2014. If he can prove healthy and put up similar numbers, he'd have tremendous value come July.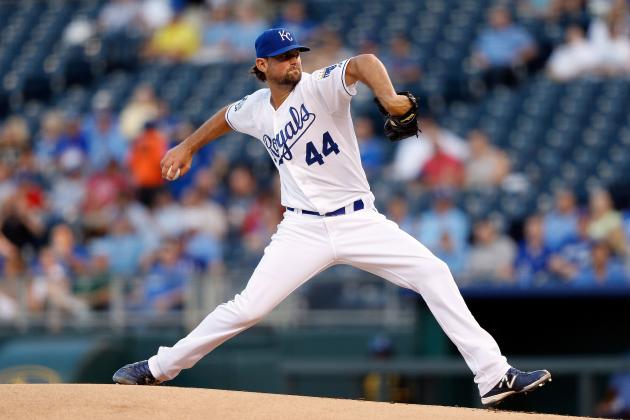 Jamie Squire/Getty Images

The Royals completely overhauled their rotation this offseason with the additions of James Shields, Wade Davis, Ervin Santana and the re-signing of Jeremy Guthrie.
That leaves Bruce Chen and Luke Hochevar to battle for the last spot in the rotation. While the 35-year-old Chen doesn't have much trade appeal, Hochevar could.
The first-overall pick in the 2006 draft, Hochevar has shown flashes throughout his big league career, including a solid 11-11, 4.68 ERA season in 2011.
With little depth, holding onto Hochevar would be a wise move for the time being, but he could be shopped at the deadline.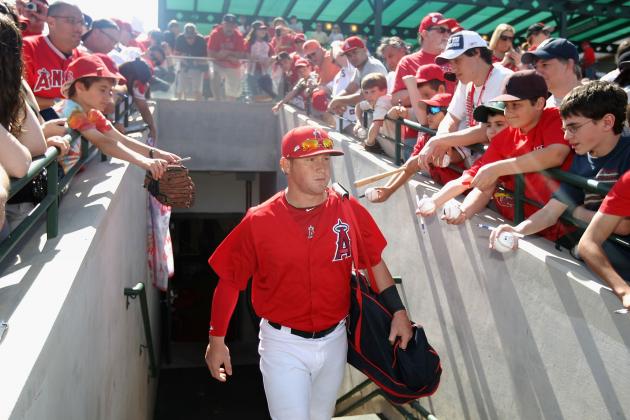 Christian Petersen/Getty Images

An eighth-round pick in 2010 out of Arizona State, Calhoun had an impressive slash line of .324 BA, 22 HR, 99 RBI, 20 SB in his first full pro season in 2011 at High Single-A.
That was enough for him to jump to Triple-A last season where he held his own. He has a shot to open the season as the team's fifth outfielder, but he could be dangled at the deadline if a need arises for what is currently a complete roster for the Angels.
The Angels' outfield is full, and will be for the foreseeable future. So if Calhoun is going to get a shot at a starting job, it will likely have to be elsewhere.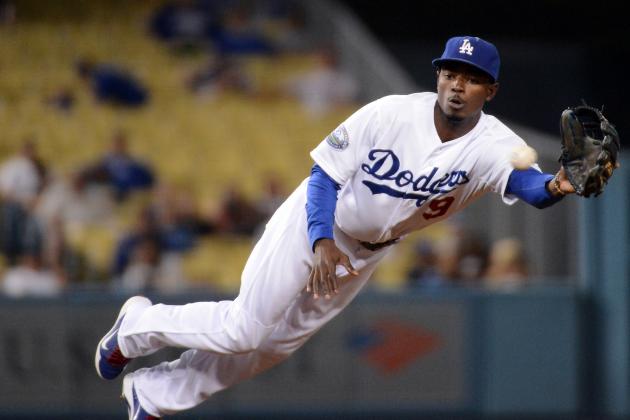 Harry How/Getty Images

Gordon appeared to be the Dodgers' shortstop of the present and future heading into last season. But he struggled to a .228 average and was unseated with the acquisition of Hanley Ramirez.
Still just 24 and with some of the most dynamic speed in baseball, Gordon has significant value, especially considering he plays a premium position.
However, that value is understandably as low as ever right now after his poor 2012 campaign. If he can put together a solid first half, be it in the majors as a backup or in Triple-A, there would no doubt be at least a handful of teams willing to take a chance on him at the deadline.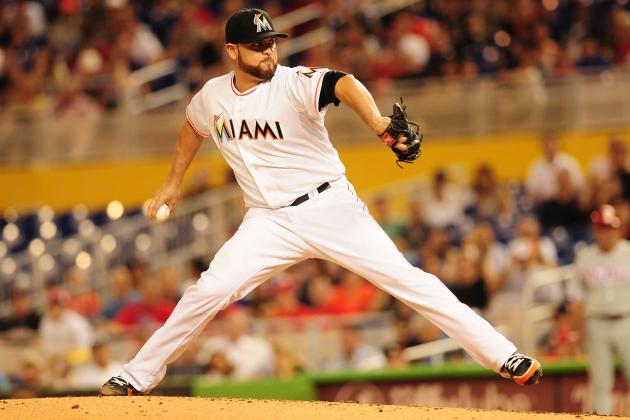 Jason Arnold/Getty Images

Like Anibal Sanchez last season, Nolasco enters the season in the final year of his contract and is a virtual lock to be moved at some point before the end of 2013.
With most teams having already filled their starting pitching needs this offseason on the free agent market, Nolasco could have far greater value in July when injuries have taken their toll and teams have a serious need for starting pitching once again.
Over his seven-year career, Nolasco is 76-64 with a 4.49 ERA, so he could wind up making a Sanchez-esque impact wherever he winds up.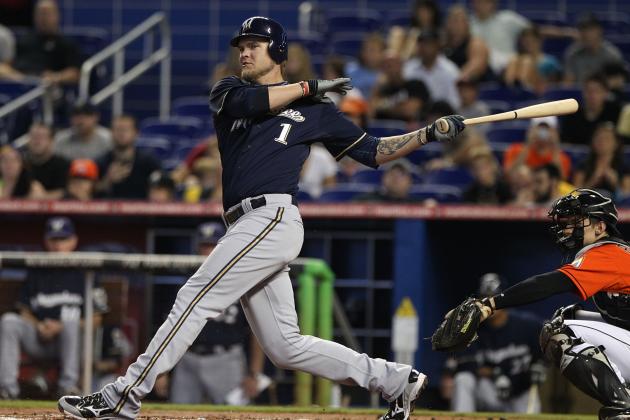 Marc Serota/Getty Images

Hart shifted in from the outfield to play first base last season when Mat Gamel went down with a season-ending injury and helped make the Brewers the highest-scoring offense in the National League with a .270 BA, 30 HR, 83 RBI season.
He's entering the final year of his contract, and at 31 he's likely to cash in with a big deal next offseason after signing a team-friendly three-year, $26.5 million deal last time around.
If the Brewers find themselves out of the postseason picture come July, and even if they are still in the thick of things, the team may move Hart to improve an inexperienced pitching staff. That's because top prospect Hunter Morris (.303 BA, 28 HR, 113 RBI slash line at Double-A in 2012) is close to big league-ready and the team may turn first base over to him.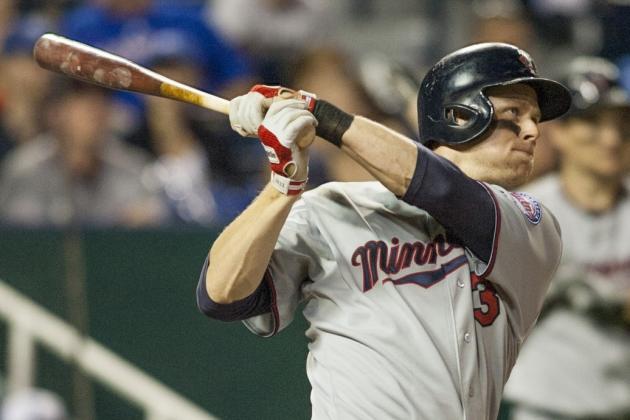 Tim Umphrey/Getty Images

It's been a tough last few years for Morneau, as he's battled injuries and has been far from his former MVP self when he has been on the field.
He was relatively healthy last season, with a .267 BA, 19 HR, 77 RBI slash line over 134 games. For a team looking to add a left-handed bat with some pop, he could be a solid option.
He'll make $14 million this coming season in what is the final year of a six-year, $80 million deal, so the Twins would likely have to eat a good deal of his contract if they want to move him.
If he gets off to a decent start, though, and the team is willing to take on some of what will be a more manageable salary come July, the Twins should have no problem finding a taker.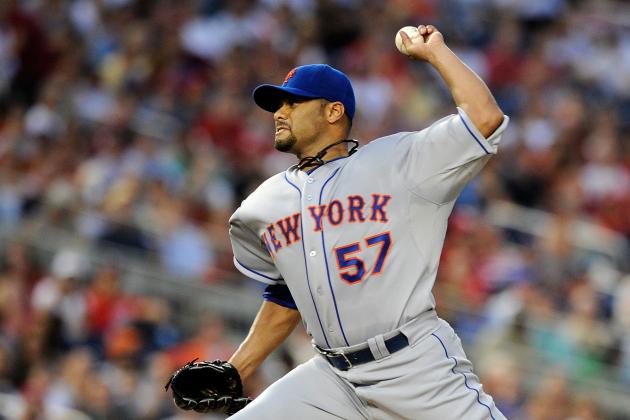 Patrick McDermott/Getty Images

After missing all of 2011, Santana make a solid return last season. While he was far from his former Cy Young self, he still made a positive impact atop the Mets' rotation.
He's entering the final year of his monster six-year, $137.5 million deal, and the Mets have a $25 million option for 2014 with a $5.5 million buyout.
The team is not likely to look to exercise that option, so they could look to deal Santana at the deadline, which will likely coincide with top prospect Zack Wheeler making a push to join the big league rotation, if everything goes according to plan.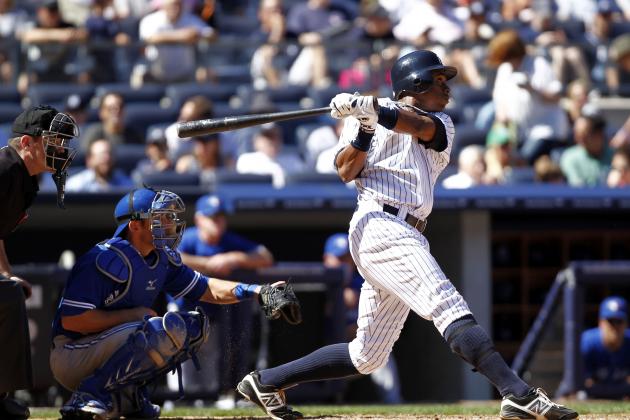 Jeff Zelevansky/Getty Images

The Yankees picked up their options on Robinson Cano and Curtis Granderson to kick off the offseason, and both players will be free agents at season's end.
While Cano is likely to get a big deal to stick around, Granderson will likely hit the open market. According to a tweet from Buster Olney, the team was open to trading him at the beginning of December.
Granderson ranked second in the AL with 43 home runs last season, but hit just .232 and saw his OPS drop from .916 to .811 in his third season with the Yankees.
The Yankees could look to trade Granderson before losing him this offseason, but that would mean acquiring someone to take his place on a Yankees team expected to contend.
Still, with him set to hit the open market, he could be a potential trade chip at the deadline if they can find a suitable replacement.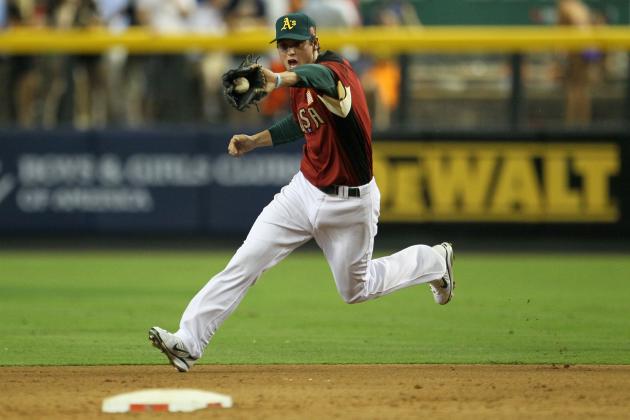 Jeff Gross/Getty Images

A first-round pick in the 2009 draft, Green has produced at every level in the minors and had a .296 BA, 15 HR, 75 RBI slash line last season at Triple-A.
Originally drafted as a shortstop, Green played all over the field last season. But his most clear path to the major may be at second base.
Scott Sizemore is slated to open the season as the starting second baseman and Jemile Weeks remains a high-upside option as well if he can bounce back.
If one of those two steps forward at second base and Josh Donaldson is the answer at third base, Green could be shopped at the deadline. He'll be 25 this coming season and his prospect window is closing.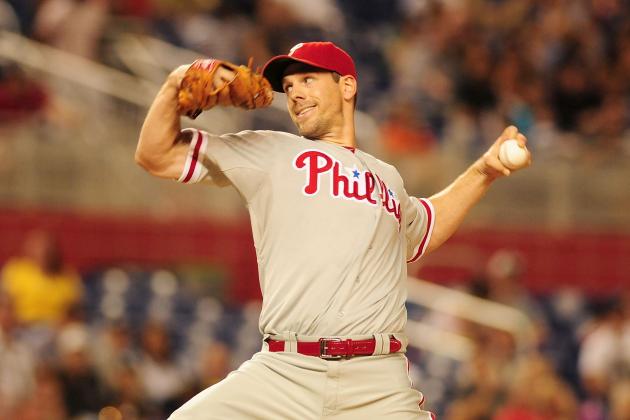 Jason Arnold/Getty Images

It made headlines last season when the Phillies put Cliff Lee on waivers and he was claimed by the Los Angeles Dodgers (h/t CBSSports). While that is standard operating procedure in the MLB in August, a Lee trade is something the Phillies could legitimately explore come July.
With their core of superstars healthy for the time being, the Phillies still have the pieces to contend this season led by their trio of aces in Lee, Roy Halladay and Cole Hamels.
However, if they struggle again early, they could begin looking to cut payroll to start rebuilding. With two years and $50 million left on his contract after 2013 with a $27.5 million vesting option that holds a $12.5 million buyout in 2016, moving Lee would be a good place to start.
Even with his contract, Lee is a proven postseason ace and would not be as hard to move for a solid return as one might think.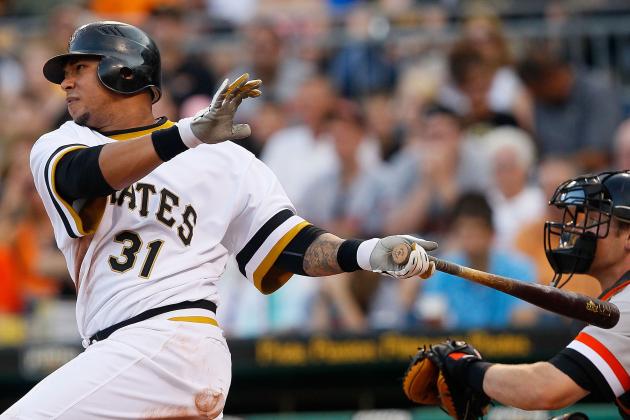 Jared Wickerham/Getty Images

The Pirates clearly viewed Tabata as a key part of their future success when they locked him up on a six-year, $15 million contract that included three option years back in August of 2011.
However, with the emergence of prospect Starling Marte, he is expected to open the season as the team's fourth outfielder.
The Pirates don't need to try to move him at this point, as he'll make $1 million this coming season. But his deal gets progressively more expensive, So for a team looking to add some speed, he could be of interest at the deadline.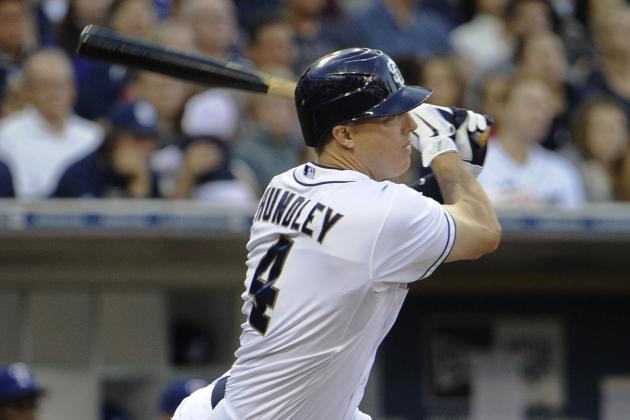 Denis Poroy/Getty Images

Even after acquiring Yasmani Grandal, the Padres gave Hundley a three-year, $9 million extension last March after a solid .288 BA, 9 HR, 29 RBI season in 2011.
Those numbers took a serious dip last season, but his track record suggests he should bounce back and be a plus offensive catcher.
With Grandal set to miss the first 50 games of the season with a PED suspension, Hundley will be the Padres' everyday catcher to open the season.
Regardless of how he performs, though, he's likely to return to the bench once Grandal returns. If he's having a solid season, there is always a need for catchers at the deadline. With a team-friendly contract, he has a chance to be one of the most surprisingly valuable trade chips of the deadline.
Ezra Shaw/Getty Images

Brown entered the 2012 season as the Giants' top prospect and one of the top outfield prospects in baseball after a phenomenal first pro season in which he had a .336 BA, 14 HR, 80 RBI slash line with 53 steals.
He didn't enjoy quite the same level of success at Double-A last season, but he remains a solid prospect and a potential impact leadoff hitter.
With the Giants re-signing of Angel Pagan in center field and a need for a power bat at some point in left field, Brown could become a trade chip in July.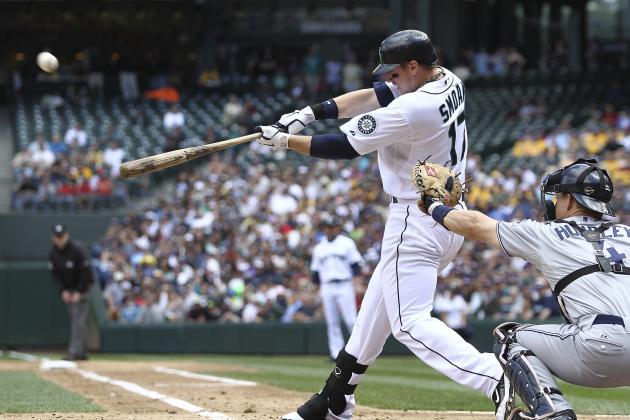 Otto Greule Jr/Getty Images

The key acquisition of the Cliff Lee deal, Smoak has been a huge disappointment to this point in his career. He's hit just .227 with a .686 OPS during his time with the Mariners.
The Mariners traded for Angels first baseman Kendrys Morales this offseason, which for the time being appears as though it will push Smoak to the bench.
While he's been a dud so far, Smoak does have legitimate power potential. His value is low right now after a .217/.290/.364 slash line last season, but his value could easily be higher in July.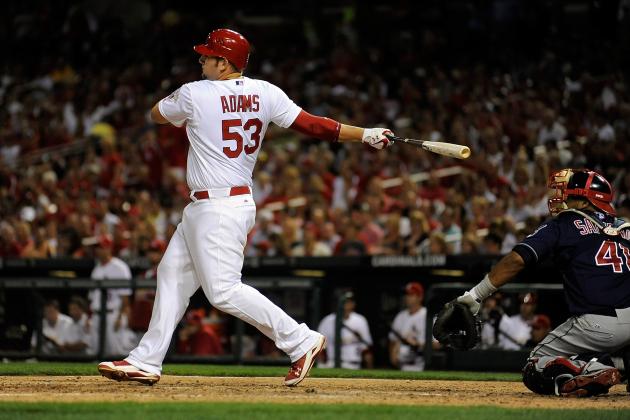 Jeff Curry/Getty Images

Adams has done nothing but produce since being taken in the 23rd round of the 2009 draft. He has a .318/.365/.565 slash line and 82 home runs in 366 minor-league games.
However, with Allen Craig settled into the starting first base job, his path to the majors is blocked and his prospect window is closing as he'll be 24 this coming season.
Like a handful of other teams on this list, the Cardinals have no clear needs right now, so they have no reason to trade Adams. But he could be a very useful trade chip at the deadline.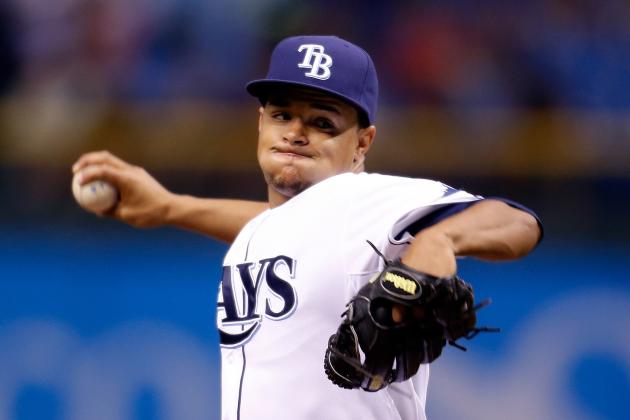 J. Meric/Getty Images

With their trade of James Shields, one would think that Archer would have a better shot at factoring into the Rays' long-term plans.
However, it appears that Alex Cobb will take Shields' spot in the rotation. And with Jake Odorizzi and Mike Montgomery acquired from the Royals for Shields, there is a chance Archer could be jumped on the depth chart by them as well.
The Rays have taken steps to address their offense, but they could still use another bat or two. So when new player are made available at the deadline, they could very well use a package built around Archer to upgrade their lineup.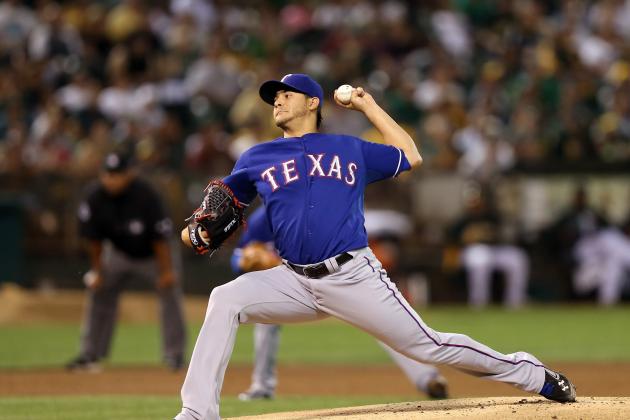 Ezra Shaw/Getty Images

Trade talks have centered around the availability of Mike Olt and Jurickson Profar, but the Rangers have another marquee prospect in Perez who could also be part of a trade package.
In the Rangers' organization since the age of 17, he made his big league debut last season at the age of 21 and made 12 appearances (six starts), though he went just 1-4 with a 5.45 ERA.
He's the front-runner to fill the team's No. 5 starter spot this coming season, and he has a very high ceiling. Seeing what he's capable of in his second go-around at the big league level seems like the best course of action rather than moving him this winter.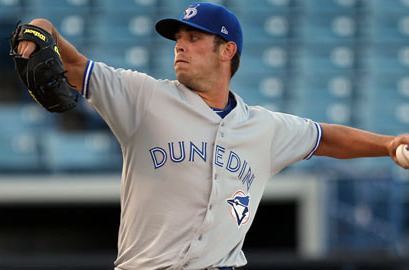 Photo Credit: MiLB.com
A sixth-round pick in 2010, Nolin enjoyed a breakout season last year when he went 10-0 with a 2.04 ERA and 9.6 K/9 between High Single-A and Double-A.
Although the Blue Jays traded a good deal of their top prospects in their blockbuster deals with the Marlins and Mets, the team still has a strong farm system.
Nolin is a solid prospect and is close to big league-ready, and with the team looking to win it all this season they'll likely be aggressive at the deadline if they have any areas of need. Nolin could be the piece they build a package around. But as of now, the team has no clear-cut needs, so no reason to move him.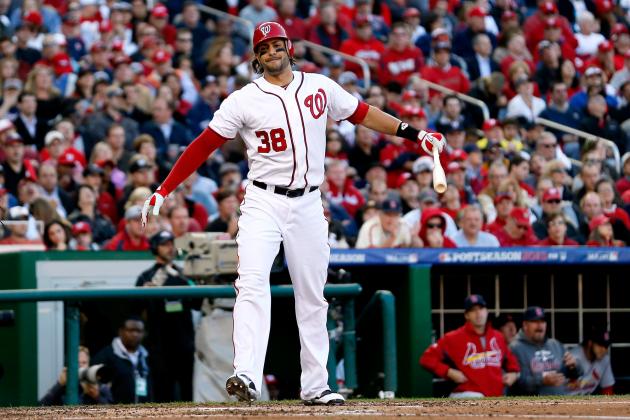 Rob Carr/Getty Images

Let me preface this by saying that this is assuming the Nationals re-sign Adam LaRoche, as Morse would be unlikely to be dealt from a Nationals team expected to contend for a title if he is their everyday first baseman.
If LaRoche is brought back, it would seemingly push Morse to the bench. That's because Denard Span has taken his spot in the outfield and the team certainly wouldn't be signing LaRoche to sit on the bench.
It may not make him the happiest, but seeing as the Nationals have no clear-cut needs at this point and he is only making $6.75 million this coming season, Morse could remain with the team until July as their top bat off the bench.
That way if injury strikes, the Nationals would have a terrific fall-back option. If it doesn't, they'd likely have the deadline's most coveted bat and would be able to address any needs that may arise between now and then.