As the NBA season starts to pick up, the teams in the playoff hunt look to improve their roster in any way possible.
While fans love to speculate on wild trades that will give their team an All-Star player while giving up nothing, it is important to separate the fact from fiction.
Here are the latest rumors from around the league regarding possible trades.
DeMarcus Cousins, Sacramento Kings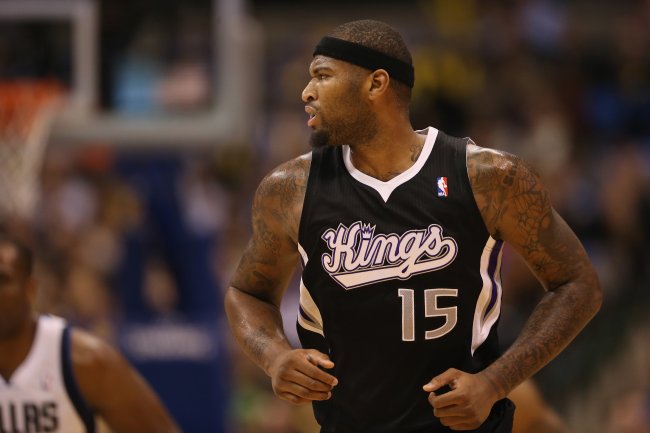 Ronald Martinez/Getty Images
Despite being immensely talented, DeMarcus Cousins has been one of the most frustrating players in the league this year due to his poor attitude and behavior.
After an 11-20 start for the Sacramento Kings, there is a lot of speculation that the forward will be traded. As Sam Amick of USA Today reported:
The recent hiring of influential agent Dan Fegan has led to the widespread assumption within the organization that Cousins will eventually demand a trade. Specifically, two people close to the situation who requested anonymity because of the sensitivity of the situation said a trade to the Washington Wizards would be considered ideal for Cousins and Fegan because Cousins could rejoin former Kentucky teammate and fellow Fegan client, point guard John Wall.
However, General Manager Geoff Petrie recently squashed that theory, according to Ricky Doyle of NESN:
You can put that one to rest. He's not going anywhere. You can lay that to rest. Some of that stuff lives in its own reality...He's still an important part of the future...We're going to continue to work with him to help him reach his potential, which is still very high.
While this will not stop teams from asking about a potential trade, it now seems like it will take a lot for the big man to be moved this season.
Andrea Bargnani, Toronto Raptors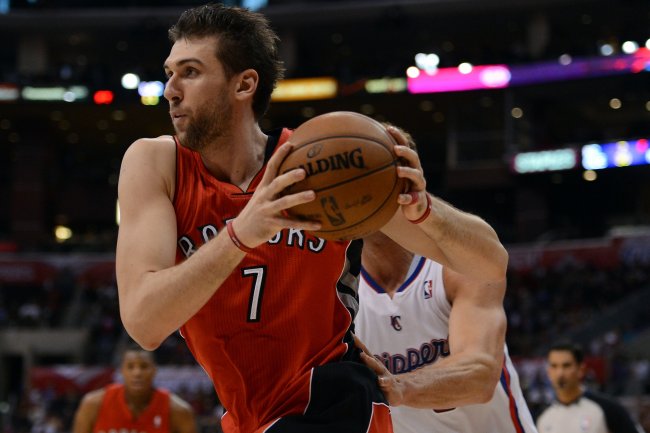 Harry How/Getty Images
Although Andrea Bargnani has been on the trade block for some time, Toronto's recent play is only likely to speed up the process.
Since the big man went down with an elbow injury last month, the Raptors have won seven of their last nine games. This showed that not only can the team survive without him, they can thrive.
Steve Kyler of Hoops World reported that there is little chance Bargnani stays with the team past the trade deadline:
Bargnani is no longer in the picture in Toronto, they'll play him to prove he's healthy, but a trade is almost inevitable at this point

— Steve

Kyler

(@stevekylerNBA) December 30, 2012
The market for the former No. 1 pick is unknown, but there are certainly teams that could use a talented scorer, even if he is only used off the bench.
Kevin Love, Minnesota Timberwolves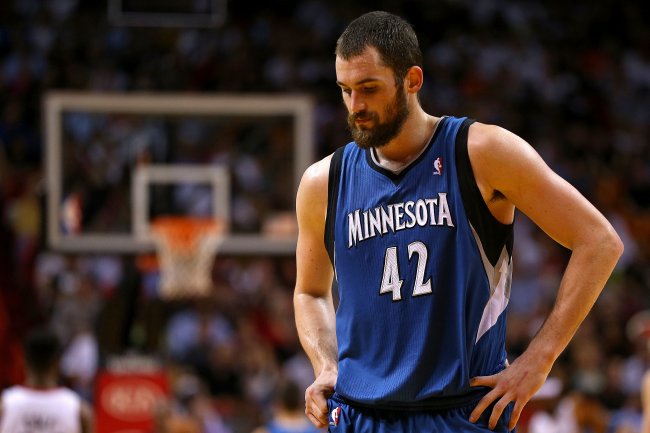 Mike Ehrmann/Getty Images
While there has not been discussion about the Minnesota Timberwolves trading one of the top forwards in the NBA, ESPN's Chad Ford believes it is something that should be considered.
When asked about a potential Kevin Love trade in a chat, Ford responded:
It's probably in their best interest to trade him now. He wants out and will likely bolt the team when he can opt out of his contract. The longer the Wolves wait, the harder it is for them to get value in return. That's been proven over and over again in the NBA.
There are a number of teams that will be dying to acquire Love's services, but this move is unlikely to happen anytime soon with his current squad still trying to reach the playoffs.
Pau Gasol, Los Angeles Lakers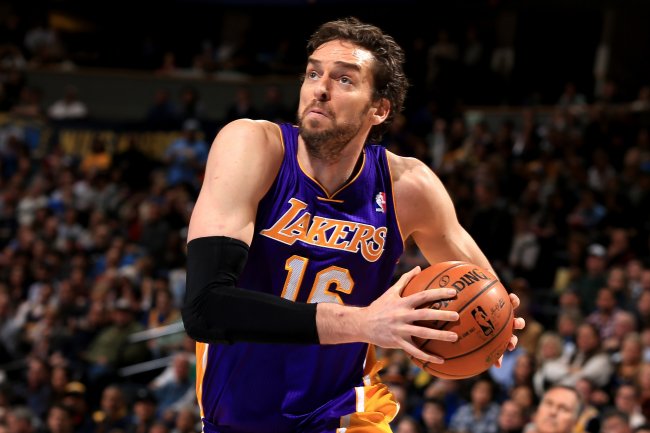 Doug Pensinger/Getty Images
For years, Pau Gasol has been the most talked about trade target in the NBA. This year, the buzz has been especially strong due to his struggles in adjusting to the team's new offensive system.
However, any deal involving the forward is not likely to happen anytime soon, according to HoopsWorld's Steve Kyler:
The stance from the LA Lakers is that they are not looking at deals for Gasol. In fact, the word is the Lakers are not looking at deals at all. That could change once the Lakers find a groove, but the word from the Lakers is that a trade isn't in their immediate future.
Los Angeles is certainly playing better than it was at the beginning of December, but the squad would still miss the playoffs if the season ended today.
Still, it seems as though the front office is giving the current squad a chance to show what it can do before it starts looking for outside help.