Stanford Football: Projecting the Cardinal's 2013 Defensive Depth Chart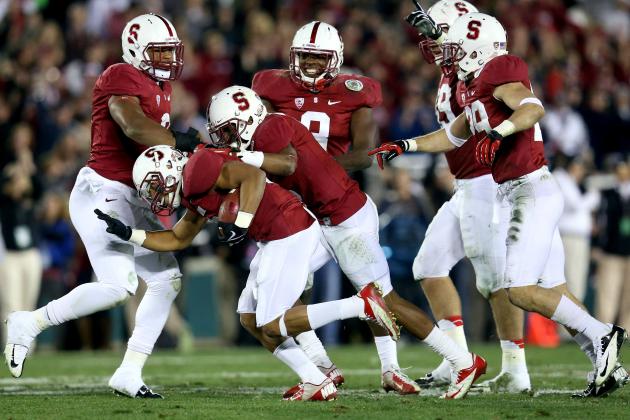 Stephen Dunn/Getty Images
The Stanford defense should come back strong in 2013.
Defense was the biggest factor in the Rose Bowl, and for the Stanford Cardinal, it will be a strength again in 2013.
Having allowed 17.2 points per game, the Cardinal continually found ways to keep opponents off the scoreboard.
In fact, they had 15 interceptions (four returned for touchdowns) while also leading the nation with 57 sacks.
Simply put, the defense dominated.
Next year turns over a new leaf, but with some promise. The defense will only lose linebackers Shayne Skov and Chase Thomas and defensive tackle Terrence Stephens from the starting 11.
Here's a look at Stanford's projected defensive depth chart in 2013.
Notes: Each player's class year is relative to the 2013 season. Keep in mind these are only projections, as things can change between now and the fall.
Begin Slideshow

»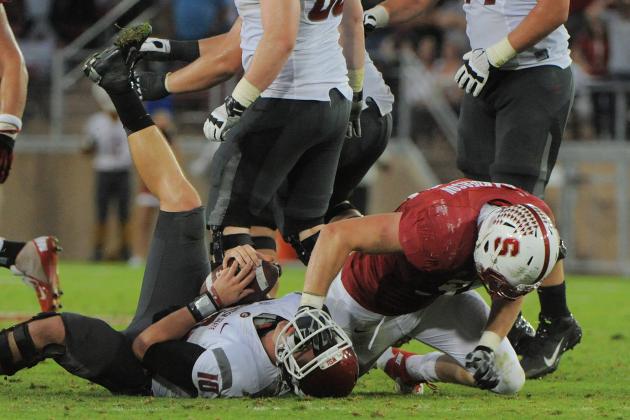 Kyle Terada-USA TODAY Sports
Henry Anderson will return for his junior year in 2013.
No. 91 Henry Anderson, 6'6", 278 lbs, Jr., Atlanta, Ga.
No. 90 Josh Mauro, 6'6", 277 lbs, Sr., Hurst, Texas
The defensive end position is where things get started for the Cardinal. Anderson has been that fire starter all year for the Cardinal and will do so again in 2013.
The rising junior totaled 51 tackles and 5.5 sacks in 2012 and will look to do more next year.
Mauro is good in his own right as well; he is just stuck behind Anderson. The rising senior still gets his fair share of playing time, as evidenced by his six-tackle effort in the Rose Bowl.
For Stanford to continue to hold opponents down, the pass rush will be key when both are on the field.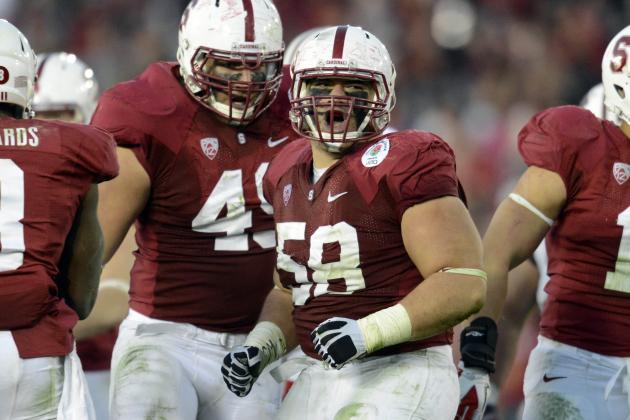 Robert Hanashiro-USA TODAY Sports
David Parry had four tackles against Wisonsin.
No. 58 David Parry, 6'2", 300 lbs, Jr., Marion, Iowa
No. 95 Lance Callihan, 6'3", 300 lbs, Soph., Baton Rouge, La.
Parry is everything you want in a nose tackle, as he clogs up the middle very well. He will be taking over for Stephens, who is departing via graduation.
Having started three games this year, including the Pac-12 Championship and Rose Bowl, Parry knows what it takes to be successful in the middle. He finished the year with 28 tackles and two sacks.
Callihan didn't play this year, but his size and strength makes me a believer that he can contribute in 2013.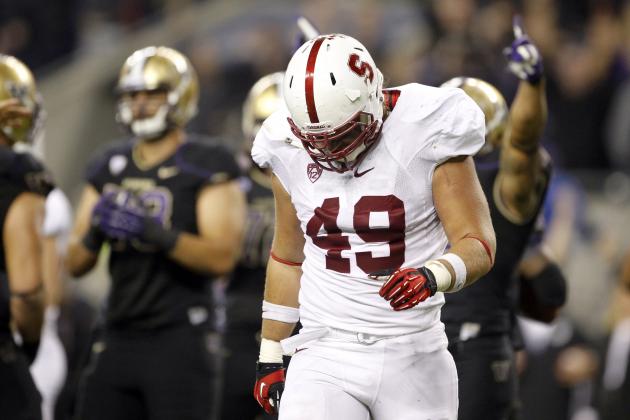 Joe Nicholson-USA TODAY Sports
Ben Gardner has one season left in Palo Alto.
No. 49 Ben Gardner, 6'4", 275 lbs, Sr., Mequon, Wis.
No. 7 Aziz Shittu, 6'3", 264 lbs, Soph., Atwater, Calif.
Gardner started all 14 games for Stanford in 2012, and there's no reason to believe he won't do the same next year.
For the year, the rising senior totaled 49 tackles, including 14.5 for loss and 7.5 sacks. He's a good complement to Anderson at the other defensive-end slot.
Look for his numbers to be even better in 2013, as his play is going to have to be that much better with him being one of the senior leaders on the team.
Shittu saw actions in five games last year and was one of the highest-rated players coming out of high school in 2012.
Ranked the No. 3 defensive end in the country, Shittu had a year to learn the position at the college level and should start to have success in 2013. Look for him to be a key player on the defensive line.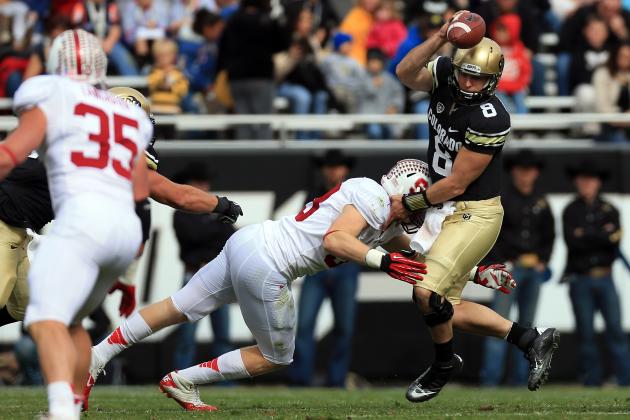 Doug Pensinger/Getty Images
Trent Murphy will return for his senior season.
No. 93 Trent Murphy, 6'6", 261 lbs, Sr., Phoenix, Ariz.
No. 48 Kevin Anderson, 6'4", 250 lbs, Soph., Palo Alto, Calif.
Murphy started all 14 games as well, garnering 56 tackles, including 18 for loss and 10 sacks.
The linebacker corps will depend on Murphy to be the leader. I'm predicting he will be the Manti Te'o of Stanford in 2013.
Anderson played in all 14 games in 2012 and impressed many as a freshman. The rising sophomore has the ability to get to the edge quickly should a run go that way or charge hard at the quarterback on a pass rush.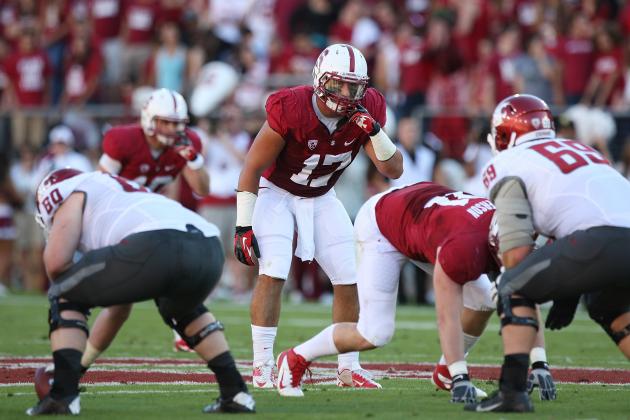 Tony Medina/Getty Images
A.J. Tarpley led the Cardinal with nine tackles in the Rose Bowl.
No. 17 A.J. Tarpley, 6'2", 238 lbs, Jr., Plymouth, Minn.
No. 40 Joe Hemschoot, 6'1", 225 lbs, Jr., Lakewood, Colo.
What can you say about Tarpley? The kid simply knows how to get the job done at linebacker.
Tarpley recorded 66 tackles and found himself around the most plays each game. He has a knack for the ball and can lay a big hit on you in a hurry.
Hemschoot played in all 14 games in 2012 but didn't get in as much as he wanted to.The 2013 season should be a different story, as the rising junior should get better through spring practice and earn more playing time.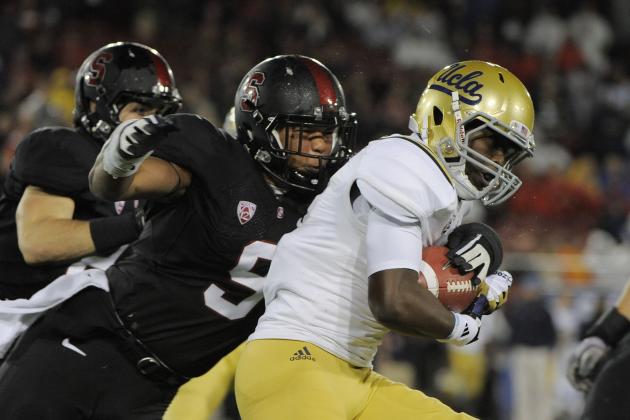 Kyle Terada-USA TODAY Sports
James Vaughters should be the new starter at inside linebacker.
No. 9 James Vaughters, 6'2", 246 lbs, Jr., Stone Mountain, Ga.
No. 4 Blake Martinez, 6'2", 237 lbs, Soph., Tucson, Ariz.
Vaughters is the player most Stanford fans are excited about getting to see on a full-time basis.
While he did start four games last year, Vaughters struggled toward the end of the season. However, with another spring practice and a starting job that's his to lose, the rising junior is going to show more than ever.
He's one of those players whom if you're not careful, he can deliver the same helmet-popping hit that Jadeveon Clowney delivered against Michigan.
Martinez played in all 14 games as a freshman in 2012, but like many others, is looking to be involved a little bit more in his sophomore season.
Should he have a good spring practice, there's no doubt that he'll see the field a lot more in 2013.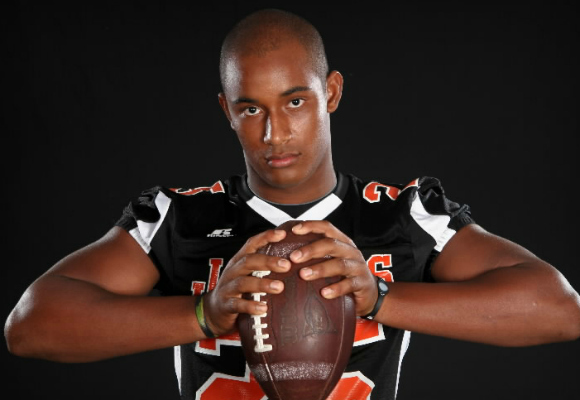 orlandosentinel.com
No. 3 Noor Davis, 6'4", 235 lbs, Soph., Leesburg, Fla.
No. 00 Peter Kalambayi, 6'3", 238 lbs, Fr., Matthews N.C.
It's scary how good Davis could be. His size, athleticism and ability to play on the outside give him the ability to control the outcome of games.
Davis could be as good as Jarvis Jones, if not better. He'll get his opportunity in 2013 to prove it, as it's not likely anyone will challenge for the other outside linebacker spot.
Kalambayi is still a high school senior, but he projects well at the college level.
He can play the outside linebacker position or get in a two-point stance on the line. Give him time, and he'll be a constant contributor for the Cardinal.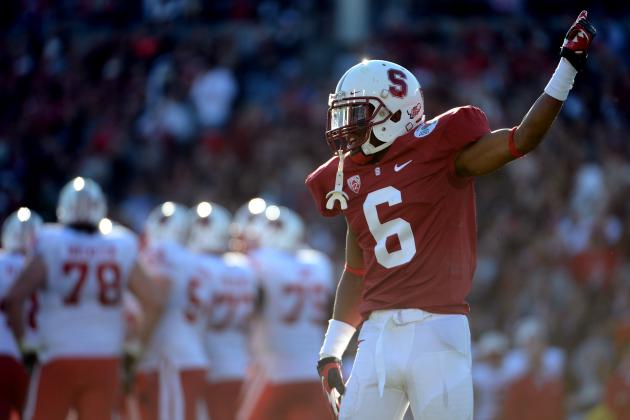 Harry How/Getty Images
Terrence Brown finished the Rose Bowl with five tackles.
No. 6 Terrence Brown, 6'1", 178 lbs, Sr., Torrance, Calif.
No. 15 Usua Amanam, 5'10", 176 lbs, Sr., Fremont, Calif.
Brown started all 14 games and recorded 65 tackles. He also had nine breakups and 10 pass deflections.
He's still going to have to turn up the heat, as more is going to be expected out of him as a senior.
Amanam did start four games in 2012, but lost his spot to Alex Carter. Still, he had a good year with 59 tackles, including 10.5 for loss and four sacks. He also finished with seven breakups and eight pass deflections.
For Amanam, even though he's technically not a starter, he'll still be the guy in nickel situations.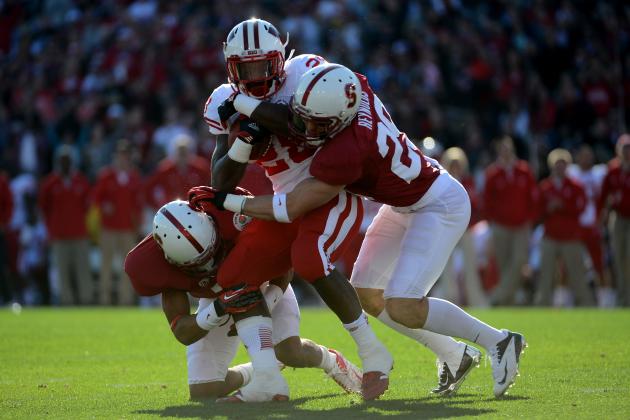 Harry How/Getty Images
Ed Reynolds had three interceptions on the season.
No. 29 Ed Reynolds, 6'2", 207 lbs, Jr., Orange Park, Fla.
No. 5 Devon Carrington, 6'1", 199 lbs, Sr., Chandler, Ariz.
Reynolds was the best player in the secondary in 2012. The rising junior totaled six interceptions and returned them for 301 yards. He also had 47 tackles, five breakups and 11 pass deflections.
And, when it counted the most, Reynolds showed up in a big way, as he had an 80-yard return after an interception in the Pac-12 Championship Game.
Carrington played in all 14 games in 2012 as well and totaled 23 tackles. With Reynolds holding down the starting position, Carrington doesn't get to see the field much.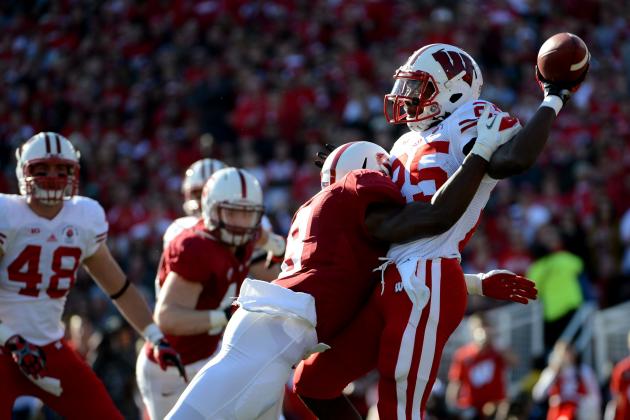 Harry How/Getty Images
Jordan Richards had seven tackles, including a sack versus Wisconsin.
No. 8 Jordan Richards, 5'11", 208 pounds, Jr., Folsom, Calif.
No. 10 Zach Hoffpauir, 6'0", 203 lbs, Soph., Glendale, Ariz.
Richards was third on the team in tackles with 68 and had three interceptions. He also had 12 breakups and 15 pass deflections.
Simply put, he has a knack for the ball.
Richards has the ability to deliver the big hit, especially at receivers who are coming across the middle.
Hoffpauir made 11 tackles in 14 games, but is also stuck behind a player who is a great defender and hardly comes of the field.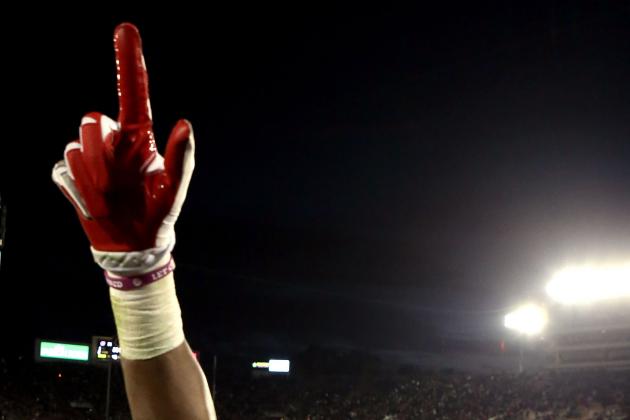 Stephen Dunn/Getty Images
Alex Carter had seven tackles against Wisconsin.
No. 25 Alex Carter, 6'0", 200 lbs, Soph., Ashburn, Va.
No. 31 Barry Browning, 6'1", 182 lbs, Sr., Everman, Texas
Carter wasn't supposed to be a starter in his freshman year, but he impressed the coaches enough to start eight games.
With 46 tackles and three forced fumbles, Carter makes opponents pay if they don't fully secure the ball.
Expect for his numbers to be even better in 2013, as he'll be more comfortable in the defensive scheme and won't be afraid to go after the ball more.
Browning started five of the 13 games he played in and totaled 24 tackles. He'll continue to get playing time, although likely not at the same rate as last year since Carter will be more familiar with what's going on.