College Football Recruiting 2013: Ranking the Top 10 QB Prospects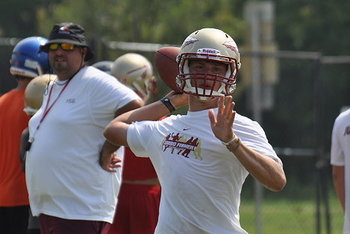 247Sports.com
Ranking quarterbacks is always a good topic for discussion, no matter in the NFL, college football or even in college football recruiting. The QB board this year has been plenty fluid and it's changed a little bit again as we move into the all-star games this weekend.
For this read, let's just take another look at the QB board and update it a little bit. These 10 signal callers are the best the 2013 class has to offer and all of these guys possess a wealth of talent. Getting a good QB is always a good move and these are the 10 best guys this year.
Let's rank the 10 best quarterback prospects in the 2013 class right now!
10. Tyrone Swoopes

Full Tyrone Swoopes Scouting Report

Swoopes is a big 6'4", 230-pound dual threat QB from Texas. He's a future Longhorn that has been compared to Vince Young by many evaluators.
Swoopes needs to work on his mechanics some, but shows good arm strength and will flashes great accuracy. He's a very good athlete that operates as a lethal running threat to defenses.
If he can get coached up right in Austin and some things in his game get corrected, he could be produce big results for Texas.
9. Zach Greenlee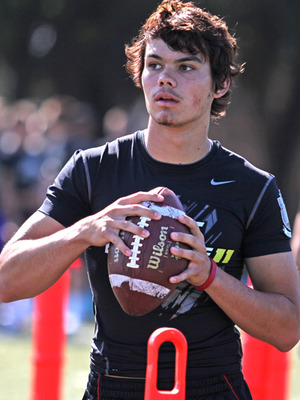 247Sports.com
Greenlee is a bit underrated on most lists but I have him as the best ball handler in the country. The 6'2", 190-pounder is from California and can do a little bit of everything from the pocket.
Greenlee makes sound decisions, can deliver the ball with accuracy and has a solid arm. He's headed to Fresno State and should develop into a starter early in his career.
8. Brice Ramsey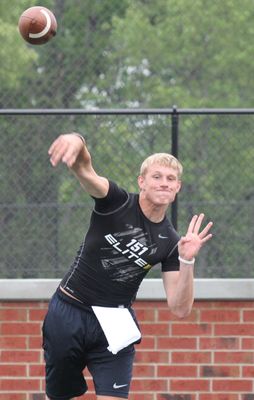 247Sports.com
The only thing keeping Ramsey from moving up on my board is that he doesn't have as many reps as other QB's ahead of him.
I love his talent and size at 6'3", 190 pounds, but Ramsey's high school offense doesn't put much emphasis on letting him toss the rock.
Yet, when he does get a chance to throw, this guy can spin it something terrific. He's committed to Georgia and has good arm strength, improving accuracy and the potential to win games over just managing them.
7. Asiantii Woulard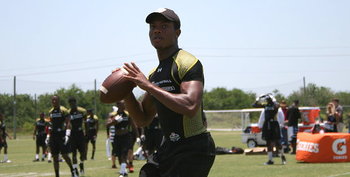 247Sports.com
Woulard has as much potential and as high a ceiling as anyone else on this list. He is a 6'3", 205-pounder from Tampa that has a strong arm, made leaps and bounds with his field vision this year and good mobility.
An athletic field general, Woulard can take off and elude defenders as a runner but seems to prefer passing from the pocket. I like North Carolina State and South Florida's chances.
6. Kevin Olsen

Full Kevin Olsen Scouting Report

Olsen is out of New Jersey and plans to follow in his brother's footsteps by going to Miami. At 6'3", 190-pounds he really can get an offense in the right play, throw receivers open and keep things on schedule.
He plays with good poise, can take shots downfield here and there and really is great distributor of the football. I think Olsen could start for Al Golden as a redshirt freshman.
5. Ryan Burns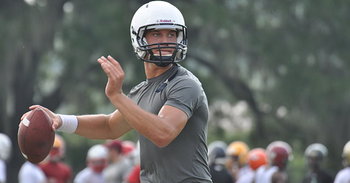 247Sports.com
Burns has excellent size at 6'5" and 220 pounds. He's from Virginia and has a pretty strong arm to attack outside the numbers, solid ball placement skills and seems to see the field well.
The Virginia native has solid mobility to escape pocket traffic and can out the tackle box to make throws on the run. He is committed to Stanford and is the best QB prospect The Farm has gotten since one Andrew Luck.
4. Cooper Bateman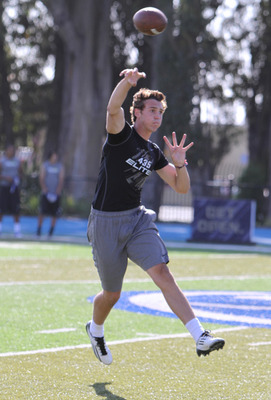 247Sports.com
Bateman could have the most pure talent of any QB Nick Saban has gotten since he's been at Alabama. The Utah native is 6'3" and weighs around 205 pounds.
Possessing perhaps the strongest arm in the country, Bateman can flat out missile the football all over the field. The revolutions he gets on the ball are remarkable and his arm strength makes him a deep threat from the pocket.
What's also neat about Bateman's game is that he has good straight line speed. If you give him space, he can get his engine going to eat up serious yardage with his legs.
3. Shane Morris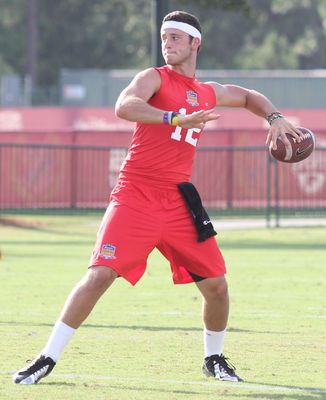 247Sports.com
Michigan landed an extremely talented player in Morris and also an extremely talented recruiter too. Morris is a Michigan Man through and through as he helped Big Blue recruit well.
The 6'3" QB weighs close to 190 pounds and is a lucky lefty. Morris has outstanding set up quickness and can deliver the football at any point in his drop.
Also showing good mobility, Morris can be used on boots, rolls, sprints and waggles is misdirection play action passes. He should become a fan favorite in Ann Arbor.
2. Christian Hackenberg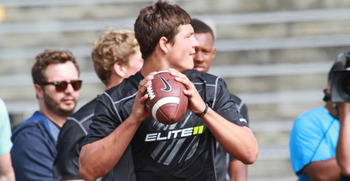 247Sports.com
Hack' is down at the Under Armour game this week to show off his talents. The 6'4", 215-pounder has a quick release, throws a pretty ball and has very good arm strength.
Committed to Penn State, Hackenberg is solid athlete who has the physical tools come in and start next year. If Bill O'Brien stays, look for him to be very hands on with the elite QB prospect.
1. Max Browne

Full Max Browne Scouting Report

USC likely will hold a QB derby in the spring and Browne plans to be there to participate in it. From Washington, Browne is 6'5", 215-pounds and has solid all-around pure passing skills.
He's a smart field general that can read coverages quickly, make solid reads and deliver the ball with good accuracy. Browne has a good arm, though it's not a cannon but he can make all the throws.
He's the top guy on my board still, but Hackenberg is coming on strong.
Edwin Weathersby is the College Football Recruiting Analyst for Bleacher Report. He has worked in scouting/player personnel departments for three professional football teams, including the New York Giants, Cleveland Browns and the Las Vegas Gladiators of the Arena League. He spent a year evaluating prep prospects and writing specific recruiting and scouting content articles for Student Sports Football (formerly ESPN Rise-HS). A syndicated scout and writer, he's also contributed to WeAreSC.com, GatorBait.net and Diamonds in the Rough Inc., a College Football and NFL Draft magazine.
Keep Reading