BCS National Championship 2013: Which Team Has the Advantage on Offense?
Kevin C. Cox/Getty Images
As we approach the 2013 BCS National Championship Game, much has been made of the fact that this game matches up No. 1 vs. No. 2 in scoring defense.
But before we focus too much on these elite defenses, let us remember that both Alabama and Notre Dame have offenses as well. These offenses will have just as much say in who wins the national championship as the defenses will.
So, who has the better offense going into the BCS National Championship Game? Read on.
Quarterbacks: A.J. McCarron vs. Everett Golson/Tommy Rees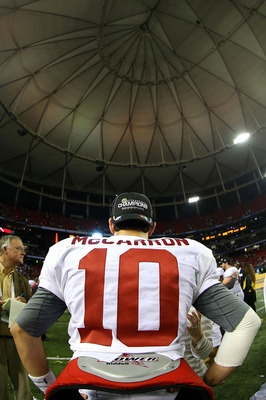 Mike Ehrmann/Getty Images
Alabama's A.J. McCarron may not be the most high-octane passer out there, but boy is he efficient.
In fact, he is second in the FBS with a QB rating of 173.1. McCarron isn't the quarterback I'd turn to to make that last-second Hail Mary with the game on the line, but if you want a quarterback who won't turn the ball over and will manage the game efficiently, McCarron is your man.
Notre Dame, on the other hand, has no such go-to guy.
Everett Golson has started most of the games this year, and he's been good—not great. Golson has just over 2,000 yards passing, 11 touchdowns and five interceptions with a QB rating of 131.8. The Irish also have Tommy Rees, who is a situational quarterback as Rees has a bigger arm than Golson.
However, Rees has only 436 yards, two touchdowns, two interceptions and a QB rating of 124.1.
Advantage: Alabama
Running Backs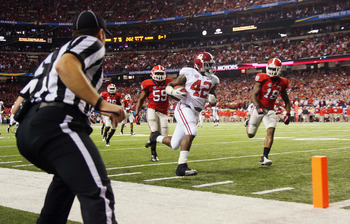 Mike Ehrmann/Getty Images
I hope that Notre Dame defense is ready for a large helping of the run. Alabama has two 1,000-yard rushers in Eddie Lacy and T.J. Yeldon, both of whom put on quite a show against Georgia in the SEC Championship Game.
The two of them account for 2,182 yards and 27 touchdowns.
Notre Dame doesn't even have one 1,000-yard rusher. Theo Riddick is capable of having a big game like he did against USC with 146 yards and a touchdown, but he's just not in Alabama's league.
Advantage: Alabama
Offensive Line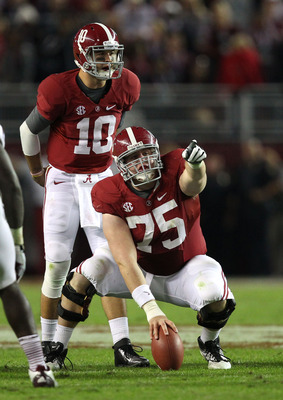 Mike Zarrilli/Getty Images
What do you say about an offensive line that has two first-team All-Americans and a second-team All-American? Barrett Jones won the Rimington Trophy for best center, Chance Warmack is a two-time All-American now, and D.J. Fluker made it onto the All-American second team from the AP.
These guys could do a little better at defending the pass rush, but there isn't anyone better out there for setting up the run.
The Irish's offensive linemen aren't slouches. Center Braxston Cave is a third-team All-American, and the line boasts four seniors and a junior. Though they are indeed experienced, I don't think any offensive line out there could go toe-to-toe with Alabama's this season.
Advantage: Alabama
Tight Ends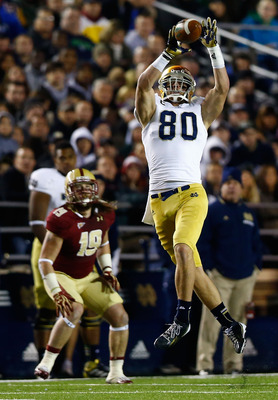 Jared Wickerham/Getty Images
Michael Williams is a decent tight end with 166 yards and three touchdowns, but Alabama really doesn't depend much on tight ends to catch the ball. Williams is great for blocking up front and making holes, but he's not quite the tight end that a quarterback looks for on a big third down.
Tyler Eifert, on the other hand...
Eifert leads the Irish with 624 yards receiving on the year. He has the hands of a wide receiver with the body of a tight end, and that works well for the Irish offense. He uses his size to create mismatches against both linebackers and defensive backs.
Look for the Irish to go to Eifert early and often in this one.
Advantage: Notre Dame
Wide Receivers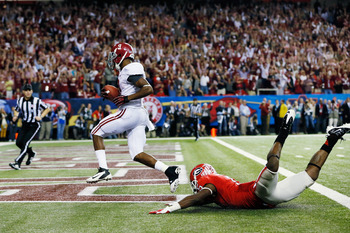 Kevin C. Cox/Getty Images
Amari Cooper has slowly become one of the nation's more exciting freshmen, and he's a solid target for A.J. McCarron. He leads the Crimson Tide with 895 yards and nine touchdowns on the year. This is definitely a run-first offense, but Alabama's receiving corps can get the job done when called upon.
Meanwhile, the Fighting Irish depend on tight end Tyler Eifert. T.J. Jones is the leader for the Irish, but he has only 559 yards and four touchdowns to his name this season.
Advantage: Alabama
Final Verdict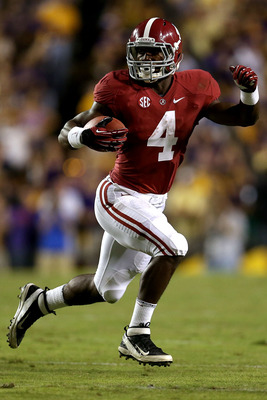 Matthew Stockman/Getty Images
While Alabama and Notre Dame may be pretty evenly matched on defense, there's no question who is better on the offensive side of the ball.
That would be the Crimson Tide. The stats prove that outright.
Alabama leads in total offense (439.08 vs. 421.33 yards/game), scoring offense (38.46 vs. 26.75 points/game) and rushing offense (224.62 vs. 202.5). Notre Dame has a slight edge in passing offense (218.83 vs. 214.46 yards per game), but clearly Alabama is better at just about every aspect of this side of the ball.
Notre Dame would do well to worry about stopping this Alabama offense, or else the Irish aren't going to win this one.
Keep Reading